Bird Rock athlete amputates her limitations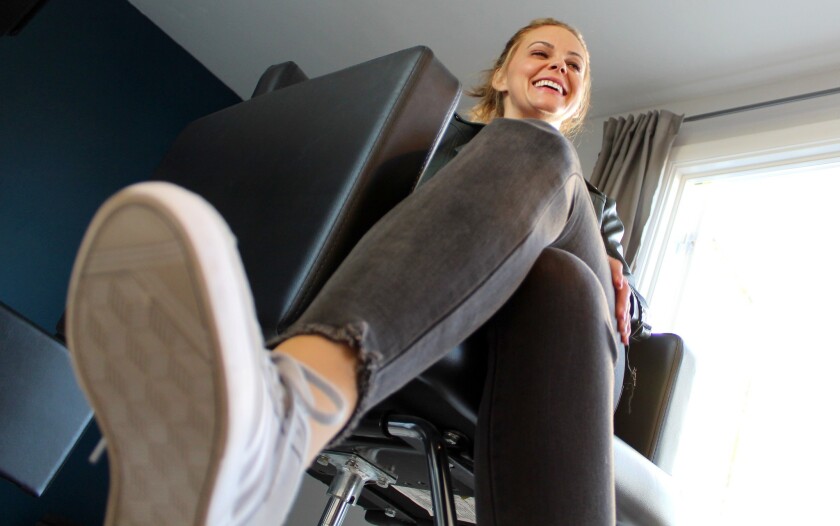 Tara Butcher is more complete than most people you probably know. She works a full schedule as a hair stylist at La Jolla's Salty Roots Salon, works out six days a week and has an active social and romantic calendar. She has summited Mt. Kilimanjaro and Mt. Whitney, run marathons and triathlons, and loves to ski.
And she does all of this without the bottom third of her left leg. She wears a prosthetic shin and foot, which she removes to sleep and shower.
Butcher, 35, sits on her own styling chair during a break between appointments. Seagulls caw as they fly over the second-floor salon's roof. You can tell she's told the story of her accident a thousand times, yet it still stirs deep emotions to the surface.
In 2005, Butcher — who grew up in Salt Lake City and moved to San Diego a year earlier — was driving to Coronado from her friend's house in Mira Mesa when she got into a fender-bender. She pulled her car over to the southbound I-5 shoulder. She was not injured — not yet. Then she made the mistake of getting out to approach the other driver. That's when another car, traveling at 72 miles per hour, struck and catapulted her across two lanes of traffic.
"It looked like a bomb exploded in my left leg, it was just completely open," Butcher says. Oh yeah, and she was partially decapitated. "C1 through C3 were severed, just hanging by a thread," she says — that thread being her spinal cord.
Most people with this injury end up paralyzed or dead. Yet Butcher was trying to lift her neck and have a normal conversation with the first firefighter on the scene, she says — "like, 'Oh I need to call my mom, here's her number.' " (None of this is from memory, by the way. Butcher had to be told this by the firefighter afterward and still has no recall.)
Doctors at UC San Diego Hillcrest amputated her lower leg first, to stem the potentially fatal blood loss. Then, in a 15-hour surgery, they fused her neck vertebrae and screwed in a permanent titanium plate for stability. A coma was medically induced for 10 days.
As you can imagine, recovering from not one but two such devastating injuries simultaneously was excruciating. "There were some really hard days," Butcher says, "and there still are."
Then came the emotional pain. "One of my biggest fears was that no one would love me, and that I wouldn't be attractive and sexy," she says. "I believed that for years. I'm like, 'Why would a guy want me when he could have a girl that has two beautiful legs and can wear high heels?'"
As the physical healing progressed, however, the emotional healing tagged along. "I kind of turned a corner one day with it and accepted and embraced it," Butcher says. "And now it's just who I am."
After Butcher got her life back to what she felt was normal, something strange happened. She kept improving it beyond that point. In 2008, she ran the New York City Marathon. Two years later, she summited Kilimanjaro — seven days up and one day down. ("No problem," she says, "didn't even get altitude sickness.") Ditto Mt. Whitney.
On Feb. 7, she will sprint up 86 flights of stairs (1,576 in total) as part of the annual NYC Empire State Building Run-Up. To practice, she's been running up and down the steps at La Jolla Cove.
"I was never an athlete before, but now I am," Butcher says. "I think my only limitation is I can't be a ballerina. But otherwise, there's really nothing that I can't do, and I've definitely proven that to myself."
As a spokesperson for the Challenged Athletes Foundation — her sponsor in the Empire State Building Run-Up — Butcher has served as inspiration for hundreds of amputees facing similar obstacles and self-doubt. And the one who mattered most to her was … her older brother Brandon.
"Here's the craziest part of the story," Butcher says without overstating the situation in the slightest.
Seven years after his sister's accident, Brandon — the very person who signed the consent forms for her amputation — became a below-the-knee amputee himself. A construction accident fractured his right leg badly enough to require two surgeries. While recovering in a Salt Lake City hospital, he contracted a bone infection in his heel. Doctors told him they could hollow out the bone — making him drag his foot, suffer from constant pain and be unable to compete in sports for the rest of his life — or he could lose his leg at about the same place his sister did.
"And he had it amputated because he had me as an example that you can return to a normal life," Tara says. (Brandon will join Tara on the Empire State Building run.)
Ultimately, Butcher says, her accident was a good thing. "I'm a better person because of it," she says. "It introduced me to what being grateful is. After my accident, I started looking at everything through a lens of gratitude. It made me a more positive person."
Sometimes, Butcher says, she even forgets about her leg. "I think that's because I've worked very hard to not let it define me," she says.
---