Rewriting Raymond Chandler's last chapter: More happiness for famed author in La Jolla than popularly thought
On Feb. 22, 1955, Raymond Chandler was found in a bathroom at 6005 Camino de la Costa, the Bird Rock house he once shared with his beloved wife, Cissy. He was wrapped in a shower curtain and trying to summon the nerve to insert a gun into his mouth. San Diego Police were notified when the mystery novelist phoned a friend, distraught, saying that he planned to kill himself. Chandler got off one shot, which missed. A second failed to fire just before the officer discovered him.
The story of Chandler's final years is a uniquely La Jollan story. He lost Cissy here. He drank himself sick here. He wrote his worst novel (Playback) here. He attempted suicide here. And he died here. All within a span of five years.
All these depressing dots are true. But to connect them into the smooth, downward slope of a once-great writer in desperate free-fall is to simplify complex realities, relationships and characters into a single dimension — something Chandler never did in his own fiction and probably the biggest insult possible to his legacy.
There's a lovely young lady named Sybil
Whom I adore and that is no quibble.
When in the right mood, I'd like her for food.
But I'd never take more than a nibble.
"Ray wrote that in a birthday card for my 12th birthday," says Sybil Anne Davis, whose mother worked as Chandler's secretary during the final two-and-a-half years of his life.
"He wrote me poetry and limericks, he wrote short stories about my pets," says Davis, now 72 and a retired attorney who lives in Sierra Madre, California. "We had a dog and a cat named Grunion and Carmichael, and when I went away to summer camp, he wrote me a letter about how the dog and cat kept him awake when he slept at my parents' home. And he turned it into a short story, which I still have."
The Chicago-born Chandler — who didn't start writing fiction until losing his job as an oil company exec at age 44 — is credited for a literary noir that keeps Los Angeles mythologized to this day. By 1946, he was the highest-paid screenwriter on the Paramount Studio lot, earning a then-unheard-of $100,000 per script.
He had written four best-selling novels: The Big Sleep (1939), Farewell, My Lovely (1940), The High Window (1942) and The Lady in the Lake (1943). All filtered the mean streets of L.A. through the eye of a hardscrabble, hard-drinking, yet morally upright private detective named Philip Marlowe. (Marlowe was played on screen by Humphrey Bogart, Robert Mitchum and Elliott Gould, among others.)
But Chandler disliked both working in Hollywood and the way Hollywood worked. And La Jolla's clean air soothed the aching lungs of Cissy, who was 18 years his senior and perpetually ill with what was later diagnosed as pulmonary fibrosis. So Ray and Cissy moved, with their cat Taki, into a one-story, three-bedroom ranch overlooking the Pacific that Chandler called "a far better home than any out-of-work pulp writer has any right to expect." (The home still exists, but a 1,550-square-foot second floor was added about 10 years ago — after a failed attempt to get it historically designated. Now, it truly is out of the reach of any out-of-work anybody, selling for nearly $6 million in September 2017.)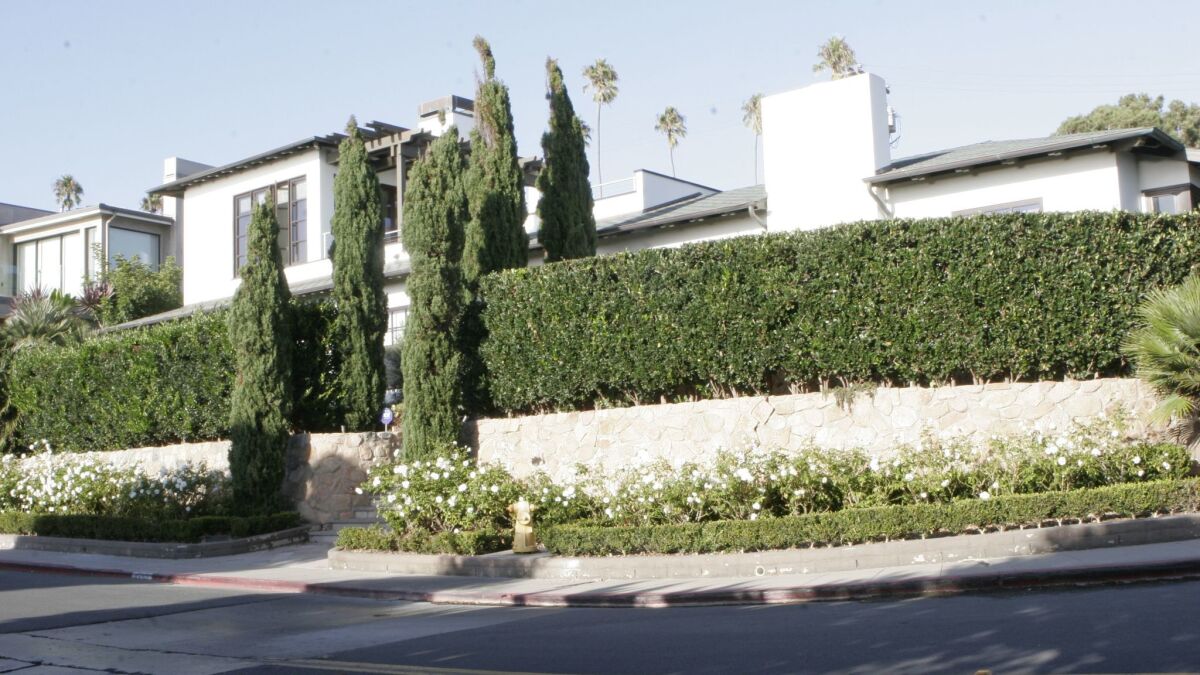 In addition to The Long Goodbye, Chandler wrote The Little Sister and his final completed novel in this house. Playback thinly fictionalized La Jolla as "Esmeralda." In one scene, the dwellers of the lobby of La Valencia — renamed "Hotel Casa del Poniente" — are described as "usually elderly, usually rich, usually doing nothing but watching with hungry eyes." One woman wears "enough make-up to paint a steam yacht."
On more than one occasion, according to letters he wrote to friends and business associates, Chandler seems to have regretted the move to La Jolla. In November 1948, he described it to Carl Brandt, his New York agent, as "full of tired old men and tired old money."
But his opinions always flip-flopped, according to Davis.
"He also loved La Jolla," she says. "He loved being by the ocean. He'd just get bored very easily. It wasn't a matter of liking or not liking. He was kind of like my mom in that respect, where if my family went to Australia and we got there, I heard my mom say how much better everything was in the U.S."
According to various newspaper and biographical accounts, Chandler enjoyed driving into The Village every afternoon to go food shopping, check the mail and chat with familiar faces. He would always don a suit or sports jacket, even in the summer.
The main problem Chandler had with La Jolla seems to be that Cissy's health never improved here.
"When I first went to their house, the floor plan hadn't changed," says Judith Freeman, author of 2007's The Long Embrace: Raymond Chandler and the Woman He Loved. "And you could see that she slept in her room, and down the hall was a room where he slept, and further on was a study. She would get restless at night and she would find him awake writing letters. He started drinking again, and he would make her tea. But you could sense in those letters, which became almost his social life, that he was beginning to feel more afraid as she got sicker and sicker."
Save for the occasional dinner at the Plaza Restaurant down the street (now part of the United Methodist Church at 6063 La Jolla Blvd.) or movie at the Cove Theater (now Jos. A. Bank at 7730 Girard Ave.), the Chandlers hardly left their house. On rare nights, Cissy felt well enough to sit up at the Steinway and play her favorite Chopin pieces. But those nights grew increasingly rare.
On Dec. 12, 1954, Pearl Cecily Chandler succumbed to her illness. She was 84. "For 30 years, 10 months and four days, she was the light of my life, my whole ambition," Chandler wrote to Jamie Hamilton, his British publisher, in January 1955. "Anything else I did was just the fire for her to warm her hands at. That is all there is to say."
Yet life went on for Chandler, who was only 66 when Cissy died. Although he missed her terribly, Davis says, he also managed to get out a lot more in his new life. Davis remembers having a ball with the widower.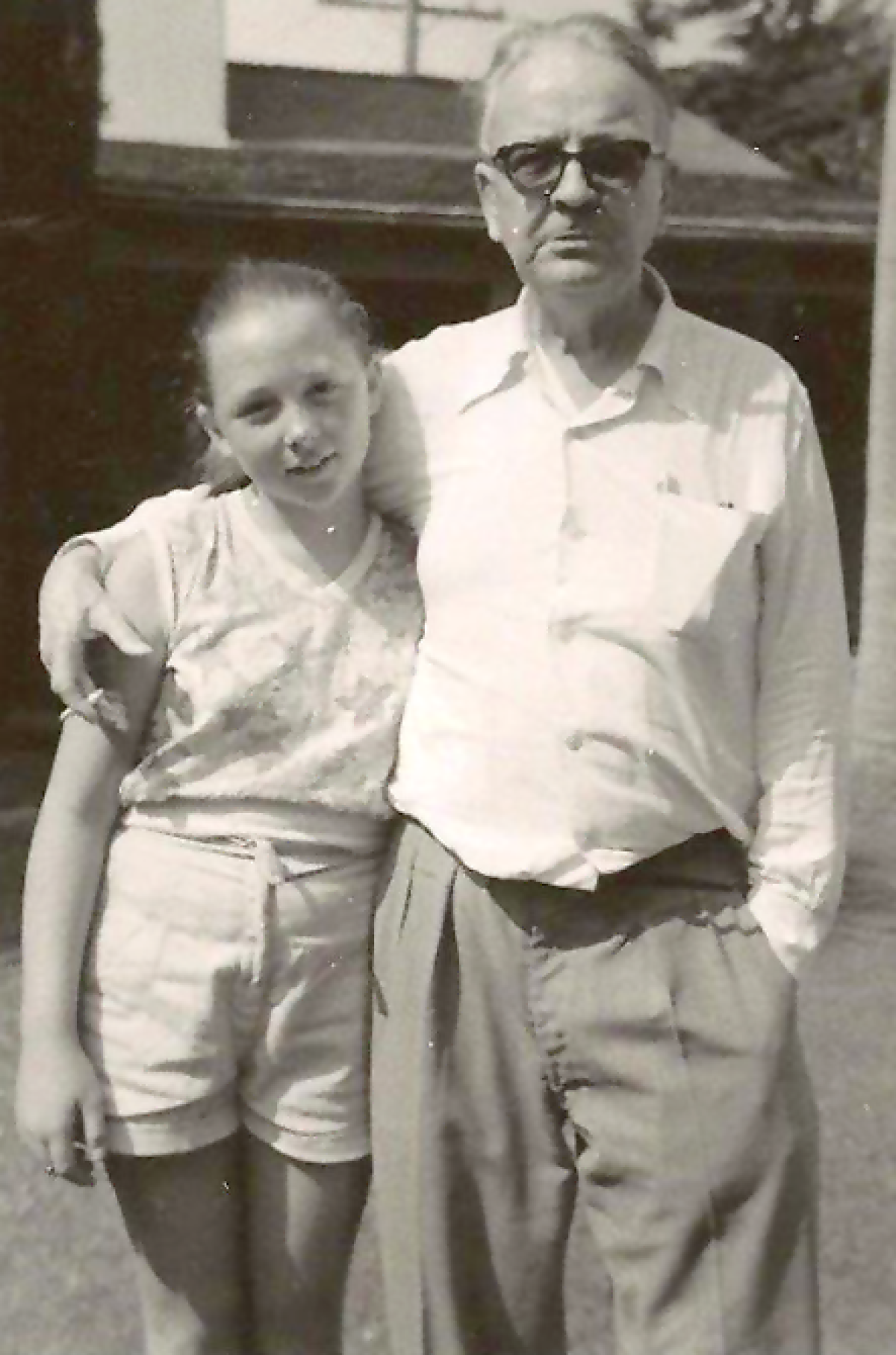 "He took me to the Top of The Cove (restaurant) for dinner with him," she says. "I remember going dancing with him. He would get immaculately dressed, wearing a trademark bowtie which was always askew, and a silver cane and French cuffs with gold cufflinks. He took me to my first tennis match, between Pancho Gonzales and Lew Hoad at the La Jolla Beach & Tennis Club. Ray became a best friend to me.
"There's this whole wonderful character that I know that other people never experienced."
This is not to say that Chandler wasn't a clinically depressed alcoholic, like his father before him (which is one of the reasons he lost his oil-company job). Writing from London in September 1955, Chandler recorded his drinking routine: "I start with a drink of white wine and end up drinking two bottles of Scotch a day. Then I stop eating. After four or five days of that I am ill. I have to quit and the withdrawal symptoms are simply awful. I shake so that I can't hold a glass of water. I can't stand up or walk without help."
But neither depression nor alcoholism defined Chandler, both Davis and Freeman argue; neither is even what killed him.
"Everything that's been written about him dwells on the dark alcoholic nature of this guy because that's part of the mystique of Phillip Marlowe," Davis says. "But he was hardly moribund at that time. I was witness to this banter he had all the time with my mom. He would come to our home at 1418 Torrey Pines Road. He had insisted that my mom store his library for him. We had his complete library. He'd see a book and pick it up and turn to a page and say, 'I'm just visiting an old friend, I'll be with you in a minute.' He was reading a favorite passage."
Jean Fracasse, a blued-eyed blonde Australian who worked as an actress and newsreader, answered an ad Chandler placed in the old San Diego Tribune for a secretary in January 1957. He had recently moved into what would be his final residence, 824 Prospect St.
Whatever the ad said, the real job was to keep Chandler away from alcohol, to keep him sober enough to complete Playback, and Davis says that having her and her brother around helped. "We weren't allowed to be around when he was drunk and he knew that," she says, "so he stayed sober just to do things with us."
Davis says Chandler regretted never starting a family, so he adopted hers.
"He really wanted to be part of a family and I think that's what our little family offered him," she says. "I think this is one of the things that bonded he and my mother together. Neither of them had any family. My mother's had all past away. He only had his wife's sister. My father died when I was 12 or 13. That was also something he had in common with my mother — they had both been caretakers of people they loved dearly."
Fracasse completed the job she was originally hired for. Playback was turned in, and quickly became regarded as his weakest novel. (It was the only one still not made into a movie.) Chandler had dedicated it to Fracasse. "He never dedicated a book to anyone, not even his wife," Davis says. "Cissy didn't like his writing."
Davis says there may have been some physical relationship — romancing secretaries was one of Chandler's procilivities — but there was just no hope for it. "I think she loved him fiercely but was not in love with him," she says. "My mother could not see her way to marrying him. Even after my father died. She had taken care of my father for a long time, and to take on a self-admitted alcoholic with an incredible mind who could be very exasperating, she just couldn't do it."
Chandler's drinking made him a regular at both La Valencia's Whaling Bar and the La Jolla Convalescent Hospital. Davis remembers visiting him at the latter location: "It was on La Jolla Boulevard next to a restaurant that served coconut cream pie that he loved. I used to get him a slice of that pie when he was drying out."
In March 1959, Chandler flew to New York. Officially, it was to accept another award, but there was also another woman in his life then — as there was most of the time. Helga Greene was his literary agent. (She inherited Chandler's estate, which included $60,000 and the future publishing rights to his stories. Fracasse contested the will but lost.)
While in New York, Chandler asked Greene's father for permission to marry his daughter. "That was supposed to save his life," Freeman says. "Helga, who was in her 50s, would have married him, but somehow, Chandler wanted to meet her father. He wanted to make an old-fashioned gesture, but he drank too much, her father was not receptive and Chandler felt that."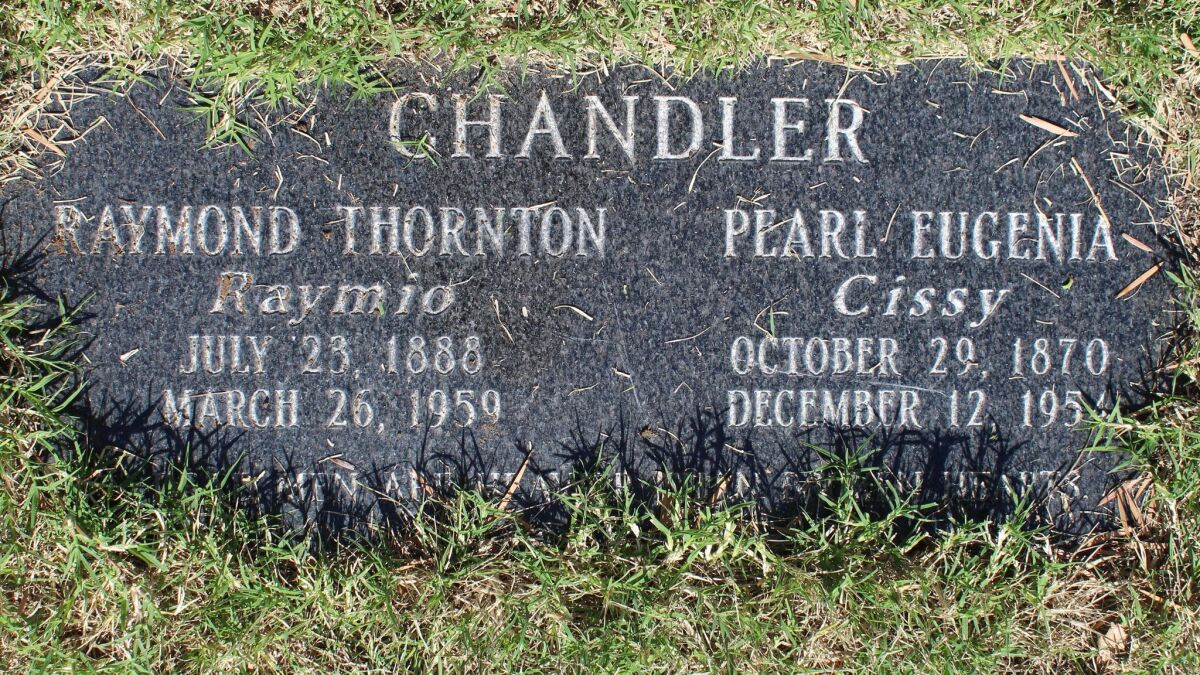 Chandler died at Scripps Memorial Hospital on March 26, 1959 from pneumonia that developed from a cold he caught in New York. He was 70. He's buried in Mount Hope Cemetery downtown. Cissy's ashes were brought to Mount Hope to join Chandler's remains in 2011, and they lie under a new, joint gravestone.
"To say that he was just a drunk and he drank himself to death is to put too tidy a spin on it," Freeman says. "He was a very complex man. "
---