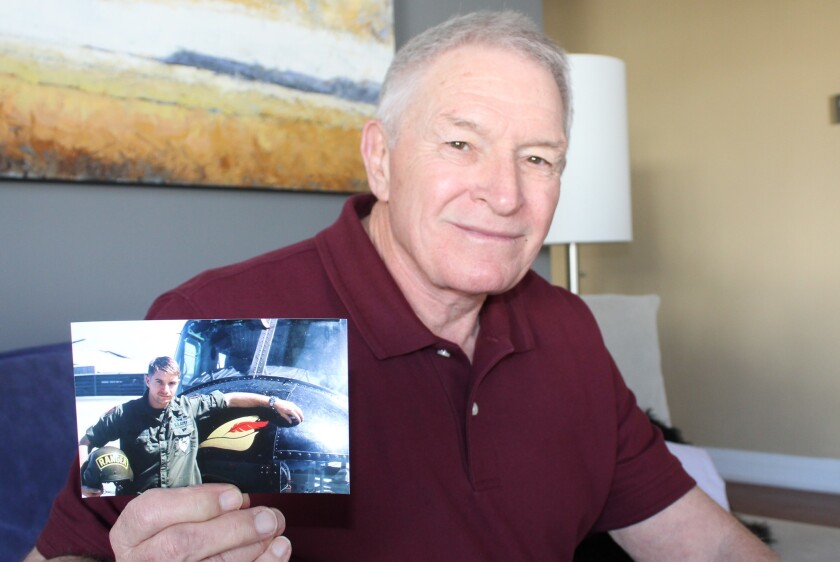 Fifty years ago, La Jolla resident Col. Ray Bender died just above the jungle treetops north of Saigon. At least that's how he remembers feeling when hundreds of Viet Cong green-tracer bullets pierced the shell of his helicopter like butter and whizzed past his seat.
"We were supporting infantry guys in combat at night and the enemy had us zeroed in," the 73-year-old retired Army pilot remembers. "There was so much fire coming up at us, I actually couldn't see the helicopter in front of me. Right at that point, I felt like I got killed and it just didn't take."
Bender is back in the La Jolla apartment he shares with his wife, Peg, and their Havanese dog, Pip (short for Pipsqueak). But he says he still occasionally suffers what he calls "daymares" that drag him right back into the jungle.
"There are three noises that are my triggers," Bender reports: "a helicopter, a siren and an air horn." He insists that the only reason his name isn't on Washington's Vietnam Wall besides dozens of his former buddies is plain old good luck. "It's not explainable, but I never got hit," Bender says. "That's why the troops loved to fly with me."
Partly for his heroism during the war, Bender has been named to the Officer Candidate School (OCS) Hall of Fame.
"Ray tends to, like a lot of us in life, downplay his accomplishments," says his friend, golf partner and fellow La Jollan Fred Thacher, who also served in the Army in Vietnam, although he didn't meet Bender until years later. "But to reach full colonel from enlisted man is a very remarkable achievement — especially combined with Airborne training, Ranger training and two tours in Vietnam. I don't think there are a thousand Americans alive who can say they achieved that."
Before his Hall of Fame induction, the biggest physical manifestations of Bender's 36 years in the Army were the Distinguished Flying Cross he received for exceptional valor, in 1972, for rescuing a special forces team under fire in enemy territory, and the congestive heart failure he was diagnosed with in 2003 due to Agent Orange exposure.
"They knew it damaged the heart," Bender says. "They'd known about it from 1950, but they denied it for years because they were really waiting for all of us to die."
The metal bracelet Bender wears isn't a memento of his Army unit but a warning to anyone who might find him passed out on a La Jolla street not to defibrillate his heart. (It contains a pacemaker, his third.) "I've run 17 marathons," Bender says. "I averaged 1,500 miles a year from 1974 to 2003. Now, I can't run a block."
Still, Bender says he doesn't have many regrets. "Not really," he says. "I was in the Army, it was our mission."
Bender grew up in a military family in Albuquerque, New Mexico. His father was a WWI fighter pilot. His older half-brother was a tail-gunner on a B-25 in India during WWII. And he trained with his twin brother, Jay, in the reserves after they both attended a military high school. So the path was laid out for him.
"But I still wanted to go," Bender says. In fact, he wanted to so bad, he enlisted in 1966, six months before he was legally allowed. ("That was a clerical error," Bender says, clearing his throat and changing the subject quickly.) Bender stayed with the Army, in the National Guard, until retiring in 1997.
Bender's OCS Hall of Fame induction ceremony will be held in March, at the National Infantry Museum in Fort Benning, Georgia. "In 1965, I remember saying that would be a great thing, being in the Hall of Fame, that was the goal," Bender says.
He adds: "No — the goal was to be alive and be in the Hall of Fame."
---