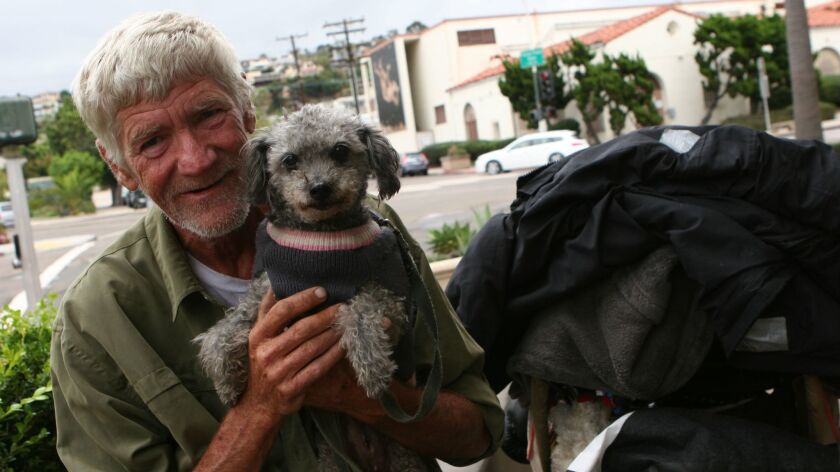 Maybe you've seen Ronnie Profeta around the corner from Vons, walking his shopping cart full of belongings along with his toy poodle that limps. (Madame Monique, 13, got hit by a car a few years ago.) Or maybe you've seen him but, you know, not seen him.
You probably have a surprising number of things in common with Ronnie — a Facebook account, for one. Ronnie, 57, posts two or three times a week, mostly inspirational memes, using his iPhone. The one he shared on Nov. 28 pictured a bird who appeared different than some other birds surrounding him. It read: "Never apologize for who you are." His Facebook account shows 469 Facebook friends, including a daughter, Jasmine Lee, who posted "Love you (smiley face)" on April 14. (More on her later.)
Ronnie's been homeless — with only a couple of respites — since 1987. An addiction to drugs and alcohol was originally to blame, he said. Ronnie admits to drinking "a little" to help him sleep now. His preference is 99-cent miniature bottles of Peppermint Schnapps from BevMo. "Maybe two," he said, "because I know I'll get carried away if I don't limit myself." But he says he's been otherwise sober for the last 10 years. (At least during each of this reporter's five unannounced visits to interview him, he seemed crystal clear.)
The reason he's homeless now, Ronnie said, is San Diego's lack of affordable housing. "Where do you find something that's affordable that's not in a drug-infested area?" he asks. "I don't want to be in fear of being shot when I walk out the door. I'd rather live in the bushes than like that."
Ronnie said panhandling earns him about $40 a day, with which he buys necessities for himself and Madame Monique. He says he could make $100 or more, "like the others do, but I try not to harass people, and they appreciate that."
Ronnie says he also works — probably not as often as he should but "I'll spray home addresses on people's curbs or pull their weeds." (Ronnie showed this reporter the stencil he uses for the former activity which, according to San Diego Coalition for the Homeless chairman Bill Sturgeon, is illegal in the City.)
SKETCHY CHILDHOOD
There are a few happy moments Ronnie can recall from his youth in Ontario, California — for instance, being taken by his grandather to meet President Richard Nixon at the airport as a tyke. "The Secret Service rushed me right up front to shake his hand," he said. "That was great."
But mostly, he describes it as a "bothered" childhood spent in the care of a single mom and several monstrous alcoholic stepfathers. "They abused me physically and mentally," Ronnie said. "One father tried to sexually, but I wouldn't have nothing to do with it."
This was followed by a blur of foster homes, starting at around age 14, that brought him to San Diego for the first time. Here, he attended (but mostly didn't attend) Mission Bay High School. Ronnie dropped out to do drugs. Juvenile hall was a frequent stop between homes. We've all seen the movie.
"I was pretty much an animal, a bad seed," Ronnie said. "I had one good friend — his dad was a Navy admiral — who helped me a lot to learn to be civilized." But just knowing how to behave didn't pay the bills or the rent on his $350-a-month one-bedroom apartment. "The landlord was knocking on the door, the bills were piling up, the girlfriend was gone," Ronnie said, "and I just tried to stay so drugged out so I didn't have to feel the emotions."
He vividly recalls the ghastly Ontario night when homelessness first hit in 1987: "I remember trying to duck and dodge the cops and my high-school friends. I was more worried about my friends than the cops. I was really embarrassed for any of them to see me."
So he left. After a stop-over in Riverside, Ronnie headed back to San Diego to try out "beach bum" status. He hooked back up with some Mission Bay friends and made dozens of new ones, attending surfer parties and playing league volleyball. (His best move earned him the nickname "Spike.")
"That was way cooler than just being a homeless guy," Ronnie said. "I was pretty popular."
CLEANUP TIME
In 1989, Ronnie started attending in the Dawn Patrol Alcoholics Anonymous group and made even more friends that way — ones who contributed to his sobriety for a change. That led to Ronnie's first major attempt to heave himself out of the gutter. In 1991, Ronnie moved back home to live with his parents and attend United States Truck Driving School, from which he graduated with his commercial driver's license after a month.
"I had to work really hard to get people's faith," he said, "so I got a flat-bed work hauling timber from up north in Oregon. There was no air-conditioning, but it was a job, it was a start."
Suddenly, Ronnie said, his boss disappeared. "I'm not making money, because I'm paying to fix and gas up the truck myself and I can't get my own gigs," he said. "Finally, the king pins went out, so I had to abandon it."
Ronnie fell quickly back into gutter life, explaining that "once you do it once, it's easy to get back into it." This stretch lasted until 1994, when — following the advice of a sober friend — he moved to Kentucky to resume truck-driving. "I worked my butt off and sweated my brow like the Bible says," he said.
Ronnie earned enough at it to qualify for partial retirement and to purchase a trailer on a lake that he fixed up.
After a couple of years, Madame Monique entered the picture. He purchased her and another toy poodle, the late Pierre, to keep him company during long hauls. He also met a human someone special, at a Grateful Dead concert in New York, but that relationship didn't last as long. They moved in together and had Jasmine Lee ("after the flower," Profeta says). But his girlfriend split after two years, after which Ronnie headed back west — to his sister's house outside Victorville. (All he will say about the experience is that "humans should not live that way.")
SLEEPING OUTSIDE
Most nights, Ronnie crashes on the loading dock of the former Everett Stunz Duxiana mattress store — which moved into a new building across the street. "It's fine," he said. "I throw a blanket down. It's quiet and nobody bothers me, for the most part." Occasionally, a police officer will come by to check up on things, but won't threaten him with arrest. (In San Diego, being homeless is not a crime.)
Ronnie says he's checked into a crisis center downtown and two board-and-care homes elsewhere in California. "I was mentally and physically abused in these places," he said, adding that he's afraid to try any of the homeless shelters downtown. "I'll take my chances out here," he said.
Ronnie always tries to make it down to the beach bathrooms, he says, but he suffers from ulcerative colitis, "so when nature calls, it calls." That's what the plastic bags in his cart are for, which he says he always tosses in the garbage afterward.
The last 10 years of Ronnie's misfortune have been interrupted pretty much only by even more misfortune — an encephalitis-induced coma about five years ago, leaving Ronnie with a seizure disorder that prevents him from ever driving again, and quadruple bypass surgery after that. (He showed this reporter the scars.) He said that early retirement and Social Security paid for what Medicare didn't.
"I don't want anybody feeling sorry for me," Ronnie said. "I'm not happy living on the street, but I'm OK. I get by."
A DAUGHTER'S LOVE
Pretty much the only good thing about Ronnie's life happened when Jasmine Lee re-entered it two years ago, for the first time since she was two. "Her mom always told her that her dad loved her, so she found me on Facebook," Ronnie said.
Jasmine Lee is 23 now. She lives in Missouri with her husband and their two children. They all visited Ronnie in La Jolla last Christmas. He saved up his panhandling money for months to fly them out, rent them a hotel room and pay for dinners out.
"They're not homeless, like me, but they are broke," he said. "We all had a great time. It was quite emotional."
Ronnie headed back out to Missouri to visit them this Christmas. He reported that Jasmine is pregnant again. "I'm so excited to meet the baby," he said. "It's great to have something to look forward to."
BOMBSHELL DROPPED
Jasmine took a couple of weeks to return the Light's voicemail message. She works as a sales associate at Walmart and, between that and her family, she said she didn't have a free second. When she called, she dropped a huge bomb, pretty much straight away.
"He's a paranoid schizophrenic," she said of Ronnie. "My mom says that when I was younger, it was a lot worse. When I met him, he was fine. But sometimes he just veers off into talking about the government being after him. He also sometimes has hallucinations of a leviathan dragon. But it's easy to snap him out of it. I say, 'Dad, can't talk like that' and he'll stop. He's very sweet, he's not a drunk and he doesn't use drugs, and that's such a plus."
The mental illness is why Jasmine's mom left him, Jasmine said. He was institutionalized for it on and off for 10 years. "My mom took everything away from him because of his mental illness," she said. "She took every right he ever had. I've been searching for that man since I was itty-bitty, but my mom wouldn't let me look him up until I was 18."
Jasmine says she's worried about her father. "Yeah, of course, I'm worried," she said. In fact, she has extended an open offer for him to live with her family in Missouri, but he won't accept it. "Sometimes, he's very difficult to deal with and you want to pull your hair out, but I love the old guy," she said.
RONNIE REACTS
One hallmark of mental illness is a lack of awareness that one suffers from it. Once again, Ronnie Profeta bucks stereotype. He knows he's mentally ill. He admitted to being diagnosed and institutionalized for paranoid schizophrenia just as straight away as Jasmine did. When asked why he didn't reveal such a major part of his life earlier on, he replied: "You didn't ask."
The real answer, of course, is that there's a stark stigma against mental illness — even when you make a pillow out of a curb every night.
Speaking from his daughter's house in Missouri, Ronnie said, "I can't live back here. I'm from California." He also said: "I don't mind coming back out here to visit, but they're struggling, too, and I can't do that to them."
Ronnie said he would like help finding a place he can afford to rent: "I need to get into some kind of place, but I don't want to go back into some board-and-care."_______________
A CASE MANAGER'S ASSESSMENT
La Jolla Light asked Lucky Michael, program director for the Alpha Project, a 501(c)3 nonprofit serving more than 4,000 homeless individuals, for her opinion on Ronnie's situation. This is her response:
"While I haven't met Ronnie and don't really know his entire story, I will say that housing is a human right and everyone deserves a safe place to call home, regardless of their history with substance abuse and mental illness.
It's common to hear homeless individuals express resistance to shelters and programs, often due to rigid rules and negative experiences in them. Our community of San Diego service providers has worked really hard to implement best practices and train staff to be trauma-informed and meet clients where they're at — meaning their level of readiness toward change. Our standards are person-centered, housing-first approaches.
In some cases, individuals do best in treatment programs, crisis homes and board-and-care. When we approach someone, it's important to understand that there is no one-size-fits-all solution. We have to develop a therapeutic alliance with the client and tailor services to their needs.
That said, I would recommend Ronnie connect with housing navigators for the Regional Task Force on the Homeless (rtfhsd.org) and complete a VISPDAT (Vulnerability Index Service Prioritization Decision Assistance Tool), which is used to measure a person's vulnerability and determine the best housing intervention.
The VISPDAT is just a starting point. We would still need to develop a rapport and get an understanding for what Ronnie's needs are and link him to care. The County has excellent behavioral health services. There are also numerous community clinics where he can establish primary care.
But, of course, any change has to come from Ronnie first. And I can only hope he decides to take these first steps. Please wish him the best in 2018 from me and many others who are trying to help Ronnie and people like him all over San Diego."
---