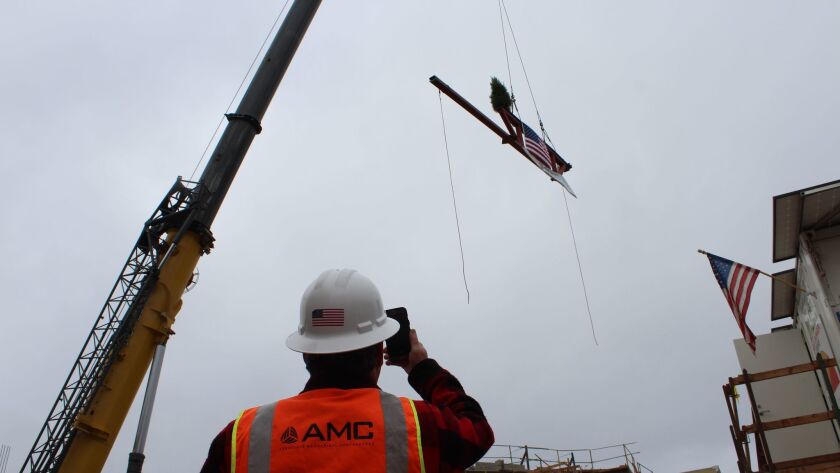 The $78 million Conrad Prebys Performing Arts Center was topped off Friday, Jan. 19, as one-and-a-half tons of steel flew into the air and into its place 27 feet above what is slowly becoming the floor of the 500-seat Baker-Baum Concert Hall.
Across the street, at a viewing party on the deck of The Lot movie theater, a VIP crowd gathered to applaud the milestone. It included founding donors Debbie Turner (life partner of the late Conrad Prebys), Stephen Baum and Brenda Baker, Joan and Irwin Jacobs, Raffaella and John Belanich, Sylvia and Brian Devine, Betty and Bob Beyster, James F. Beyster, Mary Ann Beyster, Brian and Silvija Devine, and Peter and Peggy Preuss.
"This beam is going to hold the roof under which you, your grandchildren, and your grandchildren's grandchildren, will be watching the world's greatest performers into the next century," Katherine Chapin, board chair of the La Jolla Music Society, which is building The Conrad as its new home, announced to partygoers beforehand. "This placing of the steel beam is symbolic of how a group of dedicated people can work together to achieve the seemingly unachievable."
The Conrad, which broke ground on Feb. 1, 2017, is on target to open in early 2019.
At 1:20 p.m., the topping-off commenced with the placement of the highest structural truss atop The Conrad. This construction ritual dates back to an ancient Scandinavian religious practice in which trees were placed atop new buildings, and is why a small tree was attached to The Conrad's topping-off beam (in addition to an American flag).
"Having this type of facility in La Jolla is going to make a great difference — actually, for the whole City," Irwin told the Light afterward, while waiting in the buffet line for tacos. Jacobs noted that he "enjoyed the music for many, many years" at the now-shuttered 400-seat Sherwood Auditorium at the Museum of Contemporary Art San Diego, the La Jolla Music Society's former home, but that its sound "was a little dead, so it'll be special to have a really live musical hall. I think people will really notice the difference." Irwin and Joan's $10 million Conrad contribution — tying Baker and Baum's contribution and bested only by Prebys' $15 million — resulted in the naming of a 150-seat cabaret theater the JAI (Joan And Irwin).
Turner told the Light: "Conrad thought that this was going to be his jewel, his crowning achievement. He was a music guy, and music was everything, so this is fitting."
The celebration comes less than two weeks after Kristin Lancino, president and artistic director of the La Jolla Music Society, abruptly resigned after barely two years due to what was announced by a statement from the 50-year-old nonprofit arts organization as "personal reasons." (Her interim replacement is expected to be announced in the coming weeks.) The La Jolla Music Society also has another key vacancy to replace with the recently announced impending resignation of Cho-Liang "Jimmy" Lin, director for 18 years of SummerFest.
"I hope that, by the time I step down in late August, a new president and artistic director has been found," Lin said, when informed by the press of Lancino's resignation. "And somebody will have to announce the new music director. So I guess a lot will happen in the next six to eight months while the construction of our new performing arts center is going on."
---