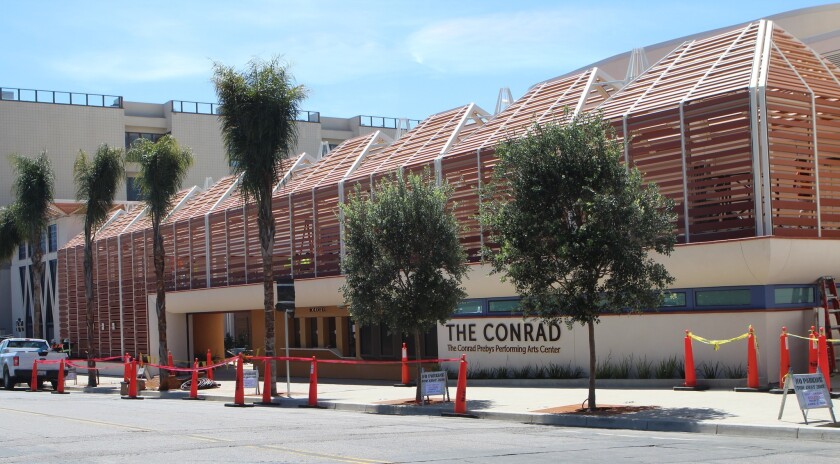 When opportunity came knocking for the La Jolla Music Society (LJMS) to launch the most ambitious and expensive undertaking in its history, it came in the form of a wrecking ball. In 2012, LJMS learned that the Museum of Contemporary Art San Diego's Sherwood Auditorium would be torn down and rebuilt as an exhibition gallery. The LJMS had rented the 492-seat auditorium on Prospect Street every August since 1986 for its SummerFest chamber-music extravaganza. It had also used the auditorium for fall, winter and spring concerts. Sherwood's closure could have been a crippling, if not fatal, blow.
"It was a huge shock," recalled Christopher Beach, LJMS president/CEO from 2005 until 2016. "We had no home, no place to call our own."
Now, they do.
Barely two years after LJMS' final 2017 concert presentation at the Sherwood, the 51-year-old organization (with an annual operating budget of $6.5 million) is poised to celebrate the culmination of its unprecedented expansion and reinvention. With the Friday, April 5 opening of its new La Jolla home — the $82 million Conrad Prebys Performing Arts Center at 7600 Fay Ave.— the nonprofit will officially begin the most audacious and, perhaps, risky chapter in its history.
"We built The Conrad on a hope and a dream," said Katherine Chapin, LJMS board chair. "We now have a performing arts center that will enable us to expand the audiences we draw and market to. We can extend our legacy of 'bringing the world to San Diego' and of maintaining our status as a world-class organization, with our new world-class venue."
And the risky part?
"The risk is that we, as a board, created this performing arts center out of a vision we had, and it was purely a vision," Chapin replied. "It was not something we had the experience to do, or — initially — the funds. But we raised the money, found a world-class architect and world-class acoustician, and built it, nail by nail. Now, as a presenting organization, we'll be using The Conrad about one-third of the year. The rest of the time, we'll need to find renters and ensure that, financially, we are a profitable business entity, 365 days a year."
Despite its $82 million pricetag, the Conrad will open Friday with all but $700,000 of that amount already raised. No less remarkable, that underwriting was raised privately, with no City or state funding, and no partnership with any other arts organizations to help offset costs.
Just as impressive, fundraising and the construction of The Conrad was unimpeded by LJMS having gone through two CEOs in just 14 months. Its new CEO, Ted DeDee, will start work Friday.
The 49,200-square-foot center is designed by New England-based Epstein Joslin Architects Inc. Yasuhisa Toyota, the president of Nagata Acoustics America, is the head acoustician. Between them, the two companies' credits range from Disney Hall in Los Angeles and the Boston Symphony Orchestra's Seiji Ozawa Hall at Tanglewood to the Baltimore Symphony's Strathmore Music Center and the Pierre Boulez Saal in Berlin. Their state-of-the-art work on The Conrad required close collaboration.
The Conrad houses two performance venues. The Baker-Baum Concert Hall has a capacity of 513, while The JAI can accommodate — depending on the event — 116 people seated at tables, 170 in rows of chairs, or 300 standing. The two venues are named, respectively, after four major donors — retired Sempra CEO Stephen Baum and his wife, Brenda Baker, and retired Qualcomm co-founder Irwin Jacobs and his wife, Joan.
Conrad Prebys, for whom the center is named, died in 2016. One of San Diego's most generous philanthropists, his donations to area organizations between 2004 and 2015 totaled more than $300 million.
An avocational pianist and lifelong fan of classical music, Prebys helped select the site for the new performing arts center. He also pledged $5 million for construction and $10 million for the center's endowment fund for operating expenses (the donation of the latter amount has been stalled by ongoing Prebys estate litigation.)
The Conrad is in the heart of The Village, on the site of a former retail complex that was home to Tapenade restaurant. It is just a few blocks from the now-defunct Sherwood Auditorium and across the street from The Lot movie theater.
"Unfortunately, Conrad passed away before the groundbreaking, but he was so excited about it," said Debra Turner, Prebys' longtime partner and a current LJMS board member. "He said: 'I have done so much for so many, but this (center) is for me. Music is in my soul — this is my legacy.'"
Design and function
Before submitting his company's winning proposal, Alan Joslin — the principal architect in charge of The Conrad's design — spent time with his team examining buildings in La Jolla and in Balboa Park. These included the Athenaeum Music & Arts Library, several churches, and such Irving Gill-designed landmarks as the La Jolla Woman's Club and Scripps Hall at The Bishop's School.
"It was those qualities we wanted to latch on to — and recall and harmonize with — without aping and copying them," Joslin said. "I think of what we have done at The Conrad as a bit like Shakespeare, which is trying to gain a lot of strong character and meaning with minimal means."
Joslin describes the Baker-Baum Concert Hall as "a wooden nest that floats inside of the concrete and masonry of the hall." By suspending the hall, so to speak, the sound and vibrations of its heating and cooling systems are virtually eliminated for concertgoers and performers alike.
"Yasuhisa Toyota, whose work is extraordinary, put a lot of emphasis on the quality of the stage floor," Joslin noted. "It was built almost like a Japanese temple, with lots of beams and a 2-foot-thick air space. We used Alaskan yellow cedar. The stage allows the musicians to subtly vibrate with the music, as they feel it through the floor."
Toyota uses proprietary software that he developed for his sound designs in concert halls. He seeks to ensure that the music sounds as natural, warm, rich and well-balanced as possible. "We are hearing the acoustics not only with our ears, but with our eyes," said Toyota, who is sometimes prone to enigmatic remarks. "The question is: 'How clear can we hear the music?'"
Multiple venues, multiple uses
The Baker-Baum Concert Hall and The JAI face each other. In between them is the center's Wu Tsai Courtyard & Garden.
The courtyard, which will also host events, contains a permanent bar and food concession area that will be open to the public during the day. The second-story Belanich Terrace overlooks the courtyard and surrounding neighborhood.
The rear of the multilevel center contains a private lounge for donors, rehearsal spaces, a kitchen and catering area, restrooms, storage areas and more. Staff offices are on the second floor, above the Atkinson Room (which will be rented for meetings and lectures).
While classical music will be a featured entree, LJMS's offerings will champion the stylistic diversity that has been a hallmark of its year-round programming. At least 17 jazz, dance, world music, cabaret and film events are on its schedule between April 9 and June 8. Six other ticketed performances will be held by outside arts organizations, who are renting The Conrad during that same period.
That diversity will be further showcased during opening weekend. It begins Friday with an all-star concert by nearly a dozen artists. They include classical violin star Hilary Hahn; ukulele virtuoso Jake Shimabukuro; "jookin" dancer Lil Buck; pianist (and new SummerFest music director) Inon Barnatan; and a chamber-music quartet featuring four former SummerFest music directors, including violinist Cho-Liang "Jimmy" Lin. Only a few dozen tickets, priced at $1,500 each, are left for the concert.
Versatile pop singer Seal, a four-time Grammy Award winner, performs Saturday. He'll be followed by a Sunday dance concert by neo-swing band The Hot Sardines. The shows by Seal and the Sardines are sold out.
The cost of development
The Conrad's pricetag is now $82 million. That's $3.5 million more than the $78.5 million budget in place last July, $17 million more than the $65 million amount cited in 2015, and a whopping $42 million more than the $40 million budget announced in 2014.
Of course, cost overruns are hardly the exception when it comes to constructing top-quality performing arts centers. Chicago's Joan W. and Irving B. Harris Theater for Music & Dance opened in 2003 at a cost of $52.7 million, nearly $14 million more than originally planned. The Shed, the enormous new multidisciplinary arts center that opens Friday in New York City, was budgeted at $350 million. By mid-March, that amount had mushroomed to $475 million.
In the case of The Conrad, the cost grew exponentially as the vision of exactly what the center would be grew. Its design had to factor in the 30-foot height restriction imposed on all new buildings in The Village. Construction material costs also rose, and crews have been working "plenty of overtime."
One unforeseen factor — which added $1 million to the budget — is that the property The Conrad occupies is at a low point where rainwater accumulates from both directions. This necessitated constructing a giant "bathtub" under The Conrad to prevent flooding.
The lot The Conrad occupies was purchased for $10 million. An additional $2.5 million was spent to buy property under the nearby Bank of America to secure underground parking.
"We started off thinking we would build a bare-bones concert hall," said LJMS board member and former Sempra honcho Baum, who has helped oversee construction. "What we've ended up with is a great concert hall, plus a beautiful cabaret, offices and much more. We're only 7 percent above the maximum guaranteed price, which for a project of this size and complexity is something to be proud of. I went into the concert hall earlier this month, when the acousticians were there to do a sound test with musicians performing. It sounded so wonderful that I cried."
Would The Conrad exist if Sherwood Auditorium hadn't been demolished?
"It probably wouldn't have happened, because sometimes it takes a lot to make people move," board member Turner said. "When the choice is either fold the organization or build a performing arts center, that's a big step. Would it have been nicer to have The Conrad 20 years ago? Yes. But once we decided to move forward, the building (process) began almost instantly."
Former CEO Beach, chief fundraiser for The Conrad, agreed. "Twenty-five years ago, long before I got here in 2005, the society's board had evaluated the idea of building a theater for us and the community," Beach said. "It didn't work, because there wasn't the absolute necessity. And now, there was. But at Friday's opening night of The Conrad, we'll be able to look back — in hindsight — and say: 'This was the greatest thing to happen to La Jolla Music Society in a very long time' — and, also, to La Jolla, the broader music community and San Diego. When someone wants to find us now, they'll know where we are."
Will The Village stay open later for Conrad crowd?
When the Conrad Prebys Performing Arts Center opens its doors on April 5, the doors will also open to opportunity. The new music venue will potentially bring hundreds of visitors to La Jolla, most of whom will exit concerts between 9:30 and 10 p.m.
Only 12 restaurants in The Village are currently open until 11 p.m. or beyond on Friday and Saturday nights. Will more stay open later now? For most, the answer seems to be "it depends."
Piazza1909 expects to maintain its 10 p.m. weekend closing hours but isn't firm on it. "I doubt people will be looking to dine after 10 p.m.," said owner Roberta Ruffini. "However, if we see that with The Conrad open, people will look to come in after 10 p.m., we can certainly review our hours."
Whisknladle, which currently closes at 9 p.m., also seems tentative. "If we believe it makes business sense to remain open, we'll certainly consider doing so," said Whisknladle CEO Arturro Kassel. "We'll have to wait and see what kind of crowd The Conrad draws and see what kind of a mood people are in when they get out.
"Rest assured," Kassel added, "we'll be keeping our eyes on it closely."
Bernini's Bistro, located half a block to the north of The Conrad, is currently open until 10 p.m. on Fridays and Saturdays. However, on nights when The Conrad hosts concerts, the bistro promises to extend its hours.
"We believe that we will get many guests dining before the show," owners Hamdi and Reyhan Gumustekin wrote in an e-mail the Light, "but we will also experiment with staying open later and seeing what happens. We believe The Conrad's opening will be great for The Village!"
Finally, there's The LOT, which is uniquely positioned to capitalize on exiting Conrad patrons since its patio is the first thing most will see on their way out. It is already open until 1 a.m. on the weekends and will partner with the new venue on "dinner and a concert" promotions featuring what LOT marketing manager Gabriel Perlo refers to as "special pricing and experiences."
"We are waiting to get their full schedule of programming to truly push the borders of what our partnership will be," Perlo said, adding that "we are very excited about the opening of The Conrad (and) have literally been counting down the days."
Jodi Rudick, executive director of the La Jolla Village Merchants Association (LJVMA), said no formal Conrad-related projects have so far gelled between her organization and the La Jolla Music Society, "but we will absolutely wait for them to catch their breath and see where there might be opportunities." Until then, Rudick said, LJVMA will "continue to make sure that the merchants have the info they need to make good business decisions — whether that means staying open later or connecting to new advertising opportunities like The Conrad program guide."
— The La Jolla Music Society can be reached at (858) 459-3728 and ljms.org
---