La Jolla lifeguards win four awards from San Diego Lifesaving Association
In addition, the Citizen of the Year is a La Jolla resident and the Citizen Rescue of the Year took place in La Jolla Shores.
An unprecedented number of people and events with La Jolla ties were honored during this year's San Diego Lifesaving Association Hardy Awards banquet, which celebrates the work of San Diego's lifeguards division.
Of the nine awards given during the Aug. 16 ceremony, lifeguards stationed and/or living in La Jolla received four. What's more, the Citizen of the Year is a La Jolla resident and the Citizen Rescue of the Year took place in La Jolla Shores.
Get the La Jolla Light weekly in your inbox
News, features and sports about La Jolla, every Thursday for free
You may occasionally receive promotional content from the La Jolla Light.
Lifeguards sent out an online survey for nominees in each award category. Lifeguards receive awards on a vote of their peers.
"It is with great pride to see so many lifeguards who are stationed in La Jolla receive awards," San Diego lifeguard Lt. Lonnie Stephens told the La Jolla Light. "The lifeguards humbly serve and recognize it is a privileged trust to be of service in the community of La Jolla."
Here's a look at some of the honorees and their achievements.
Lifeguard II of the Year
La Jolla resident James Le Beau, also known as Jimmy, was described in his nomination written by Sgt. Dana Vanos as "the man, the myth, the legend."
"His proficiency in navigating through the challenges of the workplace comes with visible ease, a skill necessary to be successful at any rank and a skill many chase their entire career," Vanos wrote.
Le Beau has "been on countless considerable rescues we will never hear about, numerous major medicals aids that will never be fully appreciated [and] completes every citizen contact with a handshake and a joyful farewell," Vanos continued.
Le Beau also was acknowledged for "elevating the morale of the crew" at the La Jolla Shores lifeguard tower, where he is stationed, and for his impressive sideburns. "Jimmy makes coming to work better, and for that, we thank you," Vanos said.
Seasonal Rescue of the Year and Citizen Rescue of the Year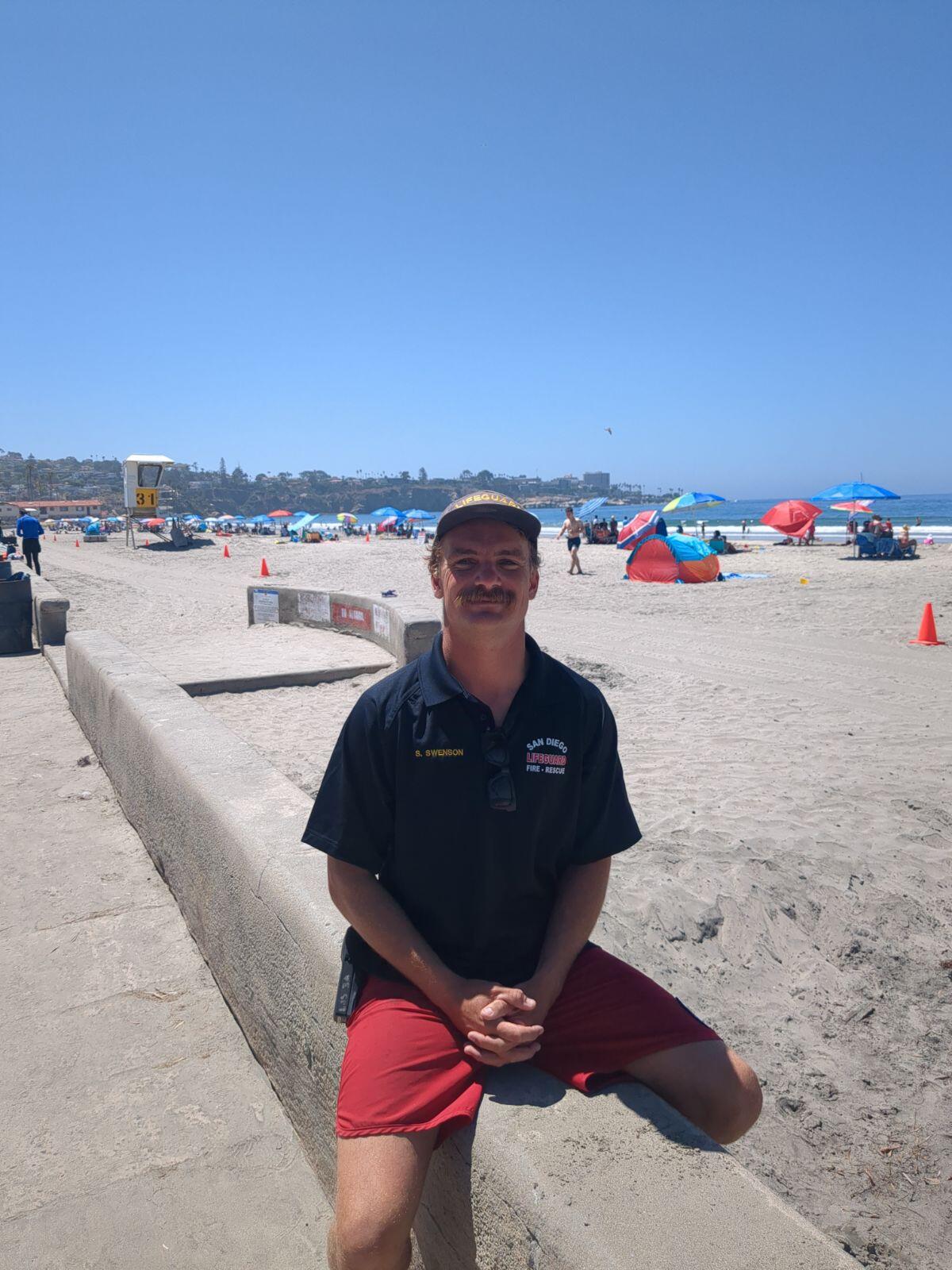 This year's Citizen Rescue of the Year and Seasonal (Lifeguard) Rescue of the Year were one and the same and took place in La Jolla Shores. According to lifeguards, resident Kate Amos started the rescue and the lifeguard team of Trevor Nielsen and La Jolla resident Scott Swenson finished it. All were honored.
Around 7 a.m. June 23, Amos saw a man fall head first while surfing, according to the nomination. "She noticed he was not moving and was face down. She acted quickly to grab him and spin him face up and start pulling him in from the surf. Kate also initiated the 911 [call] and had lifeguards respond."
Nielsen and Swenson "quickly assessed and made in-water precautions, as he was experiencing paralysis," according to the nomination.
The man was placed on a rescue board and taken onto land. As he was being treated by paramedics, lifeguards noticed another person being pulled out of the water. Nielsen and Swenson raced to the second victim and took him onto land. He was later treated for a knee injury. Additional details were unavailable.
Project Heartbeat CPR of the Year
The Project Heartbeat CPR of the Year award, given for the use of CPR as part of a rescue, this year went to a rescue at La Jolla Cove on July 22.
That morning, Nielsen, Bryan Valone and Sydney Fortune were in The Cove observation tower when they saw a diver waving an arm offshore. Valone entered the water on a rescue board and made contact with the diver, who told him of an emergency that turned out to be an unconscious diver.
"Valone conducted a medical assessment to find the diver had no pulse," according to lifeguards. "He updated dispatch that CPR was in progress, removed the diver's equipment with the help of the original [reporting parties] and began CPR on his rescue board. Shortly after, Nielsen arrived on scene on [a personal watercraft] and transported Valone and the patient back to La Jolla Cove. ... Nielsen and Valone transferred the patient to the beach and continued CPR, while Fortune arrived with an automated external defibrillator [which is used to help people experiencing cardiac arrest]. The crew continued high-quality CPR throughout the call until fire-medics arrived on scene and transported the patient."
Mike Knight Athletic Achievement Award
For his physical prowess in Southern California water activities such as a paddleboard race to Catalina Island, an ocean race in Newport Beach and others, La Jolla resident Tristan Sullaway was honored with the Athletic Achievement Award.
Sullaway also was honored by the San Diego Lifesaving Association in 2019 as the Seasonal Lifeguard of the Year. At the time, he told the La Jolla Light: "I grew up surfing Windansea, and a big part of the culture down there is the lifeguards. I had friends that were older, and watching them get into this field made me want to do it."
He guarded La Jolla's Children's Pool and La Jolla Shores and credited his frequent visits to those places during his youth for his familiarity with their "nooks and crannies" and being able to maneuver in any conditions.
Citizen of the Year
La Jolla resident Linda Polly was named Citizen of the Year for her support of local lifeguards.
"Linda consistently stops by the [lifeguard towers], checking in on how the guards are doing and bringing by food to make sure they are fueled for their day," according to her nomination authored by Sgt. Adam Larkin. "She's also provided a handful of cookbooks to the guards to make sure the ones leading the bachelor/bachelorette lifestyle know how to cook a proper meal. And on top of all this, she helped facilitate a donation to the San Diego Lifesaving Association that has allowed them to expand their community outreach. … We are lucky to have her support and friendship." ◆