Car is damaged in apparent shooting while traveling on Gilman Drive in La Jolla
The incident occurred late May 21 near Via Alicante. Another person says something similar happened in that area about six weeks earlier.
An apparent shooting in La Jolla early this week left a hole in a car and the driver shaken. And it appears it's not an isolated incident.
Valentina Castilla said she was driving north on Gilman Drive late the night of May 21 just before Via Alicante when she "suddenly heard this really loud bang and could feel that something had hit my car." The rear left window was heavily damaged. She assumed it was a rock.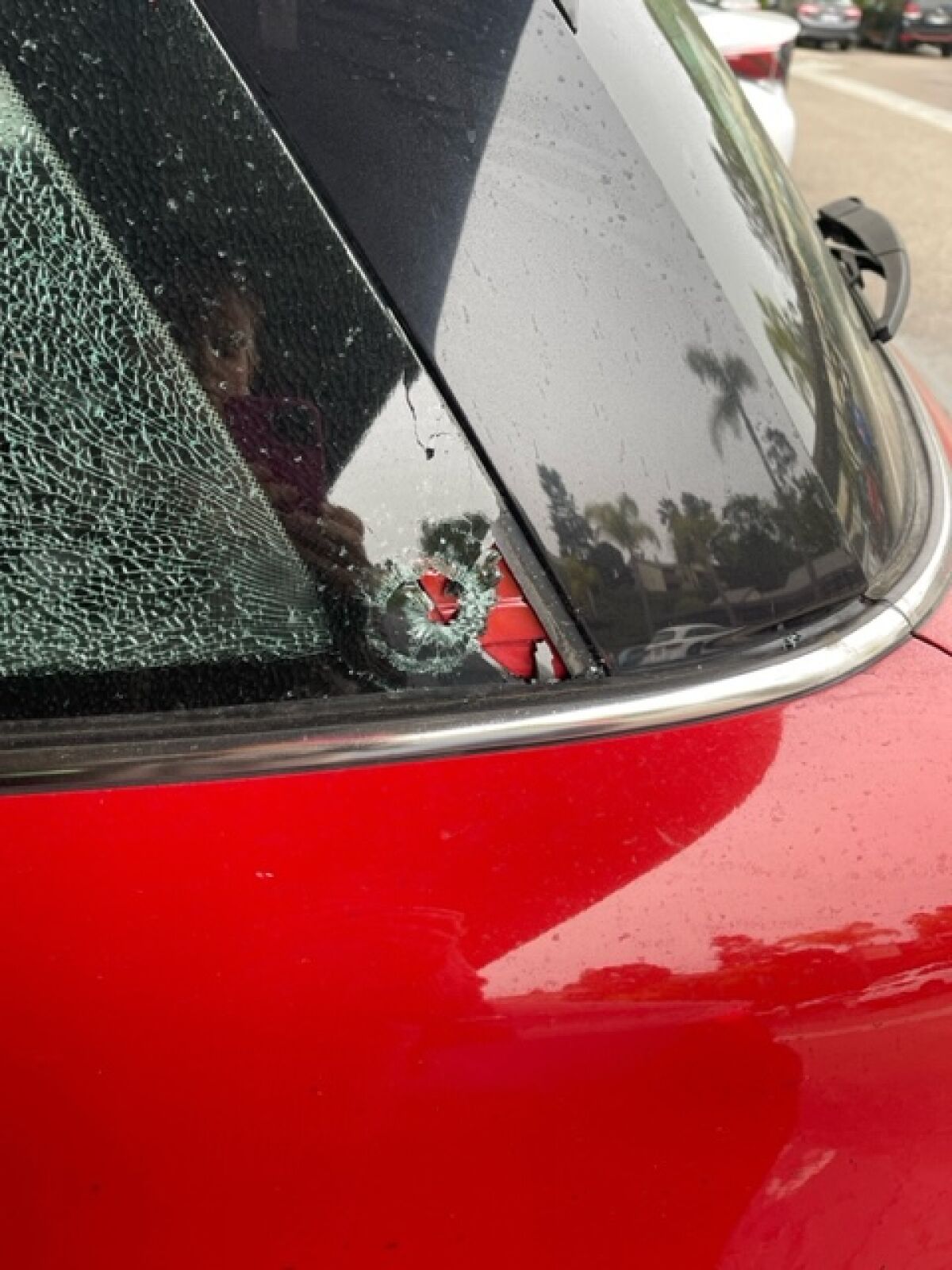 "I got home and went into the house but thought it was weird that a rock broke my window," she said. "So the next morning I checked out the car and noticed the window was broken with a perfectly round hole. I really freaked out. ... It could have hit me."
She filed a report with the San Diego Police Department and an officer told her the damage appeared to have been caused by a BB gun or low-powered rifle. However, Castilla said she was told that more people would need to report similar incidents for the department to investigate.
Representatives of the Police Department did not respond to the La Jolla Light's requests for comment.
"I never worried about safety on the street and now this happens. ... I feel afraid and think … this could be putting people in danger."
— Valentina Castilla
Castilla took to social media to see if others have had an experience like hers.
Her post garnered dozens of comments, some of which described similar occurrences.
One commenter said her friend was towing a trailer in that area about six weeks earlier, also at night, when a tire on the driver's side was hit. "After close examination … it was discovered that there was a hole through the steel trailer fender and another hole in the side of the shredded tire," the post said. "The hole in the fender was confirmed to be a bullet hole."
Another shared that "this happened to us about [two] years ago driving north on La Jolla Shores [Drive] between Vallecitos and Avenida de la Playa. I believe it happened twice. … We reported it to police, too."
Another commenter suggested that because a window on the driver's side of Castilla's car was hit, the shot may have come from the residential area on the west side of Gilman Drive.
Get the La Jolla Light weekly in your inbox
News, features and sports about La Jolla, every Thursday for free
You may occasionally receive promotional content from the La Jolla Light.
Castilla said she hopes any other victims will file reports to prompt an investigation and ultimately find whoever is responsible.
"It needs to stop," Castilla said. "I never worried about safety on the street and now this happens. ... I feel afraid and think … this could be putting people in danger. There are a lot of bikes on that road. This shouldn't be happening."
At nearby UC San Diego on Aug. 28, 2021, at least one person was shot multiple times with a BB gun by one of two young men who arrived on campus from North Torrey Pines Road at Muir Lane riding black electric bikes, university police reported. They continued east to the intersection of Hopkins and Voigt drives, where the attack occurred at about 3:20 p.m.
Both men fled west across the campus and continued onto North Torrey Pines from Muir. ◆