Eagle Scout, triathlete, Junior Lifeguard, tennis player, guitarist — Emilio De Soto is all of these, at 13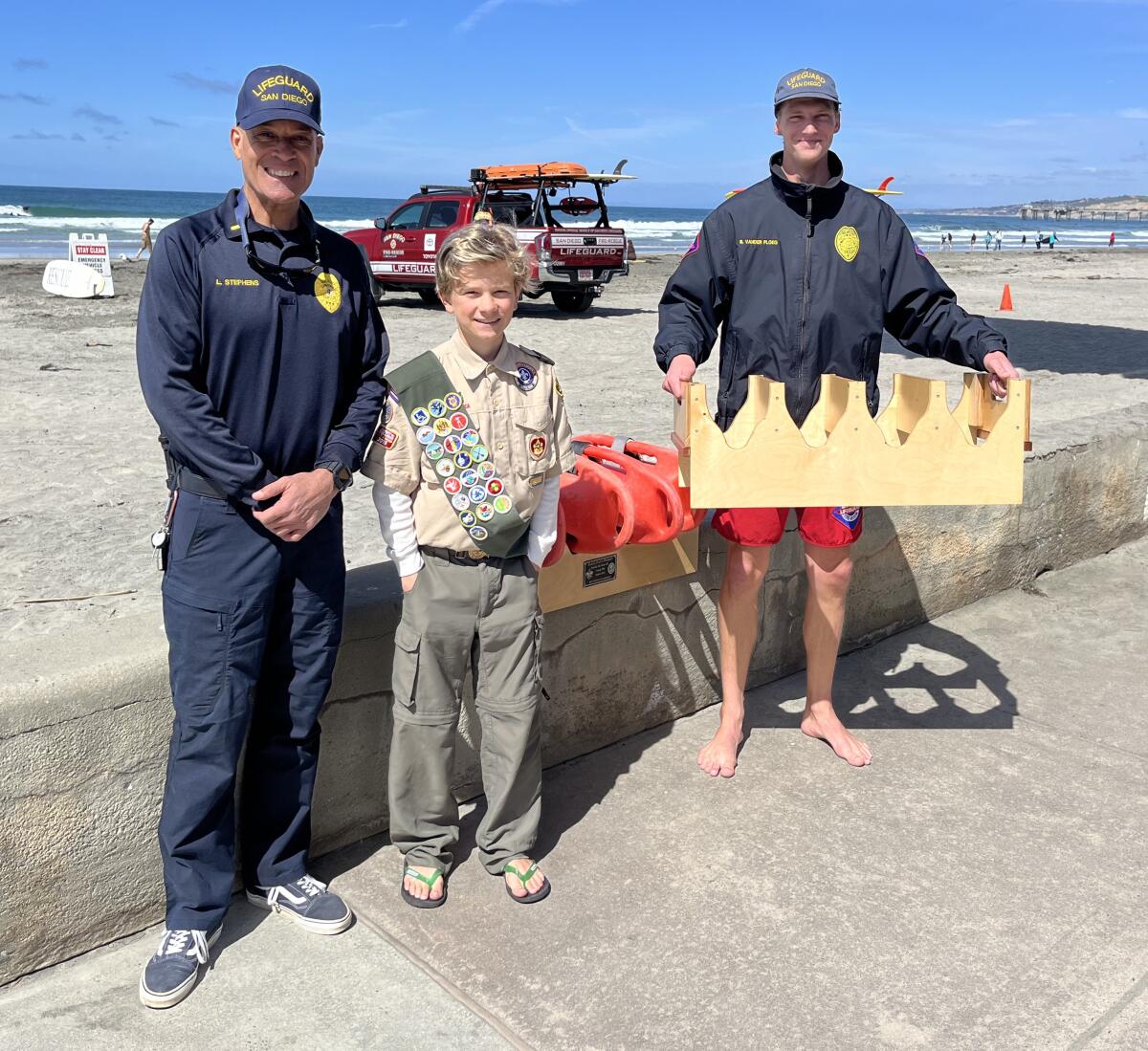 People in your Neighborhood
La Jolla resident Emilio De Soto is one very busy — and motivated — soon-to-be eighth-grader.
He recently celebrated earning his Eagle Scout rank and is training with Junior Lifeguards this summer, as well as eyeing his eighth triathlon.
He became an Eagle Scout — the highest rank in the Scouts BSA program of the Boy Scouts of America — through Troop 506 on April 27, 13 days shy of his 13th birthday. The achievement was formally recognized in a Court of Honor ceremony July 15 in his backyard with family, friends, fellow Scouts and Scout leaders who helped him on his journey.
Get the La Jolla Light weekly in your inbox
News, features and sports about La Jolla, every Thursday for free
You may occasionally receive promotional content from the La Jolla Light.
Eagle status must be reached by the time a Scout turns 18, and it is rare to reach it as a preteen. Emilio is one of the youngest to do so in recent history.
"The only other person I know of that earned the Eagle Scout rank when he was 12 is my dad [also named Emilio]," he said. "And he did it three days before his 13th birthday, so I wanted to beat that record."
"My dad is really the reason I wanted to join Boy Scouts," he added. "It always fascinated me that whenever there was a problem at home or camping, my dad was prepared and had a solution. I wanted to be like that, so that's why I joined."
Since joining the Scouts six years ago, Emilio has racked up more than 100 hours of community service, which earned him the President's Service Award signed by President Joe Biden.
For his Eagle Scout service project, Emilio built two buoy racks for San Diego Lifeguard Services under the supervision of Lt. Lonnie Stephens and mentorship of then-Scoutmaster Eric Busboom.
"I really wanted to help the lifeguards for my project, so I met with Lt. Stephens to talk about what they might need," Emilio said. "We talked about a few things, but on our way out of the lifeguard tower at La Jolla Shores, I noticed this rotten buoy rack. He said they needed to be replaced, so I wanted to make nicer ones."
Emilio planned, designed and budgeted the racks and led other Scouts in building them. He wrote letters to local merchants for donations, including waterproof wood to last in the sea air.
"I've been back 10 times since it was built and it seems to be holding up well," he said.
"The only other person I know of that earned the Eagle Scout rank when he was 12 is my dad. And he did it three days before his 13th birthday, so I wanted to beat that record."
— Emilio De Soto
Looking to possibly join the lifeguard ranks one day, Emilio has spent the past six years training in various Junior Lifeguard aquatic programs.
"It was more play-based when I was a kid, but the stuff now is more focused and harder," he said. "But someone told me once that lifeguards enjoy things that some people would die doing. We jump off the pier and do long buoy swims in cold water. I feel lucky to do this and experience this."
Being a strong swimmer has helped in another endeavor that Emilio has been part of recently: youth triathlons — races that include swimming, cycling and running. So far he's completed seven of them, winning one.
"My parents do triathlons, so they encouraged me to do my first one and my mom did that one with me, so I had so much fun," he said. "The swimming part is a little cold, but once you get out and start running it is invigorating. I love it."
Emilio attends Francis Parker School in San Diego, where he is on the cross country and tennis teams and plays guitar in a school band. He likes to spend his little free time building with Lego bricks with the hopes of one day becoming an architect.
With the Scouts, Emilio plans to earn additional merit badges, run for senior patrol leader of his troop and mentor other Scouts in their advancement, hopefully to Eagle.
People in Your Neighborhood shines a spotlight on notable locals we all wish we knew more about. If you know someone you'd like us to profile, send an email to robert.vardon@lajollalight.com. ◆