Three La Jolla Girl Scouts earn Gold Award for youth-centered projects
Kate Peay, Kristine Rumbaugh and Jessica Luo get the Girl Scouts' highest honor.
With an eye on making things better for future generations, three La Jolla Girl Scouts recently earned Gold Awards — the highest honor in Girl Scouts — for service projects that focused on young people.
Gold Award projects require each Scout who attempts it to identify a problem, strategize a plan to address it and conduct 80 hours of community service to execute the plan.
Kate Peay and Kristine Rumbaugh from La Jolla High School and Jessica Luo from The Bishop's School joined 50 other area Girl Scouts in receiving the Gold Award at a ceremony June 24 at Liberty Station in Point Loma.
Girl Scout Gold Award winners Ashlyn Brunette and Sophie Hochberg took on projects dealing with mental health, while Samantha Ponticello started a website with guidance about strokes.
For Peay, the impetus for her project came during the COVID-19 pandemic.
"When schools were starting to reopen and young children were starting kindergarten, I noticed that parents couldn't be there with their children to walk them to their classrooms because parents weren't allowed on campus," she said. "My heartstrings were pulled when I thought about the students that were coming to [Bird Rock Elementary] school for the first time and the thought of them not having a great experience like I did."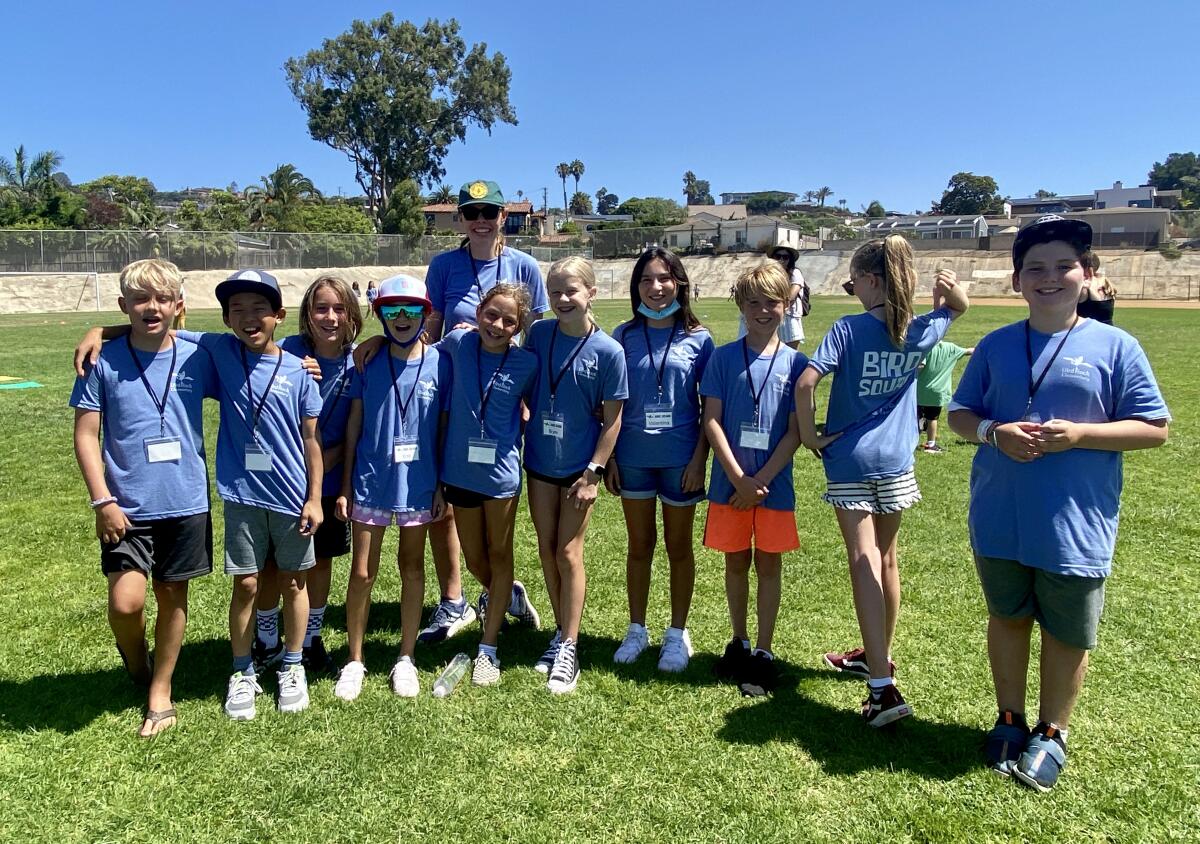 So she created the Bird Squad, a group of fifth-graders at Bird Rock Elementary who serve as ambassadors for incoming kindergartners. Before the school year, Bird Squad volunteers hold welcome events to get the newcomers comfortable with the campus and let them know they have a friend waiting for them when they start school.
"These ambassadors walk the kids to their classrooms on the first day of school," Peay said.
"The craziest part is that it feels like the Gold Award was the smallest part," she said. "The impact it had on the kids and to see their smiling faces was more of an important award for me."
To help carry the project forward, Peay left information with the Bird Rock Foundation so it can train future fifth-graders to be ambassadors.
Having been part of the Girl Scouts since kindergarten, Peay said she enjoys "being connected to the community and the chance to create change."
Fellow Scout Rumbaugh said she has been wanting to make things better for children since she was a child herself. In middle school, she joined two other Scouts in painting a hopscotch court, a four-square court and a walking "maze" on the concrete of Starkey Park.
For her Gold Award project, Rumbaugh developed a vertical garden structure that easily can be made and installed in any home to grow fresh fruits and vegetables.
"There is a demand for fresh and affordable food," she said.
She used gutters with holes drilled in them to form the planters that were later strung together in a ladder-like structure to provide shelves suitable for small plants.
"I live in an apartment, so we have one on the wall," she said. "It was so easy and affordable that I thought this could be a way to teach sustainability to future generations."
She taught workshops on how to make and grow food in the vertical gardens at an urban farm in City Heights and a Girl Scout retreat in Julian.
"None of these kids are farmers, but they understand the process and can teach others how to do it," Rumbaugh said.
She feels "so honored" to have received the Gold Award for her effort.
"I love helping the community and I want to carry that forward," she said. "Hands-on work is how I like to learn, so this was very rewarding for me."
Luo's Gold Award project centered on youth and health. She created an app called Healthy Habits, which is aimed at teaching 7- to 18-year-olds healthy lifestyle choices and to track daily activity to reduce the risk of problems in adulthood such as heart disease and diabetes. It also features daily challenges to encourage users to log on every day.
"It's really important to build healthy habits from a young age," Luo said. "I wanted to make it fun so they actually use the app. For the parents that are monitoring their children's use of the app, there are recipes for meals throughout the day that use a lot of fresh ingredients."
Melding her love of soccer and other physical activity with her love of coding, she came up with the idea for the app three years ago.
"I knew there was a problem [of poor childhood health habits], but I didn't know how to fix it," she said. "So I wanted to start with what I know. I did a lot of market research to find the right mix of features."
"Health should be accessible for everyone," she added. "Everything out there now is focused on calorie counting and weight loss, but this app builds habits that lead to a healthier lifestyle in the long run."
The app is free in the Google Play store but is not yet available for Apple products.
Luo said earning the Gold Award is "the best feeling" and that it is "great to know something I did has the potential to help so many people." ◆