La Jolla native Michael Franks returning for hometown gig at San Diego Smooth Jazz Festival
The singer-songwriter is now at work on his memoir and his 24th album. He'll appear Saturday, June 24, at The Rady Shell at Jacobs Park.
La Jolla native Michael Franks' music career predates the rise of both hip-hop and smooth jazz. But he has long been embraced by both worlds, much to the surprise of the veteran singer and writer of "Popsicle Toes," "Eggplant," "Monkey See, Monkey Do" and "Your Secret's Safe With Me."
Franks will perform a homecoming gig Saturday, June 24, during the two-day San Diego Smooth Jazz Festival. His five-piece band features former Pat Metheny Group mainstays Mark Egan on bass and Danny Gottlieb on drums.
Get the La Jolla Light weekly in your inbox
News, features and sports about La Jolla, every Thursday for free
You may occasionally receive promotional content from the La Jolla Light.
Franks' songs have been recorded by everyone from Diana Krall and Peggy Lee to Ringo Starr and Lyle Lovett. They also have been sampled by hip-hop artists Logic, Ginuwine, Raekwon and many more.
"When I started to get sampled by hip-hop artists, I thought, 'Well, this will just happen a couple of times.' But it's been pretty steady," Franks said. "It's amazing the things they choose to sample and how they choose to sample particular parts of my tunes."
The University High School alumnus's funk-tinged 1977 song "Chain Reaction" forms the foundation for the 2018 song "Bob Saget Gets New Real Estate" by New Jersey producer and DJ Flamingosis.
Franks himself approves or turns down requests from artists seeking to sample his music for their own recordings. He chuckled when asked if sampling is providing him with a lucrative source of extra income.
"It is," he said, "surprisingly so."
A smooth San Diego return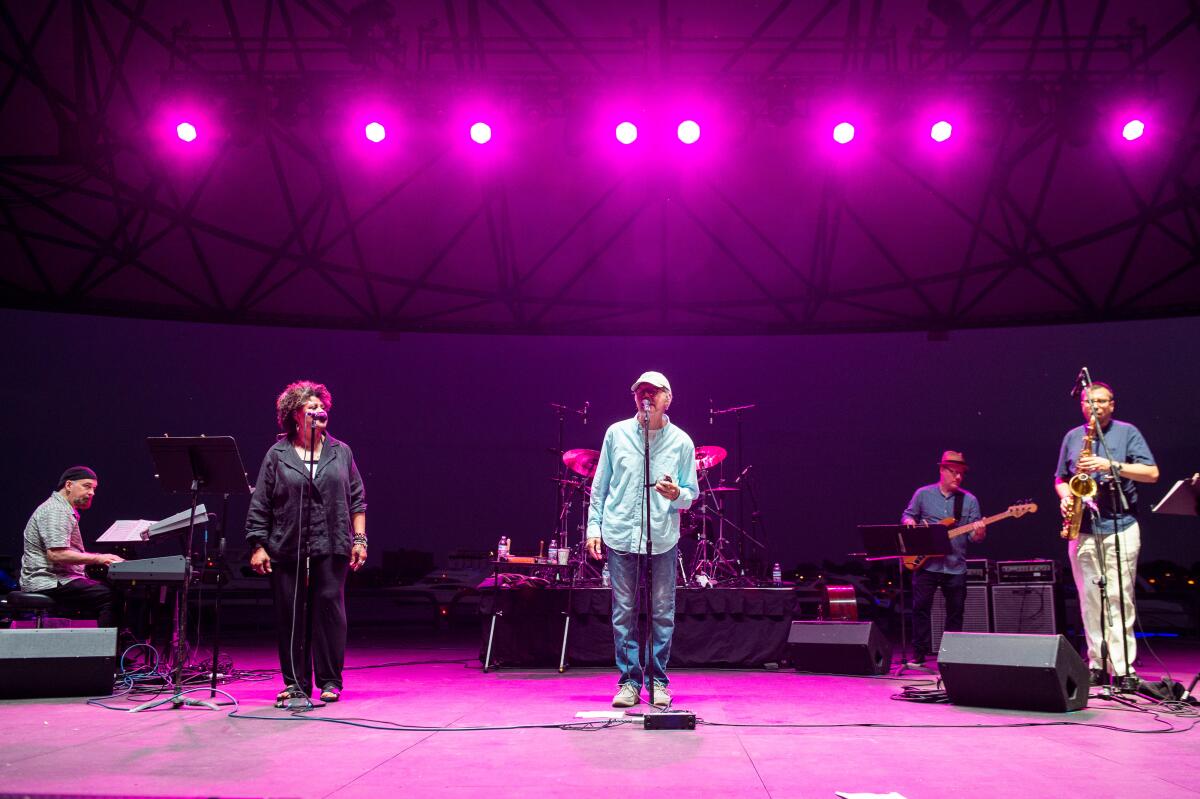 The location of the Smooth Jazz Festival alongside San Diego Bay — at The Rady Shell at Jacobs Park — is one Franks knows fondly.
"My dad was in the Air Force and he later got a job flying a plane with pontoons for the San Diego tuna fleet," Franks recalled. "He would locate the schools of tuna from the air and direct the boats to them.
"When I was little, my mother and I used to go down to the harbor a lot. My dad was flying for a boat called Chicken of the Sea."
Franks' most recent performance here was at the 2017 edition of the San Diego Smooth Jazz Festival at Embarcadero Marina Park North, just across from the site of The Rady Shell, which occupies part of Embarcadero Marina Park South.
"I'm anxious to see the new venue," he said, speaking from his rural home in Saugerties, N.Y.
Franks' debut album came out in 1972 and he scored his first hit — the whimsical "Popsicle Toes" — in 1976. He released seven more albums before the largely jazz-free music known as smooth jazz started to become a national phenomenon in the early 1980s.
The warm welcome his music received from smooth jazz radio stations and concert audiences came about by accident, not design. His music had little in common with that of smooth jazz staples such as Kenny G, Bob James and Hiroshima.
Franks' sly, svelte songs drew from jazz, bossa nova, funk, urbane pop, soul and more. His albums featured some of the top jazz musicians who were recording with Steely Dan during the same time period.
Some of Franks' songs became smooth jazz staples, though he has a master's degree in English from UCLA and his wry lyrics were inspired by the sophisticated wordplay of Cole Porter, George Gershwin, Hoagy Carmichael and Mose Allison.
"In the 1980s, I'd suddenly become one of the 'founding fathers' of the [smooth jazz] format," he said
Was such a designation good or bad?
"I don't know," Franks said. "A lot of the compositions in smooth jazz tend to be predictable and have 'cute' parts. But, hey, I wonder if some of this music is designed to be in the background?
"And that's OK; I don't want to bite the hand that still feeds me. But I felt I was not necessarily in that groove. And I'm 79, so what the hell!"
The smooth jazz radio format has all but vanished from the airwaves.
Not so on concert stages, including at the San Diego Smooth Jazz Festival, whose lineup this weekend also includes Eric Darius, Average White Band, Rick Braun, Jeff Lorber, Keiko Matsui and San Diego-area residents Richard Elliot and Rebecca Jade.
Franks has released 23 albums to date and is now at work on another. He also is writing his memoir.
Franks returned to La Jolla to write the songs for his 1990 album, "Blue Pacific." Will his memoir have much of a San Diego focus?
"A lot," he replied.
"I spent my childhood and high school years in San Diego. I played in a folk music trio there and ... when I got out of high school I had learned a lot in terms of literary things."
"Did I really need four years of Latin?" he said with a laugh. "That felt a little extreme!"
San Diego Smooth Jazz Festival
When: 3:30 p.m. Saturday and Sunday, June 24-25
Where: The Rady Shell at Jacobs Park, downtown San Diego
Cost: $80-$210 per day
Information: theshell.org ◆