La Jolla Country Day student makes the trek to Mount Everest Base Camp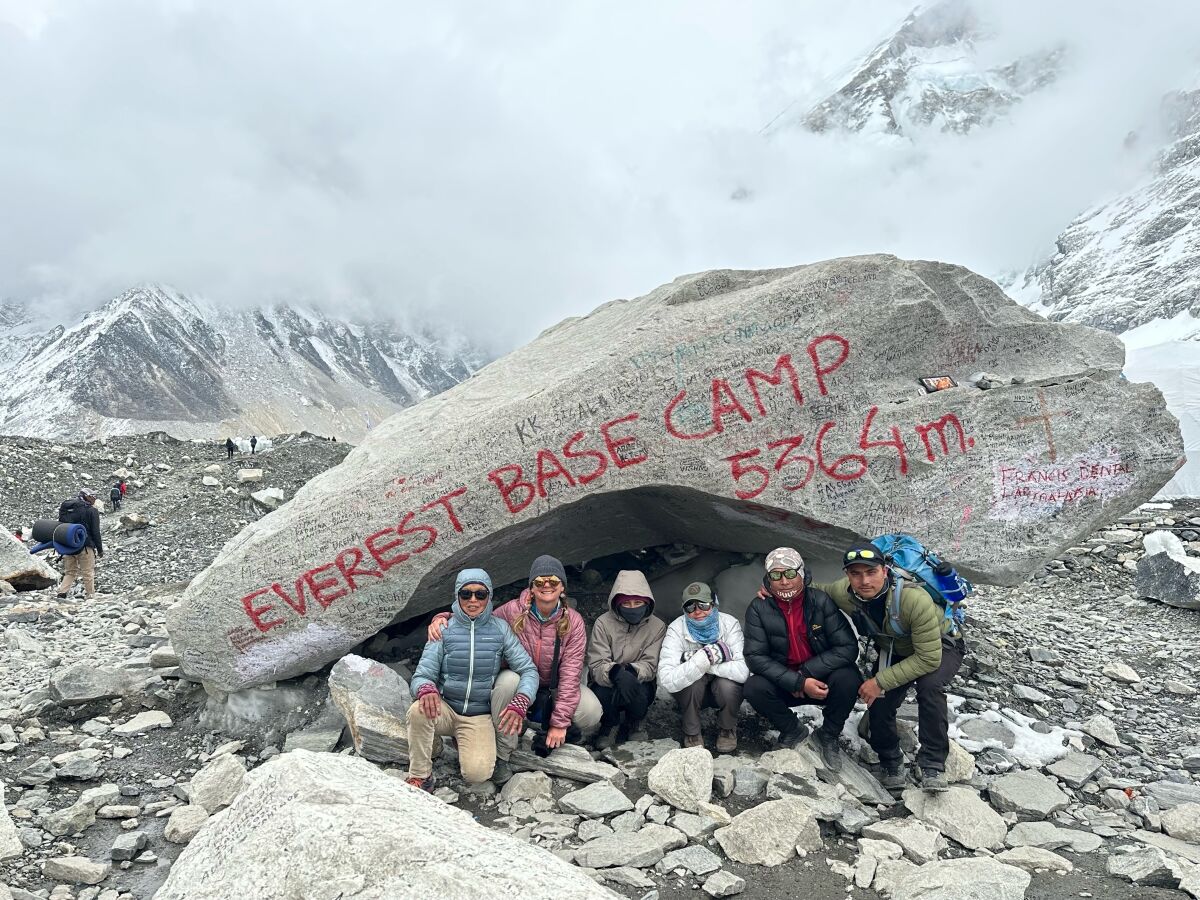 Lexi Gallo, 17, hikes to more than 17,500 feet above sea level, overcoming elevation and ultraviolet sickness and a rocky trip back.
Lexi Gallo is only 17, but the La Jolla Country Day School student recently achieved a milestone that many people have on their lifelong bucket list — she completed the Mount Everest Base Camp Trek, reaching more than 17,500 feet above sea level on Earth's highest mountain.
As one would expect, the trip was "a raw, real challenge" filled with "blips along the way that made the trip 10 times harder," Lexi said. "But [that] made it what it was, so I wouldn't change a thing."
Get the La Jolla Light weekly in your inbox
News, features and sports about La Jolla, every Thursday for free
You may occasionally receive promotional content from the La Jolla Light.
Joined by her mother, Briana, Lexi hiked an average of about 13 miles a day over a nearly two-week span in April through the Gokyo Lakes area of Nepal.
"The crowds are insane, so we took the Gokyo Lakes route because it was less crowded," Lexi said. "But it is a slower process that way."
"[The base camp] is a common trek for backpackers that aren't peaking Everest [29,000 feet], because that is a whole other ordeal," Lexi said. "But this route includes one big day where you go through a pass with a lot of elevation. That is what the route is known for."
For Lexi, that "one big day" was one of many.
"When I tell people I went to base camp, people don't get that it takes two weeks," she said. "One of the peaks is really tough and really tall but is used as an acclimation hike to get used to the elevation. You have to do a million things to get used to the elevation, especially coming from sea level."
"Elevation sickness is more serious than I thought," she added with a laugh.
An unexpected illness almost stopped Lexi in her tracks. "I got UV [ultraviolet] poisoning, which is very painful. Your skin gets this intense burning feeling," she said. "I was ready to be done, but I realized how hard I fought to be there and how much I wanted to get there."
Pushing through the pain, Lexi made her way to base camp with her mother and a few other hikers.
"I wanted to say I did it and see it," Lexi said.
After days of hiking, they prepared to embark on the final leg to the base camp. "You have to hike three hours to the town where you stay and drop off your stuff and then hike two more hours to reach base camp," Lexi said.
"When we got there, we were laughing and celebrating together. My mom got special chocolate bars, so we ate them and had this 'finally' feeling."
But leaving was a whole different adventure.
"We were supposed to take a helicopter back from the town where our stuff was," Lexi said. "But there was too much snow. So we had to unpack our stuff and get our hiking gear back on and repack quickly because we had to walk to another town."
When they got there, visibility still wasn't good enough for a helicopter to land. So they pressed on to yet another town.
"We walked five more hours [in] sleet and hail," Lexi said. "I reached a point where I was so tired that I thought if there is a yak on this trail, I'm just going to let it take me. I had to dig down and pull out any motivation I had.
"We had fun ... but it was the hardest thing I had ever done."
When they reached another town after a total of 10 hours of hiking, they spent the night and woke up the next morning to the best sound they could imagine — a helicopter.
"I remember waking up ... and asking my mom, 'Is that what I think it is?' I crossed my fingers and did every superstitious thing I could think of because we just wanted to get on a helicopter," she said. "It wasn't how I wanted to end the trip, but it was amazing to look back on."
"I got UV [ultraviolet] poisoning, which is very painful. ... I was ready to be done, but I realized how hard I fought to be there and how much I wanted to get there."
— Lexi Gallo
Lexi said she is often asked whether she plans to climb to the Everest summit. In short — probably not.
"People who summit Everest ... are addicted to the mountain," she said. "I want to keep backpacking, but summiting is a completely different thing. Going into [the Base Camp Trek], it never struck me as a step toward peaking Everest. I'm into doing things I wouldn't normally do, but summiting Everest is not on my bucket list just because it is so dangerous."
As of November, 310 people had died on Everest. More than 200 bodies remain on the mountain because the conditions are too dangerous to remove them.
Lexi started backpacking in recent years through a teenage travel program.
"I went backpacking for three weeks last summer in the Alps and it was the best experience I ever had," she said. "I had gone to Alaska the summer before and did a small amount of backpacking. I wanted to do more and more. It was incredible. I felt ... an escape I couldn't get here.
"It helped me make real connections with people. You ... struggle with your friends in a real way and you have to be honest with each other. ... Having these real relationships is something I value."
Lexi said she would like to become a mentor for a teen travel group that would enable her to continue to travel and trek after college.
For those who might want to start backpacking, Lexi advises: "Go for it. Get rid of any expectation you have, especially when it comes to travel and backpacking. Go with the flow. If people have an opportunity … take it." ◆