People in Your Neighborhood: La Jolla artist Mieko Anekawa expresses her cultures in color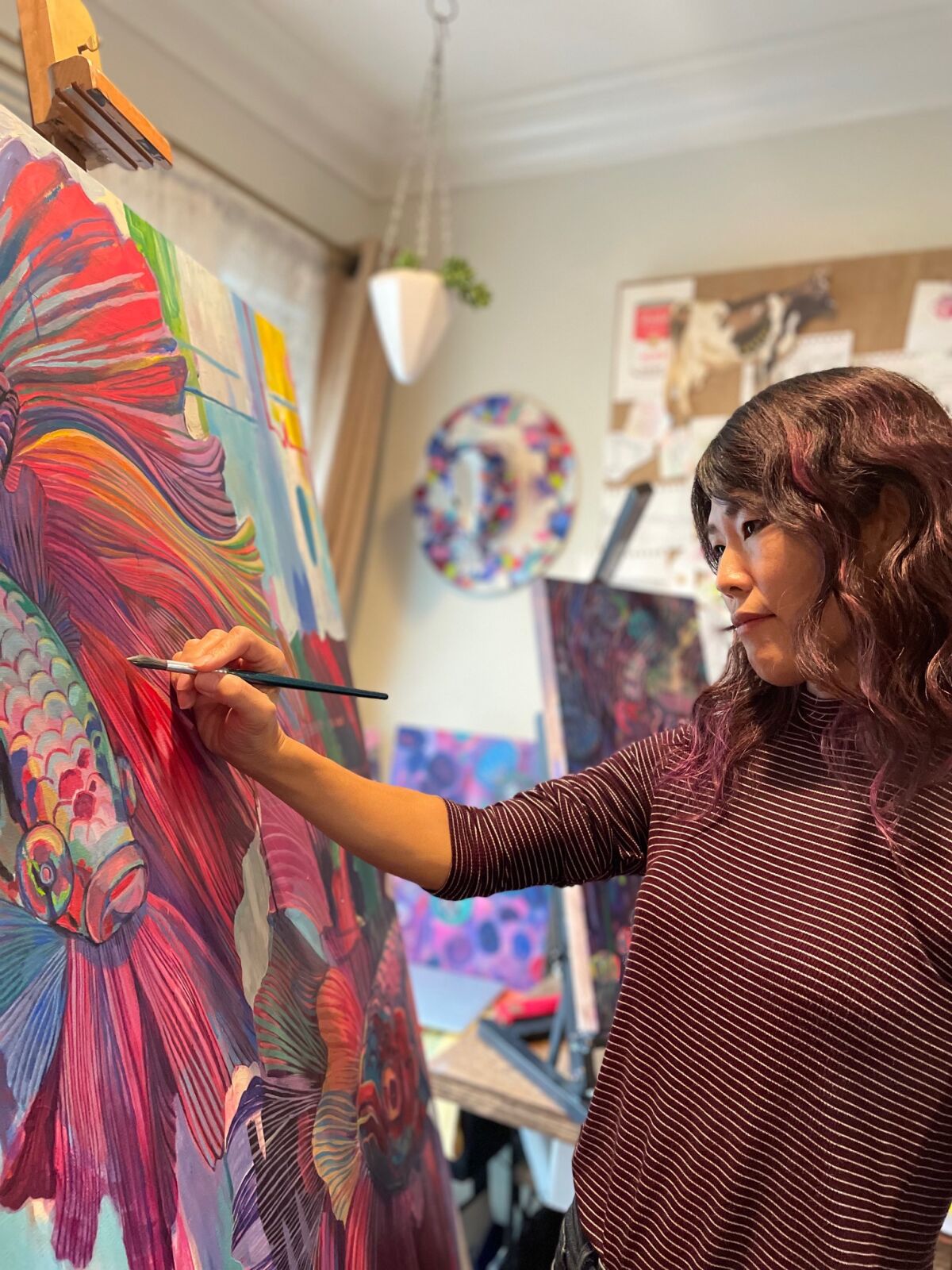 La Jolla artist Mieko Anekawa uses two cultures — the one she grew up in and the one she currently calls home — to express her emotions and establish herself in the community.
"I use a lot of colorful expressionism in my art," said Anekawa, who paints in acrylics. "I use a lot of high-saturated neon colors."
Anekawa's images "try to capture the momentary and sensory effect of nature scenes," she said, while emphasizing her emotions through bold lines and colors in response to what she sees.
Get the La Jolla Light weekly in your inbox
News, features and sports about La Jolla, every Thursday for free
You may occasionally receive promotional content from the La Jolla Light.
"I always loved making art," Anekawa said. After studying art and design at Kyoto-Seika University in her native Japan, she moved to New York in 2004 and worked in graphic design, eventually transitioning into "something more physical" than sitting at a computer all day.
"I wanted to express myself more in art," she said.
Anekawa arrived in La Jolla in 2015 and found herself inspired by its natural beauty and cultural diversity.
Her paintings evolved to integrate the Japanese art form Nihonga, which uses many brush strokes of organic inks on traditional washi paper.
"After moving to La Jolla … I tried to combine two styles: colorful expressionism and a lot of fine details [with] the dynamic composition from the Nihonga style," she said.
The various ethnicities, jobs and lifestyles in the La Jolla community encouraged Anekawa to begin incorporating artistic styles of her native country into her work.
"Before, I didn't really want to show [Japanese styles] because I wanted to fit in in the U.S.," she said. "But after seeing diversity here, I actually focused on my background more.
"I felt more confident" and wanted to begin celebrating what's "unique about myself."
Her art also helps her connect with people, she said.
Anekawa is a member of the Spanish Village Art Center in San Diego's Balboa Park and her work has been shown in several countries as well as New York and California.
Most recently, Anekawa was one of eight featured artists in the Mission Fed ArtWalk in San Diego's Little Italy April 29-30.
Such accomplishments hearten the artist, who said she tries to embolden those around her to create. She has taught art classes for adults at the Spanish Village Art Center and the Mingei International Museum of Art and has led art lessons for children at Torrey Pines Elementary School in La Jolla, which her two daughters attend.
Anekawa's goal in teaching is to "encourage people to showcase their works, because a lot of people have a creative mind but they are too afraid to show it," she said.
She has a goal of participating in the annual La Jolla Art & Wine Festival in October and in future years. This year's festival is fully booked for artist booths, but Anekawa said she is working with organizers on the opportunity to lead a painting workshop.
She's also open to other artistic endeavors, she said. "I'd like to join and help to have a stronger art community in La Jolla."
For more information, visit miekoartworks.com or @miekoartworks on Instagram.
People in Your Neighborhood shines a spotlight on notable locals we all wish we knew more about. If you know someone you'd like us to profile, send an email to robert.vardon@lajollalight.com. ◆