Skydiving seniors, including Scripps doctor, glide to record goal of 100-member formation in the air
The divers — all older than 60 — jumped simultaneously from five different planes at 18,000 feet.
After coming close last year, a group of skydivers — all older than 60 — succeeded this month in achieving not one but two world-record goals.
From April 13 to 16, about 100 skydivers ages 60-80 made multiple jumps each day out of Skydive Perris in Riverside County before successfully completing a 101-way giant formation in the sky as well as a two-point, 95-way sequential formation.
To do so, they jumped simultaneously from five different airplanes at speeds exceeding 120 mph and joined hands and legs in predetermined order. They had less than 60 seconds to complete the snowflake-like figure before flying away from one another to open their parachutes.
Each attempt was made at a minimum of 18,000 feet, an altitude so high that supplemental oxygen was required.
Get the La Jolla Light weekly in your inbox
News, features and sports about La Jolla, every Thursday for free
You may occasionally receive promotional content from the La Jolla Light.
Among the jumpers was Dr. Charles "Fess" Edwards, a "semi-retired" ob-gyn at Scripps Memorial Hospital La Jolla. Others included rocket scientists, fishers, nurses, venture capitalists, accountants, pilots, teachers, a mailman, a missionary, a roofer, a winemaker and more.
Edwards also was part of last year's attempt, which barely missed the goal of achieving a formation of 100 people older than 60 as the divers set out to break the previous record of a 75-member formation, set in 2018 in Illinois.
"Last year, we were only off by one person three or four times and it was always a different person, so we were 99 out of 100 a few times," he said.
This year, with many of the same people returning from the last attempt, "we were hot to trot … we really wanted it," Edwards said.
The 74-year-old has been skydiving for 50 years, starting in college for the sheer love of adrenaline. Now focused on elaborate in-sky formations, his accomplishment this month gave him "the best feeling in the world," he said.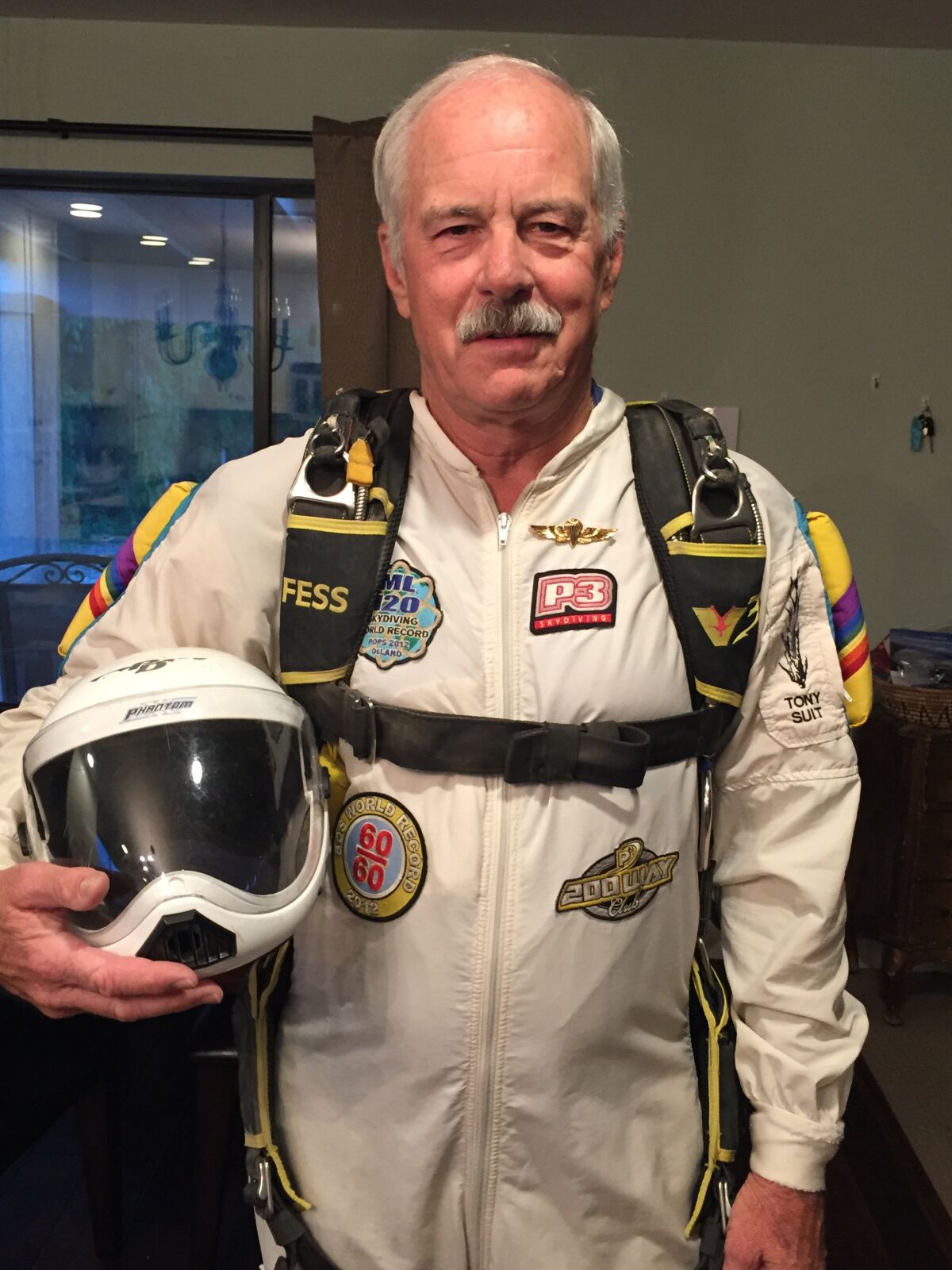 "When you are in the middle of 100 people, you can't see every person, but when the thing is complete, this surreal mojo goes through the minds of everyone involved," Edwards said. "It's hard to explain. You don't see anyone above or below, so you assume it is complete, but it is never a foregone conclusion until you are on the ground and see the photo."
When the skydivers hit the ground, there was contagious energy, he said. "Everyone was talking to each other. Everyone was asking 'Do you think we did it?' and [saying] 'I think we did it.' It was a fantastic feeling of accomplishment."
He said the feat was even more important because of the skill and coordination required.
Before the attempt, the skydivers had to do practice jumps to determine the fall rate. "Everyone has to fall at the same speed to connect," he said. "Smaller people have to wear 30 pounds of weight to make them fall fast enough. Heavier people have to have billowy jumpsuits to help them slow down. That takes time to figure out."
Once divers determine the fall rate and who they need to grab onto to complete the formation, they have to bear in mind that both the grabber and the grabbee have to be stable and still to connect.
"A large formation jump needs five planes to fly in formation, so the pilots have to be able to fly close together," Edwards continued. "Then you have to send out a base of eight divers coming out of the middle plane all at once. Those eight people give a target for those that jump down to reach."
But the most important thing about a formation jump comes after the formation is complete, when divers spread out to open their chutes and make their way to the ground.
"It takes skill to have 100 people holding hands and then 15 seconds later be spread out over almost a mile to open the chutes," Edwards said.
With this achievement now behind him, Edwards said he wants to be part of any possible record-breaking team of skydivers older than 70 and then over 80.
"If I did that," he said, "I'd be pretty satisfied with my career."
Still, for divers like Edwards, age is just a number.
"Skydiving is the kind of sport you can do into your older ages. You don't need superhuman strength or speed like other sports," he said. "My skill level is just as good as a 20-year-old as far as being able to do this. I can jump with younger people and be equal."
"Everyone is equal, it's a fellowship. It's more than a sport, it's a way of life."
— Dr. Charles "Fess" Edwards
When Edwards started skydiving in college, he wanted to "see what it felt like to be in a free fall" but found that it was more comparable to flying, he said.
"It's not a sensation of falling or dropping like a brick, it's actually flying," he said.
After taking a break to go to medical school and start a family, Edwards missed the camaraderie and returned to the sport.
"The skydiving community around the world is fairly limited, so I've known a lot of these guys for the last 20 years," he said. "I'm a physician, but when you go skydiving, your status is not related to your job, what car you drive, it's how well you perform. It takes all walks of life … so you meet people you wouldn't normally socialize with. Everyone is equal, it's a fellowship. It's more than a sport, it's a way of life." ◆