System success: La Jolla robotics team ending 10th and final year aiming for world championship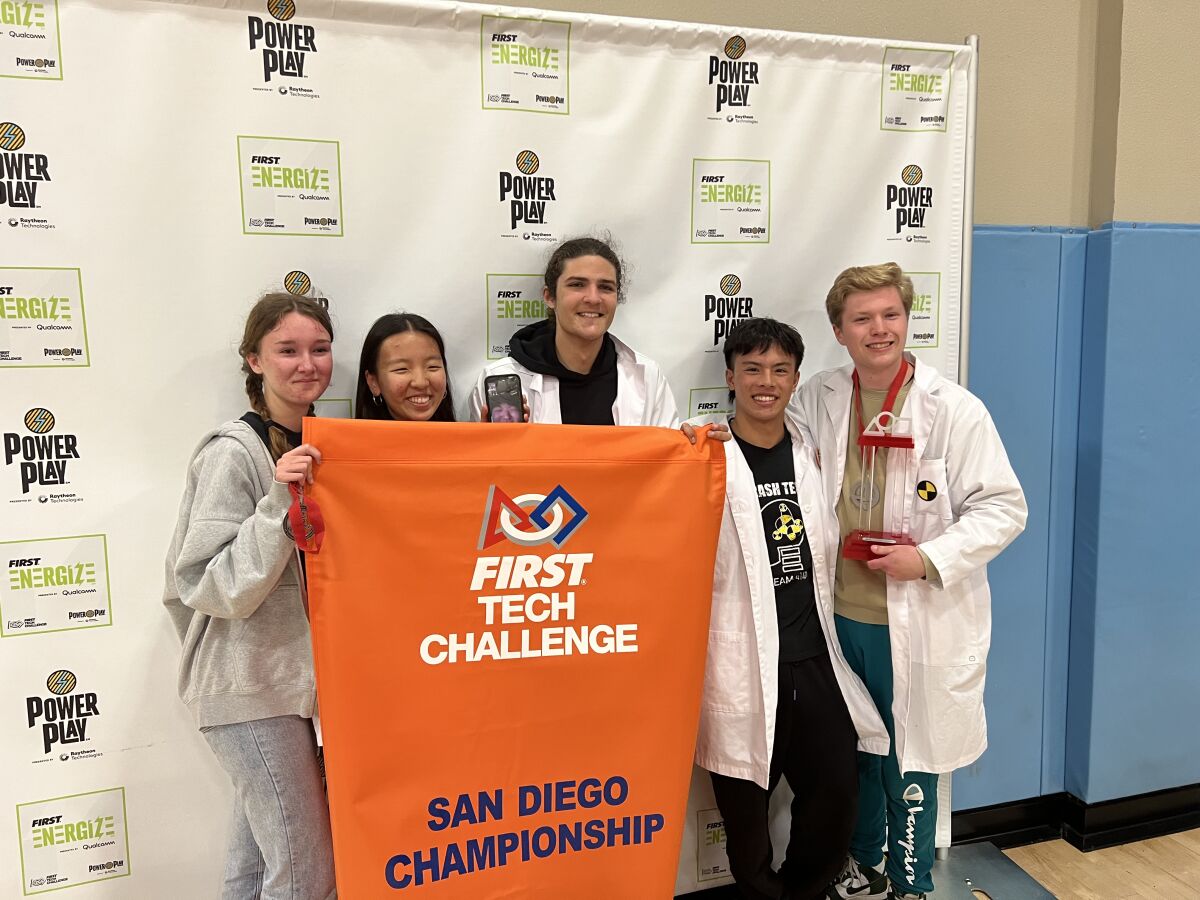 With three of the six members graduating from high school soon, the team — which began when the students were in elementary school — will disband after the April 19-22 competition in Houston.
Much like the robots it builds, the La Jolla-based robotics team known as Crash Test has seen a lot of changes in the past decade. The members have assembled and disassembled countless projects, tinkered with their name and had their share of successes and short-circuits.
Now, the group of six local students plans to cap the team's 10th and final year by representing San Diego in the First Championship world competition April 19-22 in Houston.
The team currently consists of La Jolla High School students Lizzie and Richard Yoon, Ava Tasende, Jax Espinosa and Trey Guccini and La Jolla Country Day School student Roland Breise.
"This is our final year ... since three of the six members are graduating seniors. We're disbanding the team," Ava said.
Get the La Jolla Light weekly in your inbox
News, features and sports about La Jolla, every Thursday for free
You may occasionally receive promotional content from the La Jolla Light.
In the world competition, "you have a robot that you build, code and perfect, but there are also other factors, such as how well you work together as a team, how well you engage the STEM [science, technology, engineering and math] community, how well you motivate others to get involved with First, etc.," Ava said. "We think we have a meaningful story to tell and want to make sure we get it across. We didn't know if we were going to make it this far, so it's really exciting. We're going to put in as much work as possible and have as much fun as possible."
"But it would be nice to win some judges' awards along the way," Lizzie added.
The team garnered an invitation to the world championships by winning regional honors in March. But with registration fees for the Houston competition topping $2,000 and travel and lodging expenses going up, Crash Test members wanted to avoid imposing a financial burden on any of their families, so a GoFundMe account has been set up to help. The campaign, at gofundme.com/f/help-crash-test-go-back-to-worlds, has raised more than $11,000 as of March 31.
Lizzie noted that Crash Test would be one of the smallest teams in the competition, but "we're already one of the smallest in the region."
Larger teams have access to more funding, she said, but being small has an advantage because "everyone has such a clear role on the team. … I have seen other teams that have ... members that have been there for so long and they do all the work and then there are younger kids that don't do as much. It doesn't feel like one cohesive team."
Ava added that by being a smaller group and working together for so long, the team "has accumulated knowledge. … We all learn so much in every area."
"It was a lot bigger than coding and building a robot; it helped me in every aspect of my life."
— Lizzie Yoon
10 years as a team
The team originated with the Robotics Club at La Jolla Elementary School, "where we all went," Ava said. Original members Roland and Richard "were interested in Lego [bricks] and got hooked on the idea of making robots with Lego, so they joined," she said.
However, the first competition wasn't so successful, she said. "I think they got negative 60 points from all the penalties they acquired, but they were having a really good time."
After a few years and with some new members (including himself), students formed Team Trash, Jax said.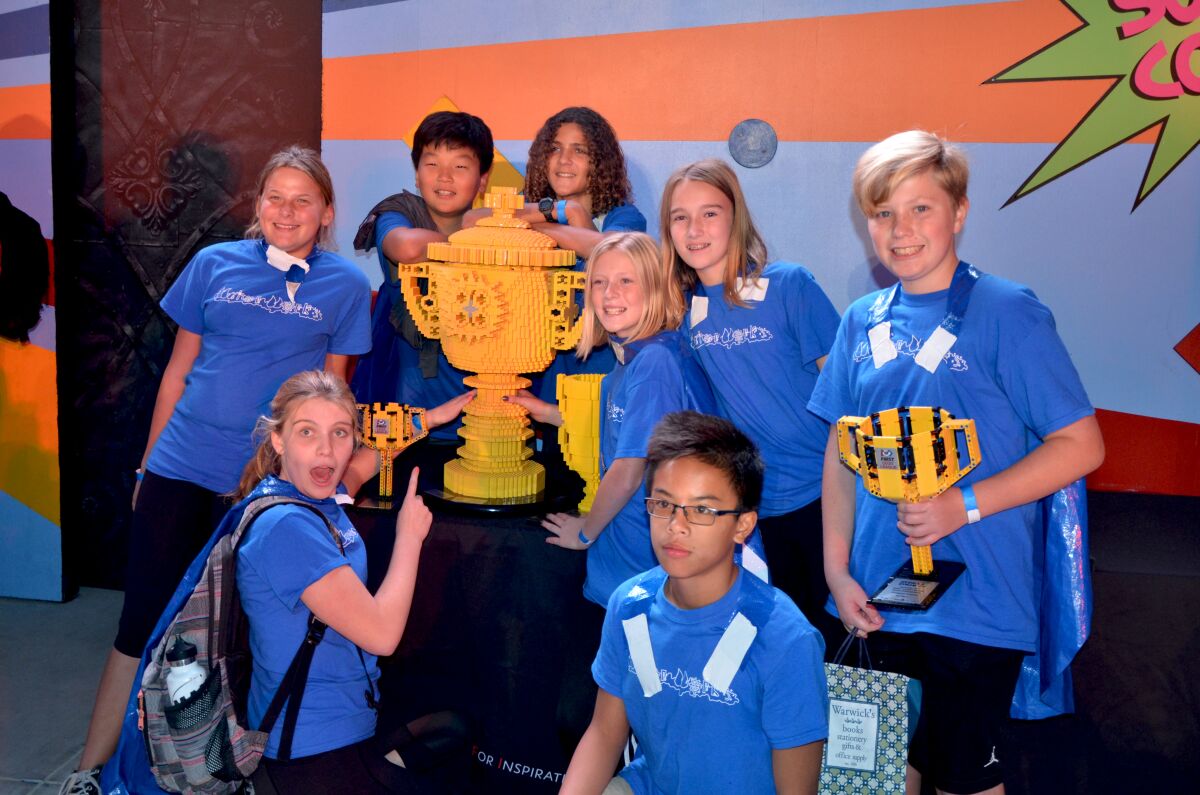 "During that time, we got started with First Lego League," he said. "Then we became Team Water Works. During that year [2018], we won at the world championships for First Lego League."
There were four components in the 2018 competition: programming a robot, completing a service project, testing the team's core values and exploring robot design. The team, then with eight members, started with a box full of Lego parts and a challenge issued by the organization to conceptualize, design, build and test a robot to complete tasks.
From there, the team moved to the First Tech Challenge, the league in which it currently competes, which involves coding and using metal to build robots.
"It's like a grown-up version of First Lego League," Ava said.
Lessons learned
As the team, renamed Crash Test this year, nears the end of its run, the students reflected on their time together, saying they learned more than just robotics along the way.
"I was drawn to robotics because my parents signed me up in third grade, but the environment I was in was just great," Jax said. "I had so much fun and found myself sticking with it."
Ava, who also joined in elementary school, said "you want to hang out with friends as much as possible, so at first I really liked the camaraderie. But then we started mentoring teams that were younger than us, so we were taught from an early age to give back. That was emotionally rewarding, so while I was learning so many new things, I got to share that with others."
But "the most valuable thing" she learned was confident communication, she said. "At 8 years old, we would have to stand in front of a panel of STEM professionals that were judging us and our team very rigorously on how you fulfill all this criteria," she said. "And I was a shy kid before I got into robotics … but it gave me the confidence and knowledge I needed."
Lizzie officially joined in middle school but watched from the sidelines for years.
"My brother is on the team and is one year older than me, so I watched him do robotics growing up," she said. "I would follow him around to all the competitions — even with the negative 60-point team — and I watched the team grow and got to know the members and I wanted to join because it seemed like fun.
"When we were little, it was about hanging out with friends and having fun, but I learned so much along the way. We have to learn how to contact businesses to get sponsors, and it gave me communication skills I needed. And with that, there was hardware I got to build. I learned how to design things on 3D platforms and it was all a really cool experience. It was a lot bigger than coding and building a robot; it helped me in every aspect of my life."
Team members say they plan to carry that forward after college by mentoring the next generation of engineers by hosting competitions in their respective areas. ◆