People in Your Neighborhood: La Jollan looks to expand her line of biodegradable MoonPads
Meg Ferrigno, continuing menstrual care efforts she began in Tibet 20 years ago, founded a company focused on eco-friendly products and easing 'period poverty.'
Meg Ferrigno has spent most of her time the past 20 years in Tibet, distributing menstrual products to nuns and others in the area. Now that she lives full time in La Jolla's Village, her mission is slightly revised, but the core remains the same.
Four years ago, Ferrigno founded MoonPads, a line of biodegradable and compostable menstrual products that operates on a buy-one-give-one model to help women in need and reduce environmental effects from plastic associated with typical menstrual products.
With each box sold, MoonPads offers a free box to someone who needs it.
"I have been working on this for over 20 years and, in that time, I saw Tibetan women with preventable infections from using yak wool, leaves or dirty clothes instead of pads," Ferrigno said. "They did not have access to menstrual products."
Get the La Jolla Light weekly in your inbox
News, features and sports about La Jolla, every Thursday for free
You may occasionally receive promotional content from the La Jolla Light.
Ferrigno said she wanted to buy "hundreds of thousands of pads and distribute them for free." But soon "I realized I was being hypocritical because I would not use the pads I was distributing [because of the environmental impact]."
The areas of Tibet where she worked didn't have receptacles or adequate waste management to handle the plastic wrappers and used menstrual products, she said.
"We started shopping for ways to solve that problem and find biodegradable pads without single-use plastic," Ferrigno said. "We started a partnership with a company in China that could make plant-plastic-based pads, so we started making them with the company and slowly we started distributing them and getting feedback. We changed the design to develop them according to the needs of our beneficiaries."
MoonPads' website says the company uses 100 percent organic cotton and plant-based plastic and that "our pads will biodegrade over the course of one year, compared with conventional plastic pads, which will take up to a thousand years to break down."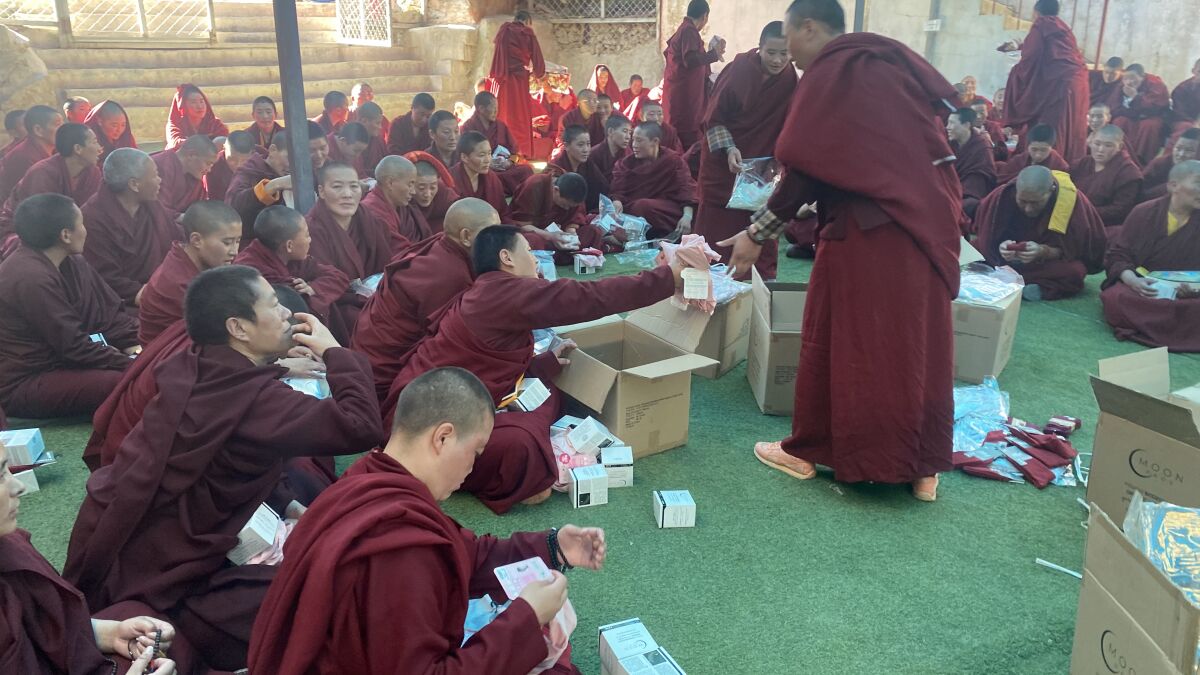 In 2019, Ferrigno started researching the needs in her immediate area in the United States and concluded there was a lack of plastic-free, biodegradable menstrual care options. "I realized we could stop being so dependent on grants and develop a sustainable business that has a social impact element," she said.
Keeping American needs in mind, she expanded the line from pads to other menstrual products such as tampons and liners.
"We hope to expand even more," Ferrigno said. "We recognize there is greater demand for eco-friendly period products and [that] more and more consumers are engaged with their products."
She also hopes to raise awareness of "period poverty" — a term for not being able to afford or not having access to menstrual products. She said each box of MoonPads products includes information and resources.
"In the United States, one in five menstruators do not have access to pads or anything they can use," Ferrigno said. "This is an issue that isn't talked about, but one in five is a huge part of our population. MoonPads tries to raise that issue and provide a solution, which is providing a free box for every box sold. ...
"We also provide educational resources, because people don't always know what is happening during their period."
When it came to expanding her work in the United States, she knew she wanted to move to La Jolla.
"San Diego is a beautiful city, but if I was going to make the move, it was going to be walking distance to the most beautiful beaches, which I found in La Jolla," she said. "People have a love of nature here, and that drew me ... because Tibetan nomads taught me how to live in harmony with nature and with respect. People here have that deep connection with nature."
Now, Ferrigno said, she wants to partner with local schools and businesses to distribute MoonPads and expand the enterprise's ambassador program.
"We are looking for those that are passionate about the environment and gender equity to be a part [of our program]," she said. "We have mentors to give them talking points and samples of products to help their peers. These issues can only be solved together; it's not just about women and girls."
To learn more or purchase the products, visit moonpads.org.
People in Your Neighborhood shines a spotlight on notable locals we all wish we knew more about. If you know someone you'd like us to profile, send an email to robert.vardon@lajollalight.com. ◆