Beyond the Shelf: Check out nature with a California State Parks Pass from San Diego public libraries
Beyond the Shelf is a monthly column about the activities and people at the La Jolla/Riford Library.
Kaitlin Barr couldn't believe her luck when she stopped by the La Jolla/Riford Library with her children recently.
"We stopped at the library to pick up books before our vacation and found the parks pass," she said. "The timing was perfect. Our family left the next day on our road trip and visited two state parks, including Big Sur, with the pass."
The pass she is referring to is the California State Parks Pass, available for checkout at any San Diego Public Library branch. You may notice the oversize version of the shiny green pass, created by library assistant Dennis Abad, intended to advertise the program. Barr said the makeshift pass displayed on the reference desk caught her eye and led her to ask about the program.
Each state park pass has a 14-day checkout period and grants free parking access. Select branches also offer nature backpacks for borrowing, equipped with things such as a set of binoculars, a magnifying glass, a bug observer, a whistle, pocket field guides and a first aid kit.
I had the pleasure of meeting state parks interpreter Louis Sands while filming a state park pass promotional video at our local Torrey Pines State Natural Reserve. The video, starring the San Diego Public Library's Odi Coyote, is about our mascot visiting the natural reserve upon checking out a park pass from the library.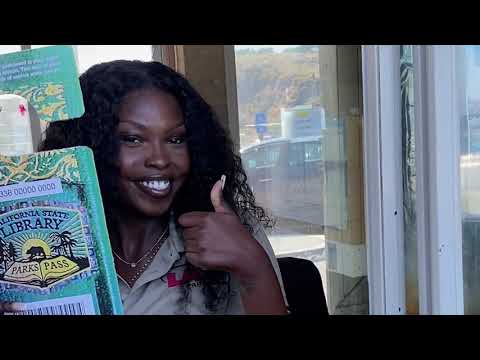 Odi drives up to the kiosk, hands the attendant a pass, goes up the hill and receives a cheerful greeting from a friendly guide outside the Information Center. During the hiking adventure, Odi marvels at real Torrey pines, hugs a tree and comes snout to snout with a real coyote.
Senior park aide Vanessa Brock recommends that first-time visitors hike the Guy Fleming Trail. "It's a great introductory hike with an incredible view," she says.
Though this was not my first time experiencing the breathtaking vistas from the Torrey Pines trails, it was my first time in the lodge. There are native specimens on display, unique gifts inspired by nature and a thoughtful selection of books. Being from the La Jolla library branch, I was delighted to find Ellen Browning Scripps' photo on display and purchased a bilingual picture book about monarch migration for Spanish Storytime (interpreter Sands signed it).
Sands and Brock have copious information to share, such as how this is one of only two places in the world where Torrey pine trees grow. The rare species is marked by its branches' signature clusters of five needles.
Odi overheard that one doesn't necessarily have to worry about encountering a real coyote in the wild, that they want nothing to do with you and most likely will shy away.
Next summer, I might sign up my kids for the Junior Park Ranger Summer Camp for ages 7-12.
Treat yourself to a day at the Torrey Pines State Natural Reserve or visit one of the 133 other parks the pass provides free vehicle day use to. A list of all California state parks can be found at parks.ca.gov.
Seeing the photos of Barr's family trip or enjoying a sunny day in nature with Odi underscores how brilliantly California public libraries are drawing the outside in with the help of partners like California State Parks. In the words of the interpreters at the end of the video, "We hope you'll check out this pass to have your own Odi-like adventures."
Katia Graham is the youth services librarian at the La Jolla/Riford Library. For more library information, email her at GrahamK@sandiego.gov or visit sandiego.gov/public-library/locations/la-jolla-riford-library. ◆
Updates
5:55 p.m. July 3, 2023: This article was updated with a promotional video for the California State Parks Pass.
Get the La Jolla Light weekly in your inbox
News, features and sports about La Jolla, every Thursday for free
You may occasionally receive promotional content from the La Jolla Light.