Kitchen Shrink: Peaches vs. Nectarines, ringside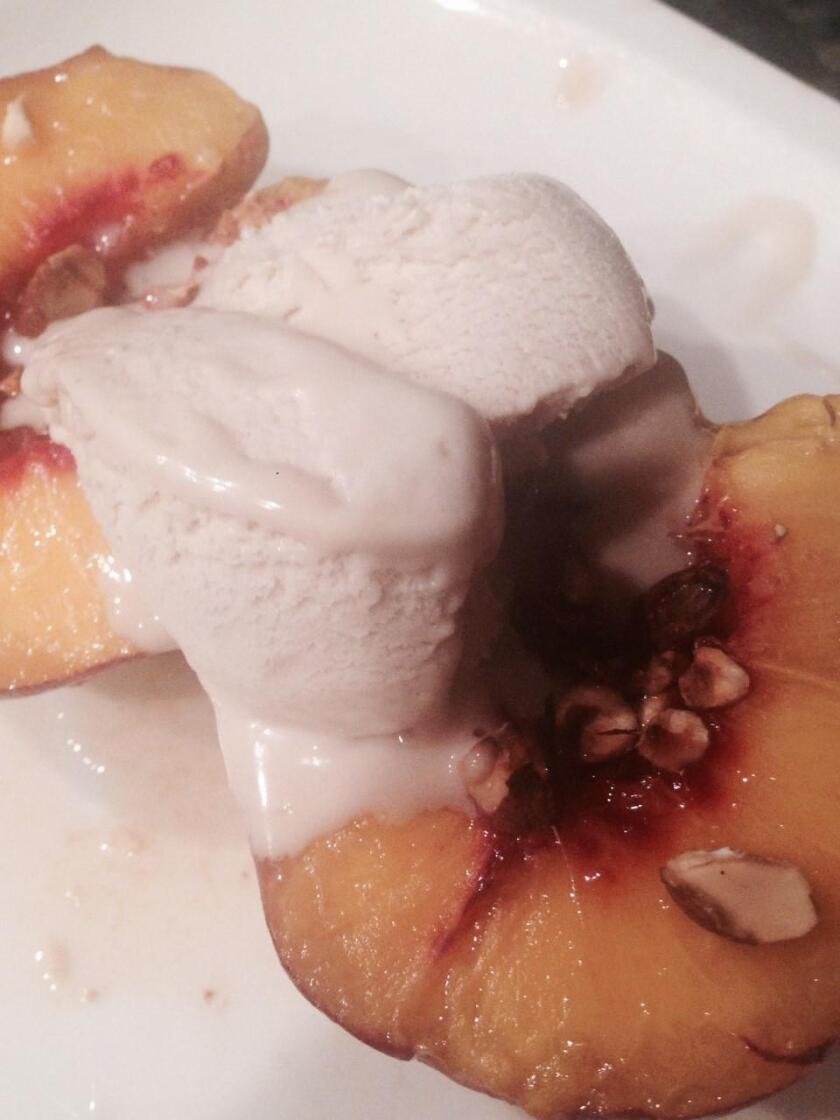 KITCHEN SHRINK:
There's been a long-standing rivalry between these quintessential sisters of summer, each possessing their own divine attributes. I'd now like to host a championship bout between the two with a blow-by-blow of the event — may the best stone fruit win!
Introducing first peaches in the red corner that hail from Georgia, and nectarines in the yellow corner that hail from California.
Round 1: Background
The luscious peach, the Methuselah of fruits was domesticated in China about 2,000 years ago, trickled to Europe by way of the famed Silk Road through Persia, then onward to the Americas in the 1700s. Naturalist Charles Darwin was particularly baffled by the origin of the peach species when he noticed during his explorations that peach trees sprouted the occasional nectarine, while nectarine trees grew a few peaches, along with some quirky hybrids that symmetrically exhibited half peach and half nectarine characteristics. Darwin and other botanists deduced that hairless peaches or nectarines, while still a member of the rose family were the result of a single natural mutation that affected the gene for fuzziness. While the dominant allele (form of gene) expressed fuzz, the recessive form expressed baldness. So the nectarine is the blue-eyed blonde in the stone fruit world.
Round 2: Pound-for-pound
In terms of skill set, both peaches and nectarines are divided into clingstone and freestone varieties, depending upon the ease from which the flesh separates from the pit. Both are either white-fleshed or yellow-fleshed, the latter having a tendency to be more acidic with a somewhat tart one-two punch when eaten raw.
While both peaches and nectarines are almost neck-in-neck nutritionally with a rich store of antioxidants (Vitamin C, flavonoids, anthocyanins, zinc, beta carotene) to temper inflammation, improve eyesight, and give the immune and cardiovascular systems an oomph, along with a goodly amount of fiber to keep the constitution humming, boost digestion, and reduce colorectal cancer risk. The stone fruits' supply of chlorogenic acid is a mighty warrior against other assorted cancers, while lycopene is a prostate's best friend. Lutein wards off age-related eye degeneration, and potassium prevents hypokalemia, a deficiency of the mineral. Still more. These summer treasures detoxify, aid in weight loss, and protect the skin from fire-breathing UV rays.
Nectarines, however, have a slight edge over their contender, containing twice the amount of Vitamin A for skin and eye health, along with a slight increase in Vitamin C and potassium, to amp up immunity and cellular functioning, along with maintaining fluid balance.
Round 3: Weight
Peaches, the heavyweights, are usually larger and juicier with a rounder pit than the lightweight nectarines, which tend to be more aromatic with a slightly firmer flesh.
Round 4: Toe-to-toe
For the most part peaches and nectarines are interchangeable in recipes. Generally, firmer-fleshed nectarines hold up better raw in salads and salsas, while peaches shine in cobblers, pies, jams and preserves. The bigger distinction is found in the flesh color as white-fleshed peaches or nectarines with a delicate and distinct flavor are best eaten raw in hand, fruit or green salads, smoothies, paired with goat cheese or prosciutto, or grilled with a sassy maple ginger drizzle (recipe below), while they would get lost in baking or cooking. Yellow-fleshed have a bold presence that nicely balance sweet and tangy flavors. Toss in risottos, stir-fries, stuffings, rice puddings, and sauces.
Round 5: Roll with the punches
Both peaches and nectarines have poisonous pits containing hydrocyanic acid, so avoid ingesting even small fragments as these can cause cyanide poisoning. The peach is the pugilist with the glass jaw, as it tends to bruise more easily than the nectarine. So please, don't squeeze.
And the winner is ... a split-decision draw.
———
Recipe: Knock-Out Grilled Ginger Peaches or Nectarines
• Ingredients: 2 ripe (but firm) large peaches or nectarines, (white-fleshed preferable), halved, pitted; 2 tablespoons organic honey or maple syrup; 1/4 teaspoon ginger powder or 1/2-inch piece shredded fresh ginger; 2 tablespoons roasted or caramelized hazelnuts, walnuts or pecans; avocado or almond oil for the grill; 4 scoops frozen coconut ice cream, gelato or Greek yoghurt; pink Himalayan sea salt to taste.
• Method: In a small mixing bowl, blend honey or syrup, ginger and salt. Drizzle on stone fruit. Brush grill with oil. Cook fruit on medium heat for about 8 minutes (4 minutes each side), or until caramelized and tender. Or bake on cookie sheet at 425 degrees F for about 10 minutes. Serve warm in martini glasses with sprinkling of nuts, scoop of frozen treat or yoghurt. Garnish with fresh mint or basil leaves. (Serves 4)
— Catharine Kaufman can be reached by e-mail: kitchenshrink@san.rr.com and see more recipes at freerangeclub.com
---
Get the La Jolla Light weekly in your inbox
News, features and sports about La Jolla, every Thursday.
You may occasionally receive promotional content from the La Jolla Light.