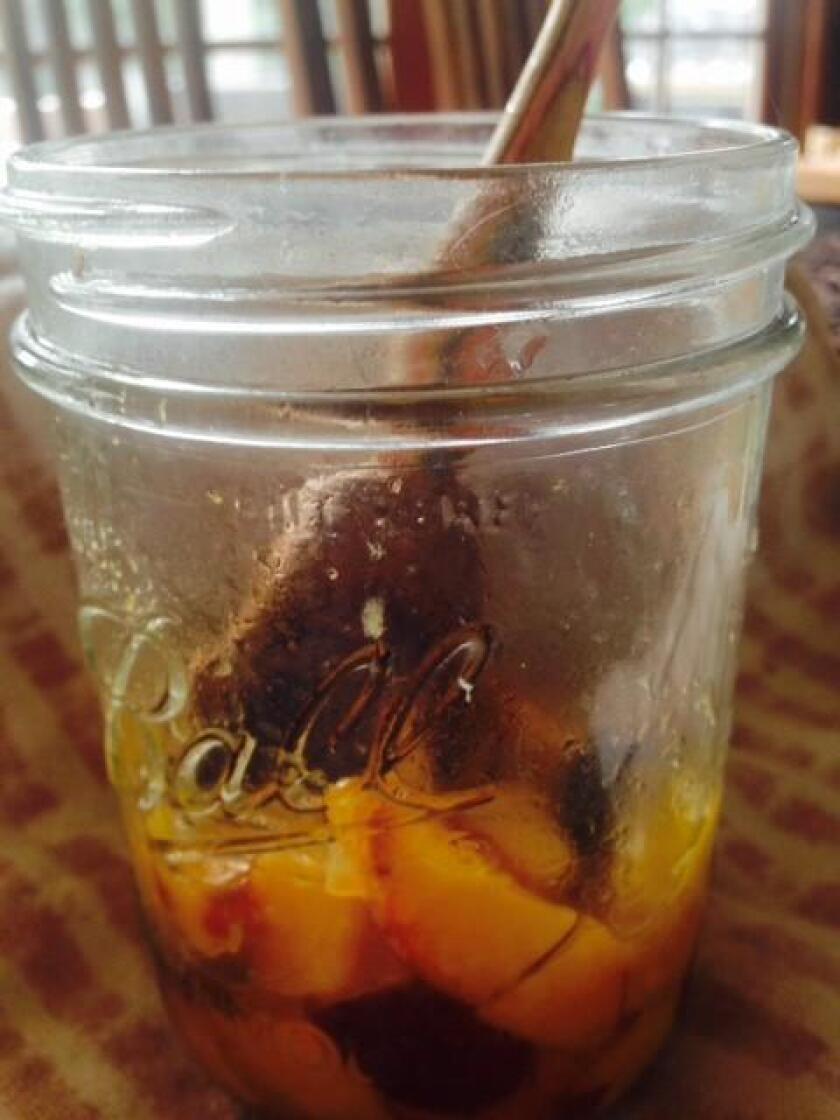 KITCHEN SHRINK:
The other day the produce guy and I were sadly staring (and unhappily murmuring under our breaths) at the fresh mounds of apples and pears lining the produce aisles.
The invasion of these fall crops means the dwindling of stone fruits — including sweet and succulent peaches, plums, pluots, cherries, apricots and nectarines — along with other gems of summer like dessert delicious dry-farmed and heirloom tomatoes, thirst-quenching watermelon, sassy arugula and Swiss chard, zippy radishes, tender corn on the cob, melt-in-your mouth raspberries and zucchini.
I clutched the last of the season's nectarine in my palm, my mouth-watering and my mind racing for a solution to keeping summer alive a little longer. Just a taste of this spectacular harvest over the next few months would be enough to chase away the autumn grays and winter blues. So here are some of my best answers for prolonging the sweetness of summer.
Freezing
Freeze these fresh beauties to use later in smoothies, quick breads, cobblers, salads, condiments and toppings or stir-fries. Super ripe fruits (not bruised or moldy though) are sweeter than unripe ones, and the soft texture does not compromise them during freezing. Wash all fruits and vegetables in a bath of castile soap, rinse and dry well.
For berries of all manners, line a cookie sheet with parchment paper, arranging single file. Freeze overnight, then place berries in freezer bags for long-term storage. For peaches and nectarines, slice and remove the pit, since it tends to make the fruit bitter, especially during freezing. Squirt some lemon juice on the slices to prevent oxidation and browning, and line a cookie sheet, like the berries, freezing overnight then transferring to a freezer-friendly container.
For cherries, be judicious in removing every single pit as even a fragment can break a tooth. Tomatoes require a slightly different methodology by first blanching (dropping into a pot of boiling water for 2 minutes), followed by shocking (immersing in an ice bath). Peel away the skin, remove all stems, and gingerly place in an airtight container or freezer bag. These stay hearty for up to six months.
Same with corn on the cob. Remove husks and silk, blanch and shock, then cut the kernels off the cob, and freeze. Divine in a holiday corn bread, a steamy winter chowder, or to perk up a green salad.
Jammin'
Berries, stone fruits, especially apricots, peaches and cherries, and even tomatoes lend themselves to homemade jams and preserves. Boil a batch of mixed fruits blended with organic honey, along with lemon zest and juice for a mouth-watering spread on muffins and toast, toppings for waffles and pancakes, hot cereals, bruschettas, pizzas, or ice cream sundaes. Store in an airtight mason jar for several weeks.
Pickling
Pick a peck of pickled fruits and vegetables to dial up a charcuteri or cheese platter, artisanal flatbreads, burgers and sandwiches, pastas or egg dishes, or an antipasto plate. Simply boil a pot of brining liquid, including cider vinegar and spring water, sugar, coriander and mustard seeds, garlic, fresh thyme and dill. Remove from heat, then add whole raspberries or blackberries, chunky stone fruit wedges, trimmed asparagus spears, strips of summer squash or watermelon rinds, and let cool. Store in airtight jars until ready to enjoy.
Drying
Although dehydrated fruits and vegetables don't sound particularly appetizing, they make terrific snacks (raisins, anyone?). Suck the water out of sliced peaches, mangos, nectarines, plums, cherries and tomatoes using a low temp oven (150 degrees F) for several hours. Or invest in a digital dehydrator for even heat distribution to dry fruits and vegetables to perfection — or concoct fruit leathers from scratch. Store in handy airtight snack bags.
———
Recipe: Stone Fruit Compote for All Seasons
My favorite concoction that captures the flavors and spirit of summer, while heralding autumn's arrival, is this tangy compote that is equally delicious spooned over Greek yoghurt, gelato, French toast or creamy goat cheese, as it is eaten straight up from a big bowl. Oh, and it can also be frozen.
• Ingredients: 2 1/2 cups of ripe mixed stone fruits, including peaches, nectarines, apricots, plums, cherries; 7 teaspoons of orange blossom honey; zest and juice from one lemon; 1/2 inch shredded ginger or dash of powder; 1/2 teaspoon cinnamon; dash of nutmeg.
• Method: Pit cherries and cut in half. Chop other fruits in chunks. Place in a saucepan with remaining ingredients. Cook on low heat until soft and tender (about 15 minutes). For a thinner consistency, add a tablespoon or two of spring water while cooking. Store in an airtight mason jar.
— Catharine Kaufman can be reached by e-mail: kitchenshrink@san.rr.com
---