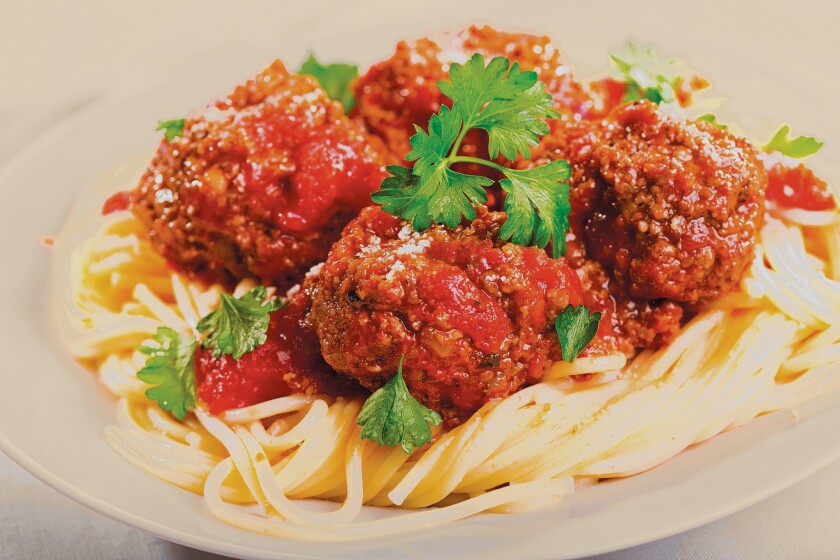 KITCHEN SHRINK:
When autumn breezes in people naturally seem to crave steamy, creamy, fatty, heavy, salty or sugary "comfort foods" of all manners.
Although the term was officially coined as recent as 1997 by the Oxford Dictionary definition for "foods that provide solace," when you think about it the concept could have originated during the Flintstone-era when cave dwellers gathered around open hearths as they shared the bounty of roasted wooly mammoth flesh to seek comfort from the stresses of prehistoric life.
Here's a list of favorite comfort foods from around the world with some suggestions for healthier options.
From Russia, with love
Nothing can be more comforting than a pot of cabbage rolls bubbling in sweet and sour tomato sauce. The steamed leaves are typically stuffed with a combination of ground beef, rice and raisins, although lean ground chicken or turkey would be the better choice for the cholesterol-conscious.
A steamy bowl of ruby red beet borscht blended with chunks of boiled redskin potatoes, and topped with Greek yoghurt will soothe the soul on a chilly fall night.
Mamma mia!
Italian comfort foods have seamlessly crossed borders, becoming mainstream American as much as mac and cheese, meatloaf and apple pie. Cheese pizza, bruschetta, lasagna, eggplant and chicken Parmesan, spaghetti and meatballs (see recipe), fettuccine Alfredo, risotto, frittata, pasta e fazool (pasta and bean soup), and chicken cacciatore to mention a few. To make these classics healthier choose buffalo mozzarella along with goat and sheep cheeses over cow cheeses, organic poultry over pork and beef, and whole-wheat pastas over white-floured pastas.
For just desserts nothing hits the sweet spot like a slice of tiramisu, a bowl of creamy gelato, or a spoonful of Nutella.
Oktoberfeast
German cuisine has a load of cruciferous, anti-cancer dishes, including sweet braised red cabbage, weisskohl and sauerkraut. Alas, these are usually accompanied by rich, fatty fried dishes like wiener schnitzel and spatzle (egg pasta), bratwursts, gulasch (slow-cooked saucy beef), and sauerbraten (more slow-cooked beef). Once again, where possible use organic, grass-fed beef, be stingy on the sauces, and follow portion control. At least traditional German desserts like apple strudel and apfelkuchen (apple cake) are filled with antioxidant-rich fruit.
Pub grub
Whether a pot of hearty Irish stew simmering in Guinness, Scottish Haggis (a savory pudding of sheep's offal), British fish and chips, or bangers and mash (sausages and mashed potatoes), use natural pork and organ meats, plenty of hearty roots, and for the fish and chips, bake instead of deep frying.
Viva la France!
Ooh la la, French comfort foods are refined and sophisticated, especially a divine bowl of soup like lobster bisque, French onion and bouillabaisse fish stew. For lighter versions, swap out the cream and beef bases for vegetarian, and where possible use wild-caught, domestic, cold-water fish.
For sweet tooths, the list is a long and lusty one from crème brulee and chocolate mousse to berry clafoutis and apple galette. Bittersweet chocolate is best, along with fresh, organic fruits, eggs and nut flours.
Naughty and nice noshes
Jewish comfort foods like Italian ones have also assimilated into mainstream American cuisine. While chicken soup (with matzo balls, of course) is good for the soul, beef brisket, potato latkes, chopped liver and schmaltz are not good for the heart (or the physique). The latter two can be easily transformed into vegetarian delights, while latkes can be baked. As for the brisket ... well, a little wouldn't hurt.
———
Recipe: Spaghetti and Turkey Meatballs
• THE SAUCE: 1 jar crushed tomatoes (18 ounce); 4 garlic cloves, minced; 8 ounces crimini mushrooms, chopped; 1 red bell pepper, diced; 2 celery stalks, diced; 3 tablespoons virgin olive oil; 1/2 teaspoon each dried basil, oregano; 1 handful fresh chopped Italian parsley; 1 tablespoon honey.
In a large saucepan on medium heat, sauté the garlic, red bell pepper, celery and mushrooms in oil until tender. Blend remaining ingredients. Season to taste. Simmer uncovered. Prepare meatballs.
• THE MEATBALLS: 1 pound lean ground turkey; 1 small onion, minced; 2 garlic cloves, minced; 1 tablespoon virgin olive oil; 2 tablespoons breadcrumbs (adjust for firmer texture); 2 teaspoons spicy brown mustard.
Preheat oven to 400 degrees F. Combine ingredients in large bowl. With oiled hands, shape into large balls, the size of kiwis (about 2 ounces each). Place on parchment-lined cookie sheet and bake for about 25 minutes. Add to tomato sauce and simmer for another 30 minutes. Serve over pasta of choice. Serves 4.
— Catharine Kaufman can be reached by e-mail: kitchenshrink@san.rr.com
---