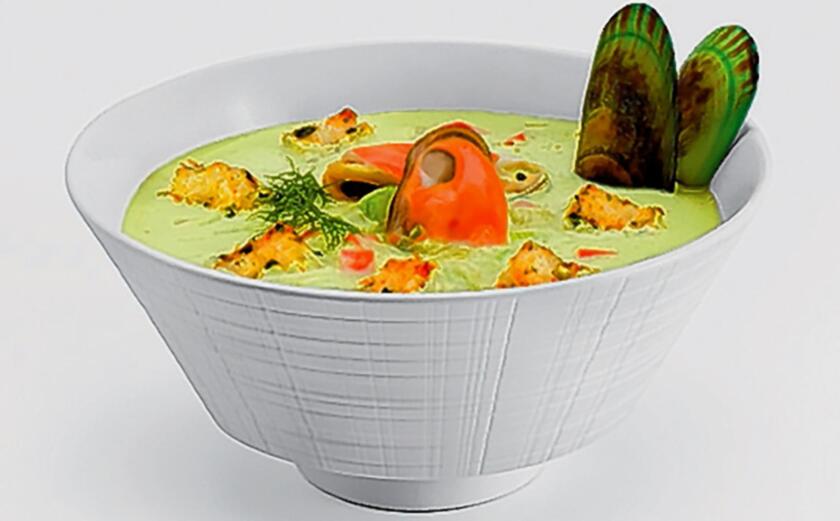 KITCHEN SHRINK:
The jaw dropping Marine Room of La Jolla recently hosted its second annual Ocean-to-Table luncheon, a pescavore's paradise as part of the San Diego Bay Wine & Food Festival. The Captain of the gustatory expedition, Chef Bernard Guillas with first mate Chef Ron Oliver conceived the idea to launch a fresh format of the event to celebrate our mighty oceans with a stimulating educational component, while its previous mission was focused solely on discovering new wines and relishing food flavors. He invited a crew of sustainably-minded chefs, both local and global, to come aboard and share their passion and knowledge of oceanic stewardship.
Iconic chefs and discerning foodies rubbed elbows during the sold-out reception. Guests nibbled on whimsical seafood appetizers with locally-sourced ingredients, including a crunchy brandade croquette topped with miniature pickled vegetables (Amy DiBiase, Grand Restaurant Group), succulent San Diego sea urchin accompanied by marine gems, such as red ogo seaweed, jako anchovies, and masago roe (Andrew Spurgin, Bespoke Event Styling and Menu Design), and local spiny lobster presented on a bincho black charcoal crisp with a hint of ginger blossom (Evan Cruz, Arterra).
Diners were then treated to a five-course, sit-down feast of local sea treasures and some decadent desserts, along with an enlightening commentary by the chefs as they introduced their dishes.
Visiting chef from Las Vegas, Rick Moonen of RM Seafood, an intrepid trailblazer of sustainable seafood restaurants for over 13 years, cast out practical advice for consumers when buying seafood to simply ask their fishmonger three questions: 1) What is it? 2) Where is it from? 3) How was it procured (either caught or farmed)?
According to Moonen the answers will give the consumer, and the fish seller, a true understanding of food, its nutritional and health profile, and an awareness of its precarious existence. "It's hard to identify 'sustainability,' " Moonen said. "But basically, it's not to take an active role in the extinction of the species, like the over exploited and endangered Bluefin Tuna, Chilean Sea Bass, North Atlantic Cod, and Atlantic Halibut. In part, it's our love of big fish that has caused over 80 percent of certain species to be overfished." Moonen recommends eating lower on the food chain, embracing safer (in terms of less methyl mercury and PCB concentrations) and smaller fish, especially anchovies, sardines and mackerel, also packed with heart-healthy omega-3's. Moonen also suggests downloading the Seafood Watch Program App sponsored by the Monterey Bay Aquarium to keep current on the sustainability of various fish and seafood species.
Chef Dean James Max, founder of DJM Restaurants with sustainable eateries coast-to-coast and the Caribbean advises to keep fish local to the area. "Don't freeze or ship, and maintain a low footprint." At his Cayman restaurant he owns fishing boats and catches snapper, wahoo, lobster and conch, never buying fish from outside sources. "That's what makes it sustainable."
Back to the luncheon with such tantalizing dishes as melt-in-your mouth San Diego crab drizzled with brown butter hollandaise (Rob Ruiz, Land & Water Co.), a stew of Pacific clams and charred octopus with chestnut beans in a smoked paprika and pumpkin broth (Dean Max), a pot au feu of California White Sea Bass with horseradish cream in a savory smoked bacon broth (Rick Moonen), and local black cod with a sunchoke puree (Jason McLeod, Ironside Fish & Oyster).
———
Recipe: Jerusalem Artichoke Clam Chowder
• Ingredients:
1 cup white wine; 2 bay leaves; 1 teaspoon black peppercorns; 4 pounds littleneck clams; 1 tablespoon unsalted butter; 4 strips bacon, chopped; 1 tablespoon chopped garlic; 1 cup sliced leek, white part; 1 cup diced celery; 1 cup fresh corn kernels; 1 cup diced peeled Jerusalem artichokes; 1 cup vegetable stock; 1 cup cream; 1/3 cup sherry wine; Sea salt and freshly ground black pepper to taste; 3 tablespoons all-purpose flour.
• Method:
Add wine, bay leaf and black peppercorns to large pot over high heat. Cover. Bring to boil. Add clams. Cover. Cook 3 minutes. Then, rotate clams from bottom to top using slotted spoon. Cook additional 3 minutes. Using tongs, transfer clams to cookie sheet. Discard unopened clams. Strain broth through fine sieve. Set aside. Remove clam meat from shell. Coarsely chop. Refrigerate clams until needed. Add butter and bacon to large saucepan over medium heat. Cook until bacon fat is rendered. Add flour. Cook 1 minute, stirring constantly. Add celery, leeks and garlic. Cook 3 minutes, stirring often. Add sherry, Jerusalem artichokes and 1 cup reserved clam broth. Bring to simmer. Add corn, stock and cream. Return to low simmer. Cover. Cook 15 minutes. Fold in clams. Season with salt and pepper. Ladle soup into warm bowls. Garnish with fresh chopped parsley. Serves 4.
— Recipe courtesy of Chef Bernard Guillas of The Marine Room, La Jolla
---