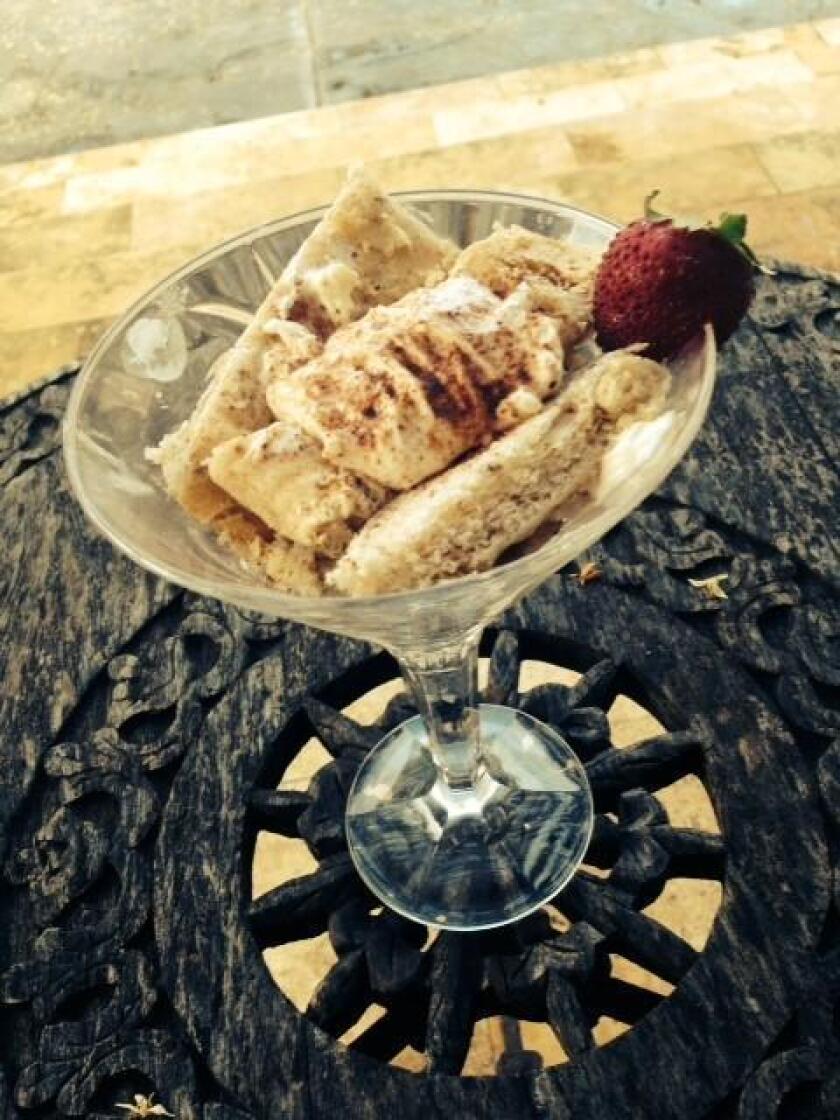 KITCHEN SHRINK:
You better watch out! This holiday season, foodies are more discriminating than ever, reading labels judiciously, making healthier choices, buying sustainable and organic ingredients, and painstakingly preparing treasured recipes from scratch (and with love). That also means more stress for everyone, whether you are hosting a holiday event or are an invited guest.
To alleviate your gustatory conscience, relieve your anxiety levels, and make your contributions appreciated and memorable, here are some answers to your ticklish questions — both naughty and nice ones.
••• Naughty Ones:
Q. I've been invited to a holiday potluck party from work, and the office manager knows I enjoy baking, so asked that I contribute a home-baked festive treat, like tiramisu or a seasonal trifle. As I'm really busy this time of year, would it be cheating if I bought a dessert, removed it from its original packaging and doctored it up to look homemade?
A. Yes, that would be "cheating," but since this is such a hectic time of year, I think you'll be forgiven if you bring a lovely store-bought treat (organic or GMO-free is best). Then you can add a personal touch with a passed down family recipe, whether it be a sauce, drizzle, frosting or other unique holiday topping to make your contribution special.
Q. I'm preparing a holiday meal, the main course either a seafood risotto or poached salmon. I always use high quality ingredients, but was wondering if I could cut corners and use an inexpensive wine for cooking these dishes?
A. Julia Child propelled the school of thought that you shouldn't cook with wine you wouldn't drink. Other oenophiles would beg to differ. While you probably wouldn't drink a bright wine with a raspy acidity, those qualities are ideal for cooking. Cheap wine typically has too much sugar, masking the true flavor profile of the varietal. But that doesn't mean you need to uncork a bottle of Lafite Rothschild ($560) to pour into your pans.
A middle-of-the-road wine between $6 and $10 a bottle is a good compromise. For risotto use a Sauvignon Blanc or Chardonnay; poach fish in light white wine with fresh herbs; chicken pairs well with red Zinfandel, while beef and lamb are best braised with a Merlot or Cabernet Sauvignon.
Q. Every Christmas we have dinner at my sister's home and all the siblings bring their favorite dish. This year she's insisting on a healthy theme. Unfortunately, my special creations are loaded with butter, cream, sugar and other decadent ingredients. I don't want to compromise my recipes that everyone loves, but I don't want to lie either, saying I've tweaked them with a healthier twist when I haven't. Suggestions?
A. My suggestion (although it would be more work for you) is to prepare two versions of your favorite dish — your original one with the indulgent ingredients, and a second healthier riff on the first, substituting organic ghee butter, olive or walnut oil for regular butter, coconut or almond cream for cow's cream, organic honey, sucanat, or coconut sugar for regular sugar, and use fresh berries in a balsamic glaze as a dessert topping.
••• Nice Ones:
Q. We like to volunteer at food banks or help serve Christmas dinner at homeless shelters. Any thoughts for some other type of food-related gesture our family can partake in?
A. Practically every city has pockets of "food deserts," where people don't have accessibility to a diversity of fresh, healthy foods, especially fruits and vegetables. Denizens of these "deserts" consequently have poor, unbalanced diets, which often lead to health problems.
Bearing gifts of baskets or decorative boxes filled with organic seasonal fruits (apples, tangerines, persimmons, pears), vegetables (roots, squashes, leafy greens), farm products, such as free-range eggs, organic butter, goat cheese, and yogurt, along with whole-wheat bread or some festive home-baked goody, almond butter and preserves would be a lovely blessing for these folks.
———
Recipe: Tiramisu A-Go-Go
Serves 4 (Can be doubled)
Ingredients:
• 1 1/2 packages of ladyfingers (approximately 12 fingers per package)
• 2 ounces Kahlua or other coffee liqueur
• 1 ounce rum
• 6 ounces black coffee or espresso (room temperature)
• 1 teaspoon vanilla or almond extract
• 1 pound mascarpone cheese
• 1/3 cup Confectioners' sugar
• 1 cup assorted fresh berries
• Shaved bittersweet chocolate or unsweetened cocoa powder
Method:
Blend mascarpone cheese, sugar, extract and one tablespoon of espresso until smooth. Set aside. Combine liqueur, rum and coffee. Dip ladyfingers in liquid careful not to make them soggy. Line them in a baking pan then spread a thick layer of cheese on top, alternating and finishing with a cheese layer. Top with berries. Chill. Sprinkle with chocolate of choice. Add dollops of whipped cream if desired.
---