Kitchen Shrink: Lemon Law; Let's put the squeeze on sourpusses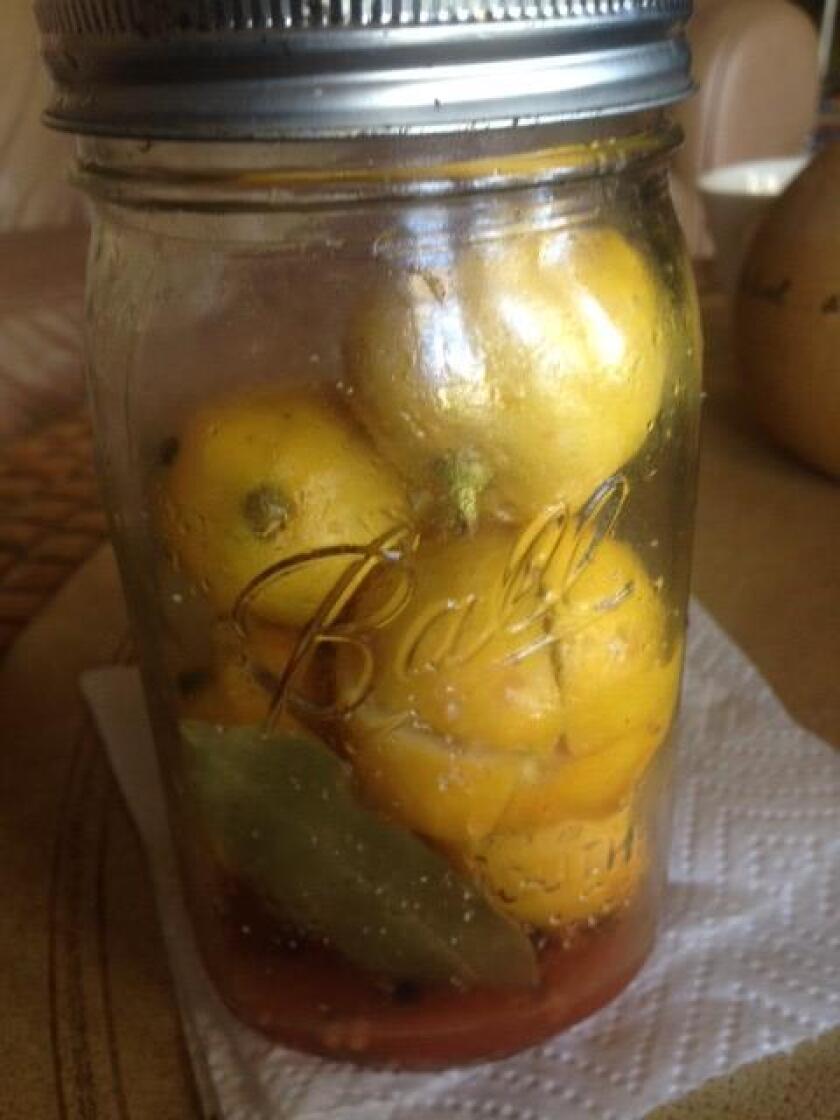 KITCHEN SHRINK:
After I recently treated myself to an anti-aging birthday facial, I was reminiscing of an incident years ago when my girlfriend and I indulged in a spa day of pampering, including a stress-relieving massage, invigorating facial and light, healthy lunch.
Sipping on a cool glass of lemon-infused water while waiting for the facialist in a dimmed room, the heady scent of eucalyptus and background chorus of tropical Rainforest birds filling my senses, I noticed a pile of cut lemons on a plate. I reached for one, and squirted more juice into my glass.
While taking a good swig of the thirst-quencher, the esthetician entered the room. She alarmingly asked what I had been doing with the cut lemon as those were used on the previous client to treat her acne break out. Yikes! It was then I learned of the many uses of the marvelous citrus, which I can now laughingly share with you.
The lip-puckering juicy lemon, a native of the Himalayan foothills of the North Eastern region of India, and close relative to other acidic fruits (including the orange, grapefruit and tangerine) has global appeal, adding a salty and tangy essence to many ethnic and mainstream dishes. Every part of this sassy citrus is delightful — the juice, pulp, skin or zest and even the leaves can be used to make minty or fruity lemonades or Arnold Palmers, sweet and savory sauces, vinaigrettes, soups like Greek lemon chicken called avgolemeno, pilafs, piccatas, risottos and pasta dishes.
This sunny fruit particularly enlivens seafood treasures (crab cakes, shrimp cocktail, poached salmon, to mention a few) and steamed greens, along with scrumptious baked goods and desserts (meringue pies, tarts, ricotta pancakes, sorbets, silky curds, scones, biscottis and muffins), and let's not forget lemon-based cocktails. It also prevents cut apples from oxidizing and turning brown, while keeping guacamole green.
Beyond the kitchen, lemon has a slew of beauty, health and household uses. It makes your pearls sparkle, controls gum bleeding, freshens your breath, lightens your hair and makes it shine, soothes insect bites, removes pesky warts, and wards off free radicals keeping skin supple and glowing.
There's more. The botanical berry calms upset tummies, tempers a hangover headache, puts the skids on crystals that form into kidney stones, and pushes colds and flu under the bus by boosting the immune system with its load of Vitamin C.
Also packed with essential minerals from calcium and copper to potassium and iron, the mighty citrus ratchets up blood and bone health, and maintains fluid balance. While its store of B-complex vitamins bolsters the nervous system, its A's amp eye health.
Some helpful home tips include using lemons to neutralize kitty litter boxes, freshen fridges, remove stains from clothing and give your duds a botanical fragrance, and polish pots and pans.
• But not all lemons are created equal
The popular elliptically-shaped Eureka with thick knobby yellow rind comes in two varieties —pale and pink fleshed, the latter creating a quintessential summer delight of pink lemonade. Eureka's sour sibling, the practically seedless Lisbon variety has a thinner more refined rind, and yields more juice. While the mellow Meyer, not considered a true lemon since it's a hybrid cross likely between a lemon and a mandarin, has supple orange-tinged skin, and a sweeter, less acidic juice.
To pick a winner look for firm, bright, glossy yellow skin. It should have good heft for its size, and be free of wrinkles, blemishes and soft spots. For juicier lemons, choose thinner-skinned ones, and where possible buy organic, especially when zesting.
In my travels I've discovered beautiful Mason jars stuffed with silken-skinned preserved lemons in a tangy brine. These pickled wonders are not only the cornerstone of fragrant Moroccan stews (tagines) of chicken, lamb, beef, and fish, but dial up everything from vinaigrettes, vegetarian dishes and fruit salads to Bloody Marys, tapenades, sauces and salsas.
———
•••• Recipe: Preserved Lemons
Ingredients:
• 6 lemons (your choice)
• 4 tablespoons kosher or sea salt
• 1cup fresh squeezed lemon juice
• 1 bay leaf
• 1 cinnamon stick (optional)
• 1/2 teaspoon black peppercorns
• 1 pint-size Mason jar
Method: Slice lemons in quarters, careful to keep intact at the stem end. Place 1 tablespoon of salt at the bottom of the jar and stuff remaining salt into cut lemons, closing the segments so the fruits are kept whole. Place lemons, peppercorns, bay leaf and cinnamon stick in Mason jar, and enough lemon juice to immerse the lemons. Tightly cover and keep in a warm spot in your kitchen for about one month until fully ripened. Refrigerate and use for up to six months.
For a speedier preserved lemon methodology, e-mail kitchenshrink@san.rr.com
---
Get the La Jolla Light weekly in your inbox
News, features and sports about La Jolla, every Thursday for free
You may occasionally receive promotional content from the La Jolla Light.