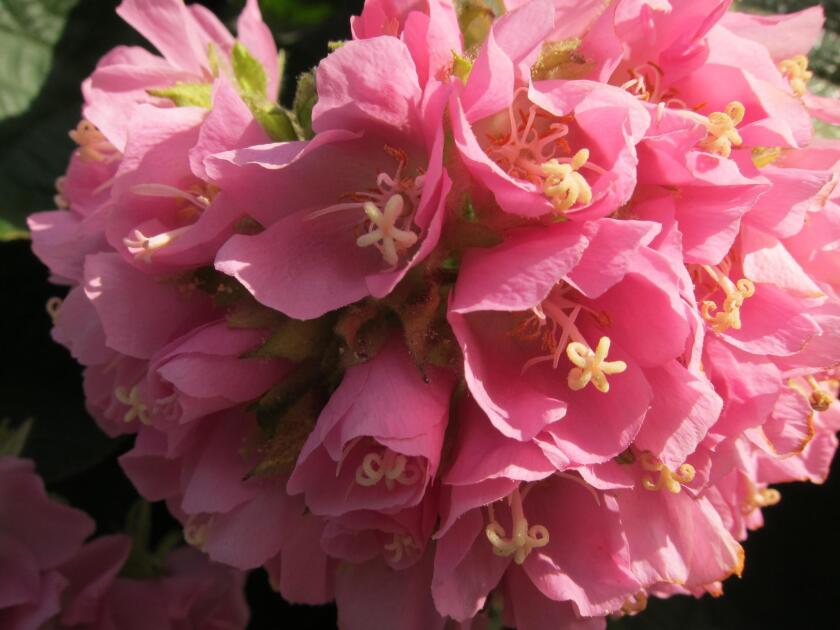 NATURAL LA JOLLA:
It was an exceptionally warm fall here in La Jolla, with record high temperatures being observed day after day. Temperatures on Thanksgiving Day tied the previous high record for that late in November (87 degrees F). Now that we are into winter, many of the flowering shrubs and trees I see usually in February seem to be getting started early. Before the holidays I saw the first blooms of the pinkball tree. The tropical hydrangea (Dombeya wallichii) has lovely pink clusters of flowers that hang straight down off the tree, attracting bees and giving off a lovely cake batter and icing fragrance. Quite unique!
Also attracting bees and other pollinators, foxtail agaves (Agave attenuata) are also blooming furiously around town. Graceful green inflorescences curve downward with blooms opening from the base toward the tip. It takes many years for a foxtail agave to store enough energy to send a stalk skyward with flowers.
Finally, one of most colorful bushes around is the Mexican bush sage (Salvia leucantha). Bright purple bracts and white flowers cover this shrub, which can sprawl in all directions. Hummingbirds and butterflies love these plants.
It looks like more warm weather is on the way for the next week or two, and we could be headed for an early spring and warm summer again this year.
— Kelly Stewart is a marine biologist with The Ocean Foundation who writes about the flora and fauna of La Jolla. She may be reached by e-mail: NaturalLaJolla@gmail.com
---