La Jolla cleaning up after Tropical Storm Hilary
A eucalyptus tree that fell on Pearl Street just west of La Jolla Boulevard blocked the road and pulled up part of the sidewalk.
(Elisabeth Frausto)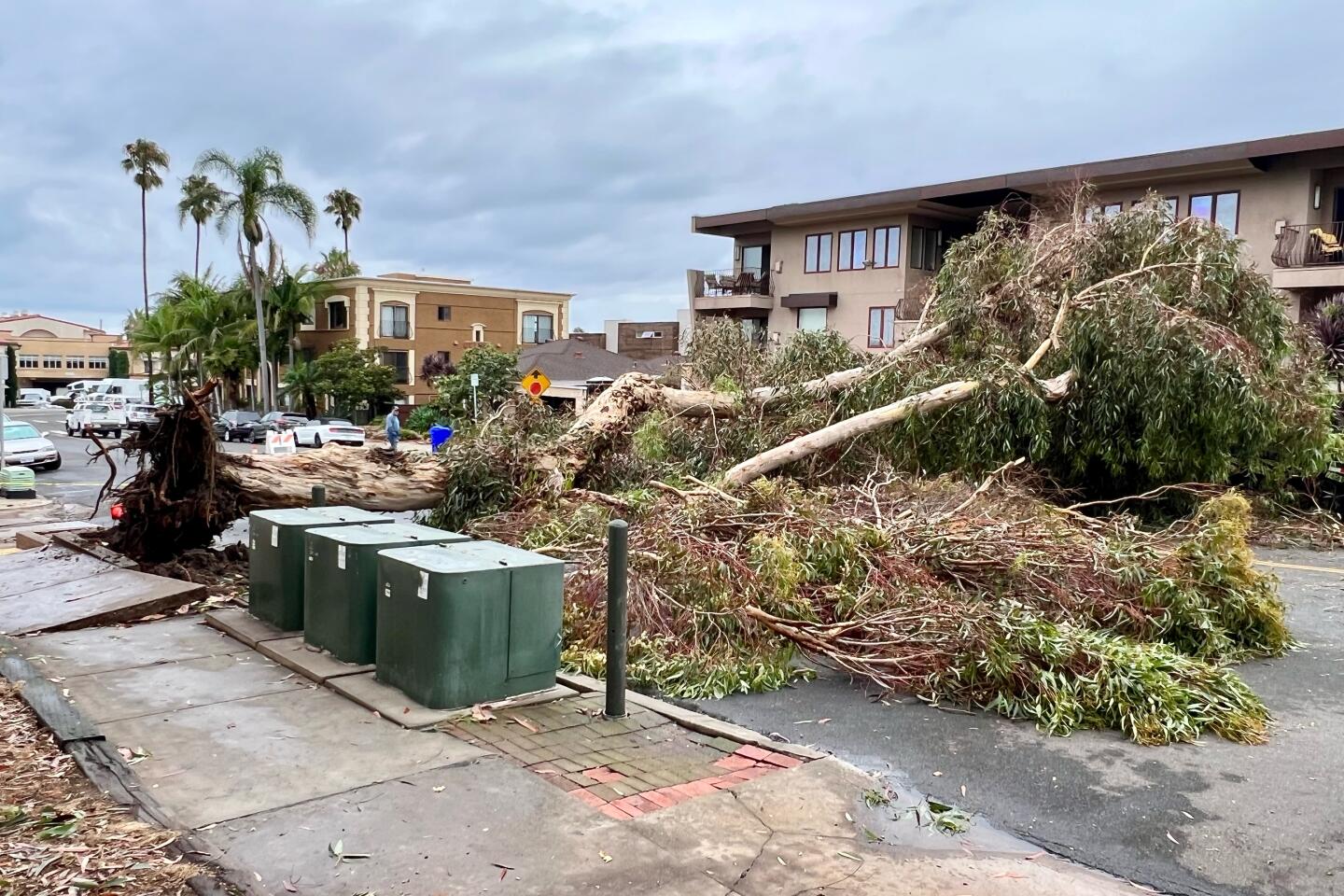 The large fallen eucalyptus tree on Pearl Street spans the roadway.
(Christopher Canole)
Sandbags placed around La Jolla businesses to prevent flooding remained Aug. 21 after Hilary passed through.
(Elisabeth Frausto)
An SDG&E crew works to repair a power outage in La Jolla after Hilary went through Aug. 20.
(SDG&E )
An advisory posted at La Jolla Cove warns that storm runoff increased ocean bacteria.
(Elisabeth Frausto)
City of San Diego workers gather fallen pieces of palm trees at Scripps Park in La Jolla.
(Elisabeth Frausto)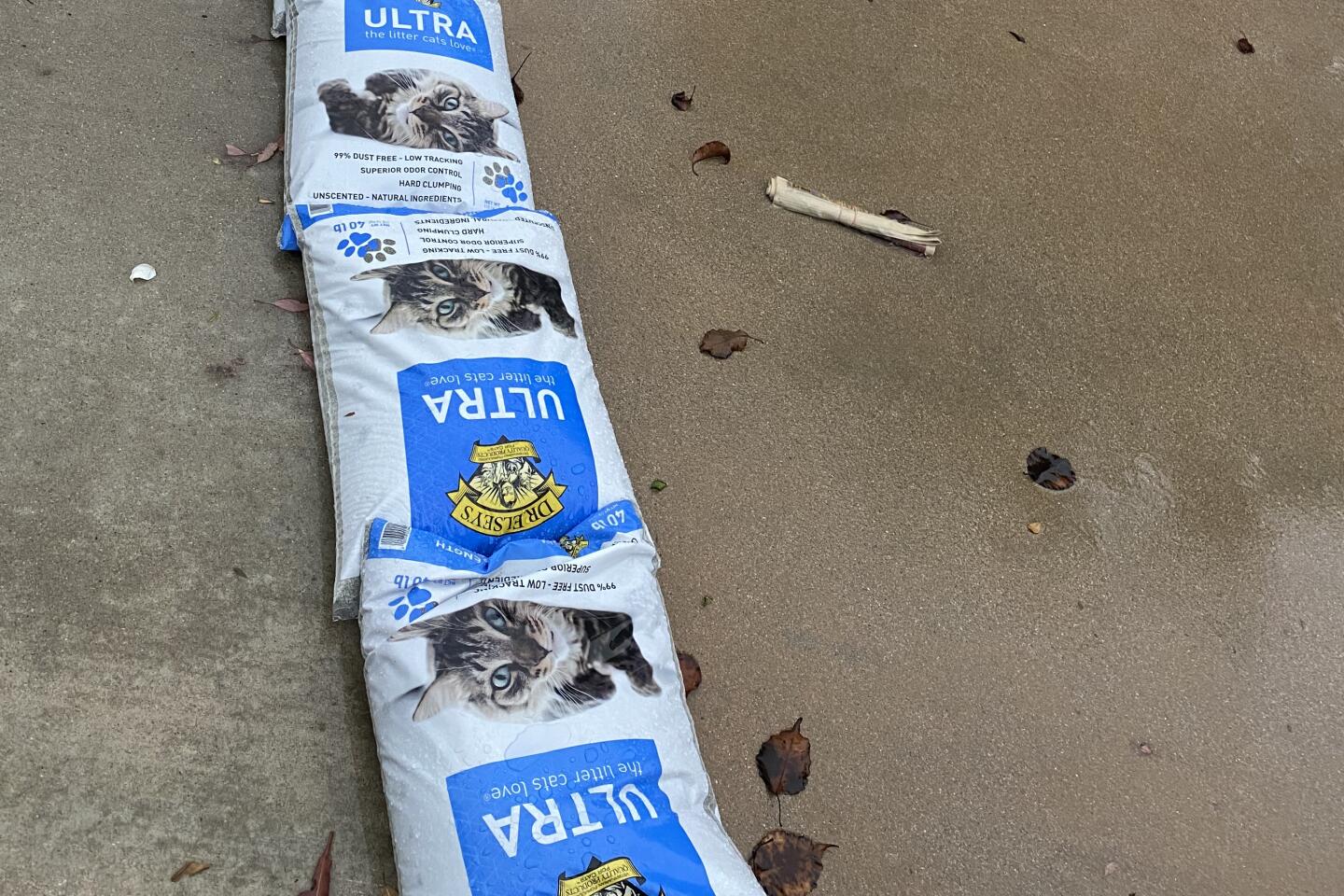 A Bird Rock resident made creative use of bags of cat litter as driveway flood barriers.
(Mimi Sells)
Storm-driven debris from palm trees lines both sides of El Paseo Grande in La Jolla Shores.
(Elisabeth Frausto)
A tree outside a housing community on La Jolla Scenic Drive North was heavily damaged.
(Elisabeth Frausto)
Much of the sand at the La Jolla Shores boat launch washed to sea during the storm.
(Elisabeth Frausto)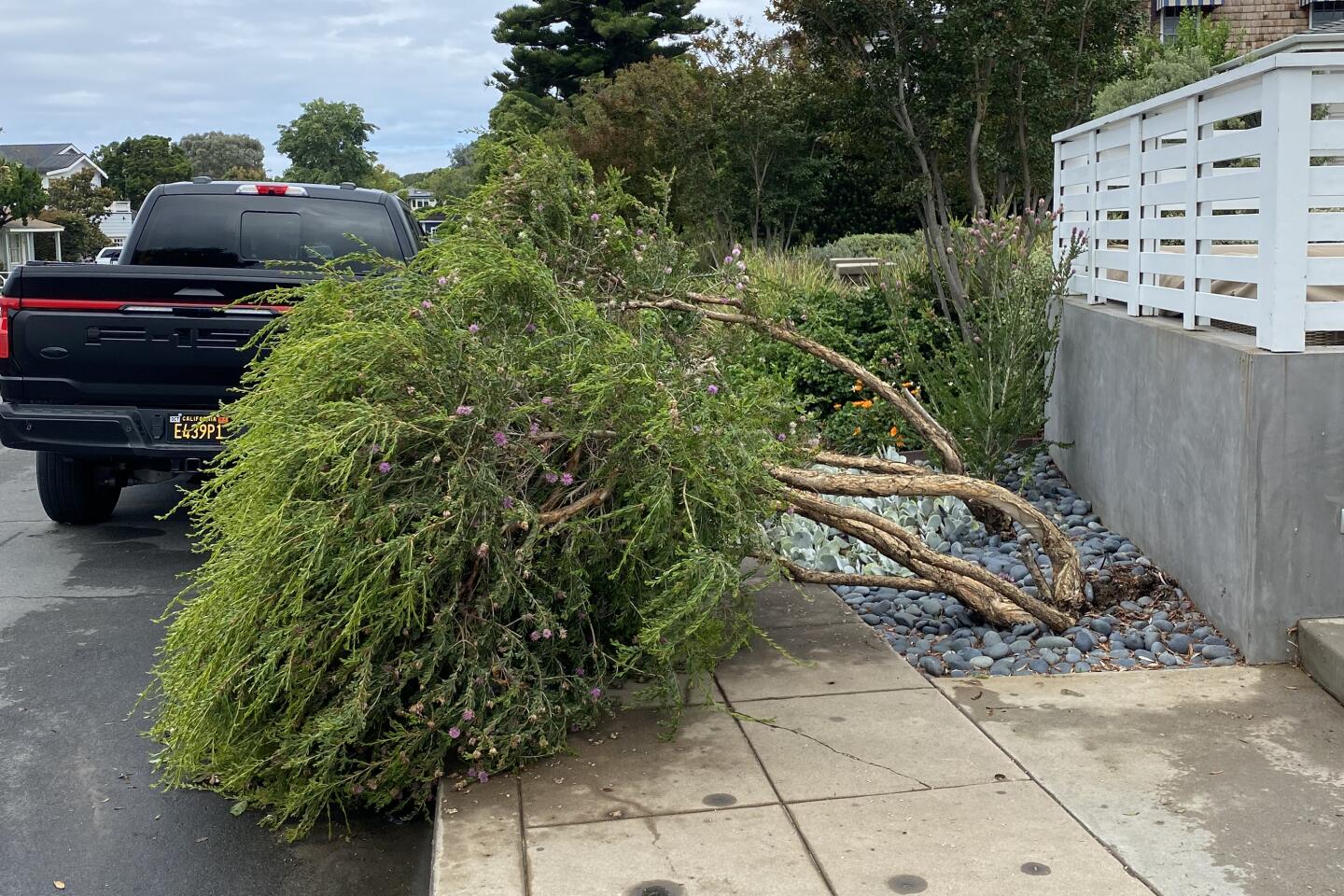 Trees tipped by Hilary cover a sidewalk in Bird Rock.
(Mimi Sells)
Photo gallery: A large tree fell on Pearl Street, and other debris left by the storm brought out local crews to pick up.
Hours after Tropical Storm Hilary moved on, La Jollans surveyed the damage and began cleaning up on Monday, Aug. 21.
The first tropical storm to hit San Diego County since 1939 brought strong rain and winds throughout the county and dropped about 2 inches of rain on La Jolla.
The tropical storm dropped about 2 inches of rain on La Jolla.
It also dropped broken branches from trees, upended roots and more.
"The public right of way is our concern," said Brian Earley, manager of the La Jolla Maintenance Assessment District, administered by Enhance La Jolla to enhance services in The Village provided by the city of San Diego.
The morning of Aug. 21, MAD crews were seen around The Village cleaning up downed palm fronds and other debris Hilary left behind.
A large fallen eucalyptus tree blocked Pearl Street just west of La Jolla Boulevard, prompting a San Diego police officer to put up caution tape, according to Robert Mackey of nearby La Jolla Golf Carts.
The tree pulled up the sidewalk beneath its roots on the south side of Pearl and fell onto another tree on the north side, knocking it over.
Mackey said the eucalyptus was still standing when he drove by at 9 p.m. Aug. 20. He heard early the next morning that the tree had fallen at about 10 p.m., he said.
"I had expected these might come down," Mackey said. "I'm guessing [the city] will be busy."
Earley said the MAD received a few calls from locals about storm-related cleanup needs, "but we don't even wait for the calls."
"Our vendors were on the streets by 7:30 a.m.," cleaning up the most heavily trafficked pedestrian areas first, he said. "Our dumpsters are full."
MAD crews traveled the length of Girard Avenue first, clearing it by 10 a.m., Earley said. The rest of The Village is to be cleaned up by Tuesday, Aug. 22.
"I'm very happy for nature's power-washing," Earley said. Two inches of rain in The Village "is nice."
Hilary disrupted electricity on Sunday for more than 200 customers in La Jolla, but all power had been restored by Monday morning, according to San Diego Gas & Electric. ◆
Get the La Jolla Light weekly in your inbox
News, features and sports about La Jolla, every Thursday for free
You may occasionally receive promotional content from the La Jolla Light.