News Nuggets: UCSD freshman admissions; local Alzheimer's and brain cancer studies; college enrollment; more
UC San Diego admits fewer than 25% of freshman applicants for this fall
For the second consecutive year, UC San Diego has admitted fewer than 25 percent of its freshman applicants to help the La Jolla university catch up with massive growth that produced a critical shortage of housing, lab space and classrooms.
The campus says it offered admission to 32,314 of the 130,830 students — 24.7 percent — who sought to enroll as freshmen this fall. The admission rate was about 23.7 percent a year ago.
The figure for fall 2021 was 34.3 percent, capping a 10-year period in which UCSD's enrollment increased by roughly 13,300, reaching nearly 42,000.
Unable to find affordable housing elsewhere, more than 3,200 students ended up on waiting lists for campus housing, which angered students and their parents. The shortage occurred even as the university was in the midst of a historic building campaign.
Chancellor Pradeep Khosla said at the time that UCSD needed to shift more of its focus to adding infrastructure. Since then, the construction boom has gotten bigger.
In late June, UCSD began building the Ridge Walk North Living and Learning Neighborhood, which will provide beds for 2,400 students, as well as food services and teaching space. At the same time, the school broke ground on the Triton Center, a four-building student union complex that will include a 500-person event space.
Those projects are unfolding a short distance from where UCSD is building two separate villages that will collectively house more than 2,300 students, many in high-rises.
The ongoing expansion is meant to accommodate transfer students as well as other newcomers. UCSD says it offered admission to 12,464 of the 19,942 transfer students, or 62.5 percent, who sought to enroll this fall. All but 1,264 of the applicants are from California. The university has focused harder on accepting students from the state's community colleges. — The San Diego Union-Tribune
Get the La Jolla Light weekly in your inbox
News, features and sports about La Jolla, every Thursday for free
You may occasionally receive promotional content from the La Jolla Light.
UCSD study shows protection against Alzheimer's symptoms
UC San Diego researchers say stem cell transplants, already being used to treat various cancers and disorders of the blood and immune system, also may be a promising therapeutic against Alzheimer's disease.
A study published Aug. 8 in Cell Reports says mice that received transplants of healthy hematopoietic stem cells showed preserved memory and cognition and less neuroinflammation compared with other mice with Alzheimer's.
The success of the therapy stems from its effects on microglia, a type of immune cell in the brain. Microglia have been implicated in the initiation and progression of Alzheimer's disease in various ways.
Future studies will further explore how the healthy transplanted cells produced such significant improvements and whether similar transplant strategies can be used to alleviate Alzheimer's symptoms in humans.
Salk scientists report immunotherapy for 'death sentence' brain cancer
Glioblastoma, the most common and deadly form of brain cancer, grows rapidly to invade and destroy healthy brain tissue. The tumor sends cancerous tendrils into the brain that make surgical removal of the tumor very difficult or impossible.
Scientists at the La Jolla-based Salk Institute for Biological Studies say they recently found an immunotherapy treatment known as anti-CTLA-4 that leads to considerably greater survival of mice with glioblastoma.
"There are currently no effective treatments for glioblastoma — a diagnosis today is basically a death sentence," said Salk professor Susan Kaech, the study's senior author and director of the NOMIS Center for Immunobiology and Microbial Pathogenesis. "We're extremely excited to find an immunotherapy regimen that uses the mouse's own immune cells to fight the brain cancer and leads to considerable shrinkage and, in some cases, elimination of the tumor."
Next, the researchers will examine whether the cancer-killing cell cycle is present in human glioblastoma cases. Additionally, they aim to look at other animal models with differing glioblastoma types, expanding their understanding of the disease and optimal treatments.
San Diego Unified graduates have a 68% rate of college enrollment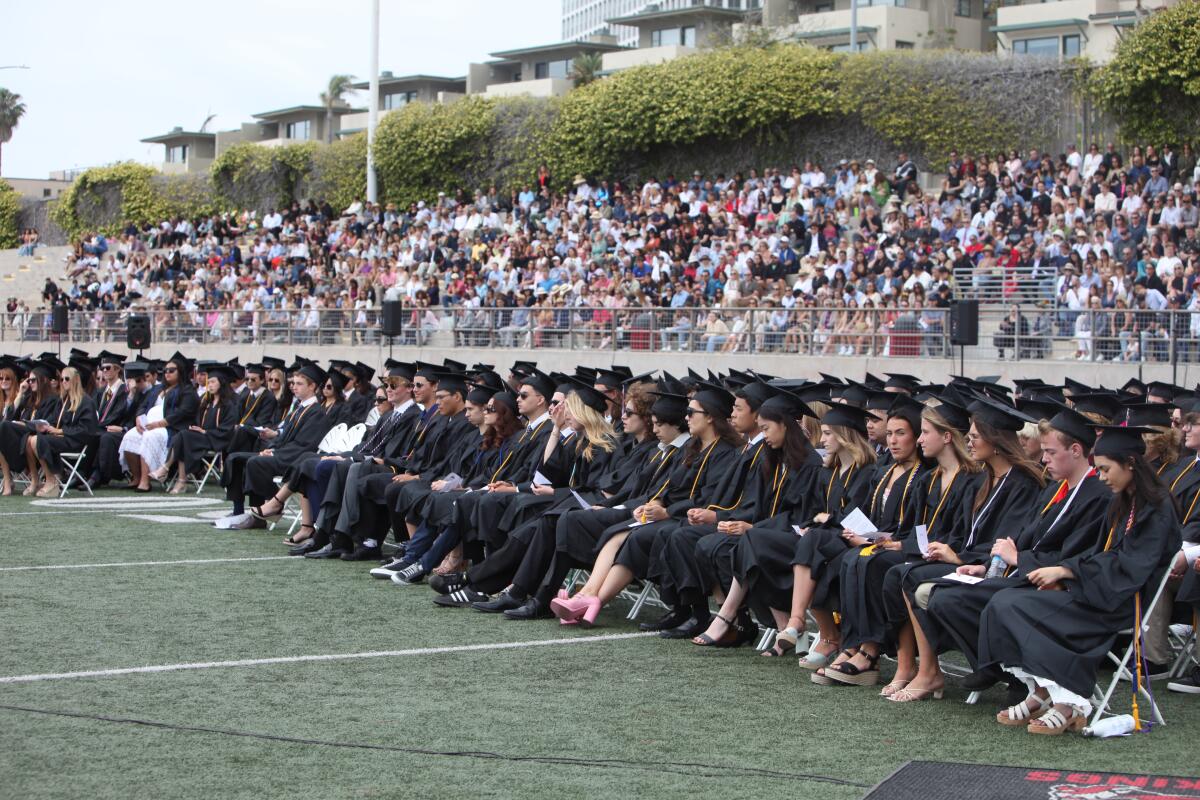 About two-thirds of San Diego County's public high school graduates in 2022 went on to college in some form the following fall, though rates vary widely by school district, race and income, according to data from the National Student Clearinghouse obtained by The San Diego Union-Tribune.
In the San Diego Unified School District, which includes five public schools in La Jolla, 68 percent of graduates enrolled in college the year they graduated.
The numbers are an improvement from the COVID-19 pandemic years of 2020 and 2021, when 64 percent of county high school graduates in each of those years enrolled in college the following fall.
The data is crucial because both K-12 and higher education institutions can use it to investigate why certain student groups are not enrolling in college or completing degrees as much as others, said Shannon Coulter, the director at the San Diego County Office of Education who manages the data. — The San Diego Union-Tribune
Entries sought for sci-fi story event at UC San Diego
UC San Diego Library is seeking micro stories for its "Short Tales from the Mothership" event to be held Wednesday, Nov. 8.
Fantasy, horror or science-fiction stories of 250 words or less can be submitted to UCSD Exhibits & Events Coordinator Scott Paulson by Wednesday, Nov. 1, at spaulson@ucsd.edu.
More details about the written and spoken-word event will be released shortly.
Pacific Regent La Jolla hosts fundraising game day for Feeding San Diego
Local retirement community Pacific Regent La Jolla recently hosted a series of "game days" for its residents to benefit food bank Feeding San Diego, handing the nonprofit a check for $1,200.
The event, organized by the community's activities committee, collected donations as entrance fees to play games including bridge, mahjong, rummikub, canasta and poker.
Menehune junior surf contest coming Oct. 7
Applications are being accepted for the annual Menehune junior surf contest, which will be held Saturday, Oct. 7, at La Jolla Shores.
Longboard and shortboard divisions are offered for boys and girls in various age groups 16 and younger, including the Super Menehunes for 7-year-olds and under.
The Menehune contest, touted as the granddaddy of all junior surf contests, was first held at La Jolla Shores in 1965 and was won by a young girl, Margot Godfrey (Oberg), a future world champion.
The Windansea Surf Club will award $250 educational scholarships to winners. For more information or to register, visit windanseasurfclub.org.
Scripps Oceanography study of cliff collapse extended
Locally authored state legislation known as Assembly Bill 72, which will extend by a year the expiration date for the La Jolla-based Scripps Institution of Oceanography to conduct research on coastal cliff landslides and erosion in San Diego County, was signed recently by Gov. Gavin Newsom.
In 2021, AB 66 by Assemblywoman Tasha Boerner (D-Encinitas) directed Scripps Oceanography researchers to collect data on bluffs at Beacon's Beach in Encinitas and Del Mar. It provided $2.5 million for a three-year study led by SIO scientists to look into the processes of cliff failure in hopes of improving the warning system for the public. The law was spurred by an Aug. 2, 2019, bluff collapse at Grandview Beach in Encinitas in which three women were killed.
The deadline extension requested in AB 72 is a result of permitting delays at Beacon's Beach that prevented the timely installation of several key sensors, including a subsurface high-sensitivity meter for detecting small-scale ground movement. Without a project extension, full data collection would cover only one full winter, when coastal erosion and landslides occur more frequently, according to Boerner's office.
The research is to be completed no later than Jan. 1, 2026, and SIO will provide the state Legislature with a report by the end of March 2026.
Environmental Hero candidates sought
Nominations are being accepted for the inaugural Environmental Hero award presented by the office of California Assemblywoman Tasha Boerner (D-Encinitas).
Field representative Mariah Kallhoff told the La Jolla Village Merchants Association during its Aug. 9 meeting that the office is accepting nominations (including self-nominations) in the following categories: water, air, greening, wetlands, innovation, environmental justice, rising star and unsung hero.
Nominees must live or work in the 77th Assembly District, which includes La Jolla, and the nomination should include a one-page description of achievements and volunteer efforts in 2022-23. The nomination form will be posted on Boerner's website in coming weeks.
The awards ceremony will be Saturday, Oct. 7, at a location to be determined. Learn more at a77.asmdc.org.
— Compiled by La Jolla Light staff ◆
Get the La Jolla Light weekly in your inbox
News, features and sports about La Jolla, every Thursday for free
You may occasionally receive promotional content from the La Jolla Light.