La Jolla News Nuggets: LaCava to seek reelection; La Jolla Shores Drive repaving; Science Nights; more
LaCava files for City Council reelection bid in 2024
La Jolla resident and San Diego City Councilman Joe LaCava, whose District 1 includes La Jolla, has officially filed to seek reelection in 2024.
LaCava is the first to file for candidacy in the election for the District 1 seat, according to city records.
In a message posted on his website, LaCava, who was elected to the council in 2020, stated that "I have worked to make the District 1 office more accessible and responsive to you. With my hard-working staff, phones are answered, emails returned, solutions offered."
Among the "results across D1" and the city he listed are the recent repaving of La Jolla Parkway and securing additional funds for police, firefighters and lifeguards.
"As a big city, we have work to do: preserving public safety, sensible housing policy, addressing homelessness, repairing our streets and infrastructure and responding to climate change," he said. "Most importantly, a back-to-basics philosophy to deliver the city services you expect. I am eager to continue working on these issues and, with your support, we will continue to make progress. Together, we can continue to make a better San Diego."
Learn more at joelacava.com.
La Jolla Shores Drive repaving looks to be about two years off
The city of San Diego provided additional details regarding planned repaving of La Jolla Shores Drive with a timeline that would put the project about two years away.
City officials have said La Jolla Shores Drive will be resurfaced when an ongoing San Diego Gas & Electric utility undergrounding project called Circuit 1J is completed.
Residents hoping that additional streets in La Jolla would be resurfaced following an extensive recent slurry seal project will have to wait awhile longer.
SDG&E's contractor is continuing remaining trenching work, with completion estimated in November. Cable pulling and property connections will follow for an additional 18 months, city spokesman Anthony Santacroce confirmed.
City work for streetlights, curb ramps and crosswalks will overlap with SDG&E's cable pulling and property connections.
After that, La Jolla Shores Drive and streets west of it will be repaved, according to the city.
"We will know more of the scope of the resurfacing effort in the coming weeks," Santacroce said.
Birch Aquarium launches summer Science Nights
Birch Aquarium is presenting Science Nights this summer, during which guests can sip and snack alongside Scripps Institution of Oceanography scientists as they dive into the details of their research on topics including sharks, plankton, penguins and heat waves.
Science Nights will take place from 5 to 6:30 p.m. Wednesdays through Aug. 30 at the aquarium's Blue Beach, a 4,500-square-foot floor mural depicting the bathymetry (or map of the depth) of the underwater canyons off La Jolla Shores.
Birch Aquarium is open from 9 a.m. to 7 p.m. daily through Labor Day, Sept. 4. Tickets are $24.95 for adults and $19.95 for children. Learn more at aquarium.ucsd.edu.
First Friday Art Walk features Fashion Week models
As a test run to possibly bring the presence of Fashion Week San Diego back to La Jolla, Fashion Week models were around town during the July First Friday Art Walk at galleries in The Village. The event was a partnership between Fashion Week San Diego and the La Jolla Village Merchants Association.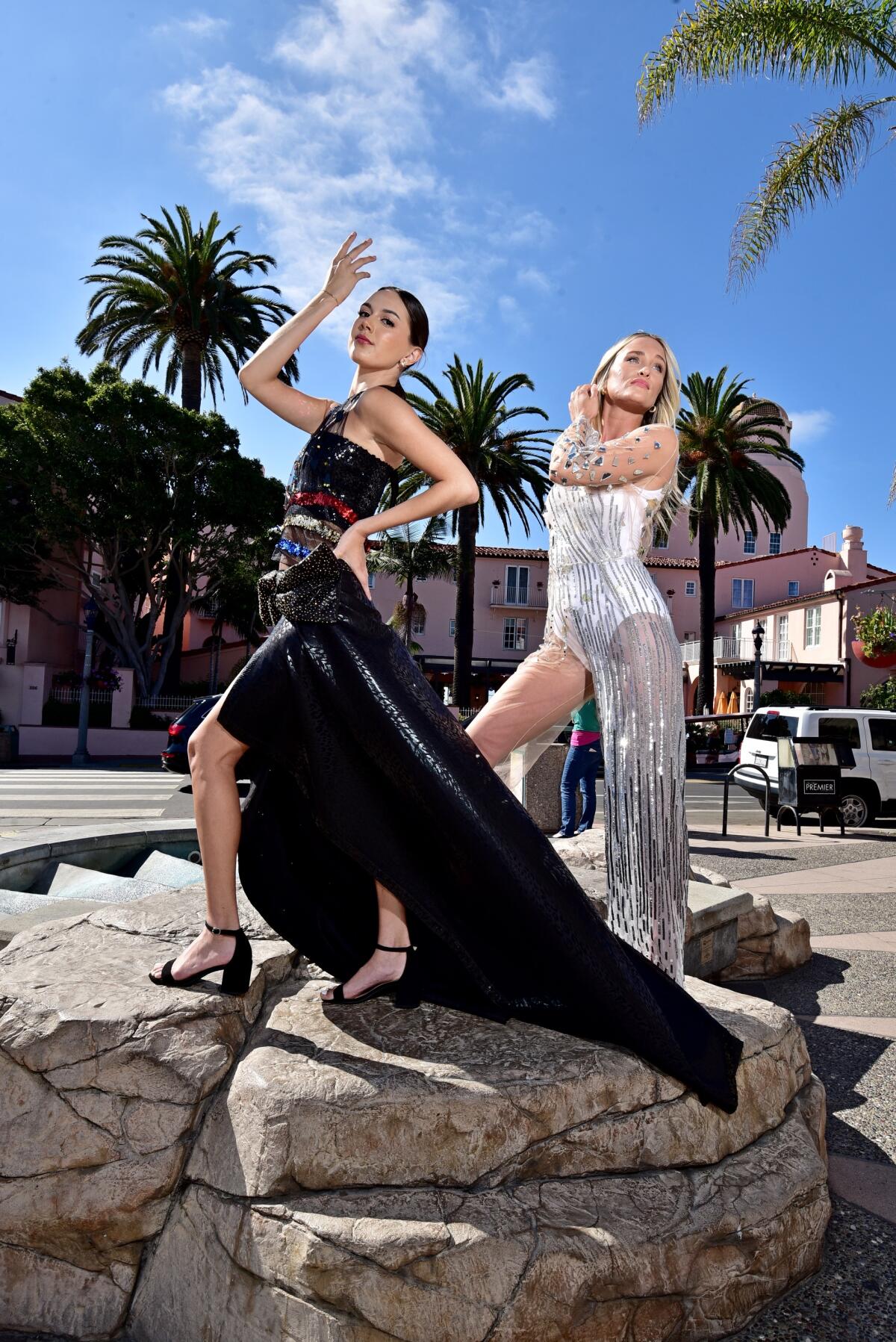 "It was a fun and obscure partnership, but it showcases everything we can do. It was really neat," said First Friday Art Walk organizer Katey Longo.
Fashion Week San Diego had its signature event in La Jolla in 2015 and '16, closing Wall Street for an outdoor runway show in October. Two dozen budding designers showed their designs over two nights, bringing industry notables and hundreds of fashion-philes to town. Soon after, the event moved to other locations across San Diego County before settling in its current home in downtown San Diego.
The First Friday Art Walk, presented by the Village Merchants Association, invites galleries to stay open later to host art-loving patrons. Many offer signature drinks or bites. See a list of all participating galleries at lajollabythesea.com.
Tickets for 'Babbitt' starring Matthew Broderick to go on sale July 26
La Jolla Playhouse has announced that single tickets for its last two productions of 2023 — "Sumo" and "Babbitt" — will go on sale at noon Wednesday, July 26.
"Babbitt" tickets are likely to go fast, since the Joe DiPietro play will star well-known movie and stage actor Matthew Broderick. The show will run in November and December. Exact dates have yet to be announced.
Broderick will be making his first trip back to the playhouse since the pre-Broadway tryout of "How to Succeed in Business Without Really Trying" in 1994. "Babbitt" is playwright DiPietro's stage adaptation of the 1922 satirical novel by Sinclair Lewis. Broderick will play George Babbitt, a middle-aged real estate broker in the Midwest who becomes disillusioned with the materialism of his middle-class life.
La Jolla Playhouse Artistic Director Christopher Ashley will direct. Ashley and DiPietro last teamed up on the musical "Memphis," which made its world premiere at the playhouse in 2008 and went on to Broadway, where it won four Tony Awards, including Best Musical.
Learn more at lajollaplayhouse.org. — The San Diego Union-Tribune
La Jolla author publishes second children's book
La Jolla author and jazz vocalist Bridget Burton — known to many locals as Barbara Burton Graf — has published her second children's book, "Annie Kai Lani Kai Lou: Maui's Beloved Pup."
The book follows the main character from Burton's first book, "Annie Kai Lani Kai Lou: Kauai's Beloved Pup," through adventures inspired by the author's English springer spaniels.
The sing-along book also comes with Hawaiian music featuring steel guitar, ukulele and vocals by Burton.
For more information, visit anniekailani.com.
UCSD lab finds way to suppress malaria-spreading mosquito population
Researchers at UC San Diego say they have engineered a way to genetically suppress populations of mosquitoes that spread malaria in Africa.
The laboratory of Omar Akbari, a professor in the Department of Cell and Developmental Biology, led the research to genetically "edit" the mosquitoes. Each year, malaria infections result in the deaths of hundreds of thousands of people, the majority of them children younger than 5.
The U.S. Centers for Disease Control and Prevention recently announced that five cases of mosquito-borne malaria were detected in the United States, the first reported spread in the country in two decades.
Andrea Smidler, a postdoctoral scholar in UC San Diego's School of Biological Sciences, was a co-first author of the UCSD study along with former master's students James Pai and Reema Apte. The team created a system called Ifegenia, which uses the CRISPR technology to disrupt a gene that controls sexual development in Anopheles gambiae mosquitoes.
The researchers genetically modified two families of mosquitoes and cross-bred them.
"We crossed them together, and in the offspring it killed all the female mosquitoes," Smidler said. "It was extraordinary."
"This technology has the potential to be the safe, controllable and scalable solution the world urgently needs to eliminate malaria once and for all," Akbari said. "Now we need to transition our efforts to seek social acceptance, regulatory use authorizations and funding opportunities to put this system to its ultimate test of suppressing wild malaria-transmitting mosquito populations. We are on the cusp of making a major impact in the world and won't stop until that's achieved."
UCSD to study effects of psychedelic DMT in humans
A gift of $1.5 million from Eugene Jhong will help launch a new research program within the UC San Diego Psychedelics and Health Research Initiative to learn more about the biological and psychological effects in humans of a psychedelic known as DMT.
N,N-dimethyltryptamine, or DMT, is one of the most powerful psychedelics known. It has been described as causing visuals akin to a dream state. It is typically consumed on its own or in ayahuasca, a ceremonial brew that has been used for spiritual and visionary purposes by Indigenous cultures for centuries.
Some have said DMT helped them address psychological ailments such as depression and addiction. However, the way DMT affects the brain, body and health is largely unknown.
UC San Diego currently is the only university in the United States with a dedicated division to conduct extended-state DMT research. The study is part of the Psychedelics and Health Research Initiative, which soon will be renamed the Center for Psychedelic Research, a newly approved academic center at the UCSD School of Medicine.
La Jolla High and Bishop's volleyball teams earn national academic awards
Volleyball teams from The Bishop's School and La Jolla High School have earned the 2023 Marine Corps and American Volleyball Coaches Association Team Academic Award.
The award, initiated in the 1992-93 academic year, honors volleyball teams that maintain a year-long grade-point average of 3.3 on a 4.0 scale or 4.1 on a 5.0 scale.
The La Jolla High boys and Bishop's girls and boys volleyball teams each won the award, with all three teams earning the additional honor roll distinction, meaning they represent the top 20 percent of team GPAs in their division.
The LJHS boys team has received the honor roll award 15 years in a row.
La Jolla student wins New York Times podcast contest
La Jolla resident Joshua Hangartner, who will be a senior next school year at La Jolla Country Day School, is one of 11 winners in the sixth annual New York Times student podcast contest.
Hangartner's winning piece, "Out of Place: Anti-Asian Racism in Europe," was chosen from among nearly 1,100 submissions.
Teenagers were asked to submit a podcast up to five minutes long.
Hangartner also recently won the 2023 World Historian Essay Award presented by the World History Association for his 1,000-word essay titled "World History: A Vehicle for Understanding Ourselves."
La Jolla community centers receive money from seniors foundation
The La Jolla Community Center and the Lawrence Family Jewish Community Center in La Jolla are among 11 facilities that recently received grants from the San Diego Seniors Community Foundation.
The La Jolla Community Center got $15,000 and the Jewish Community Center received $36,000.
The money, supported by funding from donors including the Sahm Family Foundation, is being put to use in a variety of ways, including to hire senior center staff and for new programs such as technology training, fitness classes and social activities.
La Jolla institutions get part of $12.2M in cultural funding from San Diego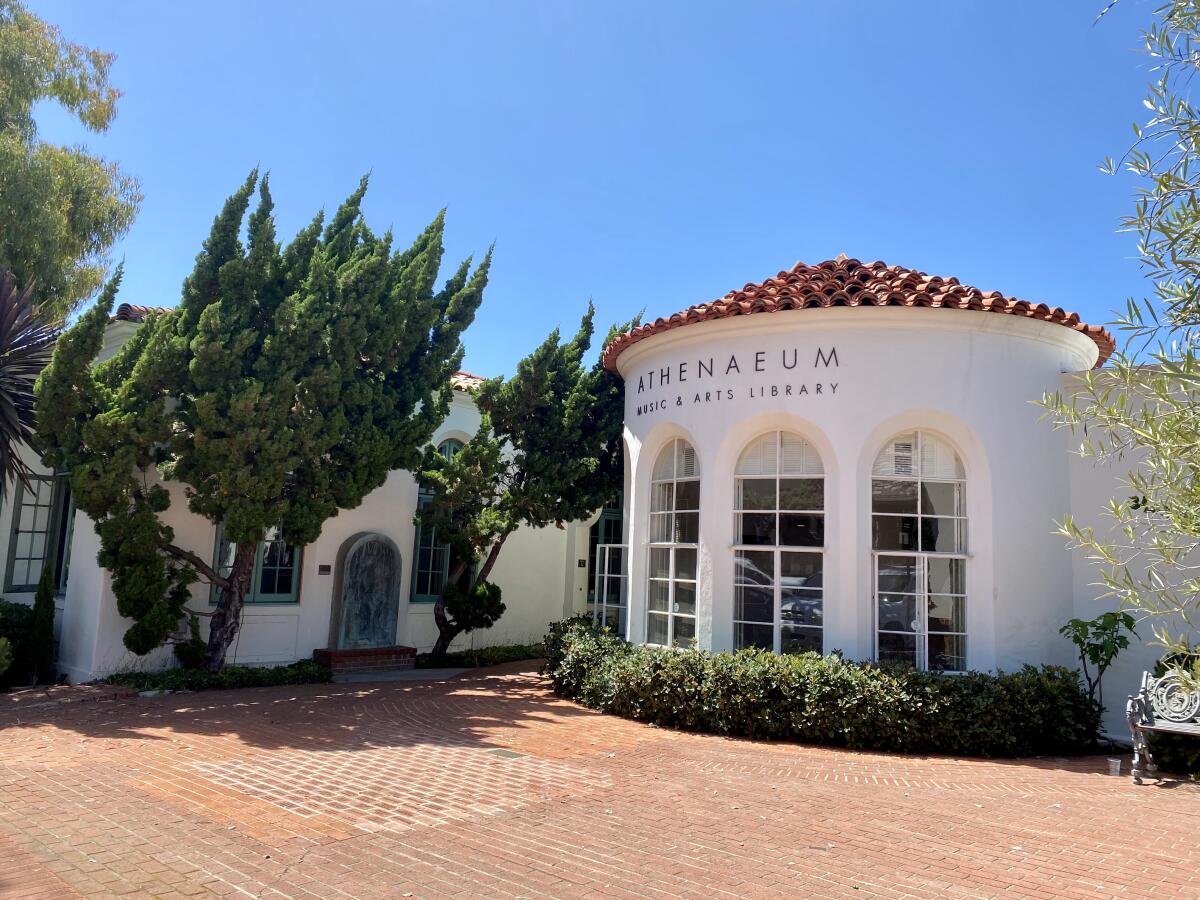 Five arts and cultural institutions in La Jolla will receive part of the $12.2 million from the city of San Diego going to 113 area nonprofits for programming and neighborhood projects this fiscal year.
The La Jolla Historical Society will receive $105,962; the La Jolla Music Society $312,508; the La Jolla Symphony & Chorus Association $54,050; the Library Association of La Jolla (Athenaeum Music & Arts Library) $110,100; and the Museum of Contemporary Art San Diego $384,153.
The funding is generated through a local allocation of hotel occupancy taxes. The city will announce the application process for fiscal 2024-25 this fall.
To learn more, visit sandiego.gov/arts-culture. — The San Diego Union-Tribune and La Jolla Light
— Compiled by La Jolla Light staff ◆
Get the La Jolla Light weekly in your inbox
News, features and sports about La Jolla, every Thursday for free
You may occasionally receive promotional content from the La Jolla Light.