La Jolla News Nuggets: Athenaeum Juried Exhibition; swim raises $10,000; projects survey; sculpture; more
Athenaeum's 31st annual Juried Exhibition opens July 14
La Jolla's Athenaeum Music & Arts Library will open its 31st annual Juried Exhibition with a public reception at 6:30 p.m. Friday, July 14, at 1008 Wall St.
The exhibit of 35 works by 25 artists was selected by Isabel Casso, assistant curator for the Museum of Contemporary Art San Diego, from among 900 submissions by 300 artists.
Prize winners, including the recipient of the Leslie Von Kolb Memorial Award, will be announced at the reception.
Artists in the exhibition are Elizabeth Burger, Dillon Chapman, Morgan DeLuna, Raul Espinoza, Angela Figueroa, Kaori Fukuyama, Sarah Garcia, Neville Greene, Sam Grenier, Marina Grize, Becky Guttin, Andres Hernandez, Terri Hughes, Mayce Keeler, Gianna LaPonte, Monica Loss, Maria Mathioudakis, Leslie Nemour, Oriana Poindexter, Vincent Robles, Amir Saadiq, Sean Sarmiento, Michael Upton, Leslye Villaseñor and Lizzie Zelter.
The exhibit will run through Saturday, Sept. 9. To learn more, visit ljathenaeum.org/juried-exhibition.
Pier to Cove Swim raises $10,000 for La Jolla Cove Swim Club
The Pier to Cove Swim presented June 25 by the La Jolla Cove Swim Club attracted about 270 swimmers and raised around $10,000 for the club and the programs it supports.
Event organizer Doug Burleigh said invoices for lifeguard services and racing equipment are still being paid, so final numbers are still being tabulated.
"The money is used for unfunded club activities such as the 'Big Chill' program, the holiday banquet and swimming projects around The Cove, etc," Burleigh said.
Past donations have gone to crowdfunding efforts when friends of the Swim Club have died, and to the renovation of the Scripps Park restroom facility.
The event is a 1½-mile open-water swim from Scripps Pier to La Jolla Cove. According to the club, the overall first-place female swimmer was Haley Chasin, who finished in 38 minutes and 59 seconds, and the overall first-place male swimmer was Mitchell Bailey, who came in at 37 minutes.
The youngest swimmer was 15 and the oldest was 82, the club said.
San Diego survey asks residents which projects to prioritize
The city of San Diego is asking residents what projects they would like to see prioritized in their neighborhoods — from parks and streets to libraries and sidewalks.
Last month the city Planning Department launched a website for its Infrastructure Prioritization Engagement initiative, which "aims to identify which public infrastructure projects are most wanted and needed."
Community members can take a survey at bit.ly/46np0HY about the infrastructure projects they'd like and find out about in-person events where they can share their ideas with city staff.
Staff annually evaluates infrastructure project ideas for the capital improvements program budget and the five-year Capital Infrastructure Planning Outlook. For projects to be considered for this year's updates, community members must fill out the survey by Monday, July 31.
"It's crucial we hear from community members to make sure we are investing equitably and are ensuring the infrastructure is going where it will best meet their needs and improve their lives,'' Planning Director Heidi Vonblum said. — City News Service
La Jolla planners seek input on possible bylaw changes
Ahead of the city of San Diego's implementation of community planning group reforms, the La Jolla Community Planning Association will appoint a committee in August to consider changes to LJCPA's bylaws and operations.
The board is collecting input from the public about bylaw-related issues, policies and practices that might be considered. Comments are requested by Monday, July 31, and can be submitted via email to ljcpa-bylaws-comments@googlegroups.com or online through groups.google.com/g/ljcpa-bylaws-comments.
More than 40 community planning groups in San Diego have until the end of the year to amend their bylaws and operations and reapply for city recognition in the wake of sweeping reforms facilitated by City Councilman Joe LaCava, whose District 1 includes La Jolla, and approved by the council in September.
LJCPA has been recognized by the city to make recommendations to the council, Planning Commission, city staff and other governmental agencies on land-use matters.
Supporters say the reforms will boost the groups' demographic diversity by requiring more aggressive term limits and encouraging the groups, which are now made up primarily of White homeowners, to recruit more renters and people of color.
Critics say the changes will weaken the community groups by requiring more work, eliminating the ability to appeal development approvals for free, and only "encouraging" applicants to meet with the groups instead of strongly recommending it.
La Jollans donate sculpture to S.D. museum to honor their daughters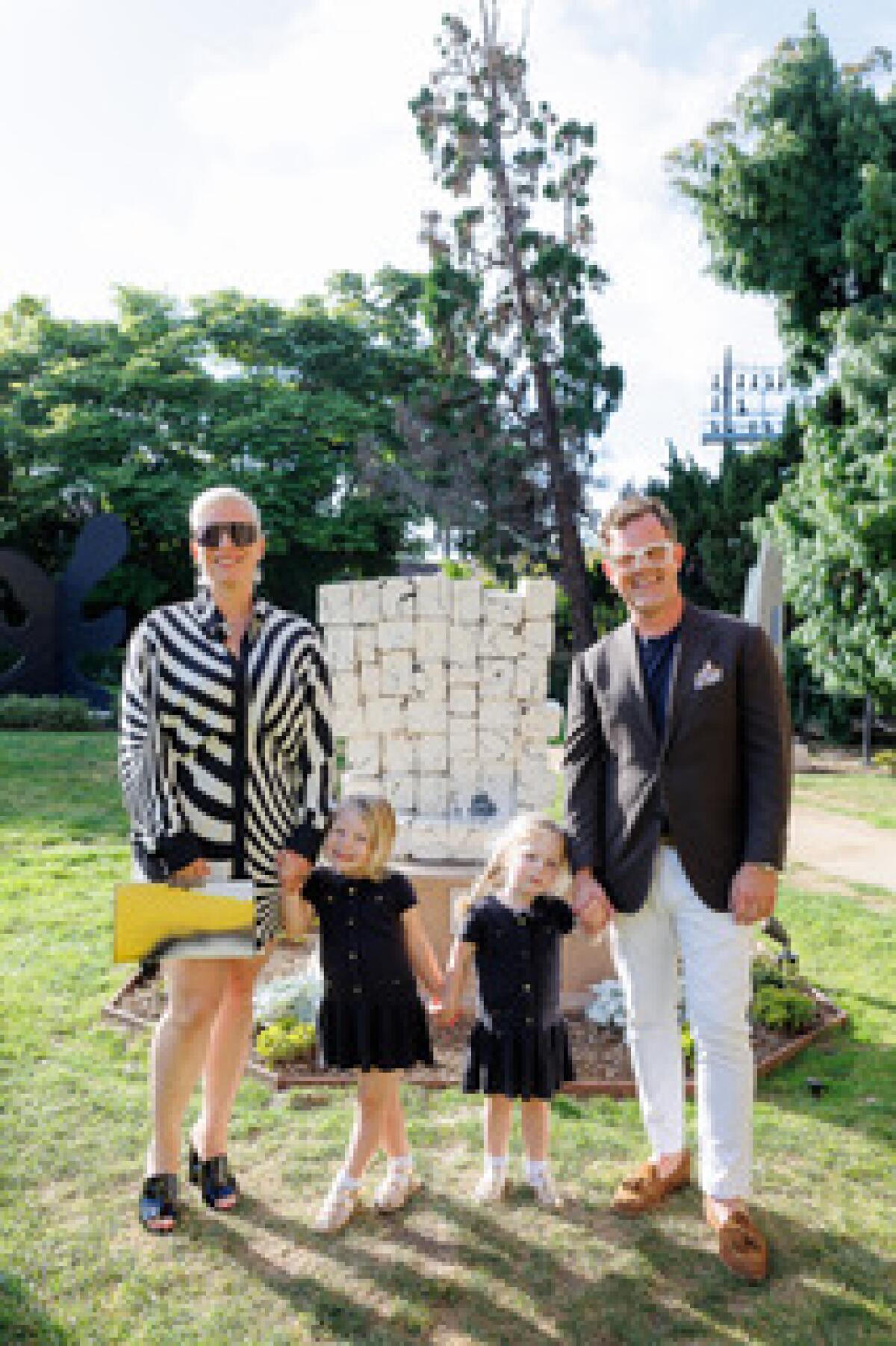 Carl Findley and his wife, Jennifer, of La Jolla recently donated a sculpture to the San Diego Museum of Art's Marcy Sculpture Garden in Balboa Park in honor of their 3-year-old daughters, Margot and Poppy.
"My wife and I are art collectors and ... we worked to find the appropriate piece that visitors to the museum, and the public, would enjoy for years to come," Findley said. "We decided on a sculpture by London-based Chilean sculptor Fernando Casasempere."
The museum held a reception June 22 to dedicate the sculpture.
Historical Society to present Mid-Century Home Tour
Tickets go on sale Saturday, July 15, for the La Jolla Historical Society's Mid-Century Home Tour scheduled for the upcoming La Jolla Landmark Week in October.
The Historical Society calls the tour on Saturday, Oct. 14, an opportunity to "discover the hidden gems of La Jolla Modernism."
The Historical Society presented a smaller home tour in 2014, "but this is the first time we have held the tour in this format, with plans for it to be an annual event," said Executive Director Lauren Lockhart.
La Jolla Landmark Week is intended to encourage the community to think about the importance of preservation through educational workshops, special events and parties. More information will be posted at lajollahistory.org.
La Jolla gallery to host mother/daughter painting reveal party
La Jolla gallery owner Krista Schumacher has announced the date for this year's unveiling of her annual mother/daughter art project.
Each year, Schumacher, a palette knife artist, collaborates with her mother and fellow artist, Kathy Schumacher, on a new collection of original paintings.
One of the new paintings will be revealed during an event beginning at 5 p.m. Friday, Sept. 1, at the Krista Schumacher Art Gallery at 1113 Wall St.
The event will fall on the second anniversary of the gallery's opening. Learn more at kristaschumacherart.com.
Two La Jolla students win college-sponsored National Merit Scholarships
Michelle Chen and Henry Nelson, recent graduates of The Bishop's School in La Jolla, both won one of about 3,000 National Merit Scholarships financed by U.S. colleges and universities.
Officials of each sponsor college selected the scholarship winners from among the finalists in the 2023 National Merit Scholarship Program who plan to attend that college. The awards provide $500 to $2,000 annually for up to four years of undergraduate study at the college financing the scholarship.
Chen and Nelson both will attend Northeastern University.
They were announced July 10 as part of the final group awarded National Merit Scholarships this year.
— Compiled by La Jolla Light staff ◆
Get the La Jolla Light weekly in your inbox
News, features and sports about La Jolla, every Thursday for free
You may occasionally receive promotional content from the La Jolla Light.