How will San Diego's new homeless camping ban be enforced? In steps, officials say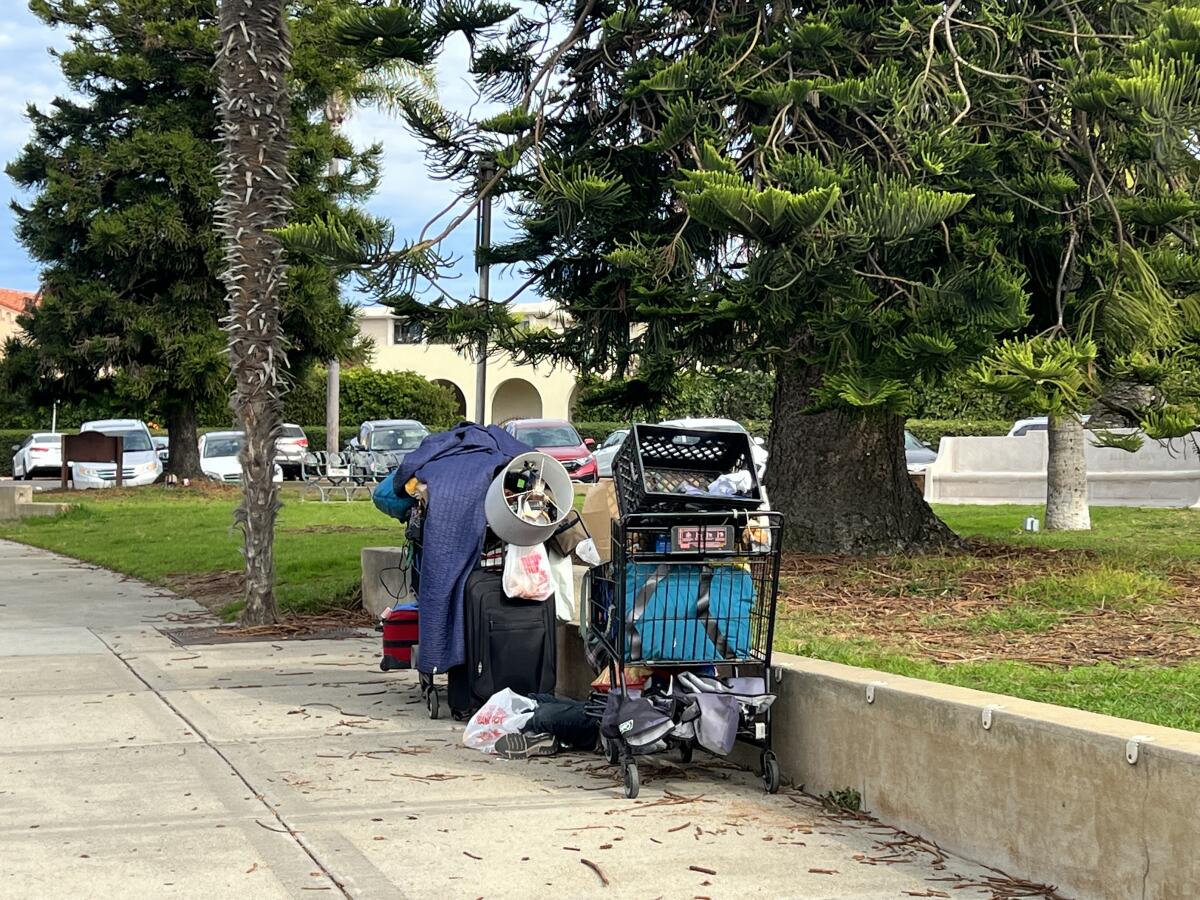 Enforcement won't begin until at least 30 days after the ordinance becomes official, then will be a progressive three-encounter process.
San Diego police expect to begin enforcing a new ordinance prohibiting homeless encampments on public property later this year following the City Council's 5-4 vote in support of the new law June 13.
The "Unsafe Camping Ordinance" proposed by Councilman Stephen Whitburn would cite or arrest people who camp on public property and refuse an offer of available shelter space.
However, the ordinance could be enforced at many sites even if no shelter beds are available. Citing public safety concerns, the law would allow enforcement two blocks from schools or shelters, in public parks, in canyons and by waterways.
The ordinance is expected to return to the council for a second and final reading Tuesday, June 27, and go into effect at least 30 days after the July 1 opening of a new legal camping site known as a safe sleeping area at 20th and B streets.
The ordinance prohibits camping on any public property when shelter beds are available and at all times in places where public safety is a concern, such as city parks and near schools or existing shelters.
Police Lt. Shawn Takeuchi told council members that he's confident enforcement could take place once the safe sleeping site is open.
Takeuchi described enforcement of the ordinance as a progressive three-encounter process, with a homeless person offered shelter each time.
At the first encounter, an officer would inform the person of the law and give a warning. Takeuchi said only 10 percent accept an offer of shelter in a first encounter.
On the second encounter, the officer would confirm that the person already has been warned and then issue a misdemeanor citation.
The third encounter would lead to an arrest, but Takeuchi said an officer still could take a person to a shelter rather than jail if the person has a change of heart.
Get the La Jolla Light weekly in your inbox
News, features and sports about La Jolla, every Thursday for free
You may occasionally receive promotional content from the La Jolla Light.
The city, through its encroachment ordinance, already cites and arrests homeless people for blocking sidewalks. Takeuchi said enforcement of that law involves four encounters and includes issuing an infraction citation before a misdemeanor.
Asked by Councilman Kent Lee whether the enforcement would be a strain on the Police Department's resources, Takeuchi said that was a difficult question.
Takeuchi said the department's 10-member homeless outreach team is part of 58 personnel in the Neighborhood Policing Division, which receives 800 to 1,000 requests for services each week through the city's Get It Done app.
Council members who supported the ordinance said it is a tool to address a pressing problem, while more affordable housing, shelter beds and support services also are needed.
City Council President Sean Elo-Rivera cited a lack of shelters in voting against the ordinance. He proposed an amendment that would allow enforcement only if city-funded shelters could accommodate 52 percent of the city's homeless population identified in the most recent Point in Time count, which is conducted each winter. Whitburn did not agree to the amendment.
Results of the latest count released June 8 found 6,500 homeless people in the city of San Diego, or about 63 percent of the county's overall homeless population of 10,264.
Under Elo-Rivera's proposal, the city would need 3,380 shelter beds before enforcement could begin. The city funds 1,784 shelter beds, while overall, San Diego has 2,401 shelter beds when including non-city-funded shelters such as the San Diego Rescue Mission.
A state initiative similar to the city's ordinance that was proposed by former San Diego Mayor Kevin Faulconer also called for a threshold before enforcement could begin. Faulconer's initiative would allow enforcement only if the city has enough shelter beds to accommodate 70 percent of the city's homeless population living outdoors.
The latest homeless count found 3,825 unsheltered people in the city, meaning the 70 percent threshold would be 2,678 beds, still leaving San Diego with too few for enforcement to begin.
A shelter strategy released June 13 showed the city has long-range plans to expand existing shelters and safe parking lots and open several new sites. The most immediate openings are two safe sleeping areas that together would provide just over 500 spaces.
Mayor Todd Gloria has said more shelter beds in the future will make enforcement possible. He also has argued that the actions are a more humane approach to helping homeless people because it will place them in safer environments more likely to be connected to services. ◆
Get the La Jolla Light weekly in your inbox
News, features and sports about La Jolla, every Thursday for free
You may occasionally receive promotional content from the La Jolla Light.