La Jolla News Nuggets: Run for cancer research; first sea lion pup; book events; student achievements; more
La Jolla High School teacher/coach raises nearly $14,000 for cancer research in annual 100-mile run
La Jolla High School social-studies teacher and water polo and swimming coach Tom Atwell completed his 15th 100-mile run around the school's track June 2, raising $13,968 for cancer research.
Atwell began around 9 p.m. June 1 and completed his 400 laps just after 3 p.m. the next day. Dozens of La Jolla High students joined him for the final laps.
For more information or to donate, visit info-komen.org/goto/AtwellsArmy.
La Jolla High students raise nearly $2,600 for Challenged Athletes Foundation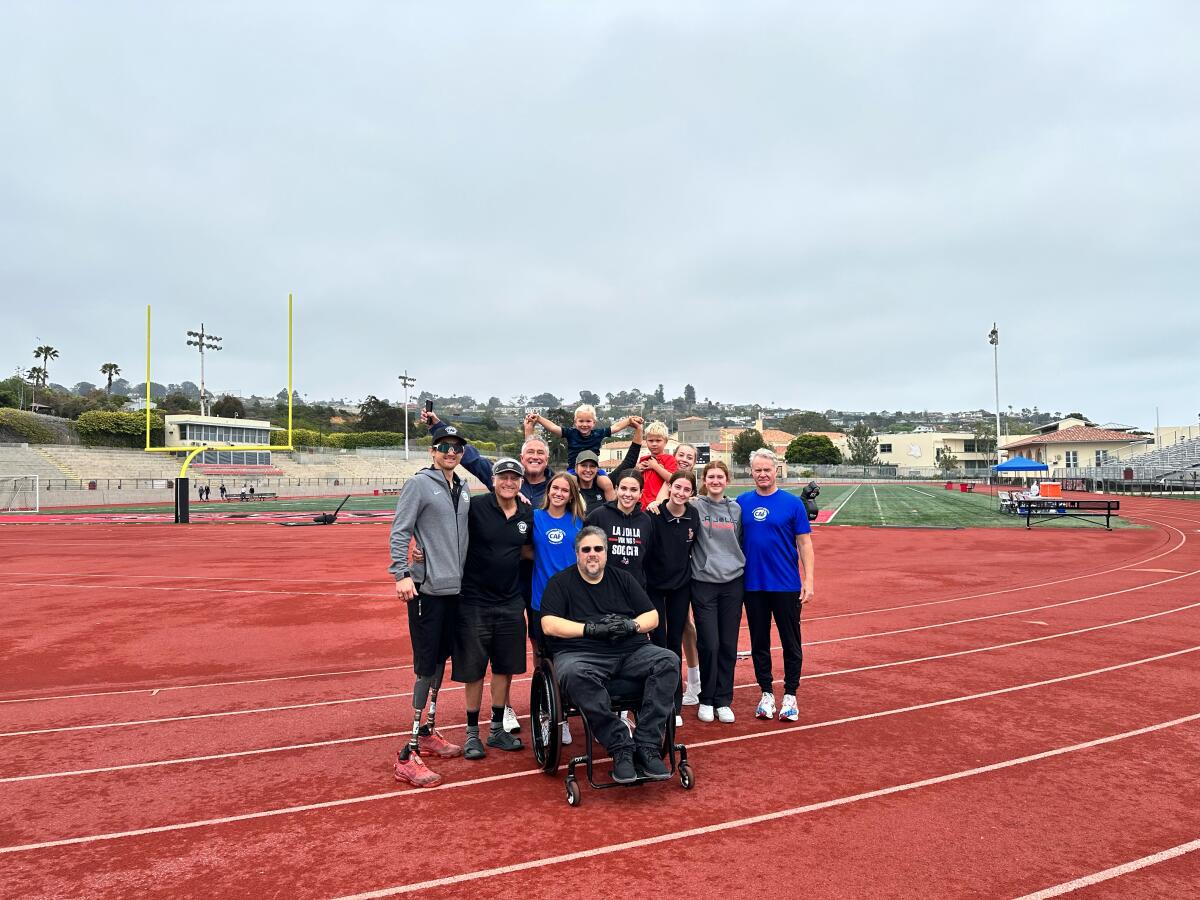 The La Jolla High School Challenged Athletes Foundation Club raised nearly $2,600 in its inaugural run/walk with bake sale on June 3 to support the nonprofit foundation, which supports people with disabilities.
Rudy Garcia-Tolson, a double-amputee Paralympian, and Bob Babbitt, co-founder of CAF, attended the event.
La Jolla chapter of National Charity League celebrates members of class of 2023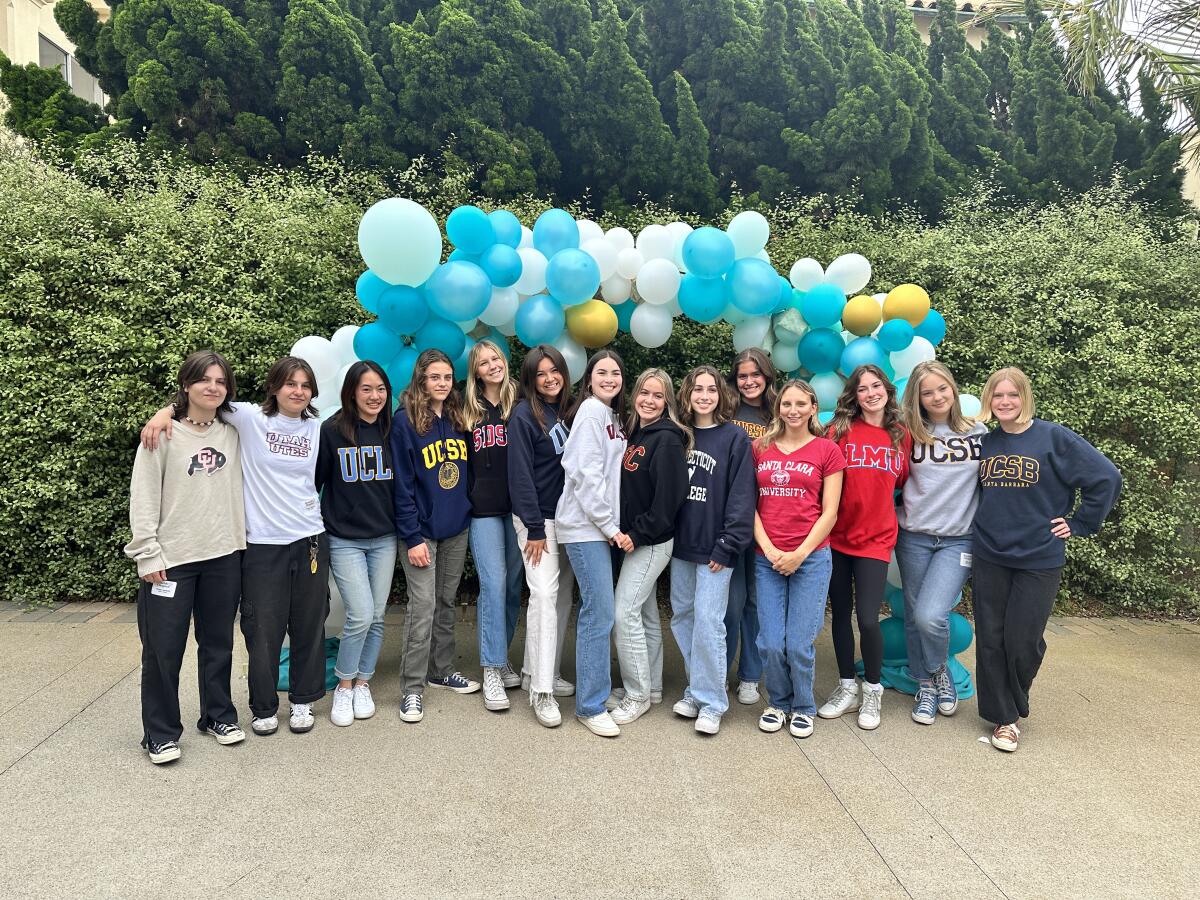 The La Jolla-based Seaside chapter of philanthropic organization National Charity League recently honored its members of the class of 2023.
The 16 girls graduating from high school this year have volunteered with their mothers for a total of 4,781 hours in the community over the past six years. The volunteering model is aimed at fostering mother-daughter relationships.
Their efforts have included projects such as sorting seeds, baking bread and making dog toys, snack and lunch bags, paracord bracelets, blankets and gift baskets for 35 local and national organizations.
The 16 attended La Jolla High School, The Bishop's School, Cathedral Catholic High School and San Diego High School and now will attend four-year universities.
Seal Society seeks name nominations for season's first sea lion pup in La Jolla
The Sierra Club Seal Society is seeking names for the first sea lion born this pupping season at Point La Jolla on May 27.
Ideas can be emailed to scsealsociety@gmail.com by Thursday, June 15. The winning name will be chosen in a random drawing and the person who suggested it will receive a stuffed toy sea lion.
The Seal Society also is asking for help in documenting other births. To report one, send the location and time of the birth and a photo to scsealsociety@gmail.com.
Point La Jolla currently is closed to the public for pupping season through October, and the city of San Diego plans to make the closure year-round as part of attempts to keep people away from the sea lions that haul out there.
Blue Water Film Festival to have book presentations in La Jolla
The Blue Water Film Festival will hold two book presentations at Mangelsen Images of Nature Gallery in La Jolla as part of a celebration of United Nations World Oceans Day.
La Jolla-based artist Zee Yuransky will present his book "Zedism — New Paintings and Morphologies" at 4 p.m. Friday, June 9.
Marine conservation expert Wallace Nichols will present his book "Blue Minds" at 4 p.m. Saturday, June 10.
Mangelsen Images of Nature is at 7916 Girard Ave. Each event costs $30 and includes a book copy and glass of wine. For more information, visit bluewaterfilmfestival.org.
La Jolla Girl Scout troop installs 'Kindness Bench'
The fifth-graders in La Jolla Girl Scout Troop 4877 donated a "Kindness Bench" to Torrey Pines Elementary School in La Jolla on June 4.
The bench is the completion of the troop's Bronze Award project, a philanthropic initiative aimed at fostering kindness and inclusion in the community.
The Kindness Bench is intended to be a place for students to encourage friendships, empathy and acts of kindness.
UC San Diego scientists find treatment for severe genetic skin disorder
Researchers at UC San Diego in La Jolla say they have identified the cause of pansclerotic morphea, a rare skin disorder, and identified a treatment that has improved patients' symptoms.
Until now, there has not been a standard treatment for the disabling disease, and patients typically do not live more than 10 years after their diagnosis.
Using genomic sequencing, the scientists discovered that people with the disorder have an overactive version of a protein called STAT4, which regulates inflammation and wound healing. The work also identified a drug that targets an important feedback loop controlled by the STAT4 protein. The drug, ruxolitinib, dramatically improved patients' rashes and ulcers, the scientists said.
The results were published recently in the New England Journal of Medicine.
The study was led by Dr. Lori Broderick, an assistant professor at the UCSD School of Medicine and an immunologist at Rady Children's Hospital San Diego, in partnership with the National Institutes of Health and the University of Pittsburgh.
La Jolla student wins college-sponsored National Merit Scholarship
Emily Zhu, a recent graduate of The Bishop's School in La Jolla, has won one of 3,000 National Merit Scholarships financed by U.S. colleges and universities.
Officials of each sponsor college selected the scholarship winners from among the finalists in the 2023 National Merit Scholarship Program who plan to attend their college. The awards provide $500 to $2,000 annually for up to four years of undergraduate study at the college financing the scholarship.
Zhu will attend USC.
An additional group of scholars will be announced in July, bringing the total number of college-sponsored Merit Scholarship recipients in the 2023 competition to more than 3,800.
This year, 153 higher-education institutions are underwriting Merit Scholarship awards. Sponsor colleges and universities include 81 private and 72 public institutions in 42 states and the District of Columbia.
La Jolla student named to Bronfman Fellowship
Raphael Delgado of The Bishop's School in La Jolla has been named to the 37th cohort of The Bronfman Fellowship, a group of 26 high school juniors who come from a broad spectrum of the nation's Jewish community.
The fellows will participate in a free year-long experience beginning with a summer in the United States and Israel, where they will explore Jewish texts and ideas in conversation with one another and a team of rabbis, educators and artists.
The Bronfman Fellowship was founded in 1987 by Edgar Bronfman, a Jewish philanthropist and former chief executive of the Seagram Co. who died in 2013.
Raphael is involved in theater and volleyball at Bishop's. He also has participated in regional and statewide honor choirs and a choral festival at Carnegie Hall in New York, holds a singing position as a choral scholar at All Souls' Episcopal Church's choir in Point Loma and leads the Bishop's barbershop quartet. He also serves in student government.
San Diego County seeks nominees for Remarkable Teens
The San Diego County public defender's office is seeking nominations for its sixth annual 25 Most Remarkable Teens program.
Candidates who have many accomplishments or made noteworthy contributions to the community can be nominated through Friday, June 30. Visit bit.ly/RT2023Nom.
— Compiled by La Jolla Light staff ◆
Get the La Jolla Light weekly in your inbox
News, features and sports about La Jolla, every Thursday for free
You may occasionally receive promotional content from the La Jolla Light.