La Jolla mural brings 'Native perspective' to new Herschel Avenue site

Inspired by the creation stories of her ancestral tribes and the role of birds therein, the latest installation in the Murals of La Jolla public art program "Mukikmalim, Su'ulim, Chem-tema-ki'ay (Birds, Stars, Our Lands)" is considered an homage to the artist's ancestral land and indigenous family history.
The piece was placed on a new site for the Murals of La Jolla program — at 7836 Herschel Ave. in The Village — at the end of May and into the first few days of June.
"We are thrilled to have a prominent new site located right in the heart of the village on Herschel Avenue, facing Silverado Street," said Murals of La Jolla Executive Director Lynda Forsha. "When new murals are installed and new locations are added to the mix, it creates a more dynamic art-viewing experience for those exploring our community."
And the latest work comes from "a Native perspective," according to artist Gail Werner, who descends from three tribes located in San Diego County: Cupeño, Luiseño, and Kumeyaay (La Jolla is on Kumeyaay land). The title of the mural is written in the Cupeño language and translated into English. Three unique birds, a black-throated sparrow, a rock wren and a cactus wren, are prominently featured.
"In our creation stories, the animals and plants are the characters and the 'people,'" Werner explained. "Our bird songs tell a story about the people, but they are birds, so they are one and the same. We are all related and everything is connected, the animate and the inanimate. In my work, I want to evoke a sense of journey and place."
Werner said she chose birds that are both featured in tribal stories but also ones found in San Diego County.
Beyond the birds, visual references throughout the mural continue to tell the story of local tribes, such as a grinding rock, where women would grind acorns; the patterned symbols dispersed across the sky and around the central bird are inspired by the woven basketry design for which Southern California Indigenous people, including Werner's great grandmother and basket maker Salvadora Valenzuela, are recognized.
However, the mural also takes a look at the darker side of her ancestral story. As is the part of the story with many Indigenous tribes, Werner's relatives were forcibly removed from their ancestral village in 1903.
"I wanted [the mural] to be about the land because land is important to us," she explained. "It is our place of origin, where our ancestors are. This piece, even though I didn't show a specific mountain range, has a composite of places I have been. The right panel has a ridgeline that has two peaks, and that is specific to … where the Cupeño are. [My] people were evicted from that land and moved by force to Pala. I think about those things and honor that."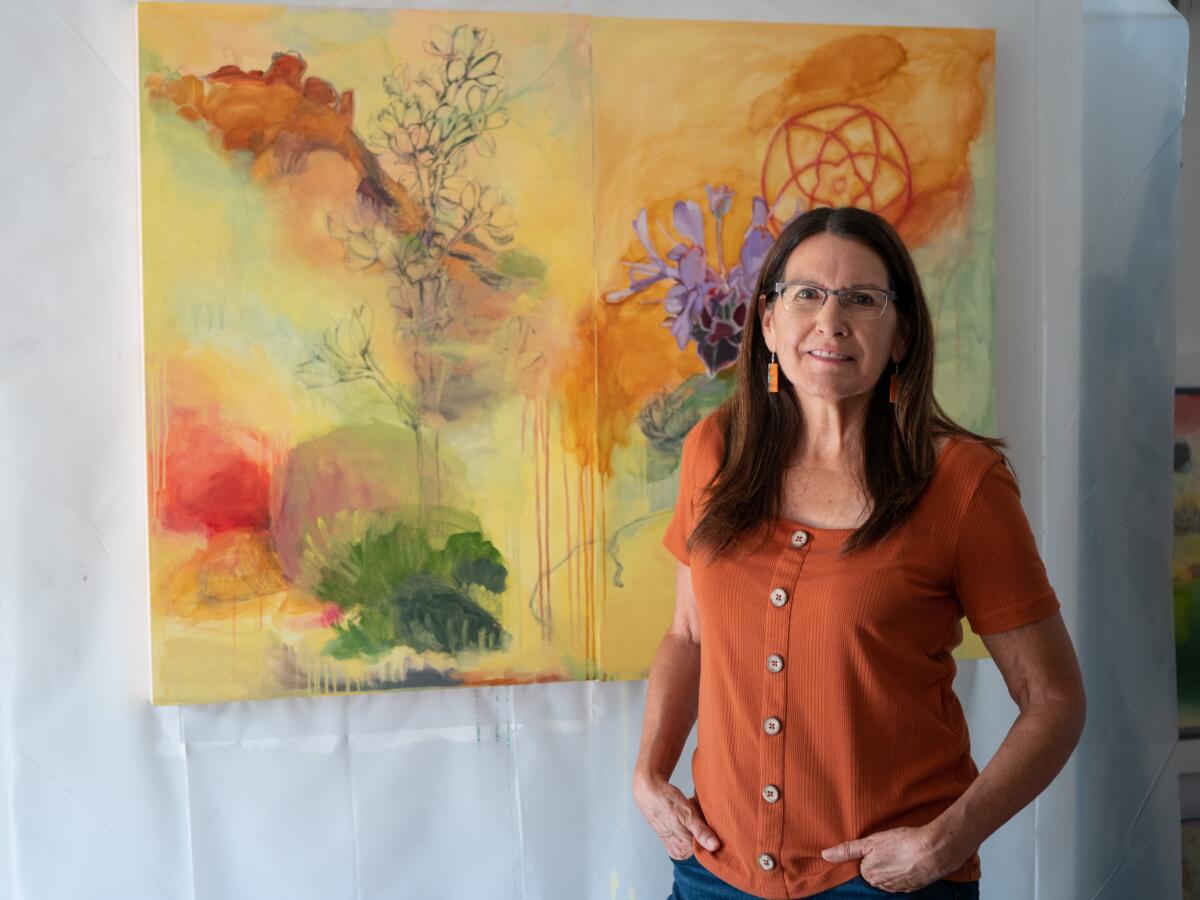 Lauren Lockhart, a member of the Murals of La Jolla Art Advisory Committee and executive director of the La Jolla Historical Society, said the mural "brings an important perspective and unique aesthetic that is influenced by her Cupeño, Luiseño and Kumeyaay identity. The imagery she's incorporated into the piece celebrates the legacy and stories of the indigenous peoples who have stewarded this land since time immemorial."
Lockhart added that she appreciates the way Werner "approached this long, horizontal space with panels that invite storytelling. It brings vibrancy to the site, and really invites the viewer into the work."
Having done only one other mural before, in Long Beach where she resides, Werner said she considers herself a "studio artist and printmaker" more so than a muralist.
"I had a positive experience when I did the mural in Long Beach and to me, this one is similar, but I welcomed the opportunity to create a piece in my studio and use the process [Murals of La Jolla engages in] to enlarge the work and put it on the wall. Programs like this open so many doors for other artists who aren't just mural artists."
She added that public art "allows everyone to see it, people that normally wouldn't seek it out" and that she was "very excited and honored to be a part of the program. It's such a wonderful opportunity all the way around."
There currently are 17 murals in place around town, funded solely by private donations. For more information, visit muralsoflajolla.com. ◆
Get the La Jolla Light weekly in your inbox
News, features and sports about La Jolla, every Thursday for free
You may occasionally receive promotional content from the La Jolla Light.