La Jolla News Nuggets: Children's Pool seawall, student honors, pool lifeguards, beach cleanup, more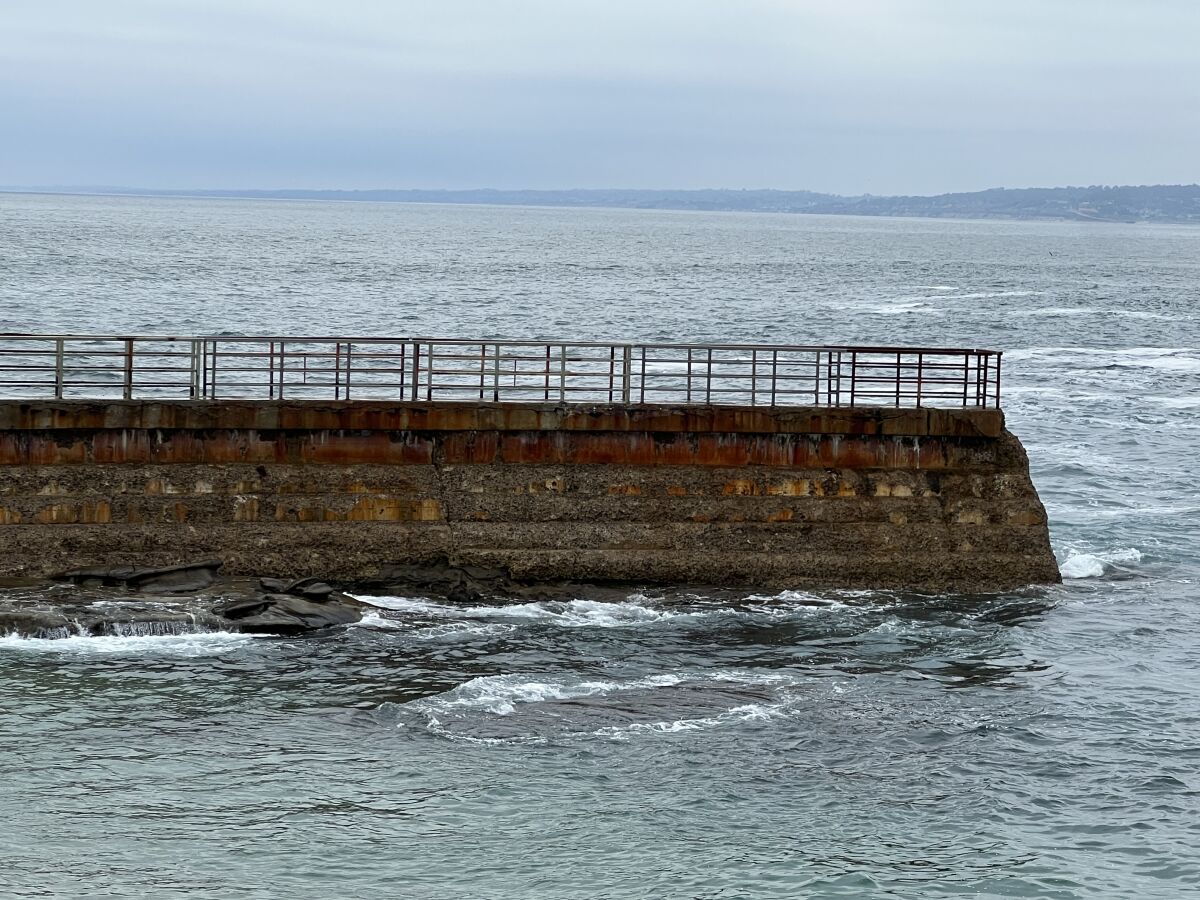 Children's Pool seawall is reopened after railing repair
The protective railing on La Jolla's nearly century-old Children's Pool seawall has been repaired and the wall walkway is again open to the public, the city of San Diego said.
The railing was damaged in January by high surf during stormy weather, and the seawall had been closed since.
Nine La Jolla students win National Merit Scholarships
Nine high school students in La Jolla are among 28 in San Diego awarded $2,500 National Merit Scholarships.
The local winners are Eli Browne, Jasper Jain, Kasie Leung, Daniel Xu and Shirley Xu from The Bishop's School; Jialin Li from La Jolla Country Day School; and Isaac Chu, Aiden Kleinman and Arianna Roberts from La Jolla High School.
The National Merit $2,500 scholarship winners are chosen based on a combination of accomplishments, skills and potential for success in rigorous college studies. The number of winners named in each state is proportional to the state's percentage of the nation's graduating high school seniors.
Kiwanis Club awards Hope of America recognition to local students
The Kiwanis Club of La Jolla held its annual Hope of America awards presentation May 12 at the La Jolla Community Center to recognize fifth-grade students for their academic accomplishments, leadership and character.
Four students from La Jolla Elementary School received awards: Colten Hom, Sophia Fuller, Paige Dykhuis and Tessa Leek.
La Jolla Library hosts exhibition chess match featuring grandmaster vs. youth champion
The La Jolla/Riford Library hosted a chess match between Isaac Wang, 13, 2022 U.S. K-6 co-champion, against grandmaster Vasif Durarbayli, an international champion from Azerbaijan, during an exhibition May 18.
The pair played two games as a prelude to the fifth annual San Diego-Azerbaijan Youth Chess Tournament featuring 29 young San Diego County players on May 20 at the Coronado Public Library. Play at the tournament was organized and overseen by the La Jolla High School Chess Club.
City of San Diego looking to hire 100 pool lifeguards
The city of San Diego's Parks & Recreation Department is hiring seasonal and year-round lifeguards for its 15 pool facilities.
"We are looking for about 100 more pool lifeguards to join our ranks," said San Diego Aquatics district manager Nicole McNeil. "This is a great opportunity to take on a job that is not only fun but serves the community by ensuring the safety of our aquatics patrons."
Candidates who meet the age requirement (at least 16) for the Pool Guard I position — whose duties include greeting guests, monitoring pool and deck areas to prevent accidents and more — do not need to be certified before applying. Successful candidates will be provided training and certifications once hired.
For more information, visit sandiego.gov/parksjobs and click on "Job opportunities."
Beach cleanup coming to La Jolla Shores for World Oceans Day
In partnership with I Love A Clean San Diego, The Shops at La Jolla Village will present a beach cleanup at La Jolla Shores for World Oceans Day from 10 a.m. to noon Sunday, June 11. Participants will meet at 8855 Villa La Jolla Drive.
Complimentary shuttle service will be offered to and from The Shops for the cleanup, and supplies will be provided. The Shops will host a party afterward.
Learn more at cleansd.samaritan.com.
Museum of Contemporary Art to offer extended summer hours and special programming
The Museum of Contemporary Art San Diego at 700 Prospect St. in La Jolla will extend its hours to 10 a.m. to 8 p.m. Thursdays between Memorial Day and Labor Day.
MCASD also will host a free double film screening at 5 p.m. June 1, July 6 and Aug. 3 curated by Omar Lopex, along with a free storytelling event with So Say We All at 5 p.m. June 22.
More events are planned throughout the summer. For more information, visit mcasd.org/events.
UCSD is granted $10M to study meditation's effect on illnesses
The nonprofit InnerScience Research Fund has committed $10 million to UC San Diego over the next five years for research on how meditation may slow the progression of terminal and serious chronic illnesses.
InnerScience studies the "biological and physiological effects of meditation on the human body," according to the organization. The funds for UCSD will be directed to research on how the practice may affect the body and brain and how it potentially could be used in clinical settings.
The research will be led by Hemal Patel, a professor and vice chairman for research in the Department of Anesthesiology at the UCSD School of Medicine and a research scientist in the VA San Diego health system.
As part of a continuing study, Patel and his team will use wearable biometrics tracking devices to assess the effects of meditation on nearly 2,000 people undergoing "intensive meditative experiences."
UCSD researchers map body's response to DNA damage
A team of scientists led by researchers at the UC San Diego School of Medicine have produced a novel map that depicts the human body's system for addressing and repairing DNA damage — a cause and consequence of many diseases.
Damage to DNA and replication errors caused by stress and other factors are linked to diseases including cancer and heritable neurological disorders caused by unstable DNA.
Cells have evolved an intricate network of cell-cycle checkpoints and DNA damage repair tools, known collectively as DNA damage response, or DDR.
Better understanding of how DDR works and why it sometimes fails provides new therapeutic opportunities to treat or cure the diseases, researchers say.
"Experimental screens of ever-increasing scale are capturing interactions between genes or proteins in human cells, often beyond what has been described in literature. They can, in principle, be used to create data-driven maps of DDR," said Anton Kratz, first author of the study.
La Jollans gift Rady Children's with $2.5M for neuro-oncology program
Rady Children's Hospital San Diego recently announced a $2.5 million gift to the hospital's neuro-oncology program from La Jolla residents Stacy and Don Rosenberg that will seed the Rosenberg Fund for Innovation and Technological Advancement in Neuro-Oncology.
Rady's neuro-oncology program cares for more than 500 children with newly diagnosed or previously treated central nervous system tumors and is one of the highest-volume programs in California. The Rosenberg Fund will support investigation of immunotherapy and immunomodulatory drugs that could play a significant role in future therapies; expansion of the use of genomics for diagnosis and treatment selection; and acquisition and use of technology such as artificial intelligence to help in diagnosis, treatment and the search for new and improved therapies.
"Families like the Rosenbergs are an inspiration and set an incredible example for others," said Stephen Jennings, senior vice president and chief external affairs officer at Rady Children's and executive director of the Rady Children's Hospital Foundation. "Through their generous gift, we are hoping to accelerate research and support investment into advanced treatments that will help relieve some of the burden families face when experiencing a cancer diagnosis."
Scripps MD Anderson to mark Cancer Survivors Day with month of events
Scripps MD Anderson Cancer Center in La Jolla will recognize National Cancer Survivors Day (Sunday, June 4) with a full month of events focused on helping survivors and people currently living with cancer.
Featured events will include a June 1 webinar on men's pelvic health and wellness; a webinar on nutrition and fitness beyond cancer treatment June 6 and 20; and several fitness classes and support groups on various dates at multiple locations.
For more information, call (800) 727-4777 or visit scripps.org/cancersurvivors.
— Compiled by La Jolla Light staff ◆
Get the La Jolla Light weekly in your inbox
News, features and sports about La Jolla, every Thursday for free
You may occasionally receive promotional content from the La Jolla Light.