La Jolla News Nuggets: Enhance La Jolla Day, Light wins awards, Secret Garden Tour, more
Enhance La Jolla Day highlights Village streetscape plan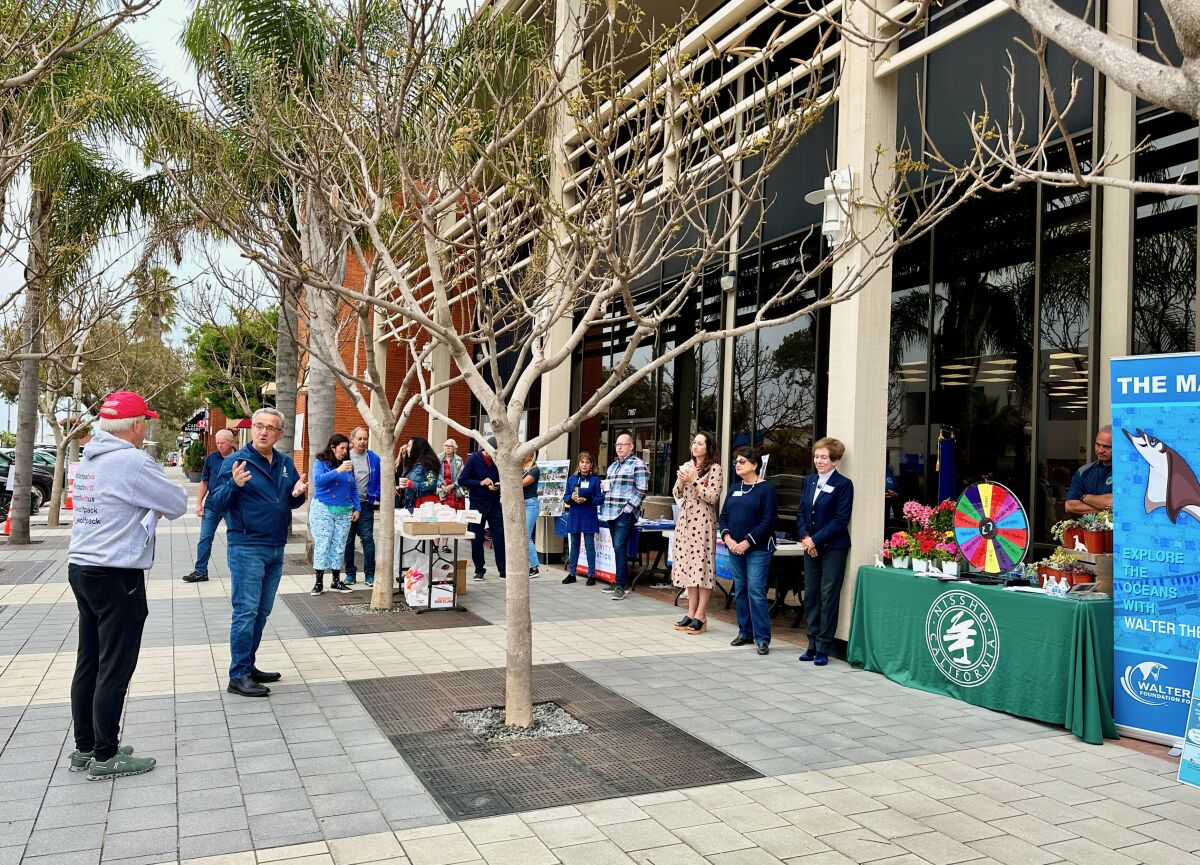 Community leaders and others gathered at the third annual Enhance La Jolla Day on May 13 to learn about the Village streetscape plan forwarded by the La Jolla Community Foundation.
The event took place in the area set to be the first for renovation, Girard Avenue and Silverado Street. It included remarks by San Diego City Councilman Joe LaCava and Ed Witt, chairman of the nonprofit group Enhance La Jolla, which works to maintain and improve The Village.
Enhance La Jolla is partnering with the Community Foundation on the streetscape plan, which aims to enhance The Village's aesthetic appeal and create gathering spaces.
Local organizations also attended to offer information about their efforts.
For more information about the streetscape plan, visit ljcommunityfoundation.org.
Light staff nets three California News Publishers Association awards
The La Jolla Light won three California Journalism Awards for 2022 from the California News Publishers Association.
In the category of weekly publications with distribution between 11,000 and 25,000, Light staff writer Elisabeth Frausto took first place in the Business and Economy category for "Is Pannikin packing it in? Decades-old La Jolla cafe faces April exit after lease talks falter" and second place in the Youth and Education category for "UCSD professor was punished for working with Chinese scientists. Is it an ethics breach or discrimination?"
Staff writer Ashley Mackin-Solomon took second place in the Sports Feature Story category for "Family values: La Jolla High's Gary and Howard Frank model a love of baseball, history and tradition."
Secret Garden Tour features six La Jolla locales May 20
The La Jolla Historical Society presents its 2023 Secret Garden Tour from 10 a.m. to 4 p.m. Saturday, May 20, providing a chance to stroll through some of La Jolla's most elaborate and secluded private gardens.
In addition to the plants and landscaping, the self-guided tour of six gardens will include live music and plein air artists at the sites, and a Garden Boutique on the lawn of the Historical Society's Wisteria Cottage at 780 Prospect St. will feature merchants offering home and garden items.
The festivities will begin with a Secret Garden Party from 6 to 8 p.m. Friday, May 19, at a private home in La Jolla. Admission is $75. The party also will serve as the kickoff to a silent auction that ends at the conclusion of the tour.
The self-guided tour is $55 in advance through May 19 ($45 for Historical Society members) and $65 the day of the event ($55 for members).
A Platinum Tour including shuttle transportation, lunch and a seventh garden is sold out.
Proceeds will support the Historical Society's exhibitions and educational programs.
The garden locations are kept secret until the day of the tour. Guests will need to check in at Wisteria Cottage beginning at 9 a.m. and receive a wristband to gain entry to each garden. The program booklet will have the locations and a map. The gardens can be visited in any order.
For tickets or more information, go to lajollahistory.org.
La Jolla teen honored with Padres' Tony Gwynn Community All-Star Program Award
Kate Wharton, a junior at La Jolla High School and founder of the nonprofit My Holiday Fairy, received a San Diego Padres Tony Gwynn Community All-Star Program Award and $5,000 during a pregame ceremony May 6 at Petco Park.
My Holiday Fairy works to benefit children and families at the San Diego Rescue Mission, which provides meals, shelter, clothing, education and job-skills training for men, women and single parents with children experiencing homelessness.
Since last year, Kate and her team have used donations to provide "Twinkle Totes" filled with gifts and treats to young people at the Rescue Mission for Christmas, Easter and Valentine's Day.
La Jolla Boy Scout troop attends APAC gala
La Jolla's Boy Scout Troop 4 helped celebrate Asian Heritage Month in San Diego with more than 300 guests May 6 at the Asian Pacific American Coalition's annual gala in San Diego. The troop performed the color guard ceremony and led the Pledge of Allegiance.
La Jollan and APAC board member Natasha Wong helped organize the participation by the Boy Scouts, including Nathan Chang, Kyler Chen, Carson Hickman, Oliver Oster and Saxon Richards.
"We helped recognize the Asian community's achievements and contributions to San Diego," Wong said. "I am so glad that Troop 4 was able to participate this year. ... Their presence made it more welcoming and special."
— Compiled by La Jolla Light staff ◆
Get the La Jolla Light weekly in your inbox
News, features and sports about La Jolla, every Thursday for free
You may occasionally receive promotional content from the La Jolla Light.