La Jolla News Nuggets: Half Marathon, dog appreciation, poetry contest, success for local professors, more
La Jolla Half Marathon registration cost goes up May 15
This year's La Jolla Half Marathon and the concurrent La Jolla Shores 5K are planned for Saturday, May 20, and time is running out before registration prices go up.
Registration currently is $129 for the Half Marathon and $59 for the 5K, but prices will increase on Monday, May 15, to $139 and $64, respectively.
The route for the 13.1-mile Half Marathon is unchanged from previous years, beginning at the Del Mar Fairgrounds, with the 3.1-mile 5K beginning at the Half Marathon's 10-mile mark near the north end of La Jolla Shores Drive. The finish line is at Scripps Park at La Jolla Cove.
The Half Marathon is the major annual fundraiser for its sponsor, the Kiwanis Club of La Jolla, which distributes proceeds to various charitable organizations. Learn more at lajollahalfmarathon.com.
La Jolla Library to host dog appreciation event
Bird Rock resident and author Jacqueline Lemieux-Bokor will present an event at the La Jolla/Riford Library next month to write love letters to dogs.
The event, scheduled for 4 p.m. Saturday, June 10, at 7555 Draper Ave., will double as a talk for Lemieux-Bokor's recently published book of photos and poetry called "Remember Me As Sunshine."
The pages are filled with photos of older dogs, many from the Bird Rock area, on colorful pages with accents of flowers, rocks and butterflies. There also are poems written by Lemieux-Bokor meant to be sentiments from the dogs.
The June 10 event will be free and open to the public. Learn more at lajollalibrary.org.
Poetry contest awards grand prizes to three La Jolla students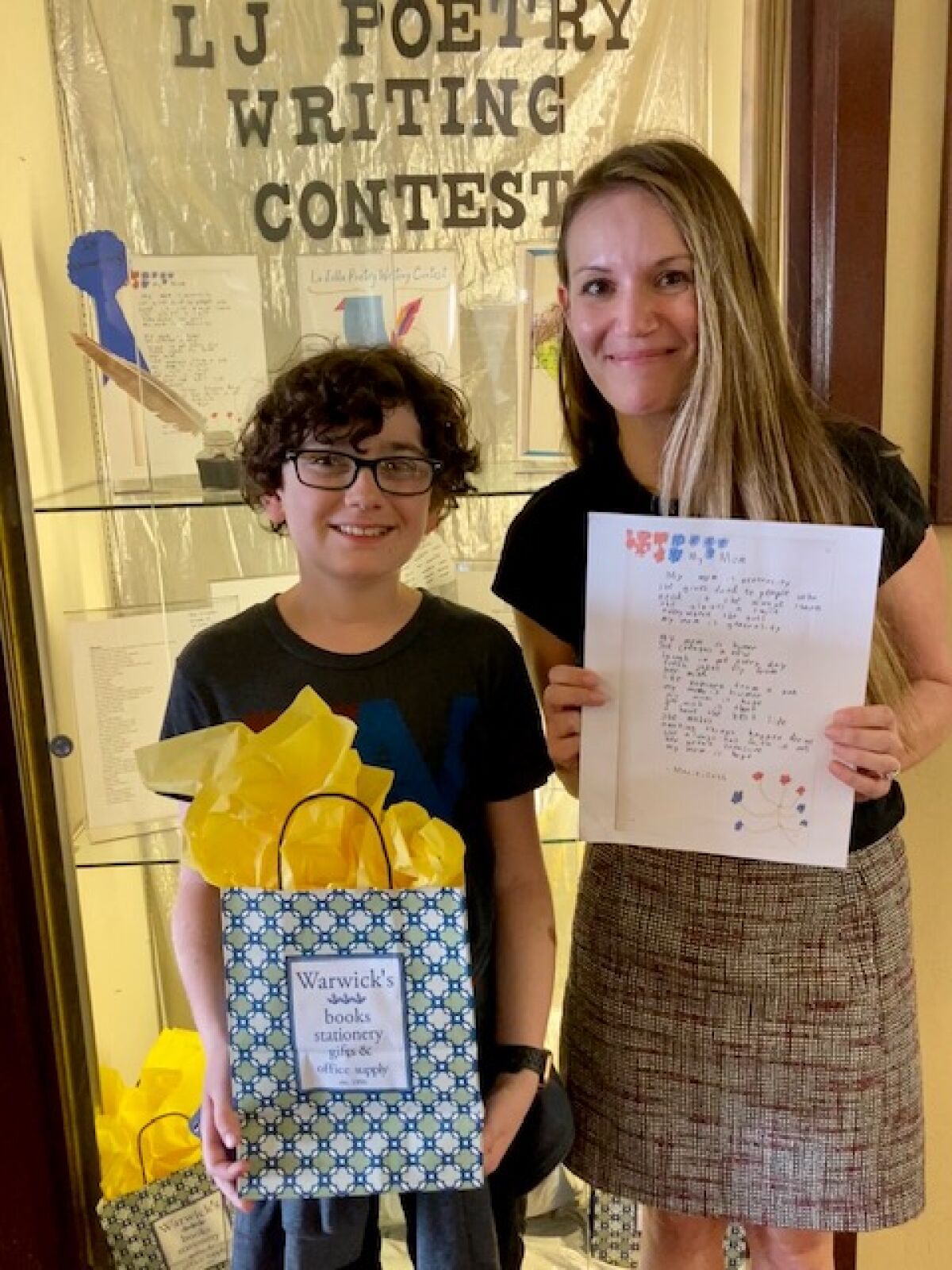 The La Jolla/Riford Library presented the La Jolla Poetry Writing Contest last month in honor of National Poetry Month, with grand-prize winners in elementary school, middle school and high school categories.
The winners were Maxie Goldman, a fourth-grader at La Jolla Elementary; Travis Lee, a seventh-grader at La Jolla Country Day School; and Ava Grudko, a senior at La Jolla High.
The winner in every age category received a journal and a $25 gift card for Warwick's bookstore.
"We received submissions from students all over San Diego," said Katia Graham, La Jolla's youth services librarian. "Narrowing it down was not easy because so many of the poems were exceptionally written and heartfelt. The biggest reward is seeing kids ... come in with a giant smile when they pick up their prize, and the families are so proud of their poets."
The poems are on display in the library at 7555 Draper Ave.
UCSD professor named to National Academy of Sciences
Barbara Walter, a professor of political science at the UC San Diego School of Global Policy and Strategy, has been elected to the National Academy of Sciences in recognition of distinguished and continuing achievements in original research.
Walter, considered one of the world's leading experts on civil wars, political violence and terrorism, occasionally consults for the World Bank, United Nations, U.S. Departments of Defense and State and the Jan. 6 Committee. She is a permanent member of the Council on Foreign Relations and is a frequent guest on news programs.
Her newest book, "How Civil Wars Start: And How to Stop Them," explores whether the United States is heading toward a second civil war.
Windansea Surf Club celebrates 60 years by raising $38,000 for charity
The Windansea Surf Club celebrated its 60th anniversary on May 5 at Duke's La Jolla, raising nearly $38,000 for the club's nonprofit charitable efforts.
The funds will benefit "Day at the Beach" events — which offer underprivileged youths and others a chance to learn about surfing and beach preservation — as well as the Y Strong Girls program and the La Jolla High School Foundation.
More than 100 guests attended the celebration, which also featured historical memorabilia and live and silent auctions.
For more information about the Windansea Surf Club or its events, visit windanseasurfclub.org.
Air pollution may increase risk of dementia, UC San Diego study says
A team of researchers led by scientists at UC San Diego elaborated this month on a 2020 international study that indicated 12 factors that may increase the risk of dementia, including excessive alcohol, head injury and air pollution.
The latest study, published in the May 2 issue of the Journal of Alzheimer's Disease, details the scientists' findings that exposure to ambient air pollution, such as car exhaust and power plant emissions, is associated with a measurably greater risk of developing dementia over time.
The scientists examined baseline cognitive assessments of about 1,100 men participating in the ongoing Vietnam Era Twin Study of Aging. The average baseline age was 56, with 12 years of follow-up.
The researchers reported that participants with higher levels of exposure to particulate matter (PM2.5) and NO2 (nitrogen dioxide, which is created when fossil fuels are burned) in their 40s and 50s displayed worse cognitive functioning in verbal fluency from age 56 to 68.
And people with APOE-4 (a version of a gene that provides instructions for making a protein crucial to the transport of cholesterol and other fats in the bloodstream) appeared even more sensitive, with those exposed to higher PM2.5 levels showing worse outcomes for executive function — higher-level cognitive skills used to plan, control and coordinate mental behaviors and acts. APOE-4 has been identified as a strong risk factor gene for Alzheimer's disease.
Those with higher NO2 exposure showed worse outcomes involving episodic memory — the ability to recall and re-experience specific past events.
La Jolla researcher receives $5.2 million to study autism risk genes
Xin Jin, an assistant professor of neuroscience at Scripps Research in La Jolla, received a $3.7 million award from the National Human Genome Research Institute and a $1.5 million DISC0 Foundation Award from the California Institute for Regenerative Medicine this month to study the genetic basis of neuropsychiatric disorders.
The grants, which will provide funding over five years, will support Jin's research identifying how certain risk genes implicated in autism spectrum disorder influence early-stage neurogenesis — the formation of new neurons during brain development.
Using sophisticated genetic engineering technology, researchers in Jin's lab could reveal the biological mechanisms underpinning developmental disabilities, as well as new potential disease-modifying solutions.
UCSD Health partners on transportation pilot program
A collaboration between UC San Diego Health and 211 San Diego, a regional nonprofit referral service that connects anyone living in San Diego County to community, health, social and disaster services, will aim to improve access to transportation for patients who have been discharged from a hospital and may have barriers getting to follow-up appointments.
UCSD Health is the first hospital system in the county to participate in the pilot project.
The effort is made possible through the San Diego Community Information Exchange, or CIE, which 211 San Diego spearheads and of which UCSD Health is a member.
The process works by screening patients to ensure they have access to transportation to their follow-up appointments. A patient can be connected to more than 410 services offered by the CIE network of providers.
The pilot project will assess practices and challenges, influence policy decisions and contribute to the continuing development of the CIE technology platform.
Chess tournament to bring grandmaster to La Jolla
The fifth annual San Diego-Azerbaijan Youth Chess Tournament is coming to La Jolla on Thursday, May 18, pairing an international chess grandmaster and a 13-year-old American champion.
The game will feature grandmaster Vasif Durarbayli, an Azerbaijani living in St. Louis, and 2022 U.S. National Elementary co-champion Isaac Wang of San Diego. It will begin at 4 p.m. at the La Jolla/Riford Public Library, 7555 Draper Ave.
Durarbayli, who started playing chess at age 6, became an international master at 15 in 2007, and three years later became a grandmaster. There are 1,721 grandmasters worldwide.
The match in La Jolla is a prelude to an open chess tournament that will feature San Diego County players ages 6-18. The tournament will start at 10 a.m. Saturday, May 20, at the Coronado Public Library.
There is no charge to participate in the event, but it is limited to 40 players. To register, visit coronado.librarycalendar.com.
San Diego to begin study of how much to charge for trash pickup
The city of San Diego is preparing to launch a $1.1 million study to determine how much the city should start charging single-family homes for trash pickup, how to subsidize pickup for low-income families and how to reward people for producing less trash.
Preparations for the study come six months after city voters narrowly approved Measure B, which amends a 1919 law called the People's Ordinance that had prohibited the city from charging for trash pickup at single-family homes.
City officials say they expect the study to take more than two years because of its complexity, which will include proposing a rate structure and billing system and recommending the addition of services such as regular pickups for bulky trash and hazardous waste. — The San Diego Union-Tribune
— Compiled by La Jolla Light staff ◆
Get the La Jolla Light weekly in your inbox
News, features and sports about La Jolla, every Thursday for free
You may occasionally receive promotional content from the La Jolla Light.