La Jolla News Nuggets: Mutt Strut, budget town hall, award winners, more
Mutt Strut to stroll back into La Jolla
Tickets are on sale for the upcoming La Jolla Mutt Strut, a fundraising 2K walk through La Jolla for dogs and their owners.
The community dog walk will start at 10 a.m. Saturday, May 13, at the Recreation Center at 615 Prospect St. and proceed down to the coast and back up to an after-party at the Rec Center, where a dog agility station will be set up for those who want to learn tricks with their dogs. A "spaw" also will be set up for complimentary nail trims and consultations and more.
A "kissing booth" will be offered with the ocean in the background for photo opps with the participating pooches.
Proceeds will be used to make grants for local San Diego pet rescues, and several rescue groups will be present at the Mutt Strut.
Tickets are $10 for adults, $15 for dogs and free for children 16 and younger. Learn more at lajollalovespets.org.
Budget town hall set for May 6 in La Jolla
San Diego City Councilman Joe LaCava, whose District 1 includes La Jolla, will hold a budget town hall meeting at 10 a.m. Saturday, May 6, at the La Jolla Recreation Center to collect constituents' feedback on what the city should prioritize for funding.
RSVP is required to joelacava@sandiego.gov.
Later this month, Mayor Todd Gloria will issue what is known as the "May revise" to his city budget proposal based on memos issued by City Council members following town halls in their respective districts. The new fiscal year begins July 1.
La Jollan Barbara Dunbar wins volunteerism award
Bird Rock resident and U.S. Masters swimmer Barbara Dunbar has been awarded the 2023 Capt. Ransom J. Arthur M.D. Award, the highest volunteer service recognition in U.S. Masters Swimming.
The award is given in honor of Arthur, whose dedication to improving the health of adults through swimming resulted in the inception of the Masters Swimming program in the United States, according to a news release.
Dunbar has been a lifelong athlete and supporter of Masters Swimming. She has earned Masters Swimming all-star honors 15 times, has 205 Masters Swimming individual and relay records, was inducted into the International Swimming Hall of Fame in 2000 and the Masters International Swimming Hall of Fame in 2003 and was named the World Masters Swimmer of the Year in 2004.
La Jolla teen wins award for 'repairing the world' effort
Aiden Kleinman, a senior at La Jolla High School, recently received the Jewish Community Foundation of San Diego's Peter Chortek Leadership Award, which was created to foster Jewish communal involvement by rewarding Jewish teens who are practicing tikkun olam, or "repairing the world."
Kleinman initiated, researched, drafted and successfully lobbied for a San Diego Unified School District resolution on fentanyl and Narcan awareness and education in all of its schools.
As an award recipient, Kleinman will receive a $5,400 stipend, $540 to establish a Donor Advised Fund at the Jewish Community Foundation, and a professional video made about his project.
Scripps Oceanography director to be honored as Scientist of the Year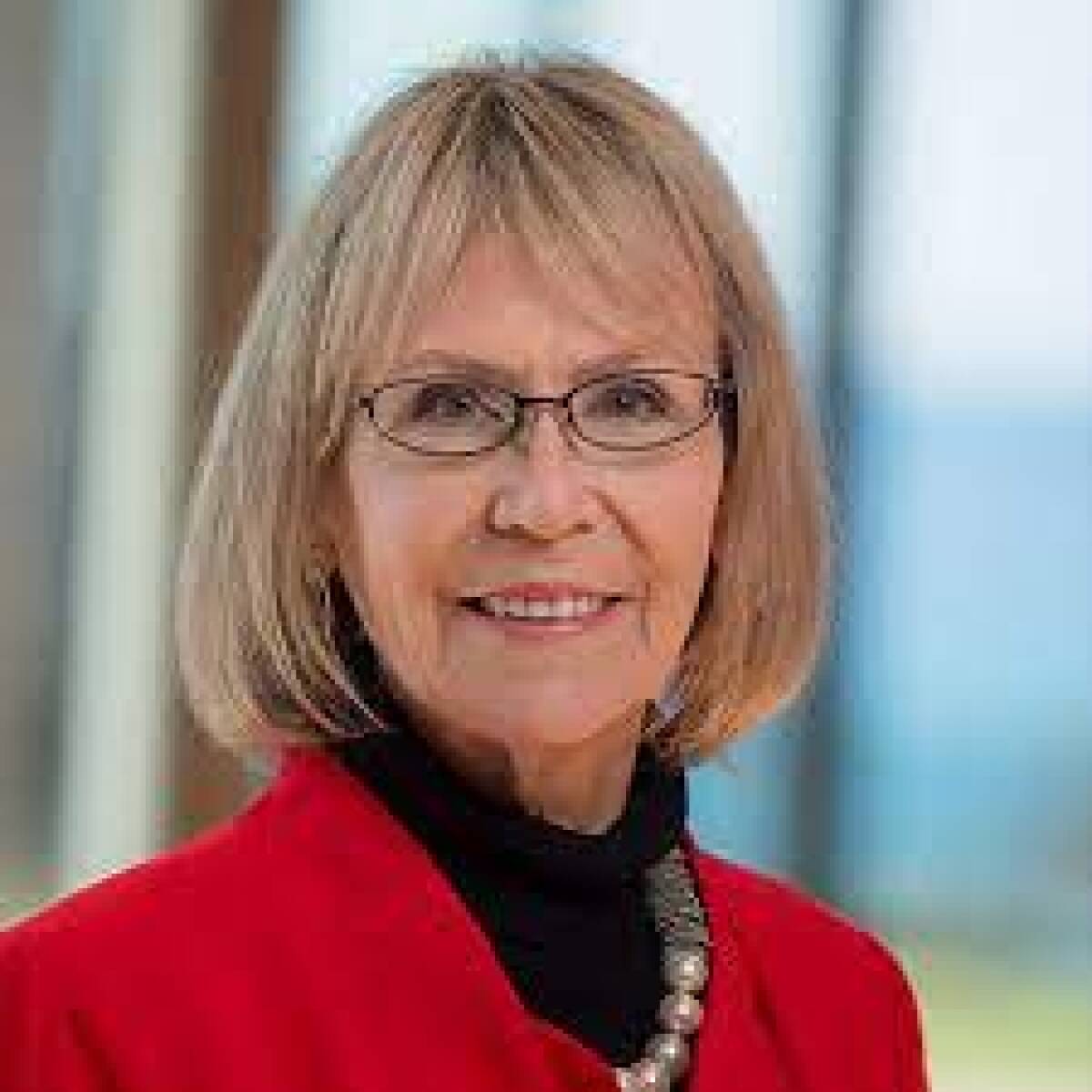 The San Diego chapter of Achievement Rewards for College Scientists, or ARCS, will honor Margaret Leinen, director of UC San Diego's Scripps Institution of Oceanography in La Jolla, as its 2023 Scientist of the Year at an event at 4 p.m. Sunday, May 7, at the Conrad Prebys Performing Arts Center in La Jolla.
Leinen is an ocean biogeochemist and paleoceanographer whose research includes the study of ocean carbon cycling and the role of the oceans in climate. Leinen is co-chair of the Decade Advisory Board for the United Nations Decade of Ocean Science for Sustainable Development. In 2017-18, she was a U.S. State Department science envoy for the oceans to Latin America and the Pacific.
ARCS' San Diego branch, one of 15 nationally, has raised more than $12 million and funded more than 1,550 Ph.D. scholars locally since its inception in 1985.
Learn more at san-diego.arcsfoundation.org.
SIO publishes data on ocean salinity trends spanning more than 100 years
Researchers at UC San Diego's Scripps Institution of Oceanography, led by oceanography graduate student Sierra Byrne, recently published data on the history of Southern California's climate using a unique data set collected at the Scripps Pier in La Jolla. The team analyzed the relative freshness of the water, which has been measured by hand at the pier site since 1916.
"This provides us with an extremely valuable data set that we use to look for interannual to decadal variability in winter salinity," Byrne said. "This is possible because of the connectivity between rain, stream flow and coastal ocean dynamics that spread low-salinity waters through freshwater plumes."
Among the findings, the data suggests periods when the water was less salty indicate there was more freshwater entering the ocean from nearby streams. Inundations of freshwater took place during years when there was extreme precipitation and more stream flow. Such research of the size and direction of freshwater plumes in the ocean could inform tracking of coastal pollution and improve the safety of beach communities.
Youths to perform at UCSD through Carnegie Hall program
About 220 area students participating in Link Up, a music education program provided by Carnegie Hall's Weill Music Institute, will attend a culminating concert at 4:30 p.m. Saturday, May 6, at Mandeville Auditorium on the UC San Diego campus in La Jolla, where they will sing and play recorders from their seats.
The program, provided in collaboration with Villa Musica and the La Jolla Symphony and Chorus, often serves as a student's first concert experience and provides the opportunity to apply musical concepts studied in class.
For more than 35 years, Link Up has paired orchestras with students in grades 3–5 at schools in their communities to explore orchestral repertoire and fundamental musical skills, including creative work and composition.
UCSD graduate programs ranked among best in nation
Graduate programs and professional schools at UC San Diego have been recognized by U.S. News & World Report's 2023-24 Best Graduate Schools rankings, which named nine of the La Jolla campus's graduate programs among the best in the nation.
In the latest annual ranking, UCSD's chemistry graduate program received praise across an array of specialties. The overall ranking for the chemistry program rose one spot to 20th in the nation, with biochemistry jumping eight spots to eighth. Inorganic chemistry ranked 14th, theoretical chemistry 15th and physical chemistry 17th.
U.S. News also named other UCSD graduate programs as among the best in the nation, including political science (No. 8), fine arts (10), psychology (12) and economics (14).
Combat controllers honored at Mount Soledad ceremony
More than 20 combat controllers of the Air Force Special Operations Command were remembered at the Mount Soledad National Veterans Memorial in La Jolla as part of a ceremony April 26.
Combat control teams originated in World War II because Army paratroopers often would miss their drop zones, once by more than 55 miles, and the Army created Pathfinders to parachute into an area alone before any large airdrop to provide operational coverage.
As part of the ceremony, the Combat Control Association, Combat Control Foundation and foundation ambassador and actor Robert Patrick dedicated a plaque in honor of the 22 combat controllers killed in action.
La Jolla Country Day student takes third place in state art contest
La Jolla Country Day School junior Asha Postins won third place for her oil painting "On the Surface" in the two-dimensional art category for grades 9–12 in the California Youth Art Month contest.
Asha's piece moved to the state-level competition after winning second place at the county and regional level. Her art was displayed at the Riverside Art Museum in March.
The Bishop's School holds annual Social Innovation Competition
The Bishop's School in La Jolla held its third annual Social Innovation Competition on April 14, during which students were asked to identify a societal problem and develop an inventive solution.
Freshman Jake Kim won $4,000 with his organization "Go for a Better World," which aims to help senior citizens fighting dementia through a prevention program.
"Building Bridges" — composed of sophomores Lyla Beamer, Lainie Beamer, Annie Linggi, Carmen Morera and Ella Willingham — won $500 for their idea to partner with charity organization Bridge of Hope to help refugees achieve job security.
Team "Healthy Habits" — juniors Jessica Luo and Jordan Luo — won $500 for their app designed to educate families about the importance of adopting healthy habits on a daily basis.
Sophomore Nicholas Revenco and freshmen Charles Ahn and Asher Grusd won $250 for "The Media Assist," software that provides small businesses with a tool kit and platform they can use to expand their social media presence.
The Social Innovation Competition is led by Bishop's director of community service and social innovation, Jacqueline Gomez.
Bishop's History Bowl team competes in national tournament
The Bishop School's History Bowl team recently returned from the National History Bowl National Championships in Arlington, Va.
Though the team didn't win, members said the experience was still memorable.
For the high school students who make up The Bishop's School's History Bowl team, the past has relevance not only to the present but also to the immediate future.
Junior William Guo, who revived the Bishop's club this school year after it was inactive for years, called the trip "a really good experience" in that the team members who attended (some had scheduling conflicts) "learned a ton of new things."
"We learned some interesting facts and questions … and learned more about the rules and practices, so that was really helpful," he said. "We also learned new strategies from watching other people go through the competition. So when new people join and we go back next year, there is a lot more certainty. That was important for me as the club leader to have that exposure.
"I really enjoyed my time there and got to know some ... wonderful people."
La Jolla restaurants participate in Foodies 4 Foster Kids
La Jolla restaurants Beeside Balcony, Mustangs & Burros and Urban Plates are participating in Promises2Kids' fifth annual Foodies 4 Foster Kids program through May in honor of National Foster Care Month.
Each of the total 27 participating restaurants will designate a select menu item that will support the Foodies 4 Foster Kids campaign. Funds raised will benefit foster children by reuniting siblings living apart in foster care, supporting foster youths in reaching their educational and career goals, providing birthday gifts, school clothes and opportunities to participate in extracurricular activities, and providing an emergency shelter.
Gifts can be made online at give.promises2kids.org/Foodies2023.
S.D. City Council approves renter protections
The San Diego City Council approved a host of new renter protections last week that faced heavy opposition from landlords and even some renter advocates.
The council approved the legislation on an 8-1 vote. It will need a second vote Tuesday, May 16, for final approval.
The biggest part of the new law would require a landlord to give a tenant two months' rent if the person is evicted for no reason. Such "no-fault" evictions include a renter being asked to move for a significant remodel of the property, if the owner decides to take the unit off the rental market or the landlord decides not to renew the lease of a particular tenant.
Renters still could be legally evicted for violating lease agreements, such as by not paying rent.
City planners said the law is aimed at bad landlords who use no-fault lease terminations as a way to remove renters without a legal eviction. — The San Diego Union-Tribune
— Compiled by La Jolla Light staff ◆
Get the La Jolla Light weekly in your inbox
News, features and sports about La Jolla, every Thursday for free
You may occasionally receive promotional content from the La Jolla Light.