Leaving San Diego? Series, Part 4: What La Jolla might learn from cityhood movements in other communities
Representatives of communities in California and elsewhere that have achieved cityhood — and one that did not — describe their experiences.
The issue of whether La Jolla should secede from San Diego and become a city of its own is back in the spotlight with a new group shepherding the effort. In this series, "Leaving San Diego?" the La Jolla Light looks into the requirements for cityhood, the people behind the proposal and the potential local and regional impacts of a city of La Jolla. This fourth installment explores other communities that sought cityhood, the issues they faced and their thoughts on a city of La Jolla.
In a sense, the desire of some La Jollans to create a city of their own is following a line of other small communities in California and around the nation that in recent decades have successfully made the leap to cityhood.
However, La Jolla's path isn't the same. It is already part of the city of San Diego, and no California community has successfully seceded from a parent city at least since Local Agency Formation Commissions were established in 1963, and likely much longer. LAFCOs provide guidelines and assistance to communities hoping to incorporate.
In fact, no new city has been created in California since formerly unincorporated Jurupa Valley in Riverside County did it in 2011, according to the California Association of Local Agency Formation Commissions.
A major hurdle to seceding from a city is California's Cortese-Knox-Hertzberg Local Government Reorganization Act of 2000, which among other things amended secession procedures to require a community to win a majority vote both of the residents in that community and in the rest of the parent city.
Communities that currently are unincorporated need only win election approval from their residents.
Earlier this month, San Diego LAFCO Executive Officer Keene Simonds said he and LAFCO legal counsel were looking into whether a citywide vote might be contingent on the number of objections received from San Diegans outside La Jolla at designated protest hearings.
However, Simonds said April 21 that that is no longer being considered.
The La Jolla Light approached representatives of communities in California and elsewhere that have achieved cityhood in the past 50 years, and one that did not.
Here is what they had to say about the process and their advice for La Jolla.
Malibu
Malibu residents' frustration over the care of local roads and a large Los Angeles County sewer project that they would be assessed taxes and fees to help fund drove an incorporation effort that succeeded in 1991.
Christi Hogin, a lawyer who helped broker the incorporation by representing the residents looking to make Malibu a city, served as the Malibu city attorney for 20 years.
"The county was moving forward with a sewer project that was viewed as growth-inducing," Hogin said. "The concern was that local residents would lose control of the way the [community] looked. The town erupted and got behind the idea of stopping that project. That launched the negotiations for cityhood."
Hogin said the biggest challenge for the new city was establishing police presence in Malibu because there was a section that was largely covered by the California Highway Patrol. So for the city of Malibu, "it meant an increase in the cost of policing because the new city would be paying the [county] sheriff and the [Los Angeles] police, whereas in the past the city didn't have to worry about the cost because CHP handled that area."
The call to cityhood "spurred a lot of anger," Hogin said, and it took the city of Malibu a decade to re-establish positive relationships with its neighbors.
That said, she believes the Cortese-Knox-Hertzberg law actually may help the La Jolla effort by requiring majority approval from other San Diegans, thus making it necessary for those who want to secede to take "a sophisticated, adult point of view" in the community's relationship with San Diego.
"It is not just a matter of population numbers and what [La Jolla] can claim for tourists, but also there are benefits to not having community groups agitated in city government," Hogin said. "There is a trust issue between the governed and the government. Right now that is frayed, but the local government can repair that relationship."
She added that La Jolla could prove to be a partner for the city of San Diego when it comes to solving regional problems.
"Embracing the hurdles they have to clear and doing that one at a time is going to lead them to be the first successful incorporation [from an existing city] since the passage of the Cortese-Knox-Hertzberg Act," Hogin said.
Lemon Grove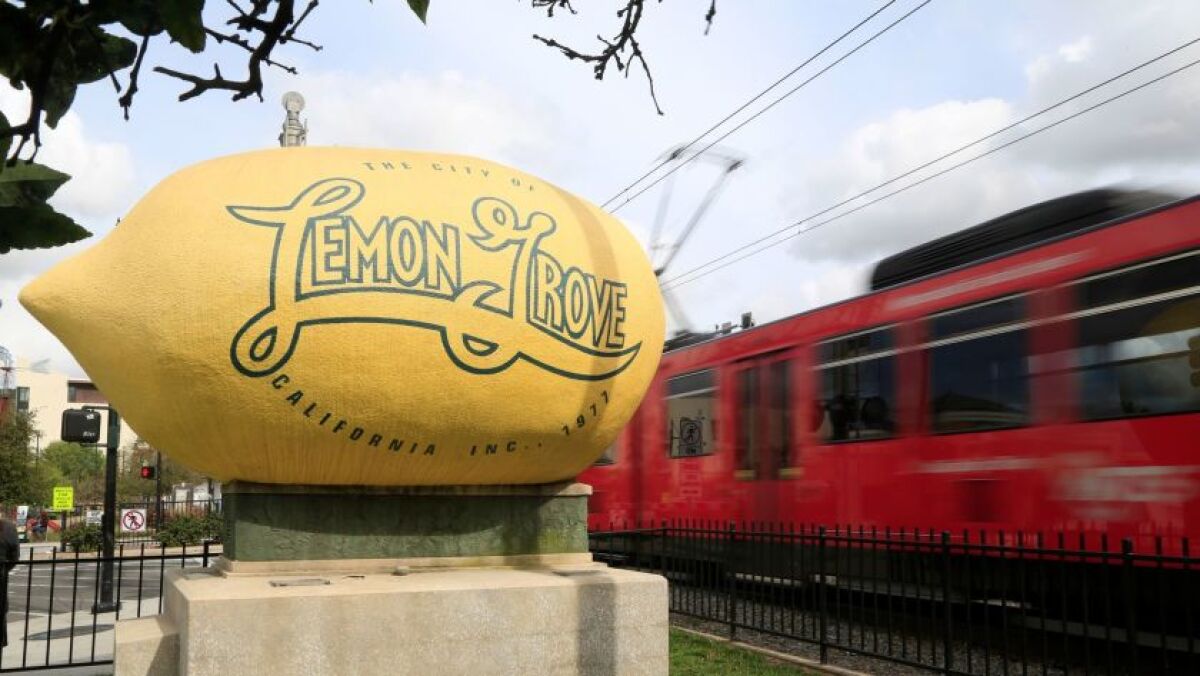 Establishing the city of Lemon Grove — located in southwest San Diego County, nine miles from downtown San Diego — took more than 20 years and several incorporation elections before it was completed in 1977.
Helen Ofield, historian for the Lemon Grove Historical Society, said the cityhood effort started in 1954 because the area was "a low man on the county totem pole. It didn't get [any] respect countywide."
The support of Mike Gotch of the San Diego Local Agency Formation Commission (who later served on the San Diego City Council and in the California Assembly and died in 2008) was key to generating enthusiasm for Lemon Grove's incorporation, Ofield said.
One of the key issues for Lemon Grove was showing that its incorporation would save San Diego County the short- and long-term costs associated with policing, Ofield said. The city contracts for law enforcement services from the county Sheriff's Department and for fire services from Heartland Fire & Rescue, which also serves the cities of La Mesa and El Cajon. Lemon Grove also is served by a San Diego Metropolitan Transit System trolley line.
However, budget and money management problems raised the issue of disincorporation in 2019. In a guest commentary published that year by The San Diego Union-Tribune, Mary England, who served on the Lemon Grove City Council from 2000 to 2012, cited a budget shortfall of $426,000 for the 2019 fiscal year — a "continuing trend" — and projected shortfalls of $800,000 for fiscal 2020 and $1.2 million in fiscal 2021, which she said should be a "wake-up call" to residents.
"Unfortunately, to date the City Council has not found meaningful solutions to the budget shortfall or made an effort to reach out to the business community to involve them in the process," England wrote.
In a counterpoint, then-Lemon Grove council member and business owner Jerry Jones wrote: "Today, community identity and local control are even more important as this region becomes denser and boundaries between cities blur. As one of 18 incorporated cities in this county, Lemon Grove's voice at the table on regional bodies like the Metropolitan Transit System and the San Diego Association of Governments is crucial to the preservation of its neighborhoods and community identity."
Lemon Grove maintained its independence and remains a city.
Mableton, Ga.
More than 2,100 miles from La Jolla, the unincorporated community of Mableton, Ga., is on its way to becoming a city. Fifty-three percent of voters in the new city's boundaries approved a cityhood measure in November.
The boundaries include the community of Mableton — population 41,647 in 2020 — and other unincorporated areas that bring the total population to about 78,000. The city is about 14 miles northwest of Atlanta.
A mayor and City Council have been elected and the transition process is underway, with an official incorporation date of June 1.
Leroy Tre' Hutchins, who currently serves on the Cobb County School District Board of Education, helped spearhead the push for Mableton cityhood beginning about seven years ago.
Hutchins and others believed "it would be good for the south Cobb community to have their own city, to have more local control and governance over our quality of life," he said.
"Mableton [named after Robert Mable, who settled there in 1843] is one of the oldest areas established in Cobb County," Hutchins said. "A lot of it was developed long before we even had a county zoning ordinance."
Mableton, then, needs more redevelopment than other county areas, "while the county code focuses more on development and developing out of the county," Hutchins said.
Other communities and cities in the county differ, he added, as they're more affluent and aren't "necessarily looking to redevelop their communities just yet."
However, there are differences within the new city of Mableton, with a faction of residents already trying to leave it. They argue there wasn't enough transparency about the Mableton cityhood plans before the November election, with some saying the ballot wording was confusing. Others say the incorporation process was moving too fast or they were worried they would have to pay new fees or taxes. Some just didn't want to be part of a city.
"Anything that's new is always going to have [those] not really eager to move forward," Hutchins said. "Change is hard."
Mableton's push for independence began much as La Jolla's did, with a feasibility study, followed by community engagement for feedback on priorities.
The book "Creating the New City of Sandy Springs: The 21st Century Paradigm: Private Industry" by Oliver Porter, who co-founded the city of Sandy Springs in Georgia in 2005, was instrumental in Mableton's path to incorporation, Hutchins said.
Mableton community members identified four key services they prioritized as needing local control first: code enforcement; zoning, land use and economic development; waste management; and parks and recreation.
During the transition, Cobb County will continue to provide its current services to the new city "as long as they are needed," according to the county website.
"The mayor and City Council will determine which services to deliver to its citizens — and whether to provide the services directly or through a contract with the county, another local government or a vendor," the county says. "The level of service provided by the county after the transition period will depend upon the mutual agreement of the Board of Commissioners, mayor and City Council."
Georgia law requires that a city provide at least three of the following services, either directly or by contract: law enforcement, fire protection, road construction or maintenance, solid-waste management, water supply and/or distribution, wastewater treatment, stormwater collection and disposal, electric or gas utility service, code enforcement, planning and zoning, and recreational facilities.
Now that priorities have been set and city officials elected, Mableton is turning to providing elected officials with training.
"I'm really big on training," Hutchins said, "making sure that the City Council receives the necessary training from our different agencies that support cities in the state of Georgia and even some of the national organizations that help support cities and ensuring that the City Council is knowledgeable about how to operate the city ... how to provide services and bring these services online."
Hutchins estimated it will take years to cultivate a "thought-out business plan." City Hall might be a shared space with a school theater, community center or church until a dedicated city center can be built, he said.
After the training is complete, the focus will shift to getting services up and running. The state law requires a city to establish services within two years of incorporation.
It isn't clear yet which of the four prioritized services will be established first, Hutchins said, noting it may be all four.
"Only time will tell" if all services eventually are transitioned from the county to Mableton, he said.
Until then, an intergovernmental agreement between Cobb County and the cities in its boundaries determines, via annual negotiations, service levels and costs provided to cities based on tax base.
San Fernando Valley
The last time a California community attempted to secede from a larger city was in 2002 — after the passage of the Cortese-Knox-Hertzberg Act and therefore subject to the dual-vote system.
Parts of the San Fernando Valley that are in the city of Los Angeles (including the neighborhoods of Van Nuys, Sherman Oaks, Canoga Park and Woodland Hills) tried for cityhood, but Los Angeles city voters overwhelmingly said no.
At the same time, Hollywood had its own secession effort that was rejected by L.A. voters.
Jeff Brain, who founded the San Fernando Valley secession organization Valley Vote in 1997, told the Light that the main opposition to the area's independence came from public employee unions in Los Angeles, which proved to be an insurmountable obstacle.
"Keep in mind you have to get full support," Brain advised cityhood backers in La Jolla. "Keep that in mind every step of the way. … Otherwise, you lose."
The odds are tough, Brain said, "but it's a good fight. It's just a shame you have to get everyone to vote."
The next installment in the series will look at what San Diego stands to gain or lose if La Jolla becomes independent. ◆
Get the La Jolla Light weekly in your inbox
News, features and sports about La Jolla, every Thursday for free
You may occasionally receive promotional content from the La Jolla Light.