La Jolla resident is among Southern California trio headed to Ukraine on aid mission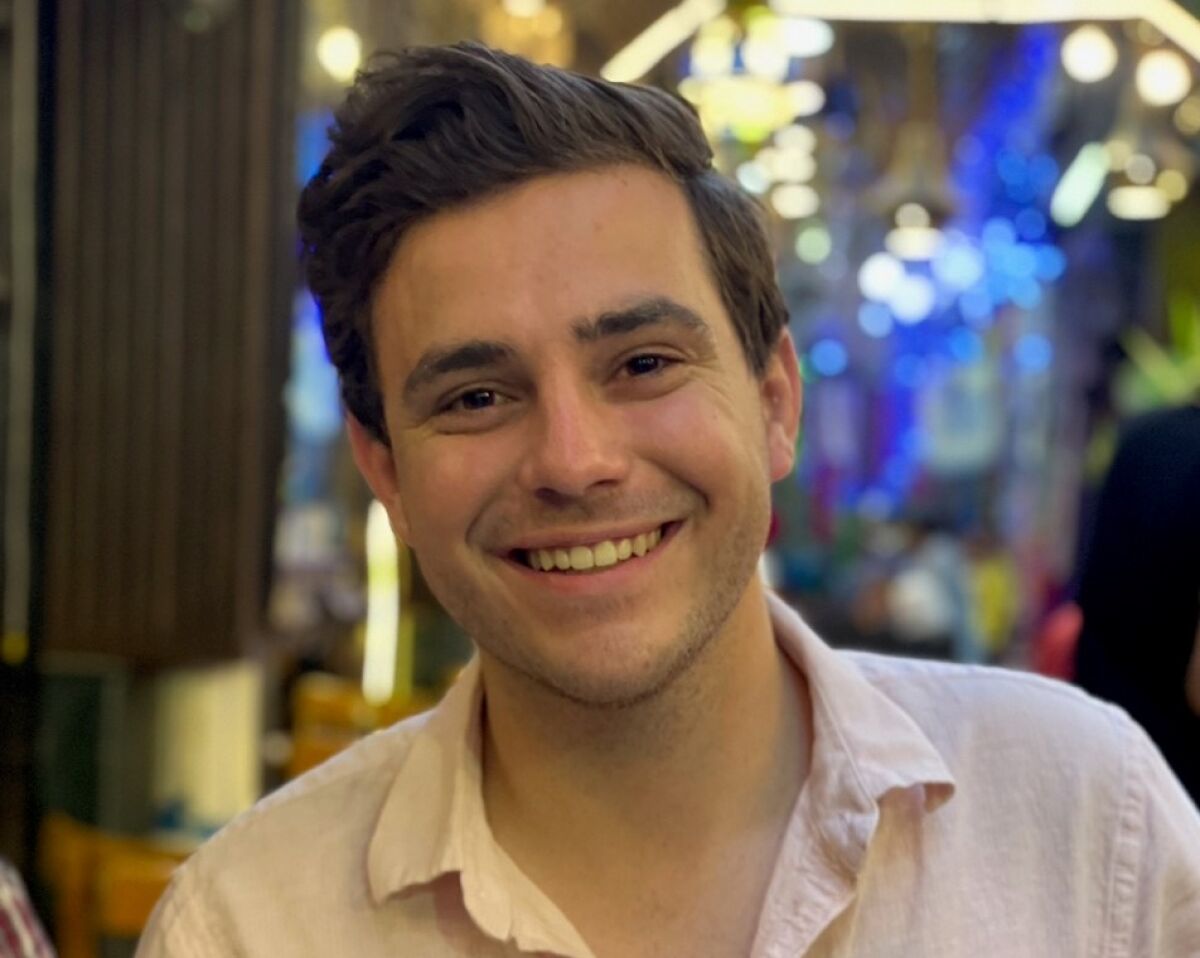 With the goal to raise awareness and gather assistance by sharing videos and photos, La Jolla resident Ron Zappardino is joining two others on an aid mission to Ukraine.
Their aim, beginning with their departure Wednesday, May 3, is twofold, Zappardino said: to distribute donated funds where people need them most since Russia invaded the country more than a year ago and to establish a sister-city relationship with Calabasas in Los Angeles County.

For the record:
9:35 a.m. April 27, 2023This article has been updated to correct that the Top of the Cove restaurant is now Duke's La Jolla.
Zappardino and Igor and Elena Yasno, married Calabasas residents and travel agents, also will meet with politicians, military members, doctors and others.
"By establishing a sister-city relationship, we can help drive donations, help connect a little bit closer to people's hearts and maybe do our small part to help further this sort of aid mission overall," said Zappardino, a software developer.
The Yasnos have raised more than $80,000 so far, Zappardino said, with "every single dollar" going directly to people in Ukraine. The Yasnos and Zappardino are paying for their own travel and lodging.
To make the effort work, "you need to establish relationships with the people you're giving the money to" in order to ensure the money "actually gets where it needs to go," Zappardino said.
The money will be used for medicines, food and warm clothing.
"Logistics are not simple" for a trip to Ukraine, said Igor Yasno, was born there and moved to the United States in 1977 as a teenager. There are no flights in and out of the beleaguered country, so the trio will fly to Poland and take a train for nearly a day into the Ukrainian capital, Kyiv.
Yasno and his wife will stay 10 to 14 days; Zappardino will stay longer but doesn't know how much longer.
"We have a local volunteer organization that will help us find the right people to talk to," Yasno said. "If you arrive without knowing anyone, you're not going to get very far."
During the trip, the Yasnos and Zappardino will visit towns occupied and then destroyed by Russian forces, Yasno said, meeting with local government leaders to understand community needs and "to bring home a short list of the towns that we could cooperate with."
There also will be visits to orphanages and to hospitals where troops are treated.
Many patients have been badly burned "and they need skin," Yasno said. "I was given the cost of a square inch of skin; it was an unbelievable amount of like $1,500 or $2,000 ... and they need a lot."
The Yasnos and Zappardino also are preparing for the emotional toll of the visit. "To us it's incredible even to imagine this atrocity," Yasno said.
"We want to let the world know what we're doing," he said. "Because when we come back, we want to organize public events that will tell people about what is really going on."
Yasno has been raising money for Ukraine since 2014, when Russia occupied Crimea and the eastern part of the country. He and Elena began to collect money in their Calabasas neighborhood to help Ukrainians and their friends who live there.
The impact of the Russian invasion last year — with thousands killed and millions forced to flee — is "truly a disaster that no one could imagine would happen in the 21st century," Yasno said.
"We just could not be observers, sitting in our comfortable homes in California, watching this whole thing develop," he said.
"We can help drive donations, help connect a little bit closer to people's hearts and maybe do our small part to help further this sort of aid mission overall."
— Ron Zappardino
Zappardino has no connection to Ukraine; he is the son of Ron Zappardino, who owned the Top of the Cove restaurant (now Duke's La Jolla) and died in October.
"My father, who is the person that anchored me and my family here … was a war hero that fought in Vietnam," Zappardino said. He said he learned from his father "the reality of the world is that when authoritarianism flexes, Americans eventually have to respond."
Zappardino met Yasno through a friend in medical school who visited Ukraine on a similar aid mission and connected the two as Zappardino was looking for ways to help.
"We're all extremely lucky that my generation so far does not have to respond," Zappardino said. "It's being fought by the Ukrainians. They're putting their blood and their lives on the line. … They will win as long as we don't give up, and that's what I'm there for."
Zappardino has no filming experience but is nonetheless compelled to document what he sees on the trip to expand the mission's reach, he said. Updates will be posted on the group's website when time and internet access allow.
To follow the journey or donate, visit lenkatraveler.com/ukraine. ◆
Get the La Jolla Light weekly in your inbox
News, features and sports about La Jolla, every Thursday for free
You may occasionally receive promotional content from the La Jolla Light.