La Jolla News Nuggets: Beach cleanup, climate club, UCSD construction, weed-pulling party, more
News and events briefs
La Jolla beach cleanup removes 45 pounds of trash and hundreds of cigarette butts
An Earth Day beach cleanup in La Jolla collected 45 pounds of trash, 383 cigarette butts and more April 22.
The Sierra Club Seal Society coordinated the event, which included more than 15 volunteers from the San Diego chapter of the Sierra Club.
The participants roamed La Jolla beaches from the tide pools south of Cuvier Park to The Cave Store, including both sides of Coast Boulevard, also finding bottles, cans, items of clothing, toys and plastics.
"We separated the recyclables from the trash and took home the recyclables to put in our blue recycle bins, since Scripps Park doesn't have any recycle bins," said Robyn Davidoff, Sierra Club Seal Society chairwoman.
Another cleanup will be held in September, Davidoff said.
Get the La Jolla Light weekly in your inbox
News, features and sports about La Jolla, every Thursday for free
You may occasionally receive promotional content from the La Jolla Light.
La Jolla High School climate club students hold thrift shop
Students in LJ Environmental Action, the climate club at La Jolla High School, presented a three-day thrift shop in the school library last week for high-schoolers and middle-schoolers.
"Our goal was to promote sustainable fashion and spread awareness about the lack of ethicality surrounding fast fashion," club President Emma Weibel said. "The amount of waste and production emissions that go into every piece of clothing is enormous, especially when the average life span of clothes is six months."
Thrift shop items were free for people who donated clothes and $3 each for everyone else.
The shop made more than $100, which will be used to fund recycling bins for the campus.
"It was truly amazing to be making a difference in this way," Emma said.
To learn more, visit @ljenvironmental_action on Instagram.
Construction delays will leave UCSD short 1,700 student beds this fall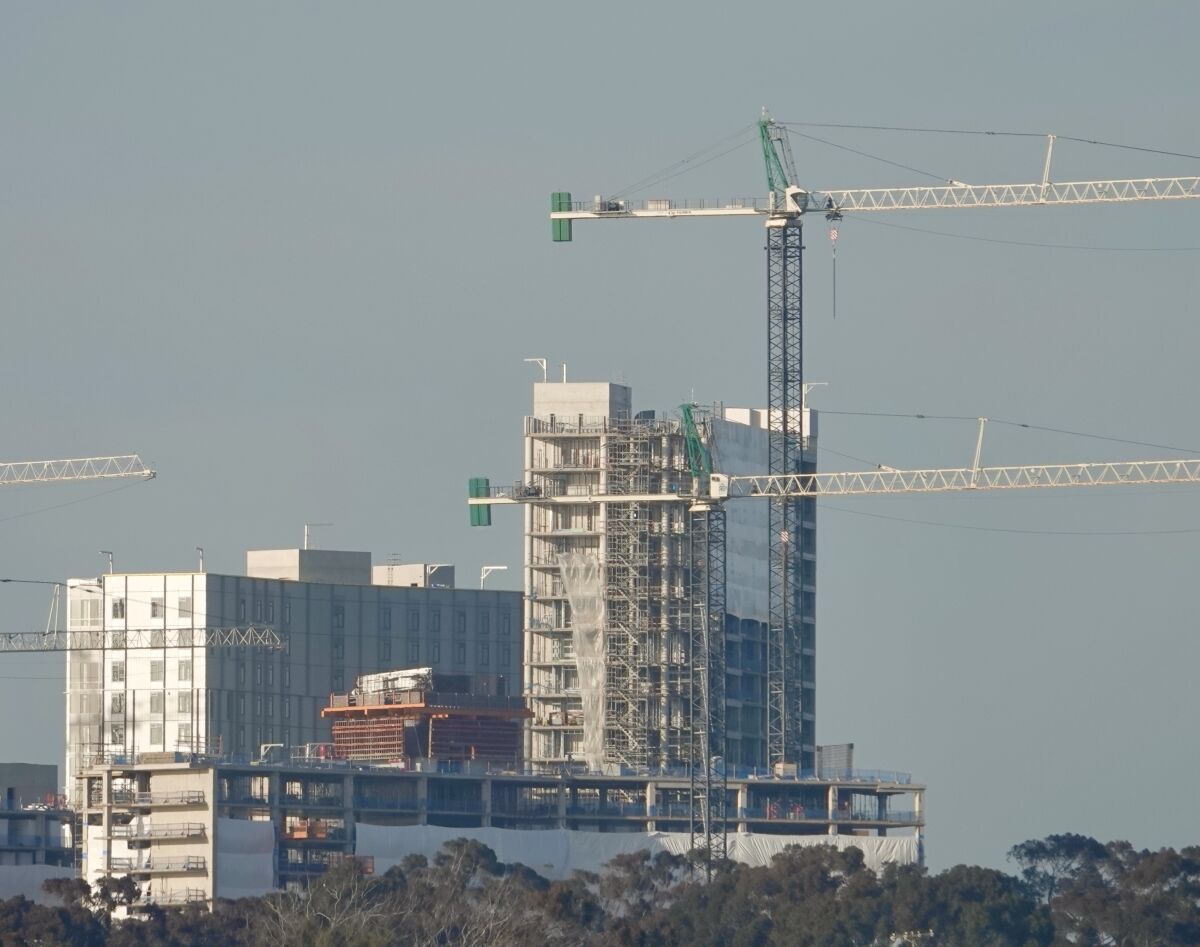 Construction has fallen behind schedule on a $520 million village that's meant to help UC San Diego meet the demand for housing and classrooms, forcing the La Jolla campus to look for other ways to accommodate students.
The Theatre District Living and Learning Neighborhood was scheduled to open in September with beds for 2,000 students, plus dining and retail space, offices, classrooms and a conference center.
But the university said a supply chain problem and an unusually wet winter slowed construction. As a result, only 343 or so students will be able to move in at one of the project's five buildings during the start of the fall quarter.
"The other four buildings with the remainder of the student residences are anticipated to open during winter quarter," UC San Diego said in a statement.
"I know [the] campus is taking measures like adding triples [three students to a room]," said Sky Yang, president of Associated Students at UCSD. "The construction delay isn't the campus's fault, [it's due] to supply chain interruptions. I think students understand that." — The San Diego Union-Tribune
UC San Diego Health offers new prostate biopsy procedure
UC San Diego Health announced it is the first health system in San Diego County to offer a new, minimally invasive prostate biopsy procedure that reduces the risk of infection, improves imaging for accuracy and may increase cancer detection in a clinical setting.
The procedure, called a transperineal biopsy, is combined with 3D MRI fusion guided technology to highlight prostate cancer.
Traditionally, a transrectal biopsy was the standard procedure to test for prostate cancer if a prostate-specific antigen blood test was elevated and/or a digital rectal exam was flagged. During a transrectal biopsy, a physician passes the biopsy needle through the rectal lining to reach the prostate.
A transperineal biopsy avoids the rectum and instead passes through the perineum, an area between the scrotum and the rectum. This is noteworthy because passing through the rectum can increase the risk of introducing fecal material and bacteria into the prostate.
Weed-pulling party coming April 29
Friends of Coast Walk Trail will hold its second weed-pulling party from 9 a.m. to noon Saturday, April 29, at the Goldfish Point entrance to Coast Walk Trail.
The group recently planted 1,000 native plants, but recent rains have allowed weeds to thrive and they have started encroaching on the trail and overtaking other plants, according to organizers. Thus, Friends of Coast Walk Trail is looking to fill 50 bags with weeds and garbage.
Volunteers are asked to bring their own pruners and rakes. Onsite Trail Ambassador tents, snacks and cold beverages will be available. To learn more, email Brenda Fake at befake@aol.com.
La Jollans to speak at Holocaust remembrance event
La Jolla residents Robert Feier and Elizabeth Tobias will speak at "Holocaust Remembrance — From Hatred to a Better Tomorrow," which will be held from 1:30 to 3:30 p.m. Thursday, May 4, at the Southwestern College Performing Arts Center in Chula Vista.
Feier is a Holocaust survivor; Tobias is the granddaughter of a Holocaust survivor and the great-granddaughter of a victim who died at Auschwitz.
Tobias also will lead a group in expressive arts reflection during the free event.
The remembrance will include remarks from other local Holocaust survivors, speakers addressing current anti-Semitism, student journalists commenting on their coverage and more.
Team Crash Test wins Inspire Award at robotics world championships
A La Jolla-based robotics team known as Crash Test recently returned home from Houston after representing San Diego in the First Championship world competition April 19-22. And they brought a first-place Inspire Award with them.
The group of six local students consists of Lizzie and Richard Yoon, Ava Tasende, Jax Espinosa and Trey Guccini of La Jolla High School and Roland Breise of La Jolla Country Day School.
"We were incredibly grateful to have won the first-place Inspire Award for our division," Ava told the La Jolla Light. "The Inspire Award is the most prestigious award in First Tech Challenge, which encompasses everything our team has done over the years — from our robot's design to our code and our global and local community outreach."
The team has been competing together for 10 years but will disband this year as members head to college.
Douglas Pratte award is given at La Jolla Historical Society
Ahead of last weekend's Concours d'Elegance car show in La Jolla, a group of local car enthusiasts presented the American Heritage Award to Stan Zhubrak for his 1963 split-window Chevrolet Corvette coupe.
The award is given in memory of Douglas Pratte, known for his vehicle knowledge, attention to detail and technical skills, according to organizers.
The award is a custom glass sculpture and handcrafted glass bowl created by La Jolla resident and car enthusiast Keith Wahl. The name of each year's winner is added to the sculpture.
The award was launched in 2021 and has been presented at the La Jolla Historical Society, a beneficiary of the Concours.
— Compiled by La Jolla Light staff ◆
Get the La Jolla Light weekly in your inbox
News, features and sports about La Jolla, every Thursday for free
You may occasionally receive promotional content from the La Jolla Light.