La Jolla News Nuggets: Mysterious creatures, National Charity League, donor wall, more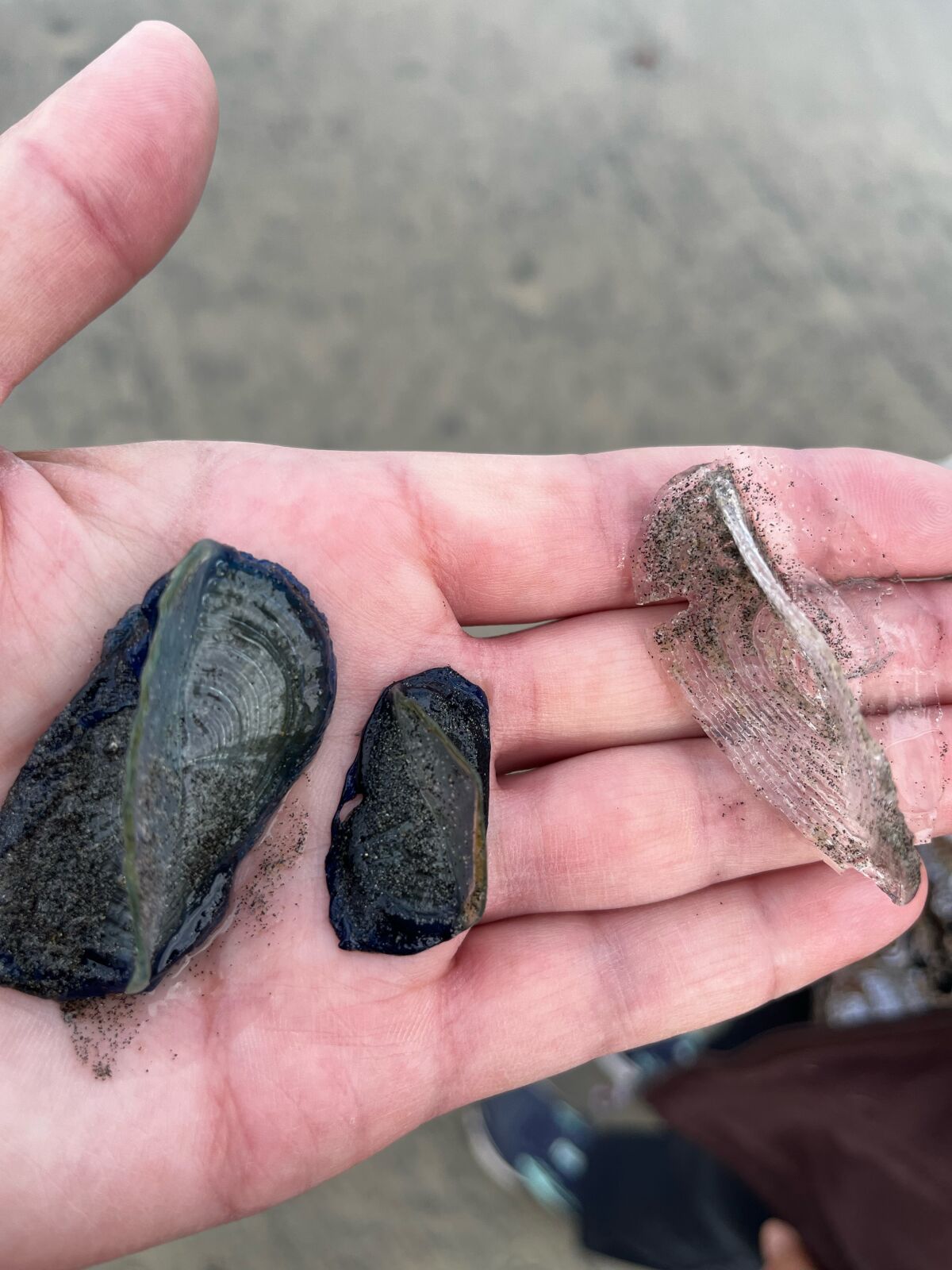 Thousands of 'benign' creatures wash ashore in La Jolla
Thousands of organisms called velella velella — which are harmless to humans — have washed ashore in La Jolla recently "at the mercy of the breeze," according to Scripps Institution of Oceanography doctoral student Anya Stajner.
Resident Robert Azimi reported seeking thousands of the creatures washed up in La Jolla Shores on April 15. Scripps Oceanography said they appear in late fall or late spring, depending on wind patterns, and not always annually.
"Velella velellas have many nicknames, like 'by-the-wind-sailors' and 'little sails,'" Stajner said, "which references their sail-like, chitinous structure that sticks up above the water."
The organisms' structure causes them to be moved around by the wind, she said. "Sometimes when the wind is blowing toward the shore, large numbers of velellas get washed ashore, like we're seeing now."
Get the La Jolla Light weekly in your inbox
News, features and sports about La Jolla, every Thursday for free
You may occasionally receive promotional content from the La Jolla Light.
Velellas are not jellyfish, Stajner said, but are more closely related to the Portuguese man o' war. However, unlike the latter creature, velellas "are pretty benign to humans."
Velella velellas mostly eat invertebrate zooplankton and the occasional larval fish, she said.
Predicting when and where to find velella velellas is difficult, Stajner said. "Their ephemeral nature is part of what makes them so [exciting] to encounter in the wild or in a plankton sample," she said.
National Charity League to honor class of 2023
The San Diego chapter of the National Charity League will honor 16 local high school seniors at its 2023 Senior Recognition Ceremony on Saturday, April 29.
The young women, referred to as "Ticktockers," are graduating this year from La Jolla Country Day School, La Jolla High School, The Bishop's School and Francis Parker School.
All have devoted six years of volunteer service during which they and their mothers participated in philanthropic work, leadership development and educational and cultural activities at a variety of organizations throughout the county, including the San Diego Humane Society, San Diego Food Bank, Meals on Wheels, Promises 2 Kids, Autism Tree Project Foundation, Operation Homefront, I Love a Clean San Diego and the San Diego Parks & Recreation Department.
La Jolla Community Foundation unveils donor wall
The La Jolla Community Foundation installed a donor wall the morning of April 17 to recognize gifts of $100,000 or more intended to contribute to the improvement of La Jolla.
The wall, along Girard Avenue on the west-facing exterior of the Athenaeum Music & Arts Library, displays Community Foundation donor names on small plaques.
The Community Foundation is the fundraising arm of Enhance La Jolla, which can complete projects in public spaces. The organizations are in the midst of a $15 million Village streetscape project, the final details of which are expected to be released in coming weeks.
The four-phase plan aims to renovate Girard Avenue between Silverado and Prospect streets and the area known as "The Dip" at Prospect. Improvements in the public right of way would include curb extensions, paving, landscaping, lighting, converting northbound Prospect to a public pedestrian way between Girard and Herschel avenues and converting the southbound side of Prospect in that area to two-way traffic. More than $1.5 million currently is available for the project.
La Jolla High School to host recycling drive April 22
La Jolla High School will host a TV and computer recycling drive from 9 a.m. to 1 p.m. Saturday, April 22, at 750 Nautilus St.
Only TVs and computers will be accepted.
Tribute to late underwater filmmaker Chuck Nicklin to be held in La Jolla
A tribute to late underwater filmmaker and La Jolla resident Chuck Nicklin will be held at 6 p.m. Monday, April 24, at the La Jolla/Riford Library, 7555 Draper Ave.
Nicklin was an underwater film pioneer known globally for his diving skills and creating projects from nature documentaries to feature films. He died in December at age 95.
The free event will celebrate Nicklin's life and work.
Holocaust remembrance event draws 300 to Jewish center in La Jolla
The Jewish Federation of San Diego presented a Holocaust Remembrance Day event attended by more than 300 people April 16 at the Lawrence Family Jewish Community Center's Garfield Theater in La Jolla.
The event included a video honoring Holocaust survivors in San Diego and a panel discussion highlighting how Holocaust survivors have influenced San Diego and the Jewish community.
A self-guided installation telling the story of survivors living in San Diego will remain on view through Wednesday, May 24, at 4126 Executive Drive, La Jolla.
Sunrise Rotary's La Jolla luau benefits four organizations
The La Jolla Sunrise Rotary Club presented its third annual fundraising luau April 16 at the La Jolla Shores Hotel. Island-themed food and Hawaiian dancing provided entertainment and ambiance.
More than 150 people attended, with proceeds going to the San Pasqual Academy to support and house homeless youths through high school; Could You? an organization dedicated to educating and helping girls and women with health care; Friends of Coast Walk Trail, which repairs and maintains the La Jolla coastal trail; and Gift of Life, which helps fund organ transplants for children worldwide.
Sunrise Rotary meets at 6:58 a.m. Thursdays at Chateau La Jolla, 233 Prospect St.
Kiwanis Club of La Jolla awards $10,400 to local institutions
The Kiwanis Club of La Jolla awarded $2,400 to the scholarship program at Gillispie School in La Jolla and $8,000 to the La Jolla Community Center during its April 14 meeting.
The club awards about $150,000 annually to organizations in La Jolla and elsewhere in San Diego. The money is raised from the club's annual La Jolla Half Marathon, which this year will be held Saturday, May 20, along with the La Jolla Shores 5K race.
Athenaeum seeks entries for 31st annual Juried Exhibition
The Athenaeum Music & Arts Library in La Jolla has opened its entry period for its 31st annual Juried Exhibition.
The exhibit will be held from Saturday, July 15, to Saturday, Sept. 9. Isabel Casso, assistant curator for the Museum of Contemporary Art San Diego, will be the juror.
Eligible artists must live, work or exhibit in San Diego County or Tijuana.
A maximum of three works per artist will be accepted, and pieces must have been completed within the past five years.
The entry fee is $15 per artist for Athenaeum members and $20 for non-members. The deadline to submit is Friday, June 16. For more information, visit ljathenaeum.org/juried-exhibition.
— Compiled by La Jolla Light staff ◆
Get the La Jolla Light weekly in your inbox
News, features and sports about La Jolla, every Thursday for free
You may occasionally receive promotional content from the La Jolla Light.