La Jolla Shores would get two new lifeguards under San Diego mayor's proposed budget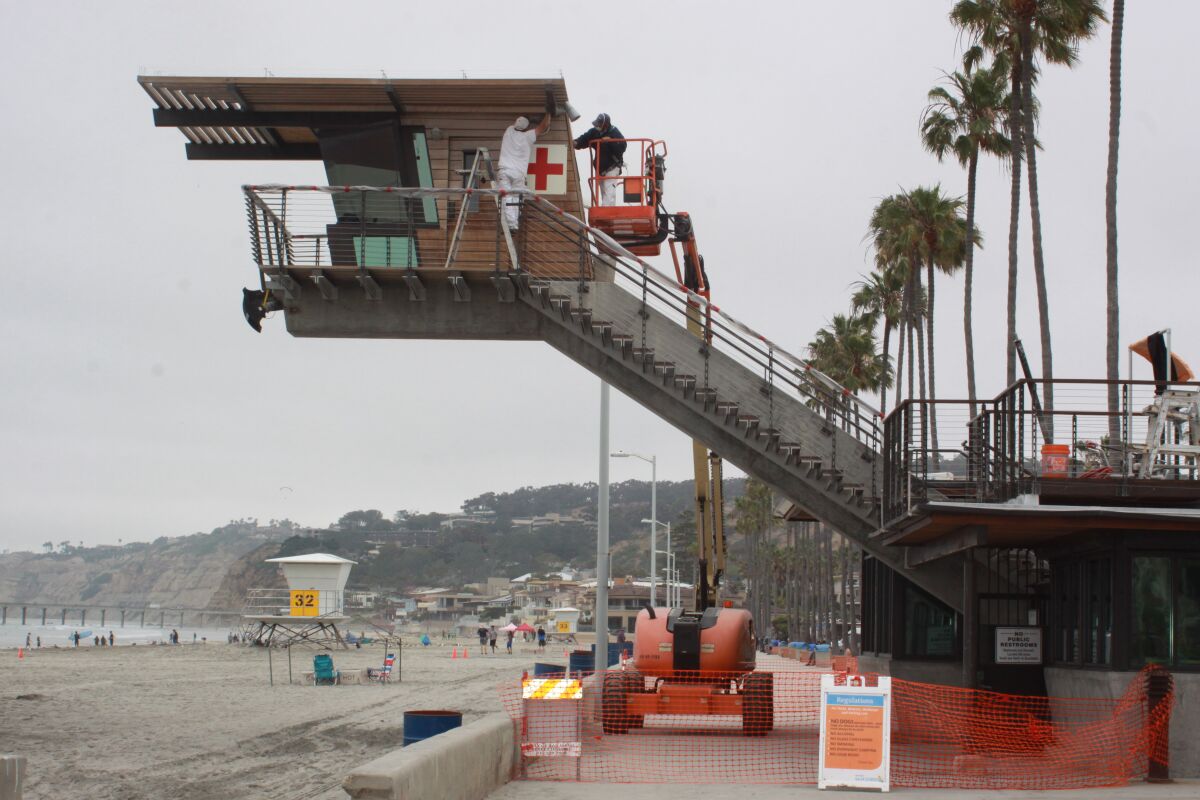 Seeing ongoing La Jolla projects to completion and adding new lifeguard positions at La Jolla Shores are key local components of San Diego Mayor Todd Gloria's proposed city budget for the next fiscal year.
Gloria released his $5.12 billion draft budget for fiscal 2023-24 on April 14. It will be subject to hearings, town hall meetings, analyses and more before a budget is approved by the City Council. The new fiscal year begins July 1.
The spending plan is focused on core services and would boost the city's general fund past $2 billion for the first time.
Gloria wrote that the draft budget "reflects our priorities and commitment to enhancing the well-being of our community."
The budget would add police and firefighting positions and $800,000 for lifeguards, including two full-time positions at the La Jolla Shores lifeguard tower.
Representatives of San Diego lifeguards were not immediately available to comment about the additional positions.
"We are also ... funding the lifeguard division's biannual Advanced Lifeguard Academy," Gloria wrote. The 10-week academy provides advanced training in a variety of disciplines, including law enforcement and cliff and water rescue.
"This training is essential to ensure our lifeguards have the advanced skills and knowledge they need to respond effectively to all types of water emergencies," Gloria wrote.
Continuing projects
The proposed budget also includes funding for continuing projects (those initiated in the current or previous fiscal years).
An example of that is the new Torrey Pines fire station (formerly known as the UC San Diego fire station) that is under construction east of North Torrey Pines Road at the north end of the UCSD campus. It is expected to be completed in 2027.
The new three-bay, 14,664-square-foot fire station will accommodate nine to 11 fire personnel. The project also includes site grading, utility and street improvements in the public right of way to allow for emergency vehicle access.
Another continuing project is the Gilman Drive segment of the Coastal Rail Trail that will extend the regional 40-mile bicycle corridor. The planned alignment will follow Gilman Drive between La Jolla Village Drive and Interstate 5, installing a one-way Class IV protected bicycle track in each direction (the bike lane currently is Class II, marked with paint) and a continuous sidewalk on the west side of the road, according to the budget.
Street parking would be retained and new street lighting would be installed, along with a new traffic signal at La Jolla Village Drive and modifications at existing signals.
Warranty phase projects
Projects in the warranty phase are considered technically completed and put into service but not yet officially closed. In La Jolla, the new Scripps Park Pavilion restroom facility, which opened in January 2022, is in the warranty phase.
After opening, the facility was immediately faced with drainage, privacy and other concerns that continued into the late summer.
City staff has said it is committed to fixing the issues before the upcoming busy summer season.
Other projects
Projects to replace pipelines that pass through La Jolla are listed on the proposed budget, as is a placeholder for the ongoing La Jolla View Reservoir project, which would address the aging 720,000-gallon, above-ground water storage tank off Encelia Drive in La Jolla Heights Natural Park.
The reservoir project has been listed on the budget in past years, and changes are being considered, possibly to add a stronger pump rather than replace the facility as originally planned. ◆
Get the La Jolla Light weekly in your inbox
News, features and sports about La Jolla, every Thursday for free
You may occasionally receive promotional content from the La Jolla Light.