UC San Diego chancellor given $500,000 pay raise to prevent him from taking presidency at private school
The increase, which is being covered by private donations, will push Pradeep Khosla's base salary to $1.14 million, making him one of the nation's highest-paid public university leaders.
UC San Diego Chancellor Pradeep Khosla has been given a $500,000 pay raise by the University of California Board of Regents, which said it made the move to prevent him from accepting the presidency of an unidentified private school out of state.
Khosla, who has guided an unprecedented $8.5 billion expansion of the La Jolla campus, will begin earning $1.14 million a year in base pay beginning Monday, May 1.
The school might hike its housing capacity to 40,000 students to deal with the influx of enrollments
Only four other public university presidents and chancellors received more in base pay in 2021, the most recent year for which data is available, according to a survey by The Chronicle of Higher Education. Khosla's new salary is higher than the current pay of the nine other chancellors who lead UC campuses.
Khosla declined to comment.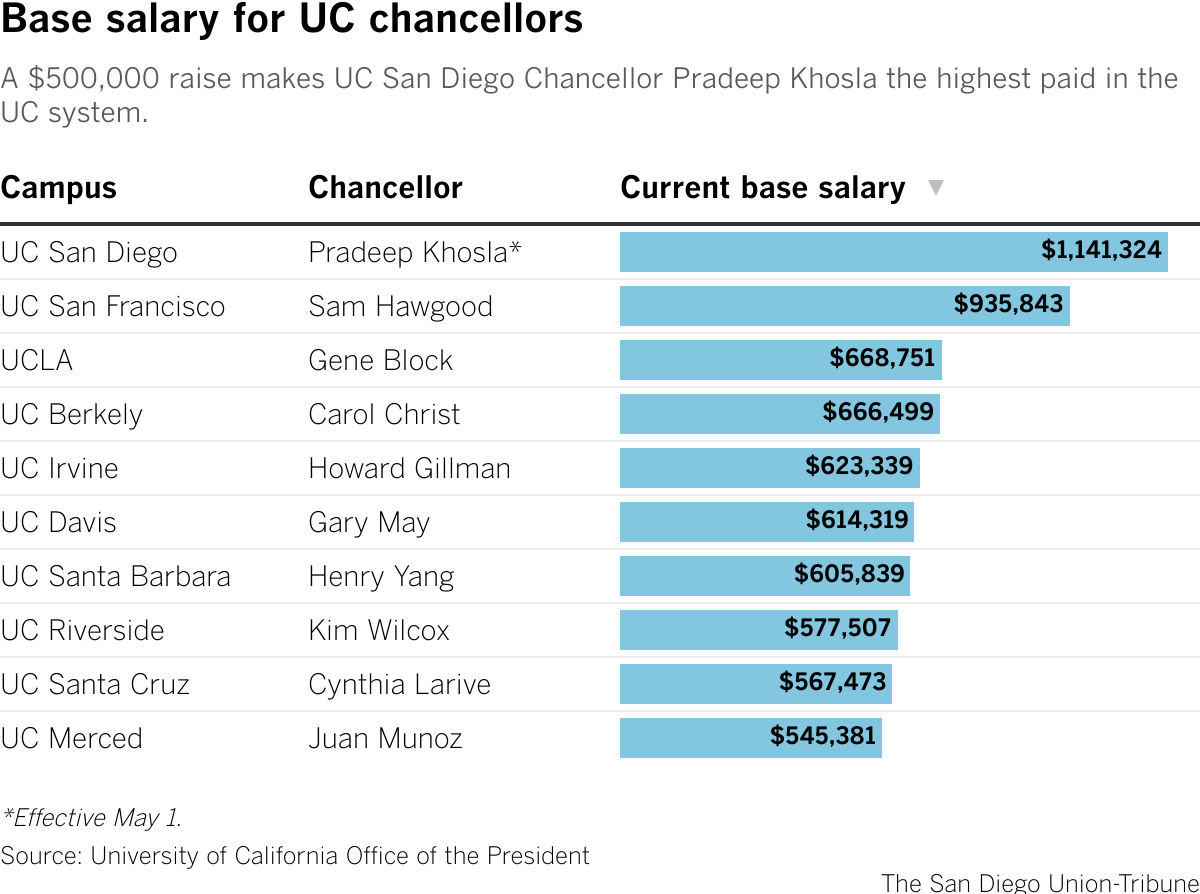 All of Khosla's new raise will be paid for with private money, officials said. Rich Leib, a San Diego businessman who is chairman of the Board of Regents, said private donors in the San Diego area collectively gave about $13 million to endow a chair whose interest income will cover the added expenses.
Endowed chairs are common in academia. But they are rarely funded at that level and are usually given to full-time faculty rather than presidents and chancellors.
Get the La Jolla Light weekly in your inbox
News, features and sports about La Jolla, every Thursday for free
You may occasionally receive promotional content from the La Jolla Light.
The Khosla endowment comes just over a year after UC regents spent about $800,000 to increase the salary of the chancellors who run the system's nine undergraduate campuses. The board said the hike was necessary because its chancellors weren't earning as much as the leaders of many comparable schools.
Leib would not identify who donated the $13 million but said the money was raised quickly out of concern that UCSD would lose Khosla, who oversaw a record $3.05 billion campus fundraising campaign that ended last year.
"There was a very, very strong commitment from the community to get this done because of what Pradeep has meant to San Diego, including helping to bring the Blue Line trolley to campus and building lots of housing," Leib said.
Irwin Jacobs, co-founder of chipmaker Qualcomm, told The San Diego Union-Tribune that he was one of the donors but declined to say how much money he gave.
But he was quick to praise Khosla, 66, who became the university's chancellor in 2012.
"He has done a wonderful job for the campus, for the city, for the region and internationally," said Jacobs, one of the school's largest benefactors.
"He's been watching over tremendous growth that's allowed more Californians to be admitted, he's worked with the faculty, staff and donors on all accounts, and he's dealing well with the housing issue."
UCSD had just over 28,000 students when Khosla arrived. Today, it has roughly 43,000. Khosla said last year that enrollment could hit 50,000 in about a decade.
The enrollment boom resulted in a housing shortage that pushed nearly 3,200 students onto waiting lists in 2021. The shortage occurred even though UCSD added on-campus housing for more than 5,500 students during Khosla's first decade as chancellor.
The university is hustling to meet future demand, chiefly through the addition of high-rise dorms and apartments. This fall, UCSD will open a new village that can house 2,000 students. A similar development that can house an additional 1,300 will open in fall 2024. And the campus will break ground this summer on a village that can house 2,400 students.
UCSD also is drawing up plans for a village that could accommodate 3,500 to 4,000 students. When it is finished, the university would be able to house close to 28,000 people — more than twice the population of Solana Beach. ◆
Updates
5:00 p.m. April 12, 2023: This article was updated with further information.
Get the La Jolla Light weekly in your inbox
News, features and sports about La Jolla, every Thursday for free
You may occasionally receive promotional content from the La Jolla Light.