Via Capri house in La Jolla is designated historic
The city of San Diego says the Lloyd and Raymona Swortwood 'spec house' 'continues to embody the distinctive characteristics of the Contemporary style.'
Despite some concerns about the completeness of the nomination, the San Diego Historical Resources Board voted to designate a house on Via Capri in La Jolla as a historical resource during its March 23 meeting.
The Lloyd and Raymona Swortwood Speculation House (sometimes referred to as a "spec house") at 7390 Via Capri was deemed historic with a period of significance of 1961-62 under HRB Criterion C as a property that "embodies distinctive characteristics of a style, type, period or method of construction or is a valuable example of the use of natural materials or craftsmanship." The property includes a 1962 addition designed by master architect Russell Forester.
Get the La Jolla Light weekly in your inbox
News, features and sports about La Jolla, every Thursday for free
You may occasionally receive promotional content from the La Jolla Light.
A spec house is a new move-in-ready home built on the speculation that it will sell easily.
City planner Alvin Lin said the Swortwood house's floor-to-ceiling glass design "creates a strong indoor/outdoor connection" and that the property "retains good integrity and continues to embody the distinctive characteristics of the Contemporary style."
According to a report associated with the nomination, "unlike earlier styles, which are generally defined by exterior decorative details, the Contemporary style focused on interior spaces and their relation to the outdoors. Emphasis was placed on integrating the indoors with the outdoors by utilizing windows and exterior living areas such as balconies and courtyards. The style was popular in San Diego in the 1950s and 1960s largely because it could be easily adapted to hillside lots."
Contemporary houses also often incorporate attached carports or garages, obscured or recessed entries and split-level designs, according to the report.
The report says the Via Capri property has character-defining features including "strong roof forms with deep overhangs and exposed beams; large, aluminum-framed windows; non-traditional exterior finishes including vertical wood siding, concrete block, stucco and flagstone; sun shades, screen or shadow block accents; broad masonry chimneys; and distinctive triangular, parabolic or arched forms."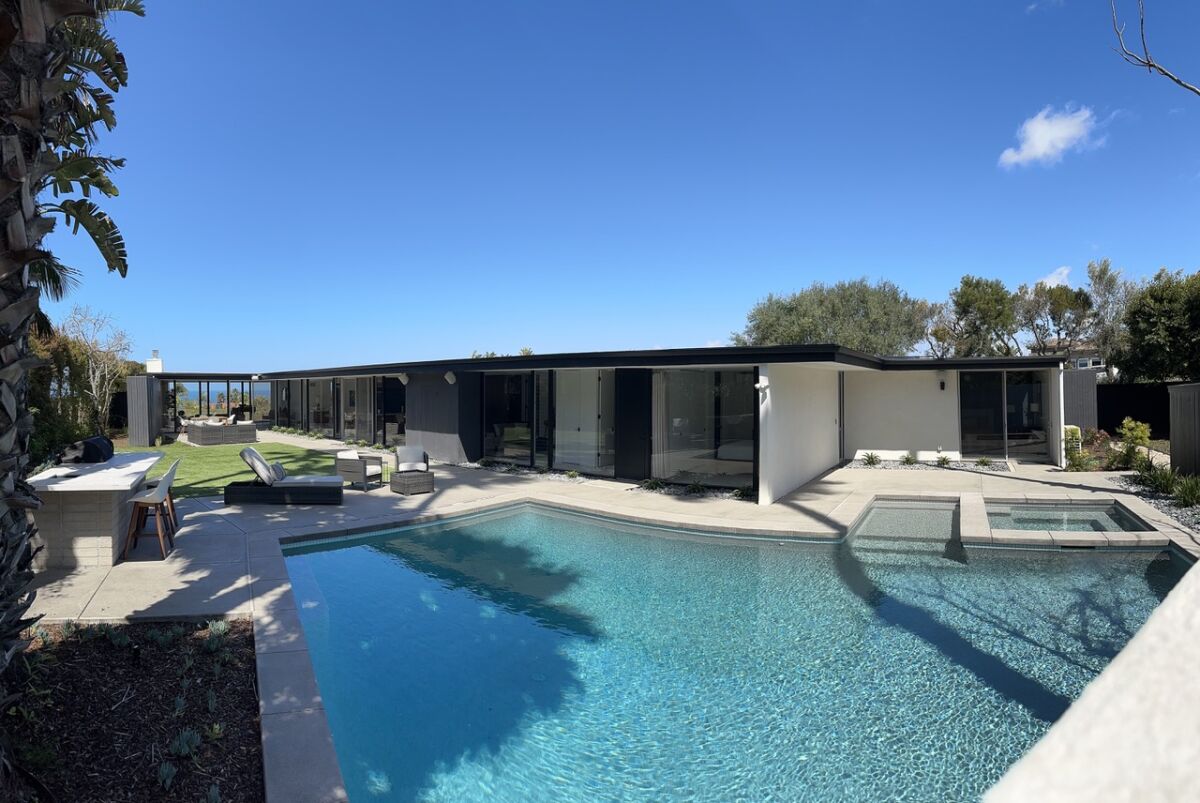 Given the addition by Forester and landscaping by Joseph Yamada, who designed for institutions such as SeaWorld and UC San Diego, questions arose as to whether the property also is historically significant under Criterion D, which states a house "is representative of a notable work of a master builder, designer, architect, engineer, landscape architect, interior designer, artist or craftsman."
In November, the HRB designated Yamada's house in La Jolla as a historic resource. At the time, city staff found justification to designate the home under Criterion D for Yamada's work as a landscape architect.
However, Lin said the Forester addition at the Swortwood house "lacks architectural features generally associated with Forester's buildings" and that the Yamada landscaping has undergone alterations and therefore the property should not be designated under Criterion D.
A motion was quickly made for the HRB to support the Swortwood designation under Criterion C. But before the board could vote, member and La Jolla resident Courtney Coyle voiced "frustration" over the process, though she said she supported the designation.
She took umbrage with Forester being excluded from the nomination. "Russell Forester had a sculpture that was part of the landscape in front of the house," she said. "That shows the level of overall design of this project from this master architect. … Just because something is small doesn't mean it doesn't occupy a notable part of the overall work of a master architect."
Coyle also expressed concern about changes to the landscaping during the review process, including the removal of a mature tree.
"While I support the nomination, I'm very concerned about the integrity of the process," she said. "I'm seeing this throughout La Jolla … that [changes are being made but] permits are not being pulled; they are not coming to city staff. It is affecting the fabric of our neighborhood."
City planner Suzanne Segur said that until a property is designated, there is no review for landscaping. However, she agreed to "be more proactive in looking at landscapes" in the future.
The Via Capri property was brought forward with the owner's desire to have the site designated historic. Scott Moomjian, representing owner Justin Rutherford, said the team agrees with the city staff findings. "It is undeniable that the property is significant under Criterion C," but not other criteria, Moomjian said.
He credited Rutherford for rehabilitating the house "to its original charm and character."
The motion to support the designation under Criterion C passed 8-0, with Coyle abstaining.
Benefits of historic designation include availability of the Mills Act program for reduced property tax for owners to help maintain, restore and rehabilitate historic properties; use of the more flexible Historical Building Code; use of the historical conditional use permit, which allows flexibility of use; programs that vary depending on site conditions and the owner's objectives; and flexibility in other regulatory requirements. However, houses cannot be modified significantly once they are designated historic.
The San Diego Historical Resources Board meets monthly. To learn more, visit sandiego.gov/development-services and click on "Public hearings, meetings and notices." ◆
Get the La Jolla Light weekly in your inbox
News, features and sports about La Jolla, every Thursday for free
You may occasionally receive promotional content from the La Jolla Light.