Bringing history to life: Five projects by La Jolla students proceed to state competition
La Jolla was well-represented in the recent National History Day regional competition, with five projects from local schools earning top marks and advancing to the state level.
The 2023 competition, themed "Frontiers in History: People, Places, Ideas," encourages students to create a podcast, documentary, essay, poster, exhibit, website or performance on topics ranging from local to global history.
The La Jolla students whose projects will move on to the state contest include Sydney Mafong and Henry Hou of The Bishop's School and Bella Schere, Maia Poch and Ruth and Simon Garrity of The Children's School. Bella and Maia worked together on one project.
"When studying history through historical research, students and teachers practice critical inquiry, asking questions of significance, time and place," according to National History Day organizers. "History students become immersed in a detective story. Beginning in the fall, students choose a topic related to the annual theme and conduct extensive primary and secondary research. After analyzing and interpreting their sources and drawing conclusions about their topics' significance in history, students present their work in original papers, exhibits, performances, websites or documentaries."
Though the students at The Children's School had different topics, many centered on a similar theme of people's mobility.
Maia and Bella created a documentary on the Paralympics. Both are athletes and are familiar with the Paralympics, but they were less familiar with its history.
"We learned about the young Jewish doctor [neurologist Sir Ludwig Guttmann] that … met someone that was paralyzed and later died from infection," Bella said.
"Back then [in the 1930s and '40s], the life expectancy of a paralyzed person was only two years because they couldn't move their bodies, so they would be in the same position and get bedsores that would cause them to get infections," Maia said.
Bella said Guttmann later moved to England, started a spinal clinic and "introduced rehabilitation through movement and sport. Then more and more countries started using the same method. From there, it turned into a competition, and that's how the Paralympics started."
The event's creation "helped people that are paralyzed be athletes and have full lives," Bella said. "[Guttmann] changed medical history. …
"We also got to interview a Paralympic athlete and it was great to get that perspective of how it changed his life."
Ruth's podcast, titled "Judith Heumann: Paving a Way for Disabled People to have Equality," centered on the American activist known as the "Mother of the Disability Rights Movement" for her involvement in the creation of legislation outlawing discrimination against people with disabilities. Heumann died this month at age 75.
"Judith Heumann helped a lot of people, and without [her work], disabled people would still face discrimination," Ruth said. "Without these laws, it would be harder for any disabled person you know to access public transportation, enter buildings or use the sidewalk."
Ruth said she is "really proud" of her podcast and excited to submit it to the state competition.
Her brother Simon's podcast, called "Bill Russell: Leading the Way for a New Generation of Activism in Sport," focused on the civil-rights activism of Hall of Fame basketball player Bill Russell.
Simon said he chose to focus on Russell's civil-rights work because "he was a great activist in his time." Russell died last year at age 88.
Simon noted how Russell and four other Black players on the Boston Celtics boycotted a game in 1961 in Lexington, Ky., after two Black teammates were refused service at a restaurant earlier that day.
"Today, there are athletes that speak out and use their platform to speak out against racial injustice, but Bill Russell was the first," Simon said. "He stood with athletes when they wanted to lend their support to the Black Lives Matter movement. He led the way for new athletes to speak out against racism."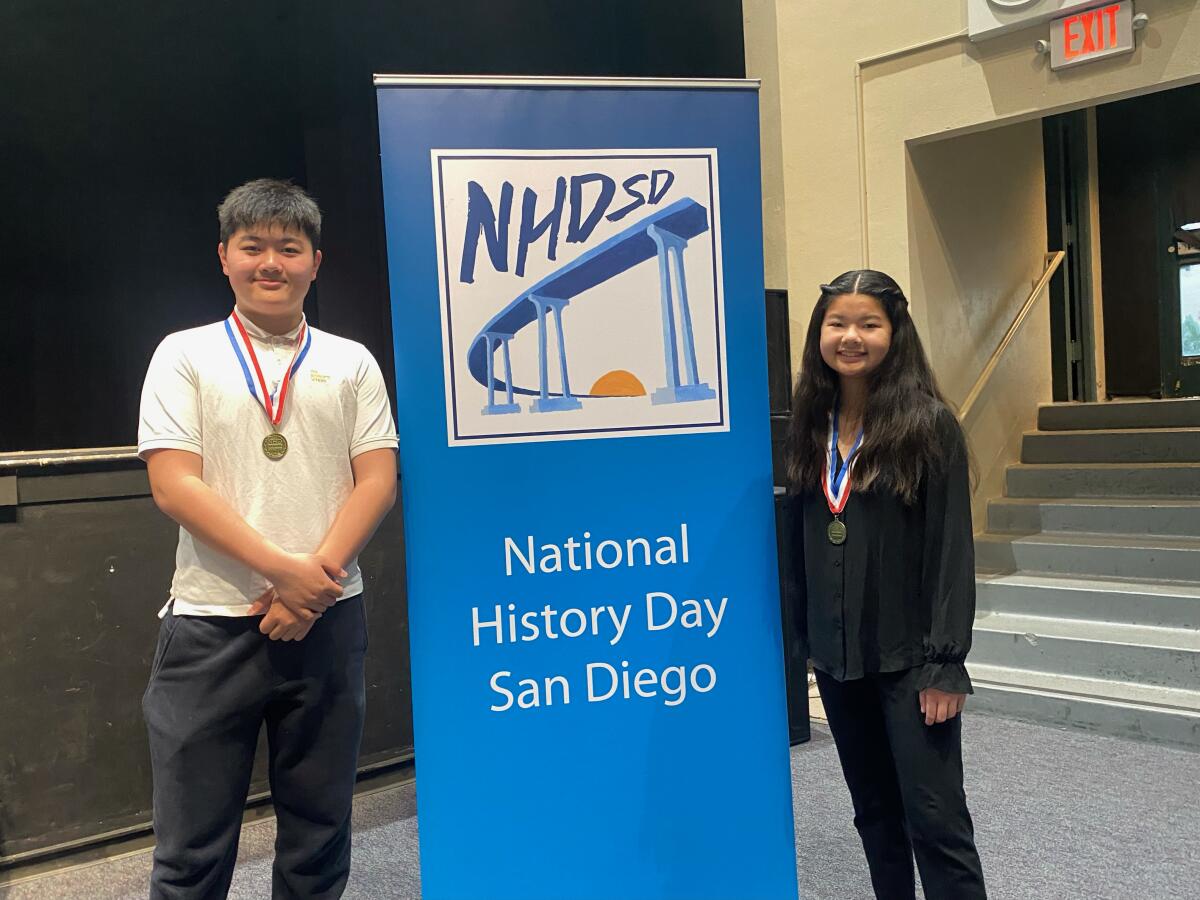 Sydney from The Bishop's School created a documentary to provide a behind-the-scenes look at the classic 1950s TV show "I Love Lucy." In researching its stars, Lucille Ball and Desi Arnaz, Sydney learned how many molds were broken in the show's creation.
"The way women were seen on television, women's roles in the home, the interracial marriage, her pregnancy, those were the big themes and challenged the norms of the time," Sydney said. "I focused the documentary on how the show challenged those concepts.
"There were also technological frontiers that were changed with the show. Lucy and Desi wanted a good-quality show, so they fought to film with 35 mm [film] and had to take a big pay cut as a result. They used a new lighting system and multi-camera system. They had to get approval from the fire department to film in front of a live audience, and have their scripts approved by a priest and a rabbi."
Sydney, a ninth-grader who has participated in National History Day since fourth grade, said the projects "take so much time during the school year, so to be selected to go to state is such an honor. To see adults struck by the work you put together and you get to spread a message that you care so much about means a lot."
Henry focused his project on the pilots who broke the sound barrier and all the work that led to that pivotal time in history.
"It felt like the perfect mix of history and aviation, which are both interests of mine," Henry said. "For the U.S. Air Force, [breaking the sound barrier] was a turning point in that it changed who tested these planes. ... This was when the Air Force took it over."
He said the realization that planes could be flown faster than the speed of sound without falling apart "was an important part of our history. The idea for space travel was limited without the information about going faster than the speed of sound. If we didn't have that, it would take days just to get out of the atmosphere."
After clearing the regional level, students' projects will be entered in showcases and competitions in the spring at state and national levels, where historians and educators will evaluate them. The program will culminate June 11-15 at the National Contest at the University of Maryland at College Park. ◆
Get the La Jolla Light weekly in your inbox
News, features and sports about La Jolla, every Thursday for free
You may occasionally receive promotional content from the La Jolla Light.