'This is the right time': Push for a city of La Jolla is reborn with new analysis and fundraising
The Association for the City of La Jolla is exploring the community becoming independent of San Diego, reviving previous efforts by other groups.
A group that has been discussing La Jolla becoming a city independent of San Diego is now officially exploring the issue and is raising funds to complete a fiscal impact analysis.
Association for the City of La Jolla President Trace Wilson said La Jolla becoming its own city will benefit not only La Jolla but also "all of San Diego."
"It'll be an economic uplift for the entire region ... and an economic and social uplift for the city of San Diego," he said.
"We know that when we become our own city, we will self-govern. That will release the city of San Diego from a tremendous amount ... that La Jolla costs today," Wilson said. "And we'll be leasing back [certain] services in perpetuity. It's a cash flow stream to the city of San Diego. … We're seeing this as a very positive thing for San Diego."
Though some La Jollans have wanted to secede for years, "this is the right time as the city of San Diego becomes larger and larger," Wilson said. "We can actually help not only our own community but, more importantly, the entire San Diego community."
The La Jolla Town Council took up the question at a community forum in May. At that time, local resident Melinda Merryweather, who has worked for La Jolla independence for decades, cited potholes and deteriorated sidewalks in saying "what we're trying to do is improve La Jolla for everybody and ... preserve what we have for the rest of San Diego."
Should La Jolla try to become an independent city? Take our poll.
A La Jolla Light online poll at the time collected 385 responses, with 330, or 86 percent, saying La Jolla should try to become independent.
The Association for the City of La Jolla, a 501(c)(6) nonprofit registered in California, has seven board members: Wilson, Janie Emerson, Diane Kane, Mary Coakley Munk, Sharon Wampler, Brenda Fake and Ed Witt, most of whom are leaders of various community organizations in La Jolla. But on this board, they are not acting in those capacities.
The idea of La Jolla becoming a city is not new. Previous efforts were made under the name Independent La Jolla (later Incorporate La Jolla) and got as far as contracting with Sacramento-based Economic & Planning Systems in 2019 to do an initial fiscal analysis of the community's proposed incorporation. But Incorporate La Jolla went defunct and the study never happened.
The Association for the City of La Jolla began meeting in September 2021 and has been consulting with people in the cities of Del Mar and Malibu, Wilson said.
"We [also] looked at … cities like Solana Beach and Encinitas, [both of] which went into incorporation in 1986," Wilson said.
He said the association has been studying a 2005 fiscal impact analysis commissioned by another group and done by Richard Berkson of urban economics company Berkson Associates. That study indicated "we can afford to be our own city and the steps that it will take to do that," Wilson said.
Last September, the association hired Berkson to complete a new preliminary fiscal analysis. Wilson said the association has paid some of the $60,000 cost with donations and is seeking more to continue its efforts.
During the analysis, which Wilson expects to be finished in two or three months, the association is required to work with the city of San Diego to mine data on the city's costs associated with police, fire, lifeguards, parks and recreation and other departments.
Wilson said he believes the analysis will "prove that this is a win-win for … all of us."
The association began meeting with San Diego Mayor Todd Gloria's office two weeks ago, Wilson said. "We have an open relationship and a great relationship with them to get the data needed," he added.
A representative of Gloria's office did not comment to the Light.
In the meantime, Wilson said, the association has been working with the San Diego Local Agency Formation Commission, which helps communities become incorporated. LAFCO's approval of the initiative is needed for it to move forward.
A preliminary map the association created defines the borders of a proposed city of La Jolla as between Del Mar in the north and Pacific Beach in the south and between Interstate 5 in the east and the Pacific Ocean in the west. La Jolla still would include Scripps Memorial Hospital east of I-5, but UC San Diego would be excluded.
The map, one of the first steps in working with LAFCO, is a "first pass," Wilson said, and it will undergo editing throughout the process of La Jolla becoming independent.
LAFCO Executive Officer Keene Simonds said La Jolla's viability as a city is predicated on several things.
A petition supporting incorporation would need to be signed by at least 25 percent of local voters or landowners. Assuming there are about 16,000 registered voters within the proposed boundaries, about 4,000 voters would need to put their names on the petition within a six-month period, Simonds said.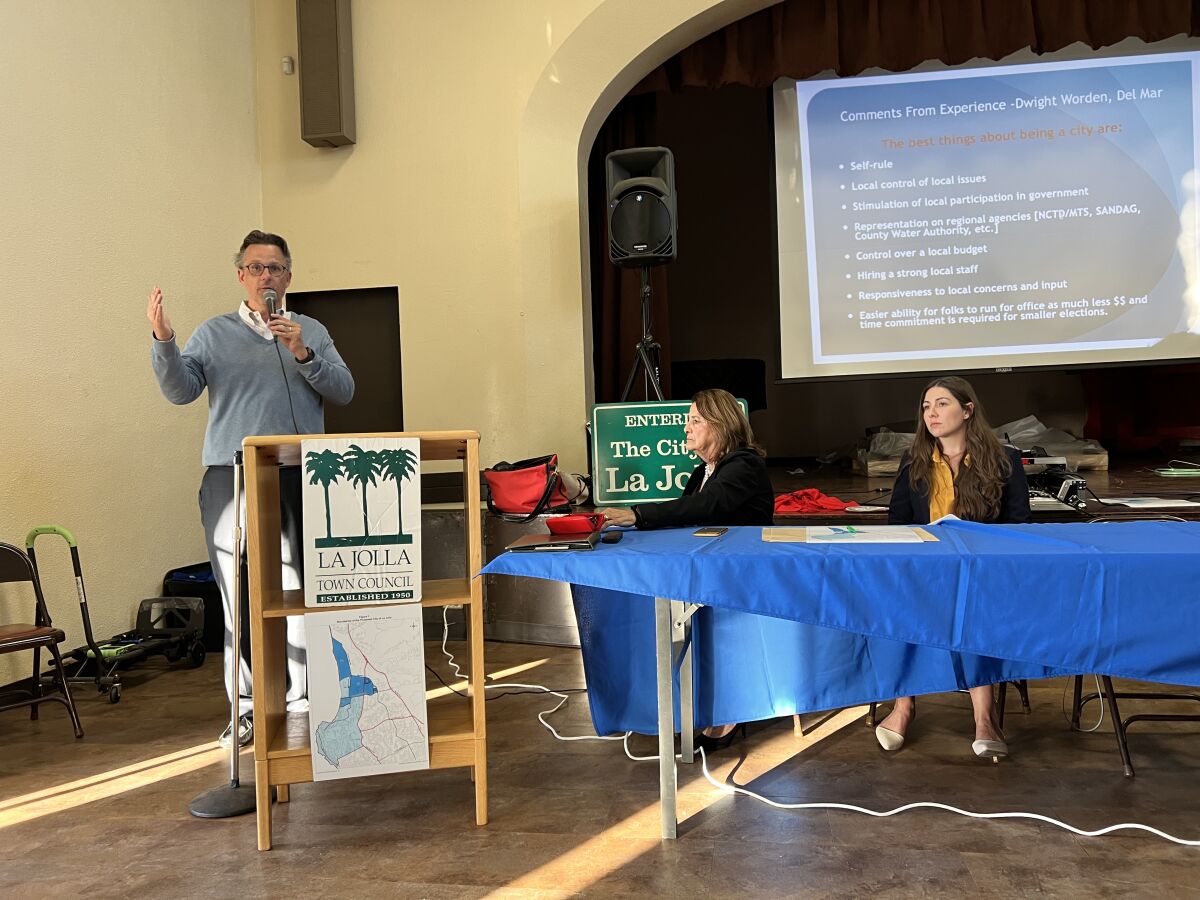 The Berkson analysis that will assess La Jolla's financial self-sufficiency "needs to show there is enough data and analysis showing La Jolla can assume all service responsibilities from San Diego and stay in the black for at least the first three years," Simonds said.
LAFCO would do a review of the topic once a formal application is filed, but "given the community's existing tax base [property, sales and hotel], it seems reasonable to assume this threshold can be readily achieved," Simonds said.
The fiscal analysis also will address whether La Jolla's incorporation would adversely affect San Diego's finances.
"I would assume there is a good chance that incorporation would negatively impact San Diego, and therefore any proposal would need financial mitigation [comparable to alimony] to ensure revenue neutrality for the first 36 months," Simonds said.
The 2005 study estimated La Jolla would owe $4.6 million in annual mitigation payments to San Diego.
If LAFCO finds that La Jolla cityhood is merited and gives its support, there would need to be a public vote. Under the Cortese-Knox-Hertzberg Local Government Reorganization Act of 2000, a majority of La Jollans, and a majority in the rest of San Diego, would have to approve La Jolla becoming a city.
"There hasn't been a successful incorporation in California since the early 2010s, given [that] the cost of running government has largely outpaced growth in supporting revenues," Simonds said.
But, he added, "some community is going to break the streak, and La Jolla seemingly is in a good position — more so than others, since it has a good and increasing tax base."
He previously estimated the process would take two to four years.
Still, history indicates the cityhood campaign has a steep hill to climb.
According to Gary Thompson, executive officer for Riverside LAFCO, there have been no recent successful efforts in California to secede from a city, and "presumably not since LAFCOs were created in 1963."
The big difference, Simonds said, is that communities that are already part of a city must win majority approval from the rest of the city's voters, whereas an unincorporated community that wants to incorporate doesn't have to win approval from voters in the rest of its county.
The most recent unincorporated community to become a city in California was Jurupa Valley in Riverside County in 2011, according to the California Association of Local Agency Formation Commissions.
Simonds noted that the portion of the San Fernando Valley that is in the city of Los Angeles (including the neighborhoods of Van Nuys, Sherman Oaks, Canoga Park and Woodland Hills) tried for cityhood in a 2002 election. LAFCO had greenlighted the proposal but Los Angeles city voters overwhelmingly said no.
At the same time, Hollywood had its own secession effort that was approved by LAFCO but rejected by L.A. voters.
The La Jolla association is looking to expand its board to 14 members and create an advisory group while collecting donations.
The campaign is a "multi-generational approach and it's a grassroots approach," Wilson said. "We have folks from the community and from San Diego that are in their 20s all the way up into their 90s that have been donating and volunteering for the effort."
"We're excited about it and very positive about the initiative," Wilson said. "The community of La Jolla wants to be a great partner [with San Diego] into the future."
The association can be reached via email at info@cityoflajolla.org or by writing to P.O. Box 2204, La Jolla, CA 92038.
The association also plans to launch a website at cityoflajolla.org. ◆
Updates
2:20 p.m. March 13, 2023: This article was updated with additional information.
Get the La Jolla Light weekly in your inbox
News, features and sports about La Jolla, every Thursday for free
You may occasionally receive promotional content from the La Jolla Light.