Raquel Welch, international film icon and La Jolla High School alumna, dies at 82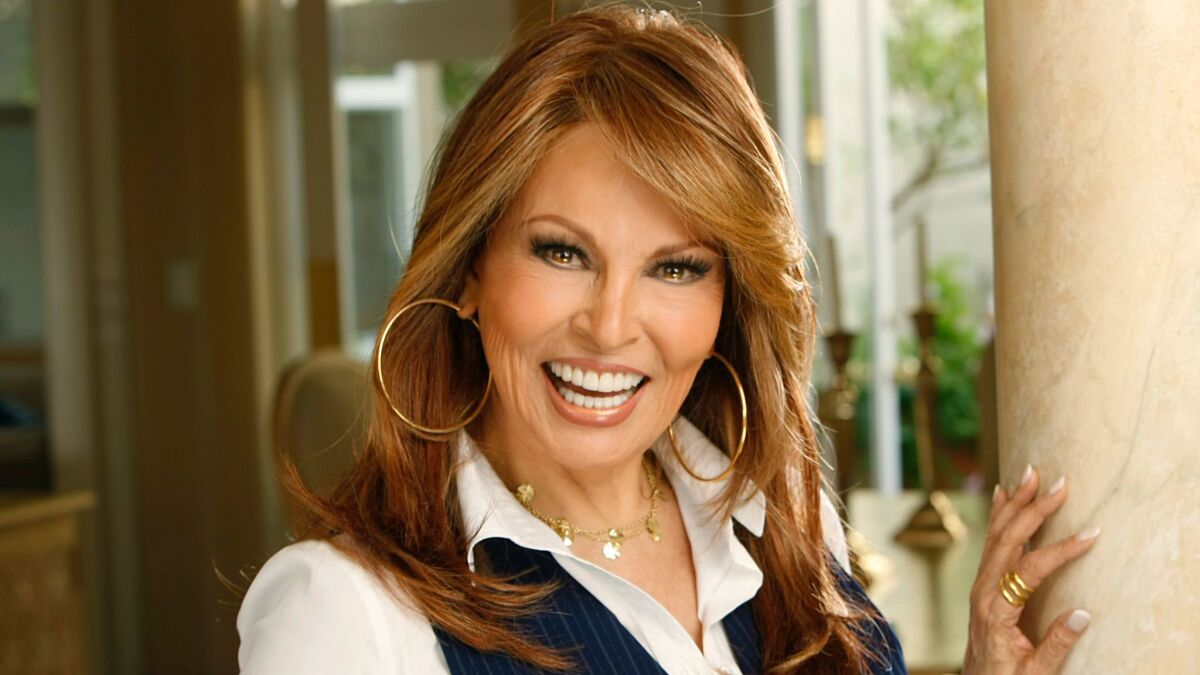 Raquel Welch, an international film icon and arguably the most famous graduate of La Jolla High School, died Feb. 15, according to her management company, Media Four. She was 82.
"Raquel Welch, the legendary bombshell actress of film, television and stage, passed away peacefully early this morning after a brief illness," Media Four said in a statement. "Her career spanned over 50 years starring in over 30 films and 50 television series and appearances. The Golden Globe winner, in more recent years, was involved in a very successful line of wigs."
While attending La Jolla High, where she graduated with honors in 1958, she won the titles of Miss La Jolla and Miss San Diego — the Fairest of the Fair.
Photos from The San Diego Union-Tribune archives show the late actress before her worldwide fame.
But to the world, the beauty queen turned single mom was an exotic actor whose smoldering looks and curvy figure suited the mood of the swinging 1960s.
She had only three lines in the 1966 film "One Million Years B.C.," but her doeskin bikini did all the talking, launching her to international fame almost overnight.
"I liked that there was something very superhero about her," Welch told the Los Angeles Times in 2016, referring to her role as Loana the cave girl. "At least I wasn't one of those mincing little girls; I never wanted to be that."
Indeed, Welch had a complicated relationship with her persona. Determined to prove that she was more than a sex symbol, she refused to do nude scenes. But her fame was always tied to her sexuality, a fate she accepted with regret.
"There was this perception of, 'Oh, she's just a sexpot. She's just a body. She probably can't walk and chew gum at the same time,'" she told Men's Health in 2012.
Raquel Welch takes herself seriously, and so should you
But Welch earned a reputation for being strong-willed and independent. In 1970, at the peak of her fame, she took a role no one wanted — as a transgender woman in the adaptation of Gore Vidal's bestseller "Myra Breckinridge."
Welch said she asked to be in the film because she was a fan of Vidal's novel and thought it would offer a dramatic role that might take her career in a new direction.
But, she said, the final script was stripped of the book's off-color humor and absurdity that she had enjoyed. Welch ended up hating the finished project, as did audiences and critics. The film perhaps became best known for the fight she had on set with her co-star, Mae West, over who got to wear a black dress.
"I couldn't control that the script wasn't coming together," Welch said. "Each rewrite got further and further from making any sense."
Get the La Jolla Light weekly in your inbox
News, features and sports about La Jolla, every Thursday for free
You may occasionally receive promotional content from the La Jolla Light.
A decade later, Welch sued MGM when the studio replaced her with a much younger, more affordable Debra Winger in the 1980 film version of John Steinbeck's World War II-era novel "Cannery Row."
Welch claimed the studio fired her because of her age and to save money, in the process ruining her career just as she was poised to win recognition as a serious actress. The studio said she was let go for showing up late and taking too long in makeup.
After a six-year legal battle, she received a $14 million settlement. But in the process she gained a reputation for being difficult, and her film career largely flickered out.
Welch blamed Hollywood's reluctance to embrace older women for her diminished career.
"As life goes on, you get more valuable as a person. Many women look better," she told the Times in 2010. "Personally, I think I look better because I have lived and I have a different kind of aura about me having lived."
Born Jo-Raquel Tejada on Sept. 5, 1940, in Chicago, Welch was the oldest of three children. Her mother was a seamstress of English descent. Her father, a Bolivian-born aeronautical engineer, moved his family to San Diego when Welch was a toddler to design aircraft during World War II.
Welch started winning beauty pageants when she was 14, ultimately earning the state title of Maid of California in 1958, the year she graduated from high school. Though she attended San Diego State University on a drama scholarship, she dropped out to get married and take a job presenting weather forecasts at a local TV station.
Welch married her high school sweetheart, James Welch, and had two children by the time she was 21. After they separated, Welch moved to Los Angeles with her children to pursue acting. Within three years, she was a superstar.
The former residence of Raquel Welch, who stars in the comic film "How to Be a Latin Lover," is for sale in the Beverly Hills Post Office area at $5.695 million.
She started out earning small roles in popular TV shows and films, such as her turn as a coed in Elvis Presley's "Roustabout." She got her first lead role as a bikini-clad know-it-all in the 1965 film "A Swingin' Summer."
After a screen test opposite James Coburn for the 1965 James Bond spoof "Our Man Flint," she became one of the last contract players at 20th Century Fox to sign a multi-year deal.
One of the studio's first moves, she said, was to suggest she change her first name to Debbie, saying Raquel "felt too ethnic." She refused.
"I'm proud of my Bolivian heritage," she told the Times years later.
She quickly landed a role as a doctor in the 1966 Oscar-winning drama "Fantastic Voyage" and then her career-making appearance in the prehistoric remake "One Million Years B.C." That film's poster launched her to stardom.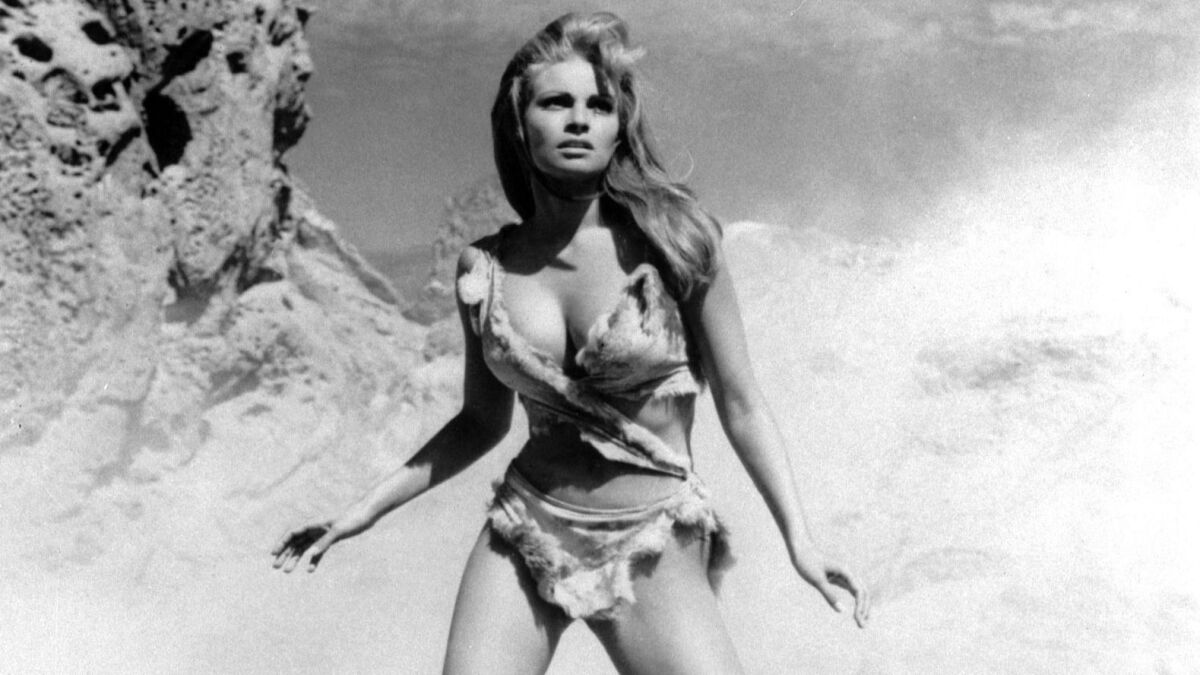 "In one fell swoop, everything in my life changed and everything about the real me was swept away," she wrote in her 2010 memoir, "Raquel: Beyond the Cleavage." "All else would be eclipsed by this bigger-than-life sex symbol."
Welch went on to become a pop culture icon, equal parts self-mocking bombshell and glamour-driven variety show host. She earned a Golden Globe award for her demure role in the star-studded 1973 drama "The Three Musketeers" and also starred in a series of high-profile thrillers and comedies, such as the roller derby drama "Kansas City Bomber" and the neo-noir mystery "The Last of Sheila."
In 1981, Welch starred on Broadway in the musical "Woman of the Year," earning critical raves. She earned a Golden Globe nomination for portraying a woman with Lou Gehrig's disease in the 1987 TV drama "Right to Die."
During the 1990s, Welch appeared in several TV shows, co-starring with Lauren Hutton in the drama "C.P.W." in 1996, appearing in a recurring role on "Spin City" and even playing herself on an episode of "Seinfeld."
In the 2000s, Welch embraced her Latin heritage by co-starring in PBS' Golden Globe-nominated series "American Family," about a Latino family struggling in Los Angeles. She also had a scene-stealing role in the film "Legally Blonde" opposite Reese Witherspoon.
At the beginning of "Fantastic Voyage," star Stephen Boyd can be forgiven for being momentarily distracted by the comely technical assistant for "the top brain man in the country."
In 2017, Welch co-starred in the ensemble comedy "How to be a Latin Lover" with Rob Lowe and Salma Hayek and as the mother-in-law in the Up TV sitcom "Date My Dad." More recently, she was known for developing a successful wig line.
Though she believed they held her back, she had no regrets about taking on the sex-kitten roles that propelled her early career.
"I am not a fool," she told the Times in 2010. "I realized ... I wasn't Meryl Streep who had been put into a bikini. I was somebody that got rocketed into the spotlight and superstardom overnight. I knew this was going to give me an opportunity and I should make the best of it."
She is survived by son Damon James Welch and daughter Tahnee Welch.
— La Jolla Light staff contributed to this report. ◆