La Jolla News Nuggets: Swinging Friar; Women of Impact; 'Spaces as Places'; Latinx New Play Festival; more
Padres' Swinging Friar visits La Jolla Elementary
Curebound, a San Diego-based philanthropic organization that raises and invests funding for translational cancer research projects, visited La Jolla Elementary School with the San Diego Padres' Swinging Friar mascot and members of the Pad Squad on Feb. 10 to raise awareness for cancer research in San Diego and how students can get involved.
Nearly 500 students took part in the assembly and had a chance to meet the Friar and grab some Padres-related prizes.
Curebound's annual signature event, Padres Pedal the Cause, is held in partnership with the Padres. This year's event will be held Saturday, March 18, at Petco Park in downtown San Diego. The event brings together spinning, cycling and running/walking courses.
Proceeds will fund collaborative cancer research among Curebound's six institutional research partners: Moores Cancer Center at UC San Diego Health, Salk Institute for Biological Studies, Sanford Burnham Prebys, Rady Children's Hospital, La Jolla Institute for Immunology and Scripps Research.
Women of Impact award nominations sought
Nominations are being accepted through Tuesday, Feb. 28, for the 77th Assembly District's Women of Impact awards.
All people who identify as a woman of all ages who live, work, attend school or volunteer in California's 77th Assembly District, which includes La Jolla, are eligible for nomination.
"We're giving out awards in certain categories, such as activism, volunteering, military and veterans, STEM, arts and culture, etc.," Mariah Kallhoff, representing the office of Assemblywoman Tasha Boerner Horvath, told the Bird Rock Community Council during its Feb. 7 meeting.
To learn more or to nominate someone, visit a77.asmdc.org/woy.
Grants available to help businesses transition as part of 'Spaces as Places'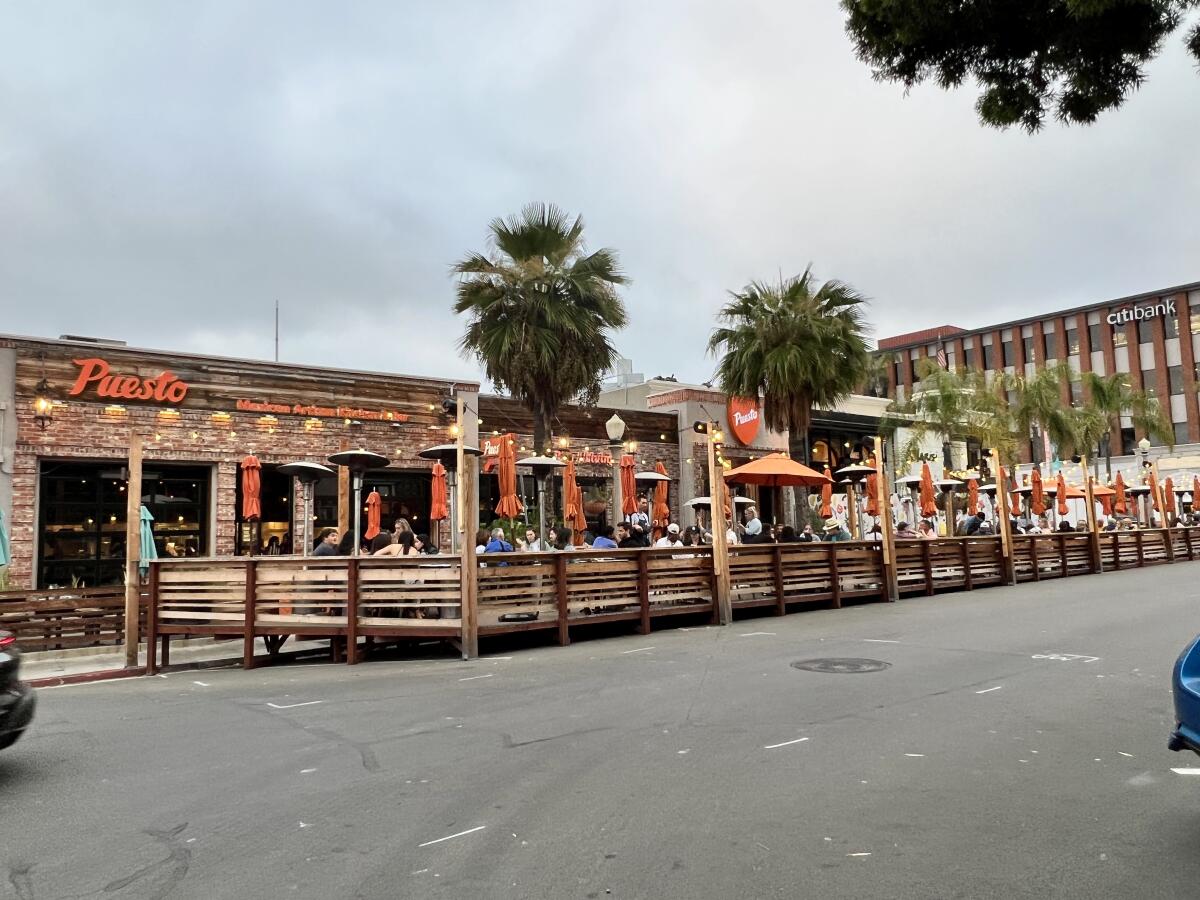 The city of San Diego is offering grants of up to $20,000 to eligible businesses that have applied for a new "Spaces as Places" permit to allow them to continue outdoor operations in the public right of way.
Businesses that had a valid temporary outdoor business operations permit, or TOBO, and are in the process of obtaining a Spaces as Places permit may apply for the funds, according to the city.
Latrell Crenshaw of the San Diego Economic Development Department told the La Jolla Village Merchants Association during its Feb. 11 meeting that to be eligible, the business has to be in San Diego, have a valid San Diego business tax certificate, be independently owned and operated, the owner has to live in San Diego County, and the business must have either a right-of-way permit or a Development Services Department project number.
Spaces as Places, launched in January 2022, allows local eating and drinking establishments to use outdoor spaces in the public right of way, including sidewalks and parking spaces, with a two-year permit. It follows the TOBO program that aimed to support businesses with limited space to safely implement COVID-19 restrictions.
The TOBO program expired July 13. However, establishments can continue TOBO operations pending approval of a Spaces as Places permit.
About $300,000 in Outdoor Business Grant funding will be available through June 30. The funding comes from fees collected from the sale of business licenses and renewals and the Small Business Enhancement Program.
For more information about the grant, visit sandiego.gov/economic-development/business/tobogrant.
La Jolla Playhouse to present Latinx New Play Festival
When San Diego Repertory Theatre shut down last summer, many of its annual events were left without a home. But the Rep's Latinx New Play Festival will return in October at a new location: La Jolla Playhouse.
The sixth edition of the Latinx New Play Festival will take place Oct. 27-29 at the playhouse, and the festival's founding director, Maria Patrice Amon, has been appointed as the playhouse's new artist-in-residence for the 2023-24 season.
Amon is a director, producer, professor and former associate artistic director at San Diego Rep. She's also the co-founder and co-artistic director of TuYo Theatre in San Diego.
"We are delighted to have Patrice join us this season as our artist-in-residence," Christopher Ashley, the playhouse's artistic director, said in a statement. "Her vision and fortitude have built the Latinx New Play Festival into one of the premier events of its kind in the nation, and it's an honor to be able to provide a new home for the festival this year, with Patrice at the helm." — The San Diego Union-Tribune
UC San Diego to train 'trusted messengers' as health workers
During the COVID-19 pandemic, people considered "trusted messengers" in their communities showed an ability to educate the public about vaccination, and now UC San Diego in La Jolla is leading a $3 million effort to train and certify 200 community health workers in San Diego County over the next three years. It's part of a $225 million initiative sanctioned by the Biden administration that seeks to mint 13,000 community health workers nationwide.
The focus is on recruiting students, especially from the refugee, immigrant and Native American neighborhoods in San Diego County, said Dr. Wael Al-Delaimy, a professor at the university's Herbert Wertheim School of Public Health and Human Longevity Science.
The program is expected to start this summer.
For more information and application instructions, visit hwsph.ucsd.edu. — The San Diego Union-Tribune
Scripps Research professor is honored with chemistry award
Chemistry professor Jeffery Kelly of Scripps Research in La Jolla has been awarded the prestigious 2023 Wolf Prize in Chemistry, recognizing his research developing therapeutic strategies that amend misfolded proteins that toxically aggregate in the body — a hallmark of many severe diseases, including Alzheimer's.
Kelly shares the award with Chuan He of the University of Chicago and Hiroaki Suga of the University of Tokyo.
"Receiving the Wolf Prize was a genuine surprise and is an immense privilege, especially considering all the incredible scientists who could have been chosen and who have been chosen before me," Kelly said. "I am grateful to the remarkable scientists who selected me for this award, to numerous gifted trainees in my laboratory for their creative experimental contributions, and to my Scripps Research colleagues for cultivating the discovery culture that has made me a better scientist."
The Wolf Foundation highlighted Kelly's work in "developing a new and clinically impactful strategy to ameliorate disease caused by pathological protein aggregation."
Kelly and his lab have focused on translating their discoveries into therapies that can help alleviate such conditions.
Kiwanis Club of La Jolla awards $10,700 to local institutions
The Kiwanis Club of La Jolla awarded a total of $10,700 to local causes at its Feb. 10 meeting at the La Jolla Community Center.
The Salvation Army received $5,000 for its food bank, and the scholarship program at La Jolla High School received $5,700 to be given to graduating seniors.
The Kiwanis Club of La Jolla awards about $150,000 annually to nonprofits and institutions in La Jolla and elsewhere in San Diego. The money is raised from the club's annual La Jolla Half Marathon. The 2023 half marathon and 5K race will take place Saturday, May 20.
La Jolla club hosts international Soroptimist dignitaries
Soroptimist International La Jolla hosted some international dignitaries at its recent Friendship Dinner.
Guests included Mary Muia, immediate past chairwoman and president of Soroptimist International Africa; Raquel Arreola; Soroptimist International of the Americas past president; Julieta A de Lopez, past board director of Soroptimist International Mexico-Central America Region; Pat Whitacre, Desert Coast region governor; and Bonnie Mendenhall, Desert Coast region governor-elect.
Soroptimist International La Jolla is a service club of women who volunteer to help disadvantaged women and girls in San Diego complete their education. For more information, visit soroptimistlj.org..
—Compiled by La Jolla Light staff ◆
Get the La Jolla Light weekly in your inbox
News, features and sports about La Jolla, every Thursday for free
You may occasionally receive promotional content from the La Jolla Light.