Paint the town red velvet on Valentine's Day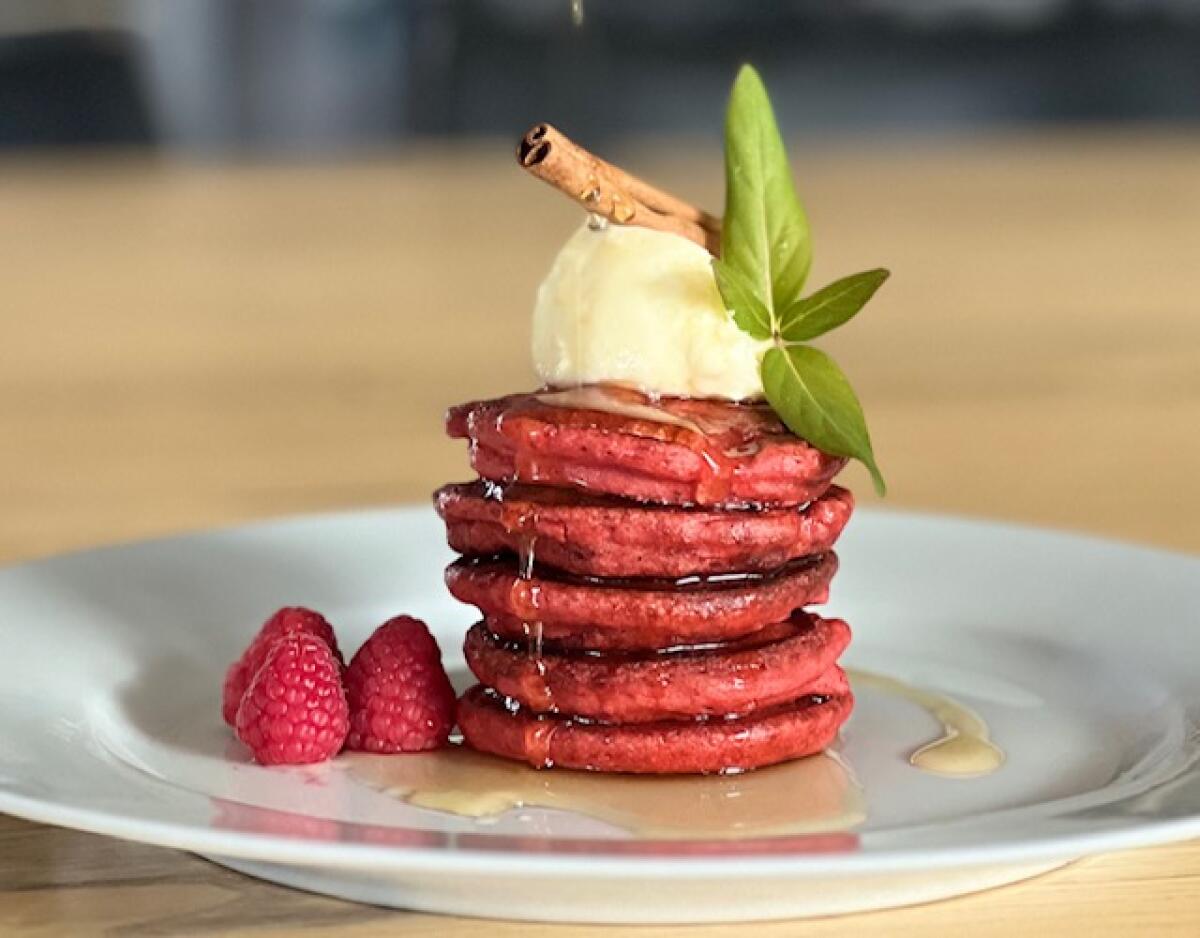 Valentine's Day is coming Tuesday, Feb. 14, and this year treat your sweetie to some red romance courtesy of red velvet indulgences, whether a cheery breakfast or brunch, tipsy or comforting sips, or divine desserts created with a healthier version of the traditional red velvet ingredients and a dash of love.
The iconic recipe, which seems current and trendy, actually dates to Victorian England, when cake flour had yet to be invented and bakers were constantly tinkering with ingredients to tenderize their coarse cakes for a fine, moist, springy
texture. They added a splash of vinegar and spoonfuls of natural, unsweetened cocoa powder to achieve the desired results.
Serendipitously, when this dazzling duo was combined, the chemical reaction resulted in a red-tinged batter. But the icing on the cake was the decadent, French-style ermine butter frosting, a complicated and labor-intensive operation.
Get the La Jolla Light weekly in your inbox
News, features and sports about La Jolla, every Thursday for free
You may occasionally receive promotional content from the La Jolla Light.
The red velvet cake recipe eventually crossed the Atlantic, where Southerners tweaked it further by adding buttermilk for an extra tang. During World War II and the era of rationing, sugar and other ingredients were in scarce supply. As well, cocoa powder had undergone a Dutch processing, treating it with an alkalizing agent to temper its acidity, which resulted in a neutral (not that nice) red shade when combined with vinegar.
So resourceful bakers had to improvise, choosing beet juice to add both sweetener and the glorious red color emblematic of the cake.
Pastry chefs at Manhattan's famed Waldorf-Astoria further refined the recipe, creating the Waldorf-Astoria confection cake.
The popularity of red velvet was resurrected after its appearance in the comedy-drama film "Steel Magnolias."
An old-timey star to this day, red velvet has maintained the essence of its classic Victorian and Southern roots, with a simpler cream cheese frosting replacing the ermine.
On Valentine's morning, a loving mate can whip up a stack of fluffy heart-shaped red velvet pancakes (recipe below), waffles, French toast or cinnamon buns topped with a ginger cream cheese drizzle and piled with fresh strawberries or raspberries.
Then wash it down nicely with a silky, goat kefir red velvet smoothie, an invigorating cup of red velvet tea, a mocha red velvet latte with steamed oat milk, or a mug of red velvet hot cocoa with a dollop of whipped cream and sprinkling of red velvet cookie crumbles.
If your sweet tooth doesn't kick in until later in the day, you can set the mood for a romantic soirée by lighting red velvet-scented candles while dotting red velvet essential oils on delicate pulse points.
Then get the Valentine's party started with a glass of liquid red velvet cheer. Favorites include the red velvet martini, blending cake vodka, creme de cacao and grenadine for the pop of red.
Bailey's also makes a red velvet Irish cream for smooth and rich sips (or sundae toppings). Or for a bubbly, less sweet quencher, mix a pink red velvet cocktail by combining champagne with raspberry beer.
For dessert, there's a plethora of red velvet delights to match your mood:
• Playful and impish: Red velvet Rice Krispies treats, cake batter dip or whoopie pies
• Nostalgic: A red velvet-raspberry cake roll, whimsical funnel cake, mixed berry cobbler or frozen mud pie
• Hot and heavy: Red velvet hazelnut fudge chunks, cheesecake with a crushed red velvet cookie crust, a seven-layer lollapalooza cake or a lava cake
• Wistful and romantic: A red velvet tart cherry and ganache trifle, crepes stuffed with lemon mascarpone, soufflés with a dollop of whipped crème fraiche, macarons or madeleines
• Laid-back: Red velvet ice cream sandwiches, blondies, skillet cookies, doughnuts with cream cheese drizzle, or s'mores
Recipe
Red velvet almond-coconut pancakes with labne, maple syrup and raspberries
Serves 6
Ingredients:
Almond flour pancakes
• 2 cups almond flour
• ½ cup toasted coconut flakes
• 1½ tablespoons red beet powder
• 2 teaspoons baking powder
• ½ teaspoon sea salt
• ½ teaspoon ground cinnamon
• 6 large eggs
• 1½ cups unsweetened coconut milk
• 1 tablespoon orange zest
• 2 teaspoons vanilla extract
• 1 teaspoon almond extract
• 2 tablespoons cacao nibs
• Avocado cooking spray for frying
Instructions:
• Combine dry ingredients in mixing bowl. In separate mixing bowl, whisk wet ingredients until smooth. Gradually whisk egg mixture into dry ingredient bowl until smooth.
• Spray nonstick griddle or large skillet with avocado oil and heat on medium.
• For each pancake, pour 3 tablespoons of batter from a large spoon onto hot griddle. Cook pancakes until puffed and dry around edges. Turn and cook until golden brown. Keep warm.
Garnish
Ingredients:
• 1 cup labne kefir cheese or thick Greek yogurt
• 1 teaspoon lemon zest
• 1 tablespoon honey
• ½ cup or more maple syrup
• 1 pint raspberries
• 6 mint sprigs
Instructions:
• Combine labne with lemon zest and honey in small bowl. Stack pancakes in center of warm serving plate. Top with labne.
• Drizzle maple syrup atop. Garnish with raspberries and mint.
— Courtesy of chef Bernard Guillas ◆
Get the La Jolla Light weekly in your inbox
News, features and sports about La Jolla, every Thursday for free
You may occasionally receive promotional content from the La Jolla Light.