La Jolla News Nuggets: Point La Jolla stairs, film discussion, music festival, more
Point La Jolla stairs closed due to storm damage
The staircase leading to Point La Jolla was damaged during the recent storms, causing the city of San Diego to close the accessway until further notice.
City spokesman Benny Cartwright said "city staff are in the process of getting materials to make repairs," though he had no timeline on when the stairs may reopen.
"Due to damage to the upper concrete landing, this repair will be more complicated than originally anticipated," Cartwright said. "Staff will be back onsite early next week to determine the best path forward."
The stairs are the only recognized access to Point La Jolla, a rocky area between La Jolla Cove beach and Boomer Beach where sea lions go on land to rest and give birth. Point La Jolla is closed to the public each year during sea lion pupping season from May 1 to Oct. 31. However, some people access the area when it is open by climbing over the adjacent sitting wall.
Get the La Jolla Light weekly in your inbox
News, features and sports about La Jolla, every Thursday for free
You may occasionally receive promotional content from the La Jolla Light.
La Jolla Newcomers Club holds film discussion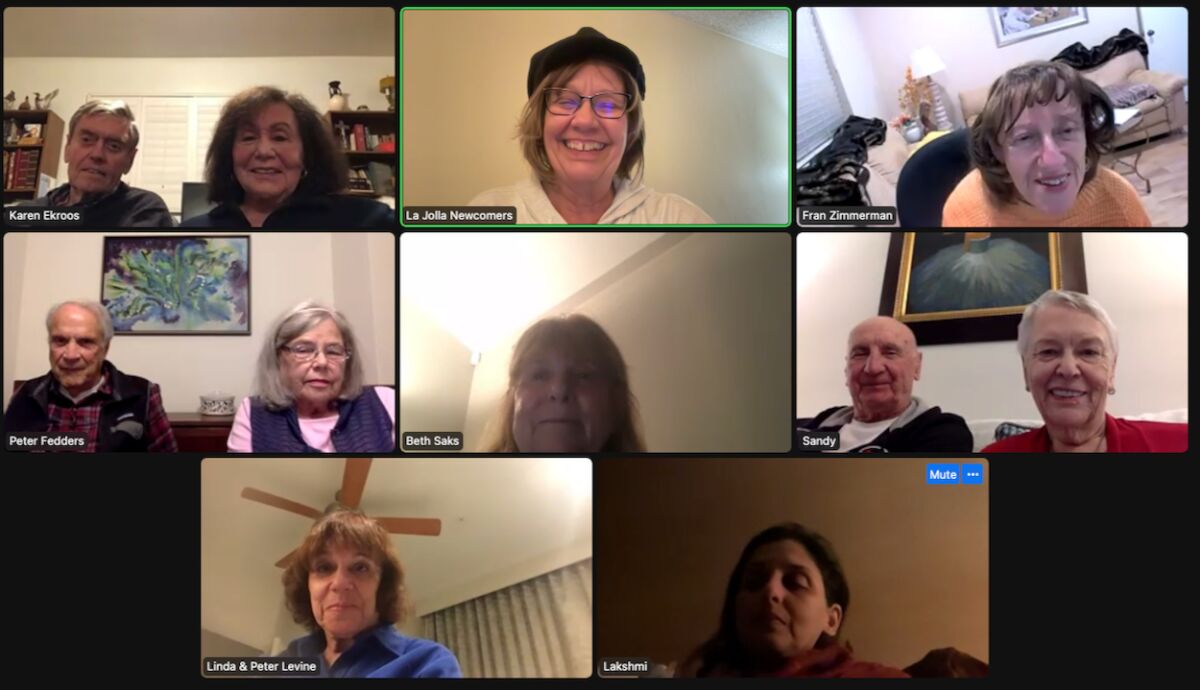 Members of the La Jolla Newcomers Club met Feb. 3 on Zoom for "Critics' Choice," a monthly club event.
Members discussed the film "Tar," a nominee for an Academy Award for Best Picture for 2022.
The club holds events on Zoom and in person. New membership is open to people who have moved to La Jolla's 92037 ZIP code in the past three years. For more details, visit lajollanewcomers.org.
La Jolla Music Society to join statewide festival
The La Jolla Music Society will participate in a two-week statewide music festival this fall that will features dozens of arts organizations.
The California Festival: A Celebration of New Music will showcase forward-looking music from around the world that was composed in the past five years. It is spearheaded by the San Diego Symphony, Los Angeles Philharmonic and San Francisco Symphony.
Designed to highlight "the collaborative and innovative spirit that thrives in California," the festival will feature concerts curated and performed by dozens of music organizations, including the La Jolla Music Society, Mainly Mozart and San Diego Youth Symphony.
The event will be held across the state between Nov. 4 and 19. Specific concerts and venues have not yet been announced.
La Jolla hosts educational event about Israel
The Jewish National Fund-USA presented a "Zionism on Campus" event in La Jolla on Jan. 24 in which participants heard from local students and a university professor who recently attended one of the Jewish National Fund's educational programs in Israel.
"There is a lot of humanity happening in Israel," said Lingyan Shi, a UC San Diego bioengineering professor who attended Jewish National Fund-USA's Faculty Fellowship program, which invites full-time university and college faculty members to participate in a subsidized tour of Israel. It links scholars from diverse disciplines with their Israeli counterparts at major institutions.
"[Israel is] so different than what we see in the media," Shi said. "Since my return, I have been sharing my stories with colleagues, students and my community. … I am also preparing a presentation for my students so they can learn more about Israel."
According to a news release, Jewish National Fund-USA is the largest provider of Zionist education and advocacy programming in the United States.
"By watering the seeds of curiosity and open-mindedness that are so innate in young people and allowing them to explore the Jewish homeland firsthand with all their senses and learn about the modern, democratic, multi-ethnic, complex and beautiful country that it is, we are ensuring that when we're long gone, there will be generations of Israel-supporting Americans who will carry on the legacy of our love and support of Israel," said Jewish National Fund-USA San Diego President Jacqui Schneider.
— Compiled by La Jolla Light staff ◆

Get the La Jolla Light weekly in your inbox
News, features and sports about La Jolla, every Thursday for free
You may occasionally receive promotional content from the La Jolla Light.