Ocean water-quality advisories fade away after recent heavy rains, but pollution threat doesn't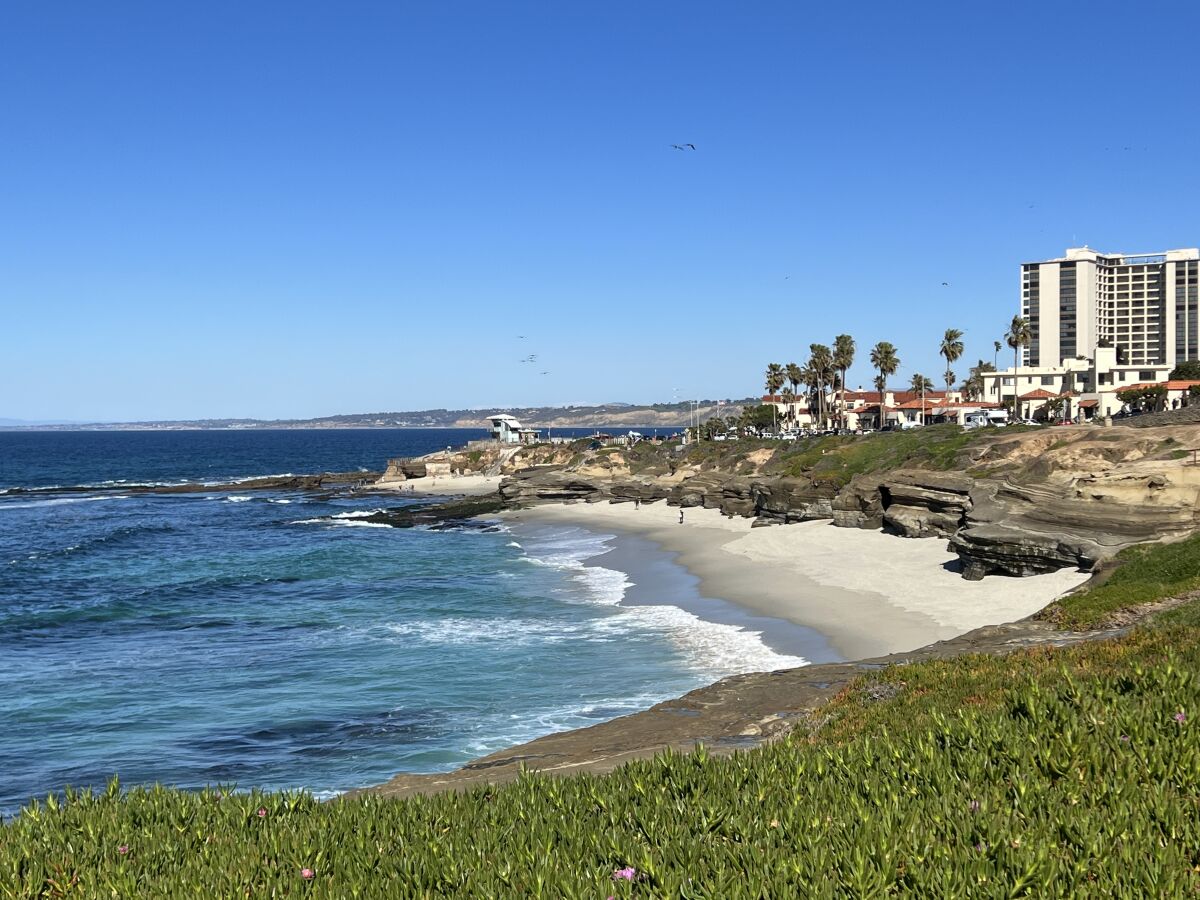 Each new storm brings another rush of runoff pollution, reducing water quality. San Diego and other local organizations are eyeing ways to alleviate the problem.
San Diego County has lifted most water-quality advisories for local beaches days after the latest rains as local organizations try to address the impact of storms and pollution on ocean water.
As of Feb. 3, the only advisory remaining in La Jolla following the Jan. 30 storm is at the Children's Pool, which has been under a "chronic advisory" since September 1997. Earlier in the week, the entire San Diego coast was under advisory.
An advisory means beach users should avoid contact with the water because bacteria levels exceed state health standards, according to the county Department of Environmental Health and Quality.
DEHQ issues a general rain advisory for 72 hours when the county's valleys and beaches receive at least 0.2 inches of rain in a 24-hour period. The intent is "to advise the public that contaminated urban runoff is reaching the ocean water," typically through storm drains, streams and rivers, according to county communications officer Donna Durckel.
A general rain advisory can be extended if the county receives more rain, Durckel said.
Daily information about water quality at county beaches and bays is available at sdbeachinfo.com or by calling the 24-hour hotline at (619) 338-2073.
January was the wettest month in the city of San Diego since February 2005, meaning advisories have been more frequent.
During a general rain advisory, "no beach [water quality] sampling is conducted, as the water is known to be contaminated and takes time to dissipate and return to normal quality levels," Durckel said.
County staff starts collecting routine weekly samples after an advisory has been lifted, she said. In La Jolla, DEHQ staff collects water samples on Thursdays at The Cove and at the end of Avenida de la Playa in The Shores.
Alex Ferron, manager of the San Diego chapter of the Surfrider Foundation, said "the first big rain of every season is [what Surfrider calls] the first flush, [bringing] the biggest amounts of sediment [and] urban runoff, causing the worst water conditions." Ferron said it's unclear whether this unusually rainy winter has brought about more pollution.
Each new storm brings another rush of pollution through sediment and trash, reducing water quality.
"That's essentially what we see after every storm," Ferron said. "This one's certainly no different."
La Jolla Cove Swim Club member Doug Burleigh said it's normal for La Jolla's waters to appear brown and dirty after a couple of days of rain, but he'll swim anyway.
Some club members, however, choose to avoid swimming after rain, Burleigh said.
Lucero Sanchez, campaigns manager for environmental group San Diego Coastkeeper, said that with heavier rains, "our drought-stricken area … is now much more susceptible to flooding, erosion and other issues."
Local action
Water from urban runoff can pick up gasoline, motor oil, heavy metals, trash, fertilizers, pesticides and other potentially harmful pollutants.
Thus, Ferron urged people to stay out of the ocean for three days after a rainstorm. "The impact of polluted water is not one you want to necessarily be in," she said.
Sanchez said "a lot of people aren't aware of the 72-hour rule. There's often not a lot of signage."
Ferron encouraged people to consider their "local footprint" in terms of what they put into the soil and spray on the ground and to be conscious of what might find its way to the ocean.
Surfrider is known for its beach cleanup efforts, but the organization also uses data about stormwater and pollution "to help influence policy," Ferron said. "Storms like these really highlight how much pollution there is here locally and … on a larger scale, too."
In San Diego, Ferron said, "everything west of our major mountain range is a part of our watersheds that goes directly into our ocean. Because of that, when it rains, absolutely everything on the ground from Santee to Poway ends up finding its way through our watershed and into the ocean."
Sanchez said San Diego Coastkeeper addresses pollution by holding beach and inland cleanups and community presentations to help educate residents about the issue.
Ferron and Sanchez agreed that the city of San Diego's stormwater infrastructure isn't effective in managing as much waste as the region produces.
Sanchez said the system is "absolutely not prepared for our wetter years" and is unable to capture water enough to prevent it from transferring pollutants into the ocean.
In response, city spokesman Anthony Santacroce said "'absolutely not prepared' is a vague and hyperbolic description of a funding issue that the [city's] Stormwater Department has been transparent about. ... More funding is needed for a variety of improvements ... which Stormwater has planned, including the building and development of 'green' infrastructure and stormwater capture technology."
A city report last month said the estimated cost of needed stormwater projects, including flood prevention and boosting water quality, has increased from $1.4 billion last winter to $2.1 billion.
Santacroce referred to the city's Think Blue San Diego website, which says the Stormwater Department has a "significant and growing funding gap — currently about $274 million annually — that cannot be filled with existing revenue sources."
The city says it is developing a funding strategy to pay for the aging system's current and future needs for pipes, drains, channels, levees and pumps, potentially including a ballot measure intended to raise new revenue for stormwater services through a parcel tax or property-related fee.
Santacroce added that the Stormwater Department "works year-round to prepare for our 'wetter years.'"
Ann Marie Sack, director of community engagement for I Love a Clean San Diego, said the environmental organization presents cleanups and educational opportunities.
"There's a lot of ways residents can get involved when they're worried about pollution," Sack said. ◆
Get the La Jolla Light weekly in your inbox
News, features and sports about La Jolla, every Thursday for free
You may occasionally receive promotional content from the La Jolla Light.