Enforcement of vendor ordinance leaves key La Jolla spaces empty of sellers
San Diego's regulations, which started being enforced in coastal communities Feb. 1, prohibit vending year-round at La Jolla's Scripps Park, Children's Pool and Coast Boulevard boardwalk.
The city of San Diego began enforcing its sidewalk vending ordinance in coastal communities Feb. 1, and on that day, not one vendor was found at La Jolla's Children's Pool or Scripps Park.
Bob Evans, president of the La Jolla Parks & Beaches board, said he was "ecstatic."
"The vending had completely taken over much of the favorite and best parts of the coastline parks and beaches, engulfing the scenic and natural beauty that had existed there before," Evans said.
The ordinance, which the City Council passed March 1 and took effect in most of the city June 22, places restrictions on where street vendors can operate that at first could not be enforced in coastal communities while awaiting review by the California Coastal Commission.
The commission agreed in August to withdraw its review and allow enforcement in the coastal zone.
Though the city of San Diego will begin enforcement of its sidewalk vending ordinance in coastal parks on Wednesday, Feb. 1, it is already looking ahead to its next challenge — regulating vendors who provide services rather than goods in public parks.
The ordinance prohibits vending year-round at Scripps Park, the Children's Pool and the Coast Boulevard boardwalk between Jenner and Cuvier streets.
Around noon Jan. 31, the day before enforcement began, the La Jolla Light observed 13 vendors operating in Scripps Park and three at the Children's Pool.
At noon the next day, those spaces were empty. It wasn't clear whether any vendors had tried to set up in the morning and were told to leave.
There also were no vendors at Cuvier Park, an area where some vending is allowed, with regulations on distance between vendors and restrictions designed to preserve shoreline and walkway access.
The ordinance also requires pushcart and stationary sidewalk vendors to obtain permits to use the public property and regulates when they are allowed to operate.
Vendors operating illegally may be cited and subject to fines ranging from $200 to $1,000, depending on the number and types of violations. Carts, equipment and goods may also be impounded.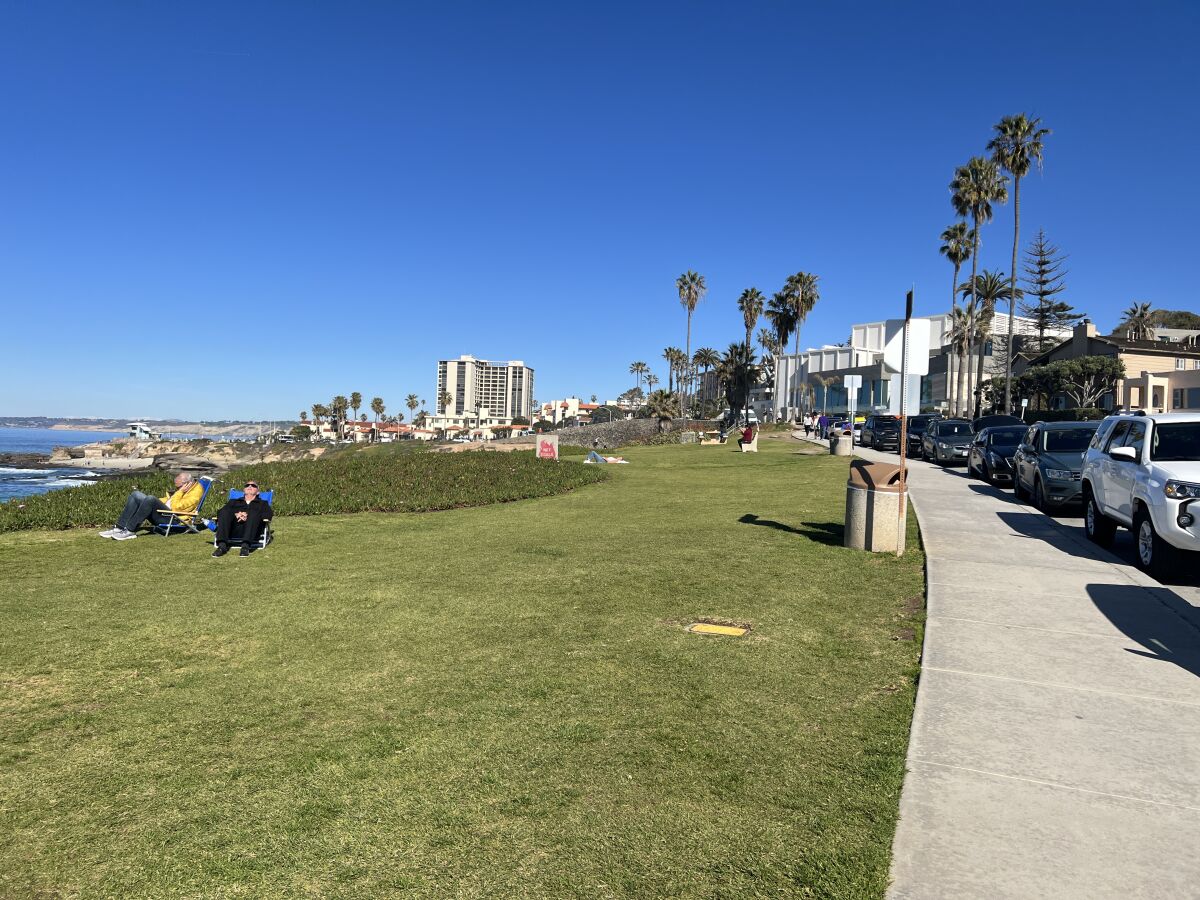 According to the city, park rangers have been educating vendors in beach communities about the ordinance in the past few weeks.
Evans expressed gratitude to city staff for beginning enforcement, expressing hope that Scripps Park can "return to what a great park should be." ◆
Get the La Jolla Light weekly in your inbox
News, features and sports about La Jolla, every Thursday for free
You may occasionally receive promotional content from the La Jolla Light.